As an Amazon Associate, I earn from qualifying purchases. In addition, I participate in several other affiliate programs that allow me to earn while I recommend products I love.
There's something about watermelon and pineapple that just works so well.
I guess it's because they are both tropical fruits, drinking them together helps you feel like you are on some tropical island!
And this super healthy watermelon pineapple smoothie for weight loss is no different!
Frozen watermelon smoothies are super easy to make (although you can use fresh watermelon for this pineapple watermelon smoothie), you can have a lot of fun experimenting with them.
So many fruits go well with watermelon.
Some of my favorites are mango and strawberries.
You should definitely check out this healthy mango watermelon smoothie for weight loss, and also this strawberry watermelon smoothie, which is seriously so fresh!
The great thing with this smoothie is that you can mix things up as you see fit – if you really like pineapple, go ahead and add more. If you love watermelon, add some more of that!
One thing I would not is that, if you go too far down the watermelon end, it can start to lose its flavor because of the high water-content of watermelon.
In that case, be sure to add enough pineapple to keep that flavor there.
Let's get on to the pineapple and watermelon smoothie!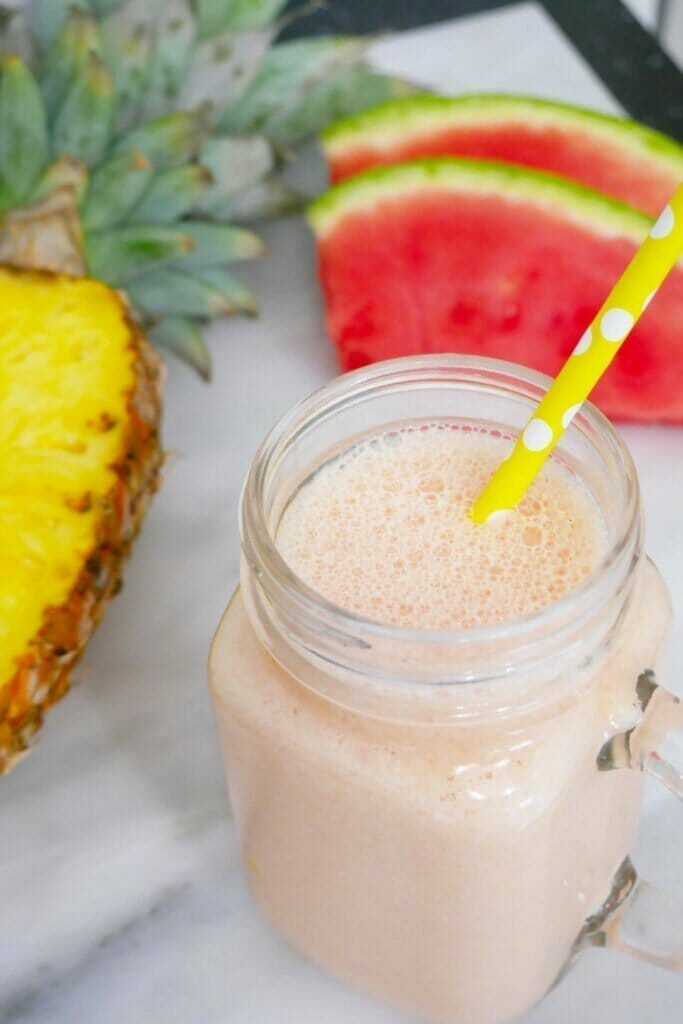 Why this healthy watermelon pineapple smoothie is amazing!
As a pineapple watermelon smoothie, it tastes amazing!
If you've never had pineapple and watermelon together, you are really missing out!
Watermelon is pretty versatile, given its high water-content, so it goes well with fruits that have a strong flavor.
This is why it works so well with pineapple. (PS Remember to check this amazing mango watermelon smoothie!)
But there is a secret ingredient that takes this watermelon and pineapple smoothie to the next level, and that's coconut yogurt!
Coconut yogurt is utterly amazing.
It adds such a great island fresh flavor to smoothies, whilst helping to make them thicker like vanilla dairy yogurt.
But the slight coconut flavor does such a great job of complementing the tropical fruit flavors.
I really like this mango pineapple coconut smoothie, this chocolate strawberry coconut smoothie, and this coconut milk and strawberry smoothie (which also has coconut yogurt in it!).
As I outline below, just be sure to watch out what exactly you are buying when you get coconut yogurt, as they are not all created equal!
It's a watermelon smoothie for weight loss – health benefits of watermelon
Watermelon has a great number of health benefits that makes it perfect to go in to smoothies.
One of the main reasons to have a watermelon smoothie for weight loss is because watermelon is so low in calories, which helps if you are on a calorie deficit diet!
Other than being low in calories, it is also high in vitamin C and vitamin A, as well as doing a great job at keeping you hydrated.
The combination of being high in water content and high in fibre means that it helps you to you feel full, even though you are not consuming many calories.
This is great for people looking for weight loss recipes, such as weight loss smoothies.
Other than that, watermelon contains compounds that could help to prevent cancer, has nutrients that have benefits for heart health, and may lower inflammation and oxidative damage from containing lycopene and vitamin C.
It's a pineapple smoothie for weight loss – health benefits of pineapple
Similarly to watermelon, pineapple has many health benefits that make it great for a pineapple weight loss smoothie.
Pineapples are low in calories, while containing many great nutrients, from Vitamin C, to Manganese, to Potassium, Copper and Vitamin B6.
They also contain bromelain, which can help to ease digestion.
Pineapples have a large amount of antioxidants, which can help your body to combat oxidative stress.
Oxidative stress leads to cell damage, which can cause problems such as chronic inflammation and a weakened immune system.
It's a simple to make frozen watermelon smoothie
A great thing about this watermelon pineapple smoothie is that it is super-simple to make!
Given that it only has 3 ingredients (and water), it's not difficult to make in any way, and should become a go-to recipe for you!
Pineapple can become messy if you have it fresh, so you can certainly use frozen pineapple if you want with this smoothie.
Why not make it a frozen pineapple smoothie as well as a frozen watermelon smoothie?!
It's a versatile watermelon pineapple smoothie
A really useful thing with this pineapple weight loss smoothie is that it is really versatile.
If you really like watermelon, you can easily add more watermelon.
If you love the taste of pineapple (which I really do! – In fact, you should check out this mango and pineapple smoothie!) then you can certainly add more pineapple!
One thing to take care on is not adding so much watermelon that you lose any pineapple flavor.
Because it has a high water-content (especially frozen watermelon), you can start to mask out the pineapple flavor after a while.
You can also certainly use plain yogurt with this if you want, although I would really recommend staying with coconut yogurt, as it helps to add to that fresh island flavour!
How to make a healthy pineapple watermelon smoothie for weight loss
Let's see just how easy it is to make this pineapple and watermelon weight loss smoothie!
Ingredients
You will need the following ingredients:-
Pineapple – You can use fresh or frozen pineapple for this recipe. If you do get fresh pineapple and find you are left with some, I do recommend freezing it, otherwise the color of it can turn quite quickly.
Watermelon – Again, you can use fresh or frozen watermelon, but I recommend frozen watermelon for this smoothie, as it helps to create a fresh, tropical island flavour with the coconut yogurt!
Coconut yogurt – There is something really important to bear in mind with coconut yogurt, and that is that not all coconut yogurts are created equal! Some are pure coconut yogurt (which is great), some are dairy yogurts with coconut flavour, and some are a mix. Also, some are unsweetened, and some have added sugars. So you really need to make sure you get one that falls in line with your dietary requirements. I like So Delicious unsweetened coconut yogurt, as it is made with organic coconut milk, and is unsweetened.
Steps
Prepare the ingredients for the frozen watermelon and pineapple smoothie.
Add the pineapple.
Add the watermelon.
Add the coconut yogurt.
Add the water.
Blend.
You now have a weight loss pineapple and watermelon smoothie! Enjoy!
Yield: 1
Super healthy watermelon pineapple smoothie for weight loss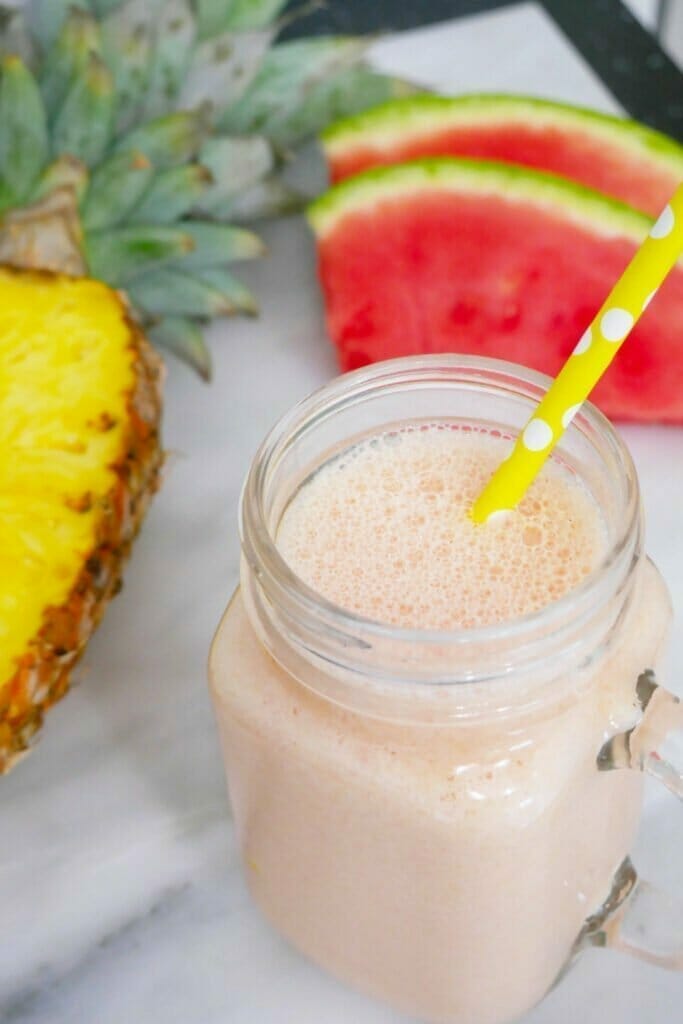 "This super healthy watermelon pineapple smoothie is a fresh and fun way to get your fresh fruit in! Easy to make and full of nutrients, this is a great a tasting smoothie for weight loss or to enjoy!"
Ingredients
Watermelon - 150g / 5.29oz / 1 cup
Pineapple - 200g / 7.05oz / 1 cup
Low fat yogurt - 150g / 5.29oz / 3/5 cups
Water - 100ml / 3.52fl oz
Instructions
Add all the ingredients to a blender.
Blend.
Enjoy!
Notes
If you like your smoothies sweeter, try adding some natural sweetener, such as Stevia, more pineapple, or a little less yogurt or watermelon.