As an Amazon Associate, I earn from qualifying purchases. In addition, I participate in several other affiliate programs that allow me to earn while I recommend products I love.
When looking for a weight gainer shake, we all want something that not only gives us the nutrients we need but also tastes great.
Well this is what you have with this Chocolate raspberry smoothie weight gain smoothie!
Let's be honest – most weight gainer shakes you buy in powder form taste either pretty bad or pretty bland.
The benefit of making your own protein shake for weight gain is that you can make it taste great, whilst still giving you the nutrients you need to put on weight.
Not only that, but you KNOW what is in your weight gain smoothie.
The mass-produced powdered weight gain shakes often have man-made chemicals in them.
Although that's hard to avoid when using a protein powder, you can at least rest in the knowledge that the remaining ingredients are fresh and free from artificial additives.
So let's check out this raspberry chocolate protein shake for weight gain!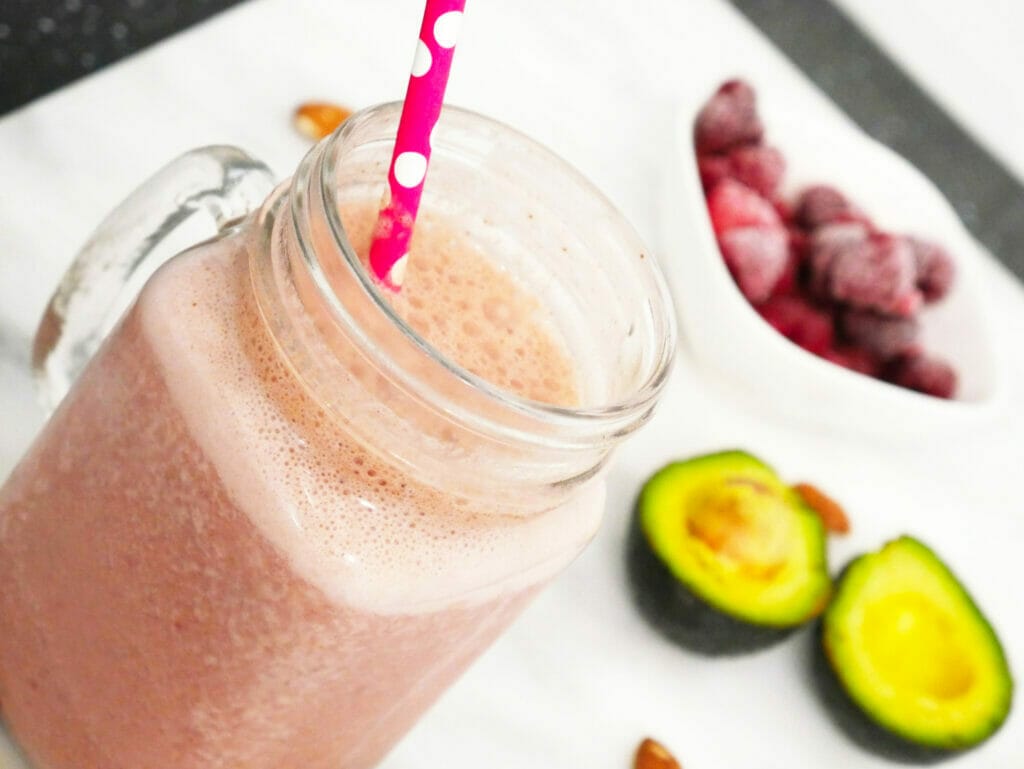 Why this Weight Gain Smoothie is awesome!
Okay, firstly, this smoothie tastes GREAT! It has a smooth, creamy texture from the avocado and almond butter, with the flavor of nuts and chocolate.
It's also versatile – if you don't have avocado, or don't enjoy the flavor or texture avocado brings, that's okay!
It will make the weight gain smoothie less creamy and have less fat, but it will still give you the important protein and carbohydrates you need in a weight gainer shake.
If you don't have low fat yogurt, no problem – you're trying to put on weight! – grab a normal yogurt instead!
And if you prefer peanut butter to almond butter, throw that in.
It will just give you a slightly different nutrition amount but with a nutty flavor you prefer!
It's also got great healthy ingredients in it – raspberries, avocado, almond butter and yogurt.
So you know you are taking in good, nutritious food when you drink this chocolate protein shake for weight gain!
One other GREAT thing about mixing protein powder into smoothies is that it stops it from going clumpy!
You know what it's like when protein powder goes clumpy.
It – is – horrible. No problem with a chocolate protein powder smoothie!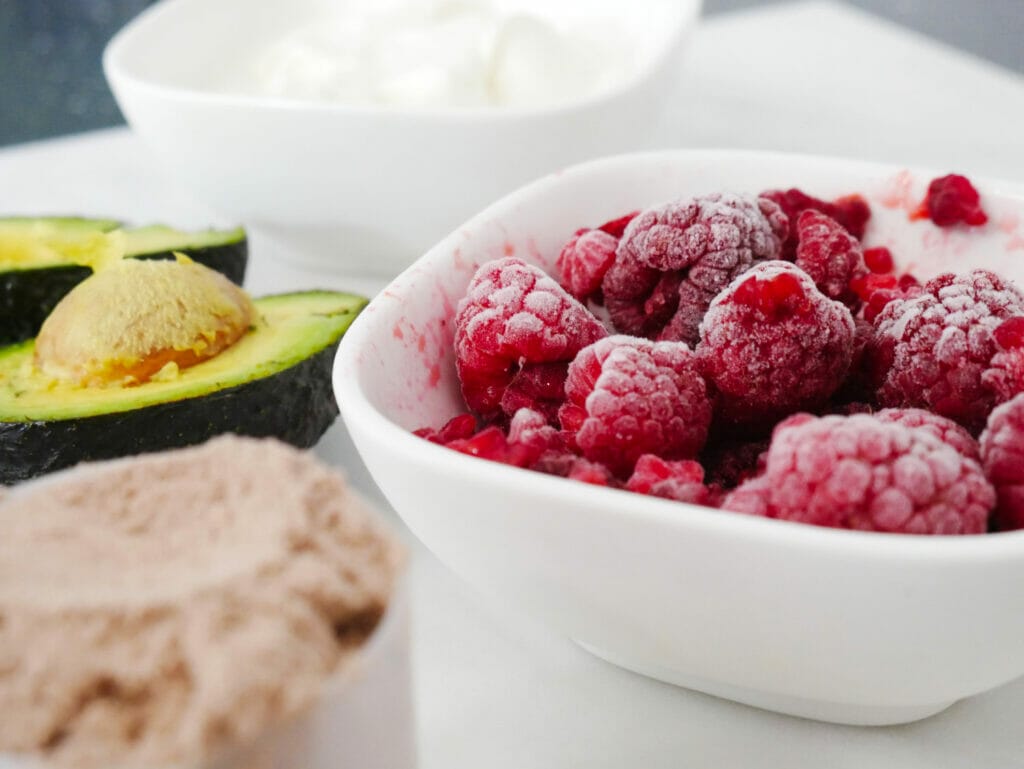 It's a Weight Gain Shake that covers all the nutrients you need to put on weight!
When looking to putting on weight, you really need a combination of protein, carbohydrates, and some healthy fats.
This chocolate almond butter weight gain smoothie is packed full of all the above.
With 30.7g of protein (depending on your protein powder of choice – I use Optimum Nutrition Gold Standard 100% Whey Protein Powder Double Rich Chocolate), 24.7g of carbs, and 20.3g of fat, you are totally covered in that regard.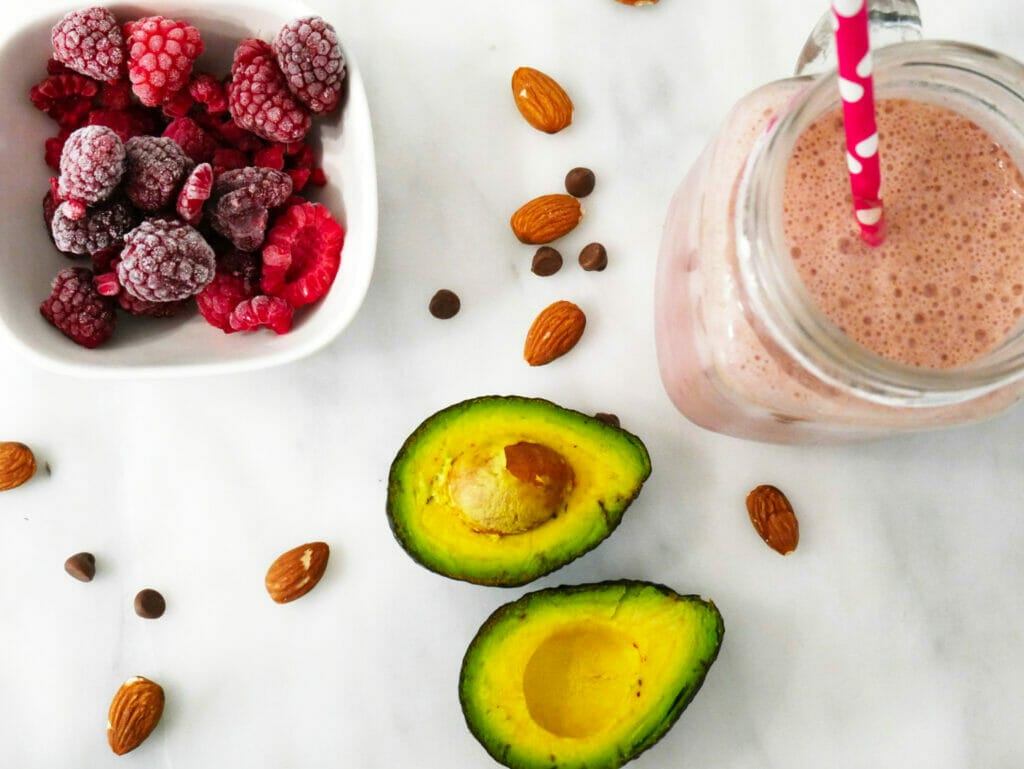 Mass Gainer Shake tips! – Things to look out for and swaps
One BIG thing to note is that not all Chocolate Protein Powders are created equal!
Some of them taste HORRIBLE, and will not make this weight gain shake taste good.
As above, I recommend Optimum Nutrition Gold Standard 100% Whey Protein Powder Double Rich Chocolate because it is highly-rated by gym-goers, and also tastes great.
If you want to reduce the amount of carbs or sugar-derived carbs, then you can reduce the amount of raspberries when making this weight gainer shake.
I suggest 75g to keep it a bit sweeter, but you can reduce this.
I would, however, not go below 60g.
Then you lose the flavor profile of the raspberries.
If you find that the weight gain smoothie is not sweet enough after removing some of the raspberries, you can add a low-carb naturally-derived sweetener such as Stevia or Erythritol.
If you don't have plain yogurt, or find the flavor a bit boring, I have tried this with coconut yogurt instead, and it works really well.
Coconut yogurt is a surprisingly great ingredient to put in to smoothies.
I recommend checking out this AMAZING chocolate almond butter smoothie protein shake and this Keto-friendly Strawberry coconut smoothie with chocolate.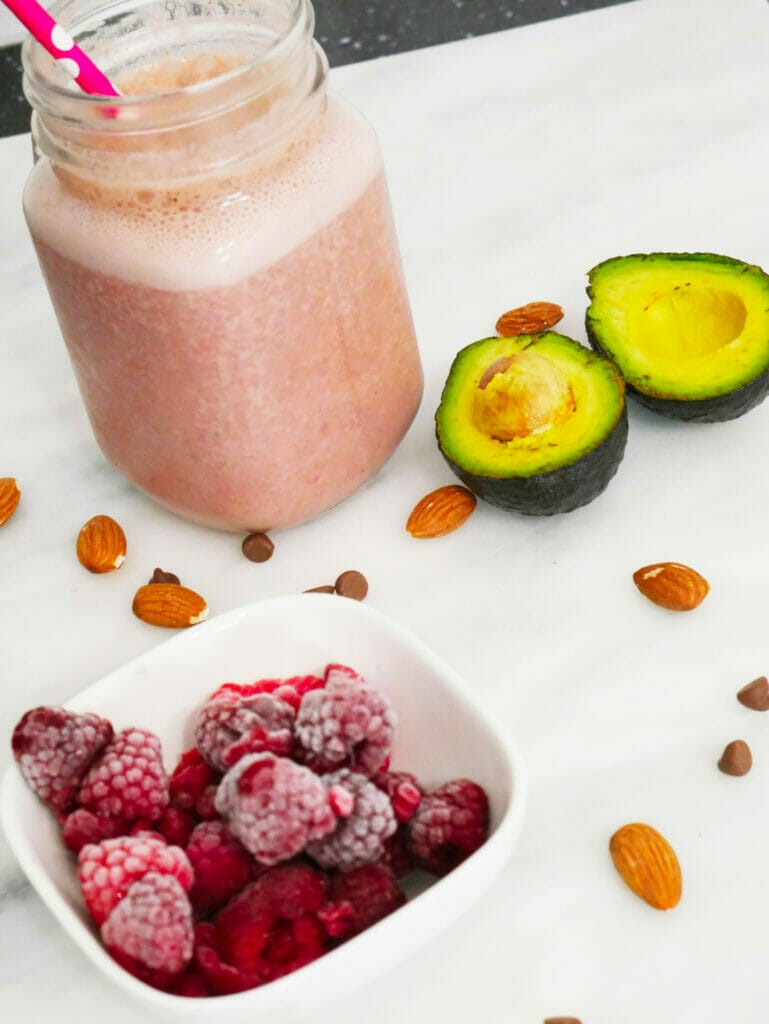 Supplements you can add to your Weight Gain Protein Shake
The great thing about adding supplements to a smoothie is that you can take them in as you eat, saving you time and the horrible flavor that can come from consuming them by themselves. (Of course, check the supplement itself to make sure you shouldn't take it with something else.)
One thing that surprisingly adds a good flavor to this is Vitamin C powder.
It gives it a little zing which adds a punch and a fruit flavor.
This can also help offset the avocado if you find that makes the smoothie not sweet enough for you. Although Vitamin C isn't sweet, it has a distinct flavor that will help.
I also try to add Psyllium Husk powder to my smoothies as well, as it adds fiber as well as a bit of texture.
They do not affect the flavor of shakes and smoothies.
Lastly, something I almost always add to my smoothies, weight gain or otherwise, is Chia Seeds.
Chia Seeds are high in Omega 3, which most people don't consume enough of.
They don't affect the flavor at all, but are a great alternative to getting in Omega 3 as opposed to fish oils.
Oh, and they also add a little bit of protein, which is beneficial for putting on weight!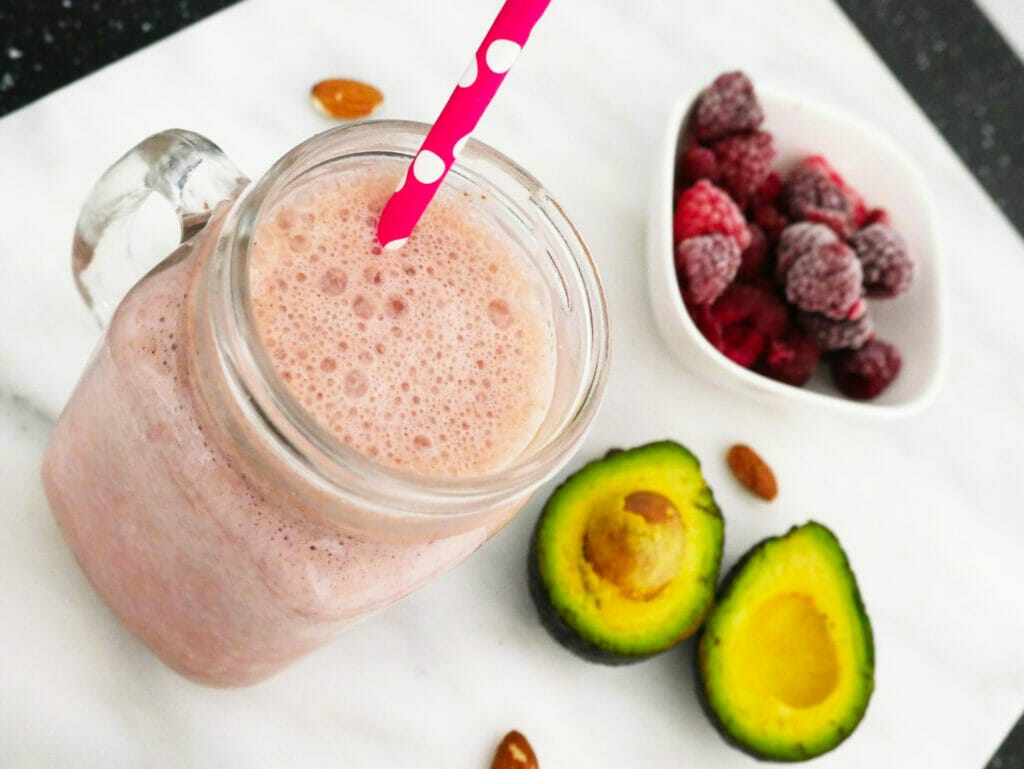 Chocolate raspberry smoothie weight gainer shake recipe
Ingredients you will need
Steps
First things first, prepare your ingredients.
If you are using frozen raspberries, blend them first in to a kind of crushed ice, so that they mix effectively into the final Chocolate raspberry smoothie weight gainer shake.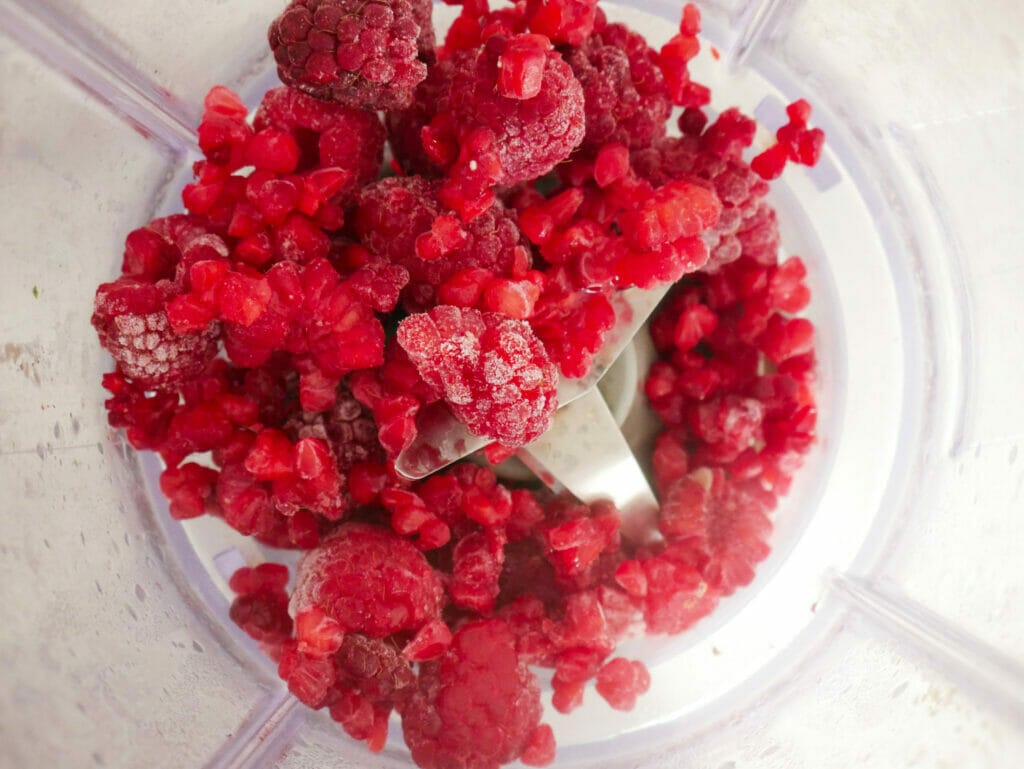 Add the avocado.
Add the almond butter.
Add the yogurt.
Add the chocolate protein powder.
Add the water.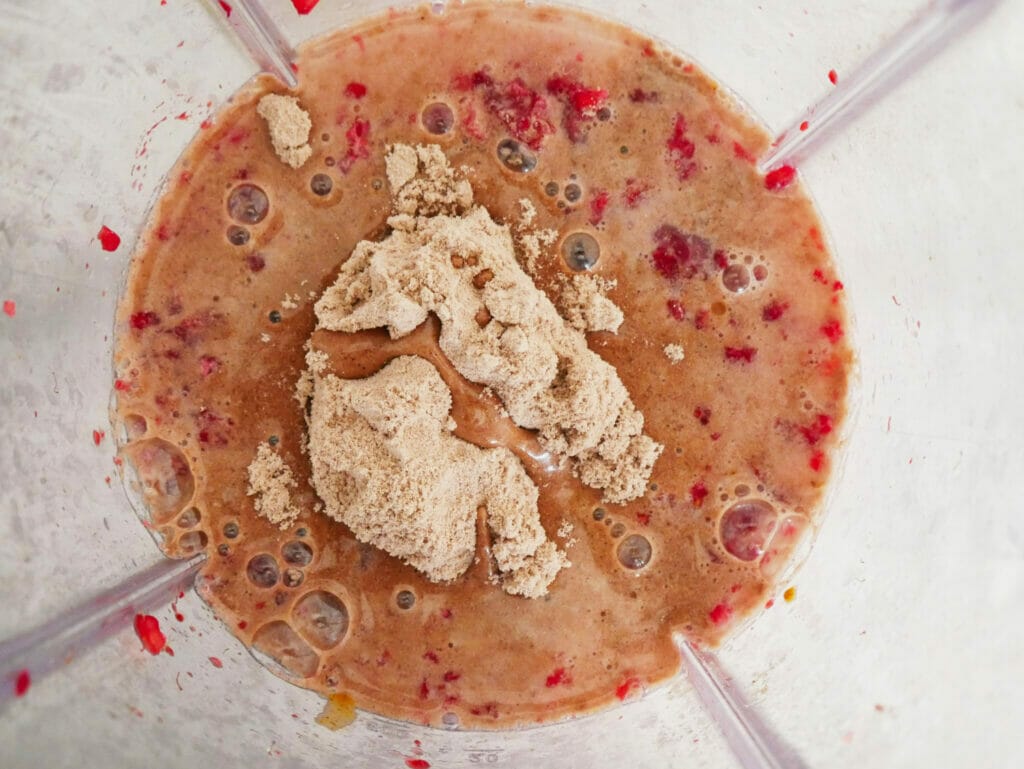 If you want to add any sweetener, you can either do it now, or taste the smoothie first and add it after.
Add any supplements.
Blend.
Enjoy!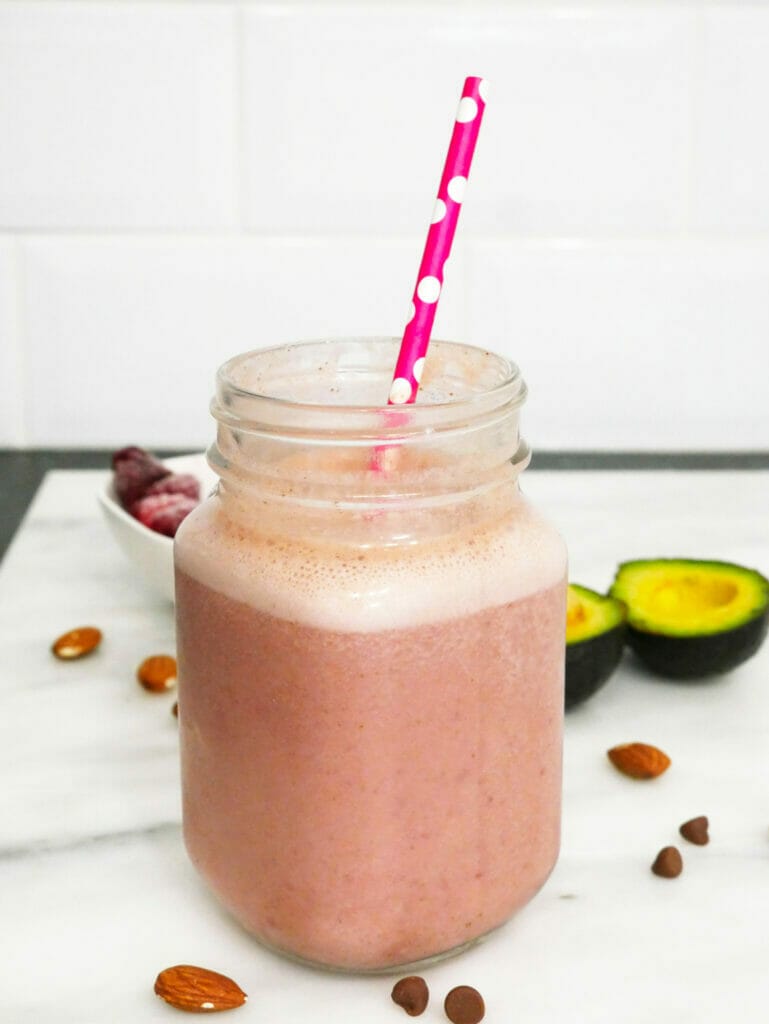 Yield: 1
Chocolate raspberry smoothie weight gainer shake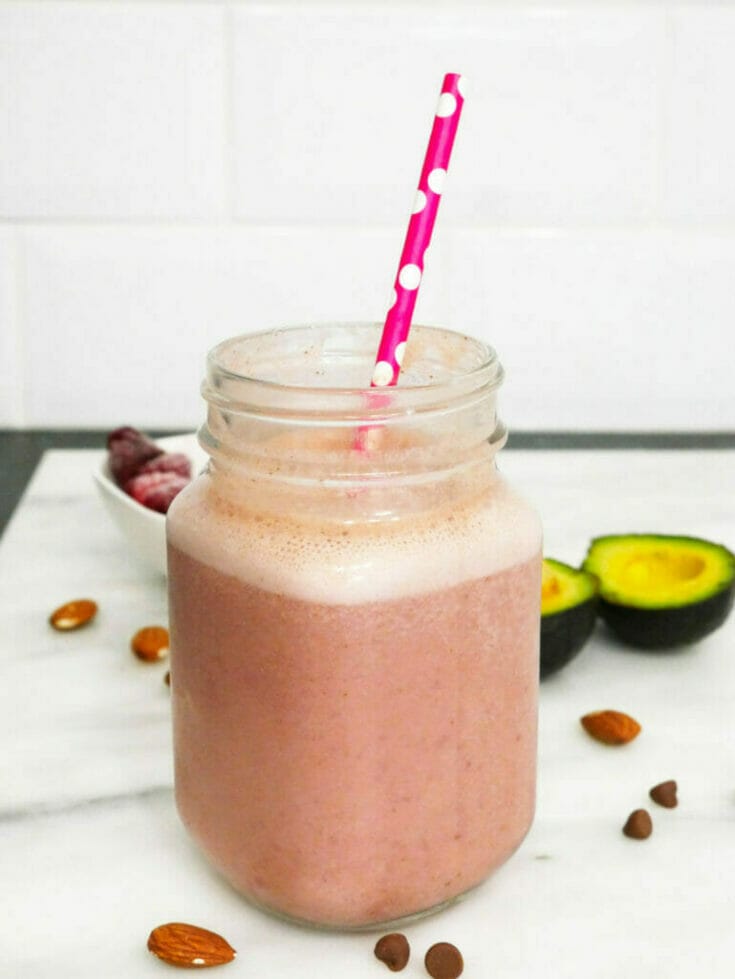 "This delicious chocolate raspberry smoothie is a weight gainer shake packed full of healthy fats, protein and carbs! And it tastes amazing!"
Ingredients
Avocado - 60g / 2.12 oz / 1/3 cup
Raspberries - 75g / 2.65oz / 2/3 cup
Almond Butter - 15g / 0.53oz / 1tbsp
Low fat natural yogurt - 100g / 3.53oz / 2/5 cup
Chocolate protein powder - 25g / 0.88oz /  1/4 cup
Water - 300ml / 10.56oz / 1 1/4 cups
Stevia (optional) - To taste
Instructions
If using frozen raspberries, blend first so they mix well in tot he final protein shake.
Add the remaining ingredients.
Blend.
Enjoy!
Notes
If using frozen raspberries, be sure to blend them first so that they turn in to a kind of crushed ice form. This will help them blend better in to the final smoothie.
Not all chocolate protein powders are created equal! Some do not taste great, so be sure to get a high quality one. I like Optimum Nutrition Gold Standard Whey Double Chocolate, as it tastes good and is a high-quality protein powder.
You may want to add Stevia to sweeten it a little, depending on how sweet you like your smoothies.
If you want to add more fat, you can substitute the low fat natural yogurt for a normal natural yogurt.