As an Amazon Associate, I earn from qualifying purchases. In addition, I participate in several other affiliate programs that allow me to earn while I recommend products I love.
Want to make eggnog the easy way?
Traditional eggnog, or eggnog made from scratch, is not too difficult to make, but it can seem like it when you find recipes with so many steps and different storage options and things you have to do before you serve it.
In this easy traditional eggnog recipe, I'm going to show you how to make eggnog the easy way, using the same ingredients, but putting it all together at once instead of in multiple stages.
You don't need anything too fancy, though an electric hand mixer will help make the process a lot faster, and of course there's nothing better than serving eggnog in cute holiday glasses so get yourself some of those and then let's jump into it.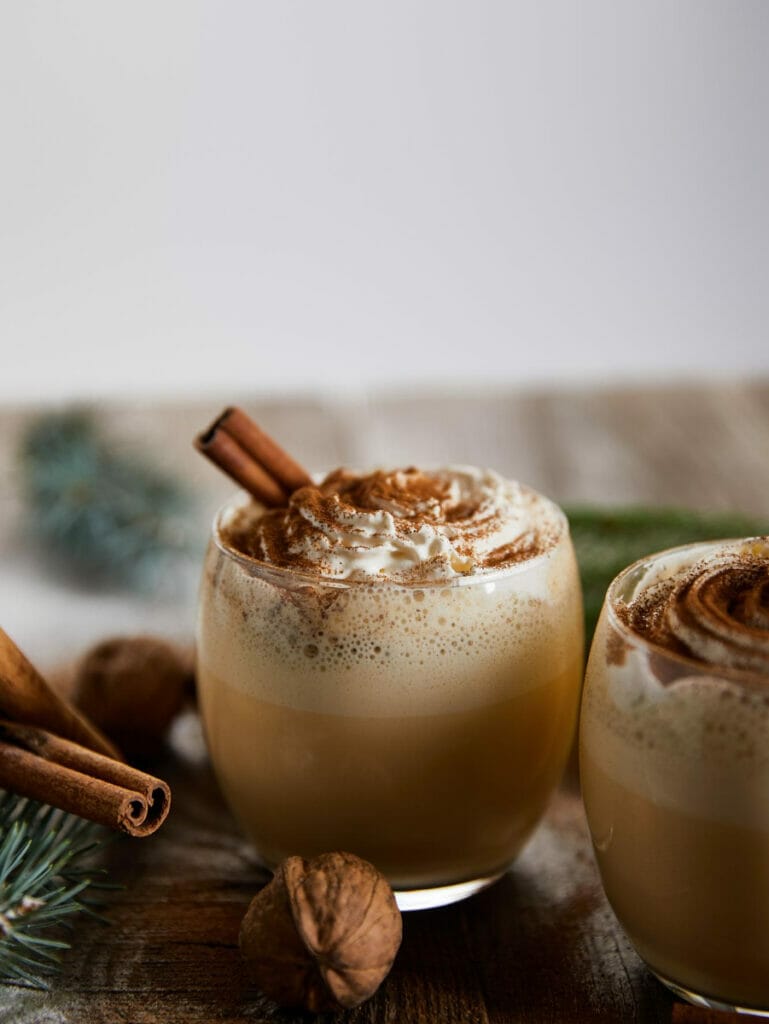 What is eggnog?
Eggnog, by definition, is a creamy drink made with milk, sugar, and eggs.
It's thick, often served around the holiday season, and is one of those things that most people don't think about until the weather gets colder and the lights start going up.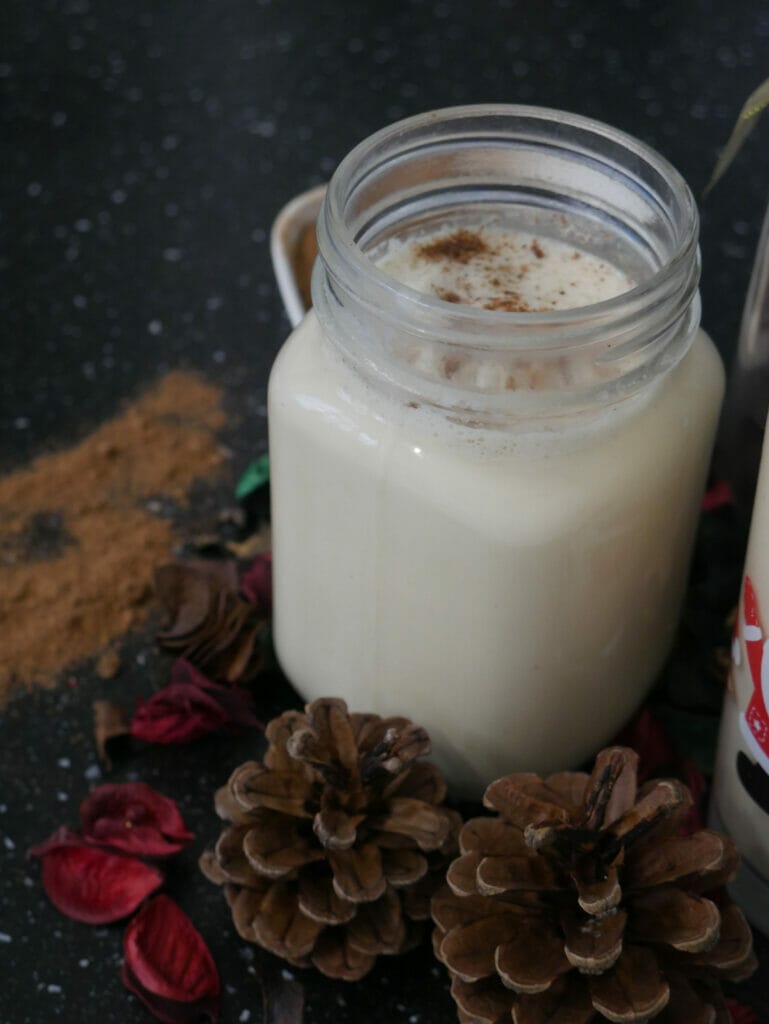 But when it is eggnog season, the possibilities are endless!
Serve it hot, serve it cold, serve it with or without alcohol, and enjoy the delicious nutmeg flavor and how it just makes you feel in the mood for some caroling.
Eggnog probably dates back to the 17th century and was enjoyed in the original American colonies, so when you're sipping on it, you're basically being a part of history.
Or something like that.
Ingredients
medium free-range eggs, separated into yolks and eggwhites – you can use non-free range eggs if you don't have them, but it's still important to separate them out into one bowl of egg whites and one bowl of egg yolks
white sugar – this is going to help create the fluffy texture when whipped with the eggs and adds sweetness
whole milk – you're going to want to use whole milk for the best, creamiest eggnog!
heavy cream – another method of making sure the eggnog goes down smoothly!
rum – most people use rum in eggnog, but you can use another liquor like bourbon if you prefer
nutmeg – nutmeg gives our eggnog a slightly spiced taste and makes it smell like the holidays!
How to make eggnog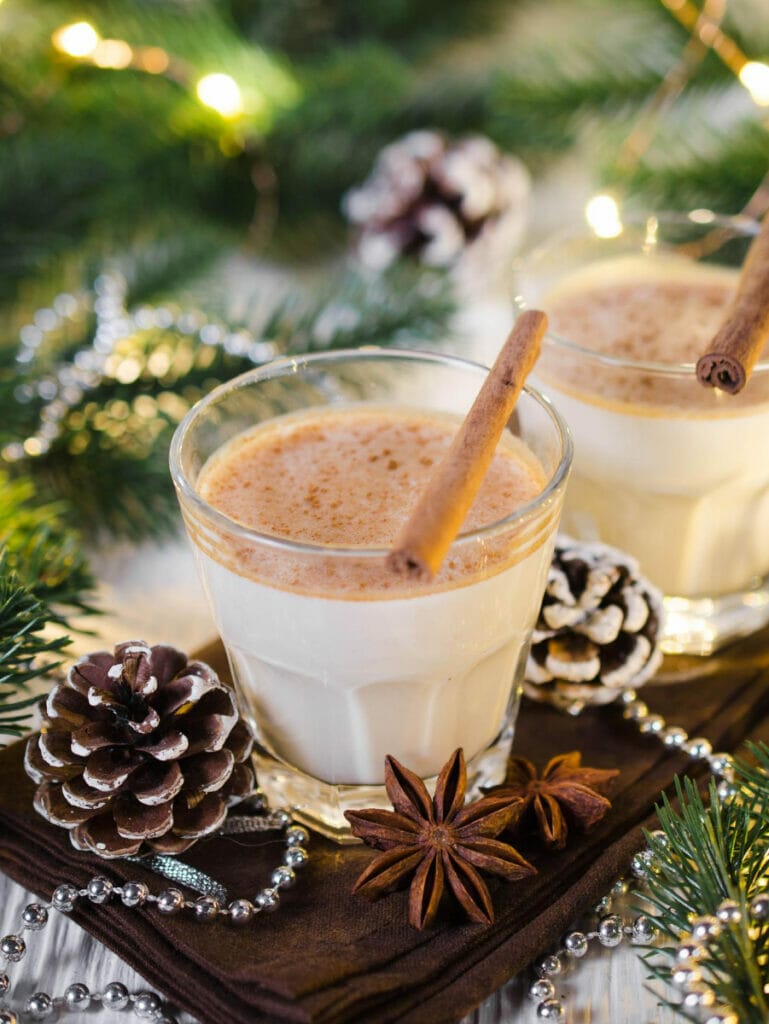 It can seem really overwhelming to make eggnog from scratch, but it's honestly not that hard and also in our version, we skip out the whole "wait to do the whole thing" until serving malarkey, because it's the holidays and we're all busy and it still works out fine.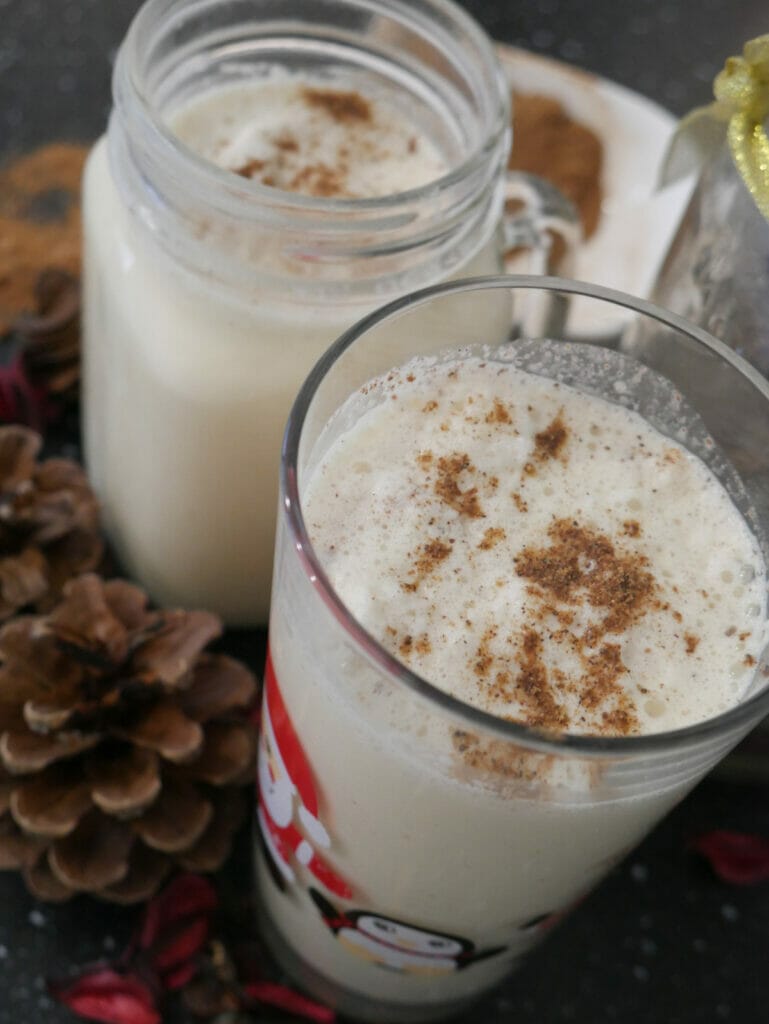 So here's what we're going to do.
Whisk the egg yolks in a bowl with some of the caster sugar (see recipe). You'll want to keep mixing until it's yellow, pale, and thick. I use an electric mixer.
Add in the heavy cream, the alcohol, and the nutmeg.
In a separate bowl, whisk the egg whites for about 10 to 15 seconds on low until they're nice and foamy.
Mix the remaining white sugar in with the egg whites and whisk for about 40 seconds on low or until soft peaks form.
Fold in the egg whites into the eggnog in the bowl. It will settle and be foamy on top.
Either serve straight away, or leave overnight for the flavors to settle and mellow.
Serve in glasses with some fresh nutmeg on top!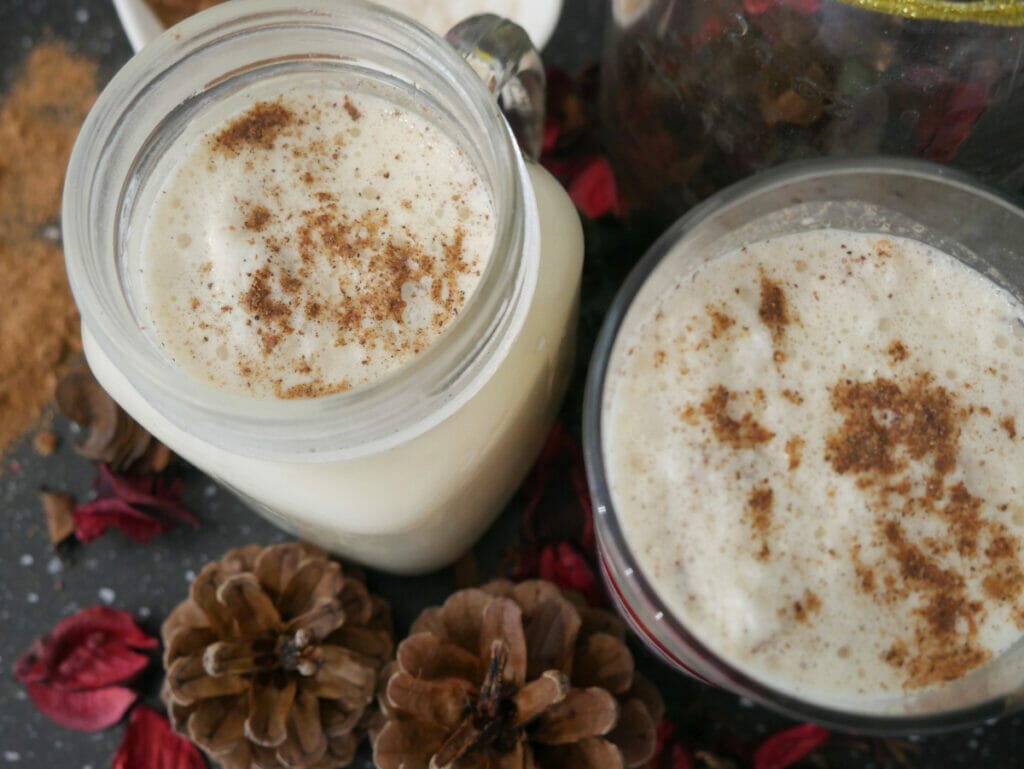 Eggnog top tips
You'll find a lot of recipes that recommend things like letting the eggnog sit overnight in the fridge before adding the foamy egg whites in, but this is "no fuss" kitchen which is why we just do it all at once. It still tastes great, don't worry.
The amount of rum used in this recipe will create a "taste" of the rum, but it won't be strong. If you prefer a stronger alcoholic taste in your eggnog, double the amount.
If you're worried about egg safety, you can use a pasteurized carton of egg whites instead of fresh ones.
Storage tips
Store the eggnog in glass bottles with lids in the fridge for up to 3 days.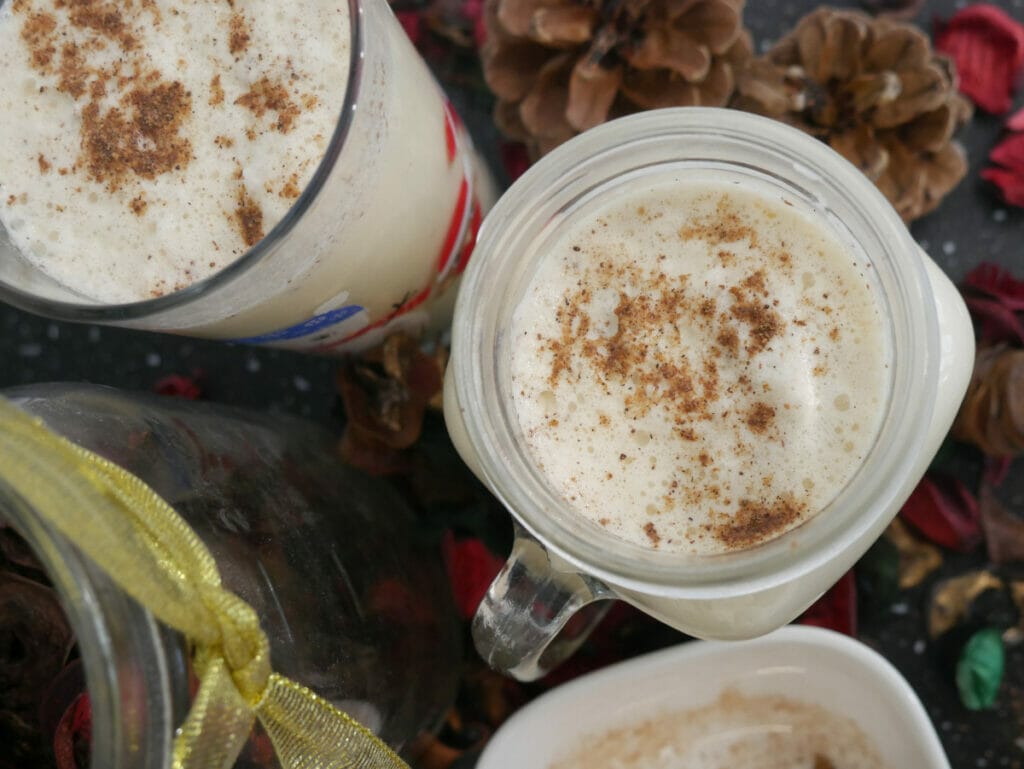 What to serve with eggnog
Eggnog goes well with lots of holiday food and is most often served on its own as something to warm up with when you're making snowmen, caroling, or ice skating.
However, it also pairs well with holiday finger foods and other desserts like Christmas cookies (and hey, Santa loves it, so whatever he wants to eat with it is fine with us!).
Yield: 12
Easy Eggnog Recipe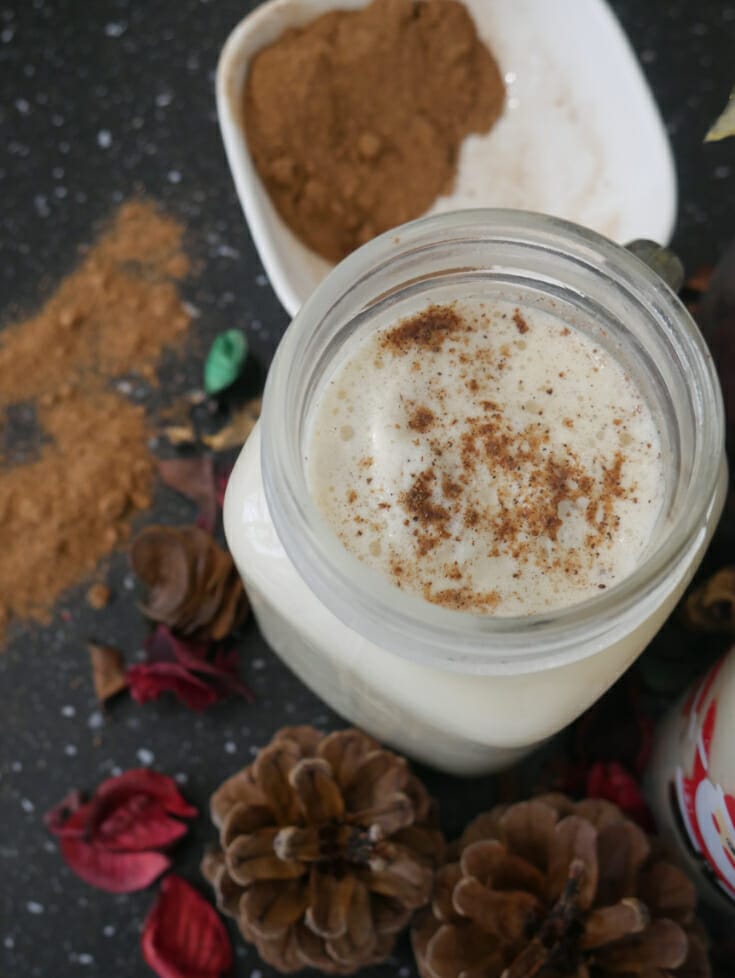 Make this easy eggnog recipe at home for the holidays, sharing a popular American drink with family and friends.
Ingredients
6 medium free-range eggs, separated
150g/5½ oz white sugar
500ml/18fl oz whole milk
400ml/14fl oz double cream
175ml/6fl oz rum
ground nutmeg, to taste
Instructions
1. In a bowl, whisk the egg yolks with 100g (3 ½ oz) of the sugar. Mix until it goes pale, thick, and yellow (use an electric hand mixer for best results)
2. Stir in the rum, double cream, and the milk.
3. Add a bit of nutmeg on top.
4. Whisk the egg whites in a glass bowl until foamy, about 10-15 seconds on low.
5. Add the remaining sugar and whisk until soft peaks form, about 40 seconds.
6. Pour the egg nog into a large bowl and fold in the egg whites until combined.
7. Leave overnight for flavors to settle.
8. When ready to serve, pour into glasses and add nutmeg on top.