As an Amazon Associate, I earn from qualifying purchases. In addition, I participate in several other affiliate programs that allow me to earn while I recommend products I love.
This almond butter banana toast is packed with protein and is a super easy breakfast idea.
I'm going to be honest with you here.
This almond butter and banana toast requires so little culinary skills, it's hardly considered cooking.
And that's just what we like sometimes here at No Fuss Kitchen!
This is the ultimate breakfast for people just getting comfortable in the kitchen or wanting something that doesn't require anything more complicated than a toaster.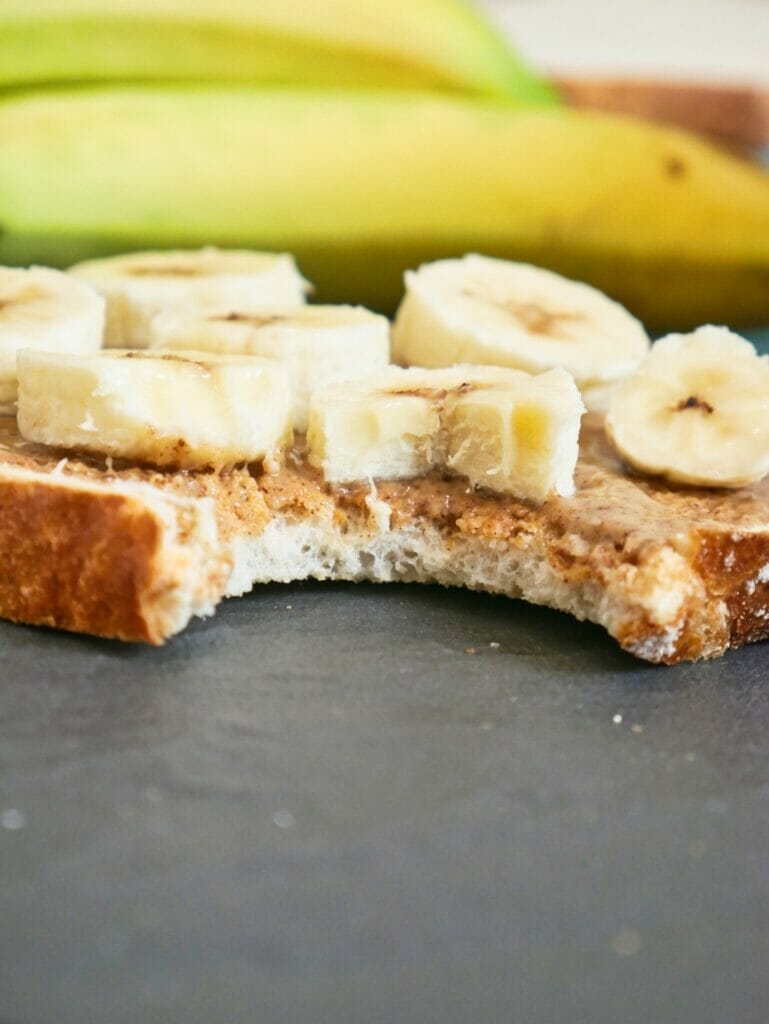 Our Favorite Quirky Kitchen Gadgets
Why Almond Butter instead of Peanut Butter?
There's a big debate about almond butter versus peanut butter, but some prefer almond butter (this is my favorite brand) because it has nutrients like magnesium, iron, and calcium in higher quantities than peanut butter.
Some people also use almond butter instead of peanut butter if they have a peanut specific allergy, but can eat other nuts.
And some people like it because it's the best nut butter for keto diets due to the lower amount of carbs.
I love both almond butter and peanut butter, and you can use peanut butter instead of almond butter for an equally delicious toast breakfast.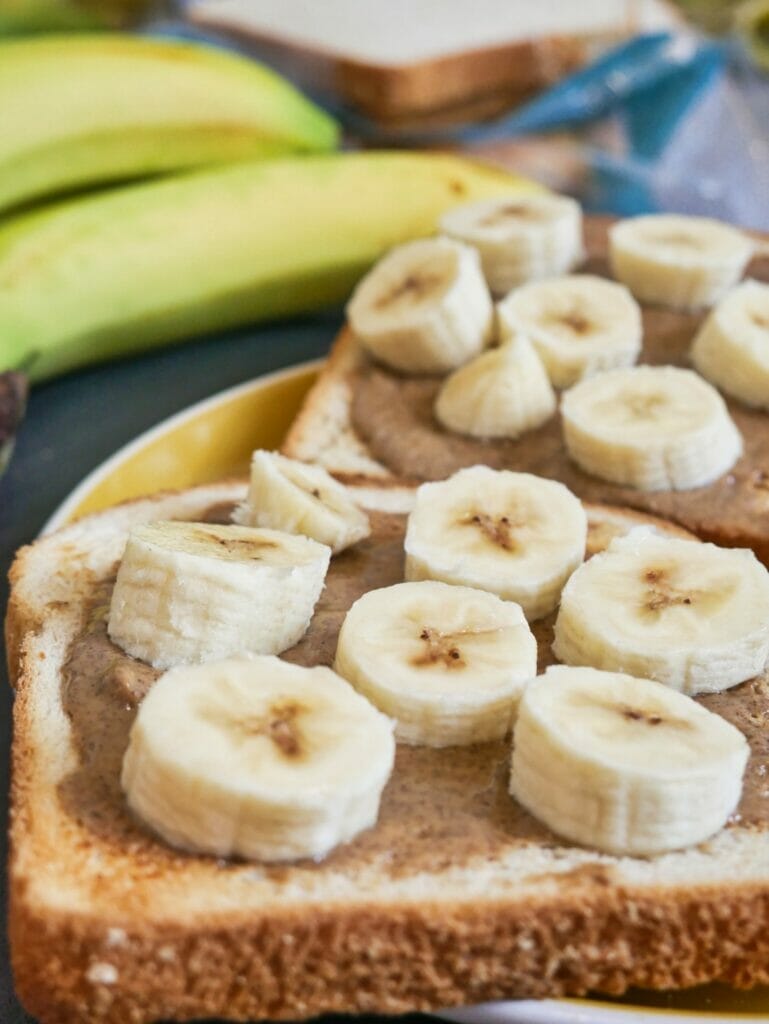 Ingredients
The ingredients are simple, which is what we like!
You'll need:
bread – of any kind, in slices. I love Dave's bread for its organic and healthy goodness
almond butter – your favorite brand (I love this one)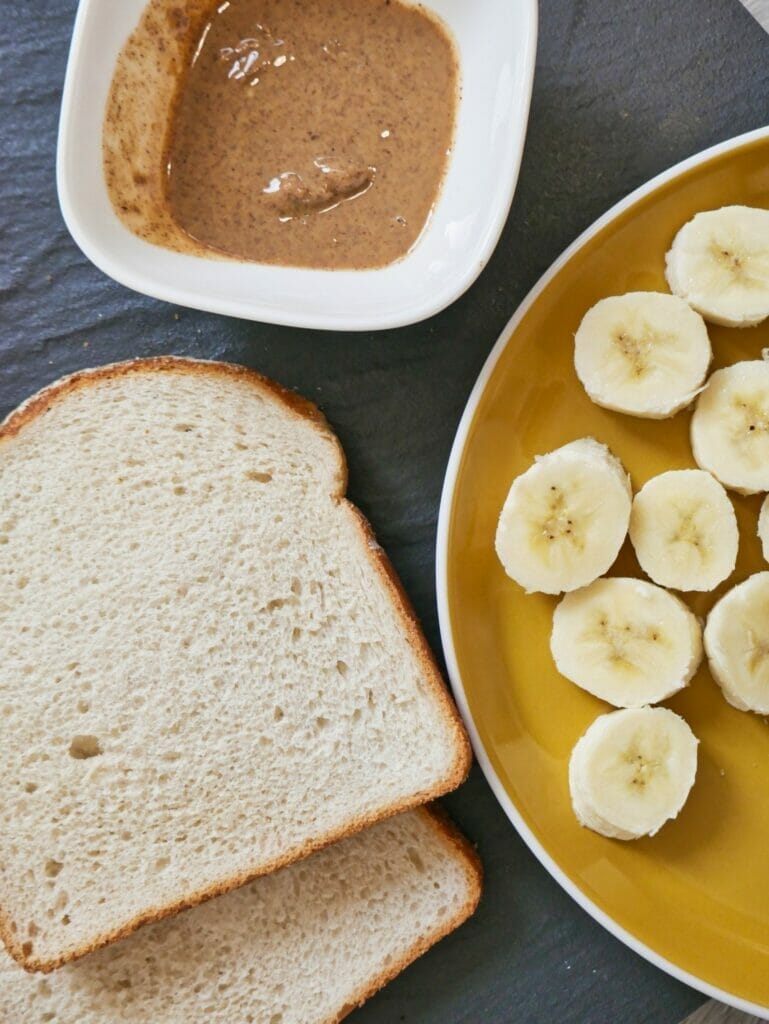 How to Make Almond Butter Banana Toast
Toast two pieces of bread until desired doneness.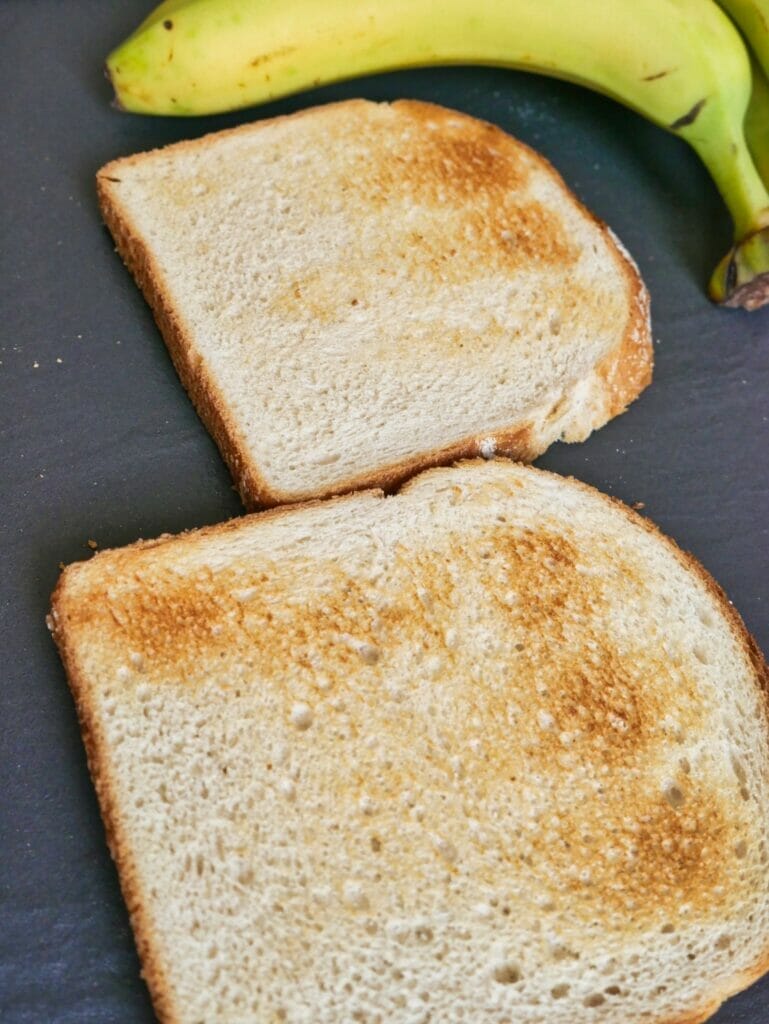 Spread almond butter on each slice of bread.
Add chopped banana pieces on top of the almond butter, sliced to your desired thickness.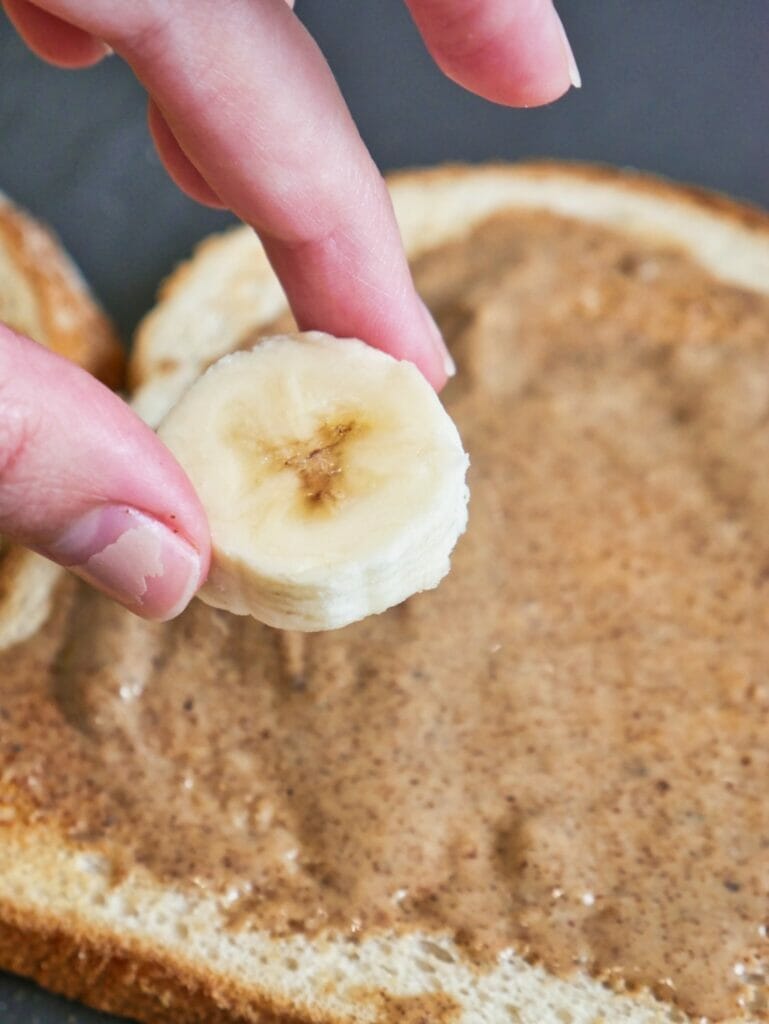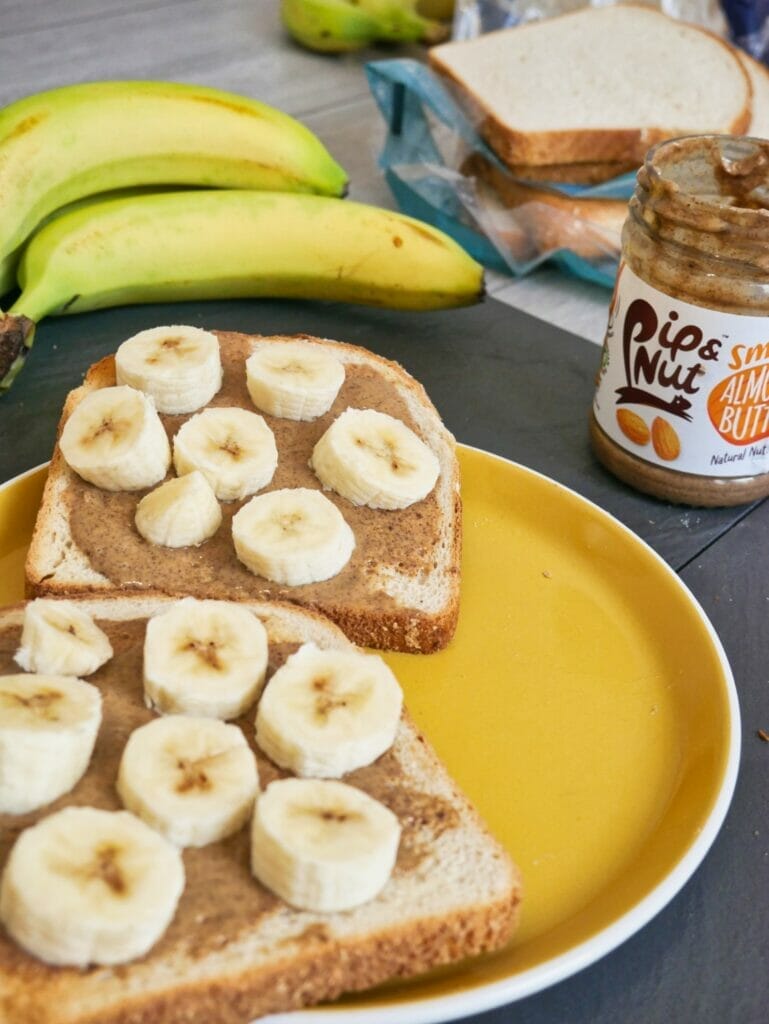 Tip for Easy Spreading
One thing I've noticed when spreading almond butter is that depending on the brand, you may want to put it in a small bowl and heat it up for 20-30 seconds in the microwave to make for easier spreading.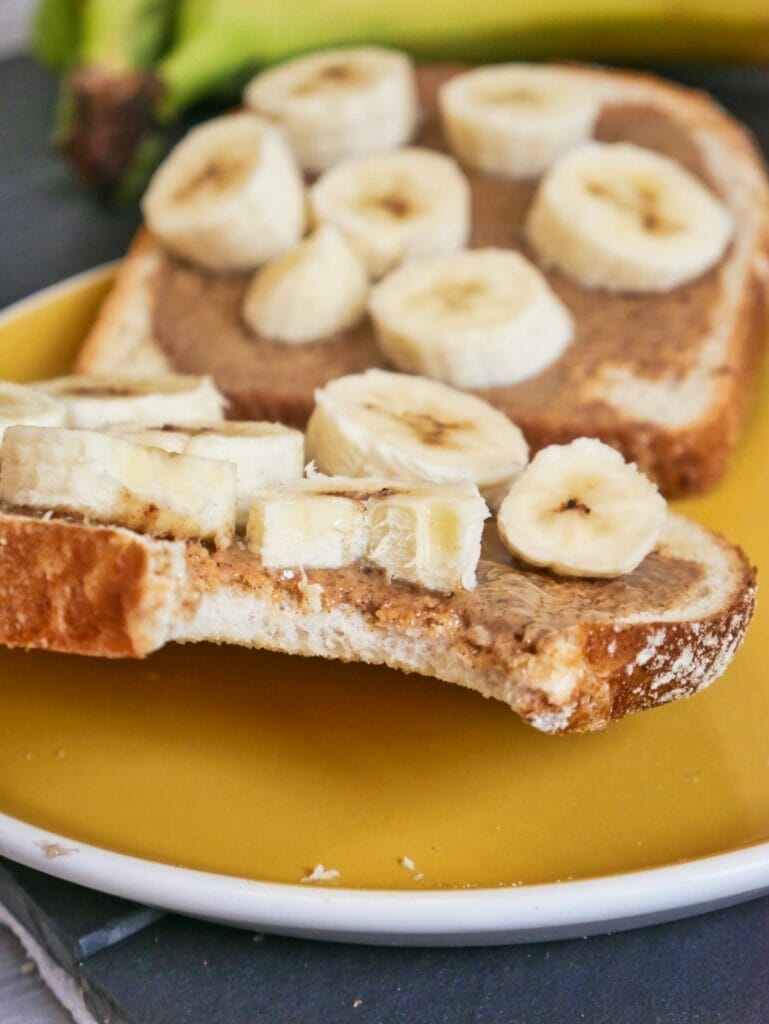 Can I Use Frozen Bananas?
I don't recommend using frozen bananas on banana toast.
You'll want to be eating right away, and frozen bananas will thaw mushy and just aren't the right fit.
What if I Don't Have a Toaster?
If you don't have a toaster, then you can turn this into an almond butter and banana sandwich!
It won't have the crunch of the toast version, but it will still taste good!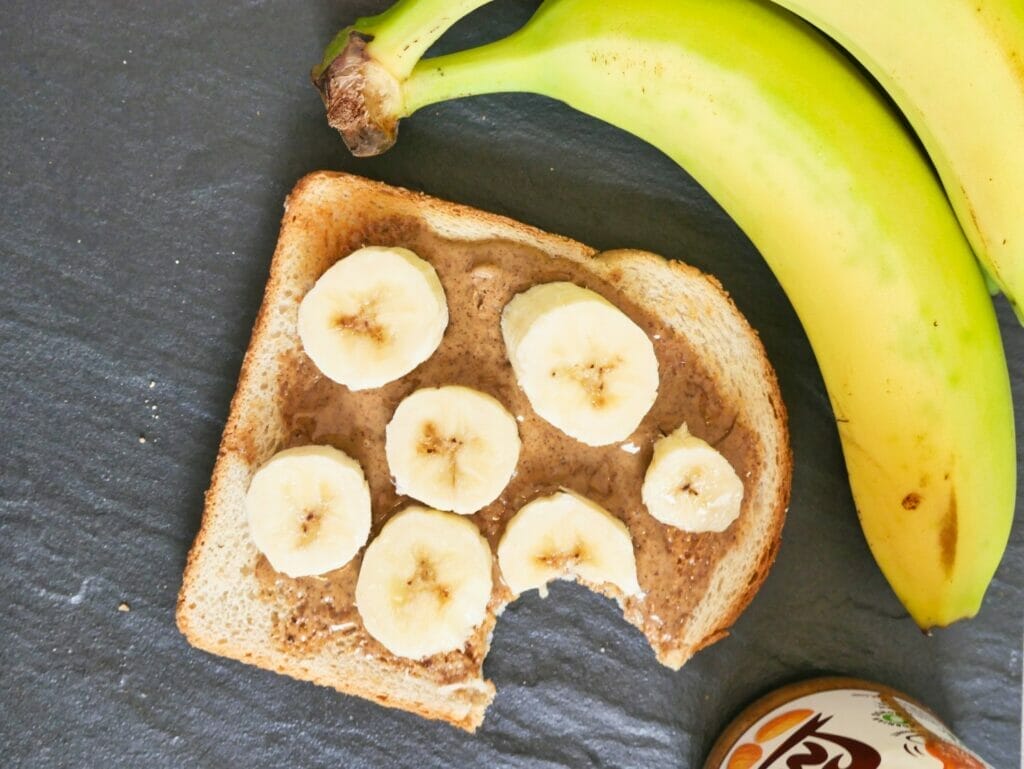 What to Serve with Banana and Almond Butter Toast
If you're not filled up by just toast, consider other breakfast options like overnight oats, or you can have this as a side to a heartier breakfast like eggs and bacon.
That being said, the banana plus the almond butter create a more filling toast experience than just having toast with butter, so you may be surprised how full you're able to get based on two slices of this toast!
Yield: 2 slices of toast
Almond Butter Banana Toast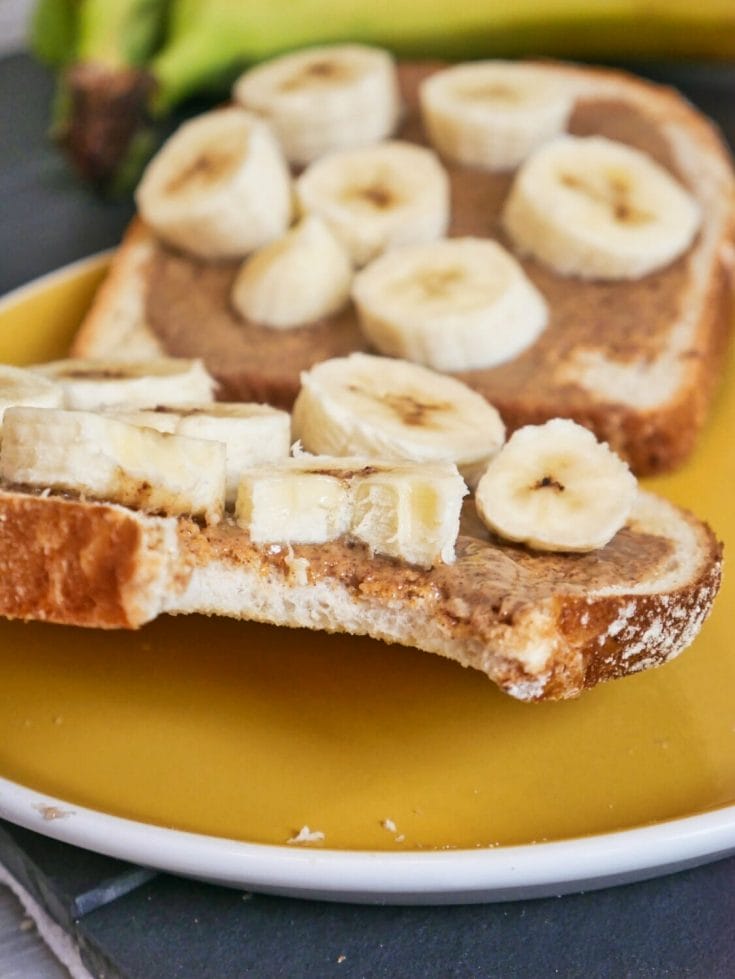 This almond butter banana toast is absolutely delicious and only takes minutes to make.
Ingredients
1 banana, chopped into slices
Instructions
Toast the two pieces of bread to desired doneness.
Spread 1 to 2 tablespoons of almond butter on each slice as soon as it comes out of the toaster.
Add chopped banana to each slice.
Notes
1. If you want to use peanut butter instead of almond butter, you can do that!
2. If you prefer your almond butter a little bit easier to spread if you have a stiffer brand, heat it up in the microwave for about 20 seconds in a small bowl beforehand.
Recommended Products
As an Amazon Associate and member of other affiliate programs, I earn from qualifying purchases.