As an Amazon Associate, I earn from qualifying purchases. In addition, I participate in several other affiliate programs that allow me to earn while I recommend products I love.
These lemon overnight oats are the perfect way to start your day with a bit of a zing and a pep in your step, and the best part is there's no cooking involved!
I've tried so many different overnight oats flavors, but one of my favorite is all about the lemon.
It adds an extra zest to your typically creamy overnight oats, and the flavor is addictive.
In this lemon overnight oats recipe, we're going to dig deep into the best ways to make overnight oats, when you should add the lemon and how, and other suggestions for customizing your overnight oats to suit your taste.
But first, let's get started with a question I get aaalllllllllllll the time.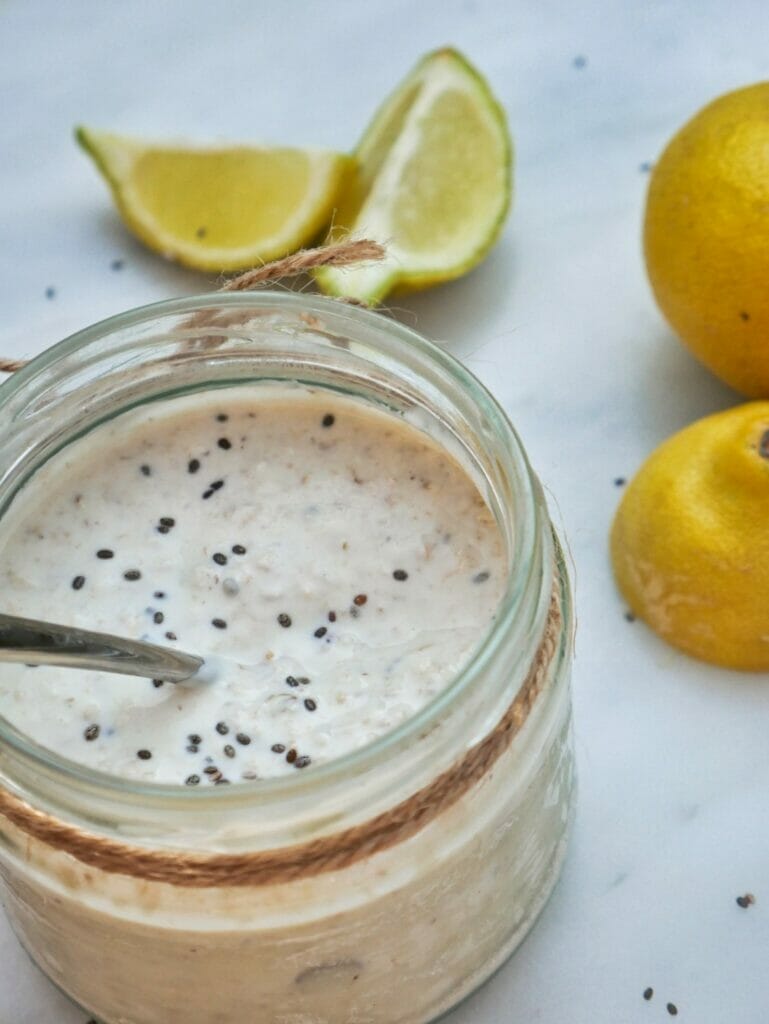 Our Favorite Quirky Kitchen Gadgets
What the Heck are Overnight Oats?
People who haven't heard of overnight oats are often confused as to the difference between these types of oats and the types of oats you eat in the morning after microwaving or putting on the stove.
With overnight oats, you're using the same oat base, but there is no heat involved, and the fridge does all of the work.
Overnight, the oats absorb the water or liquid you've added, and in the morning you get a creamy, cold breakfast that many find preferable to regular old oatmeal.
If you really want to eat overnight oats warm, you can heat them up, but they're designed to be eaten cold straight out of the fridge.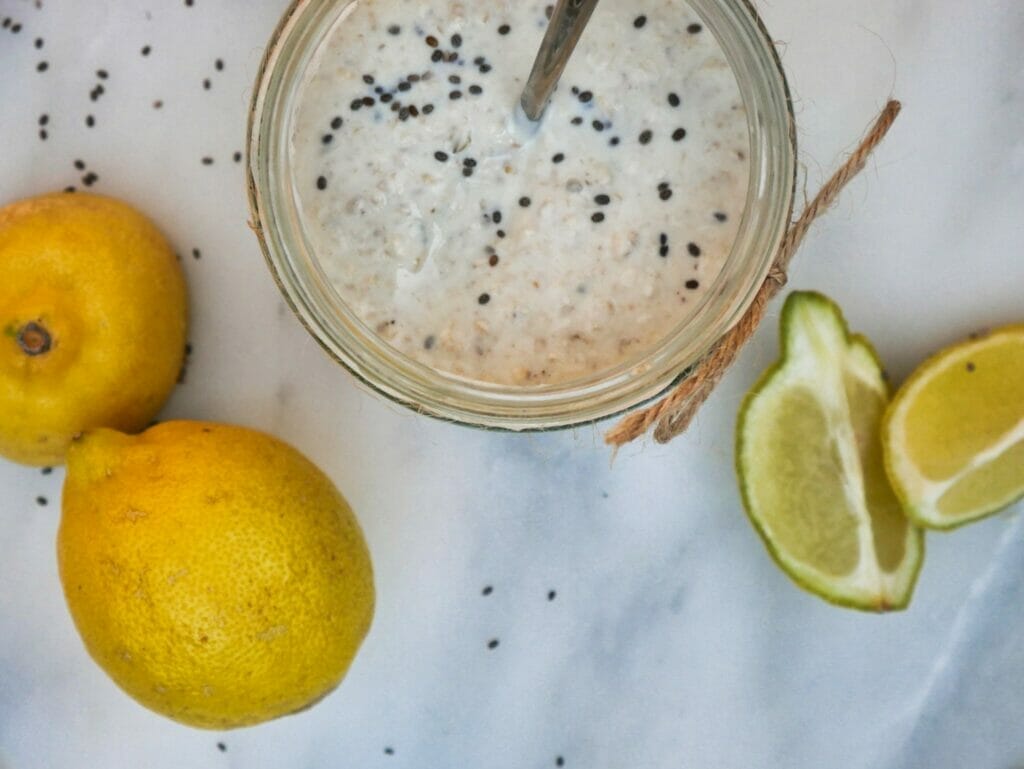 Ingredients
For these overnight oats with lemons, you're going to want to gather up the following ingredients: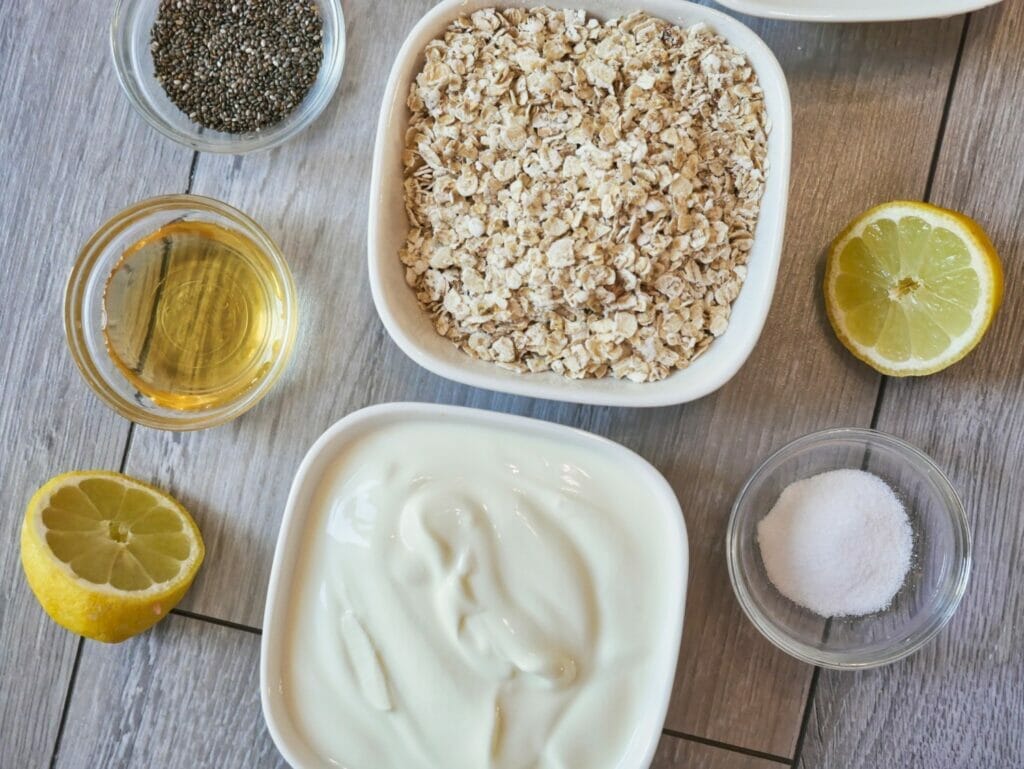 water – easy! Straight from the tap!
greek yogurt – I use full fat greek yogurt like this in these recipes, but you can use your own favorite kind
lemon – for getting the fresh lemon juice into our oats
rolled oats – the star of the show! Use rolled or steel cut like these, not instant oats as it can be gummy.
chia seeds – for some extra protein, omega 3, and color. I prefer this brand.
Substitutions
The fantastic thing about overnight oats is that they are so, so easy to customize.
Seriously, you can switch around so many of the ingredients besides the actual oats to fit your lifestyle.
Some examples would be switching out the water for milk if you want an even creamier and tangy flavor.
You could leave out the yogurt altogether and just use an extra 1/4 cup of water.
You could use your own favorite type of yogurt instead of Greek yogurt.
You could leave out the honey or add more, or use vanilla extract instead of honey as a sweetener.
The basic thing to remember is that you want to keep a 1:1 ratio between the oats and the liquid or runny ingredients, so you don't want to use 1/2 cup of oats and just 1/4 cup of water, but everything else is fair game.
Obviously making changes will impact the final taste and consistency, but that's part of the fun in determining how you like your overnight oats because we don't all enjoy the same type of textures and flavors.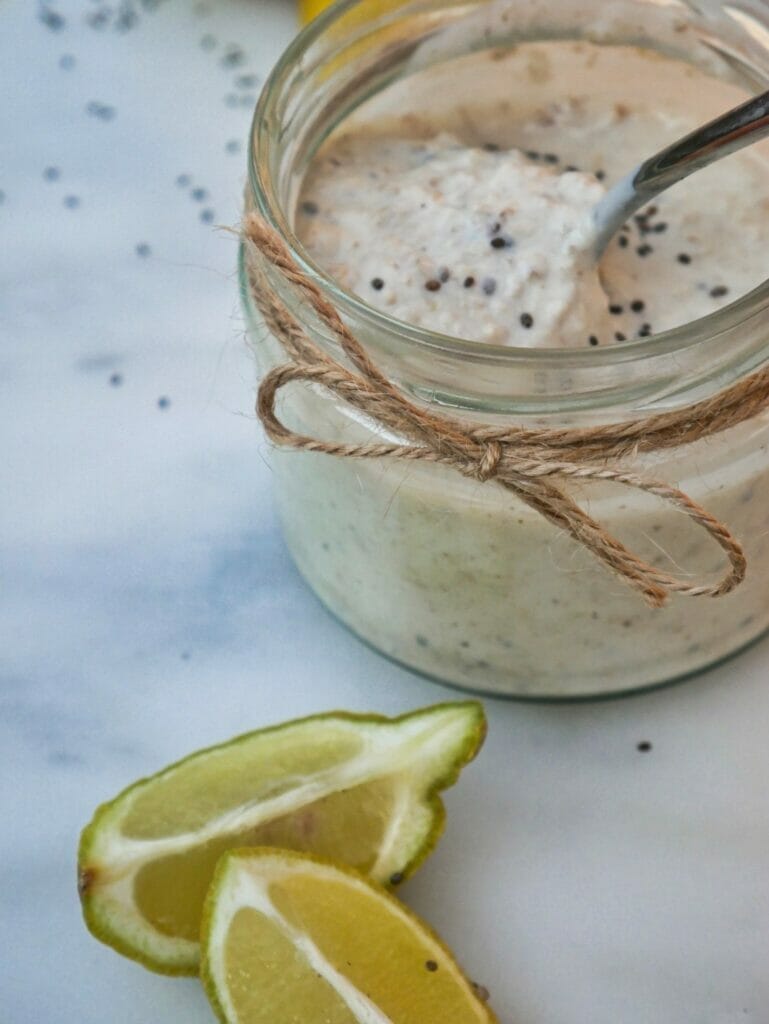 Can I Use Lemon Juice from a Bottle?
If you don't have fresh lemons, you can absolutely use lemon juice from a bottle like this.
You'll want about 3 tablespoons of lemon juice instead of the juice from one lemon.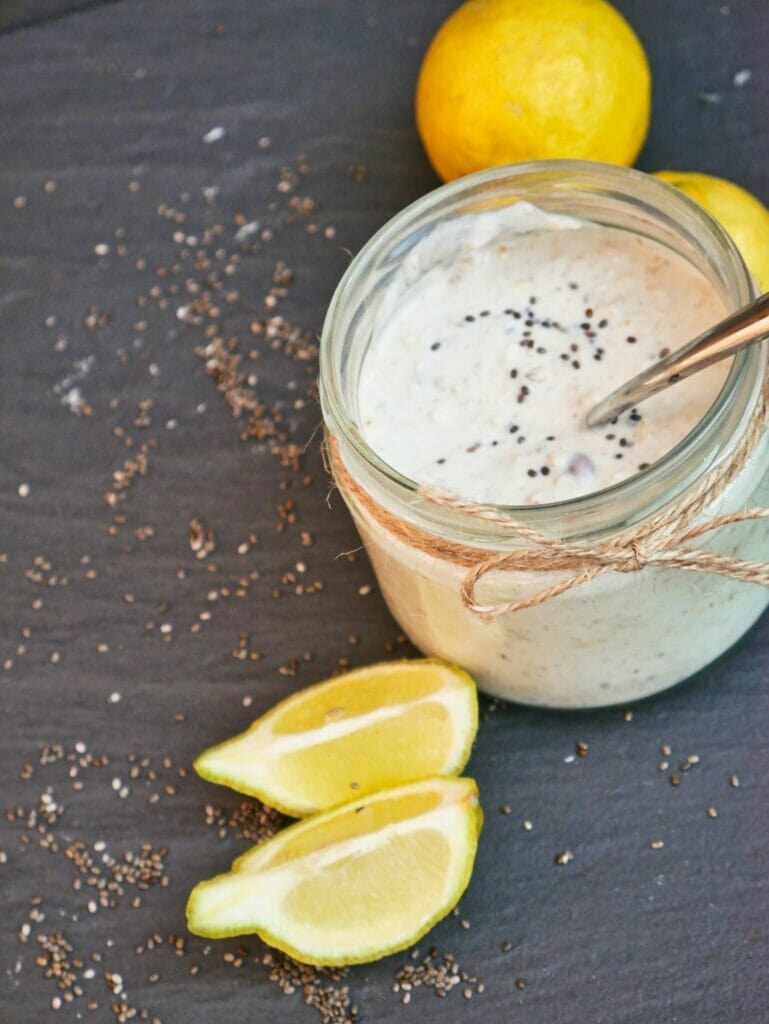 How to Make Lemon Overnight Oats
The steps to making these oats are simple, which make it a great choice for busy people who want something healthy without taking too long.
Mix the water, yogurt, and honey together in the container you're using for the oats.
Cut a lemon in half and squeeze the juice from both sides into the mixture and combine.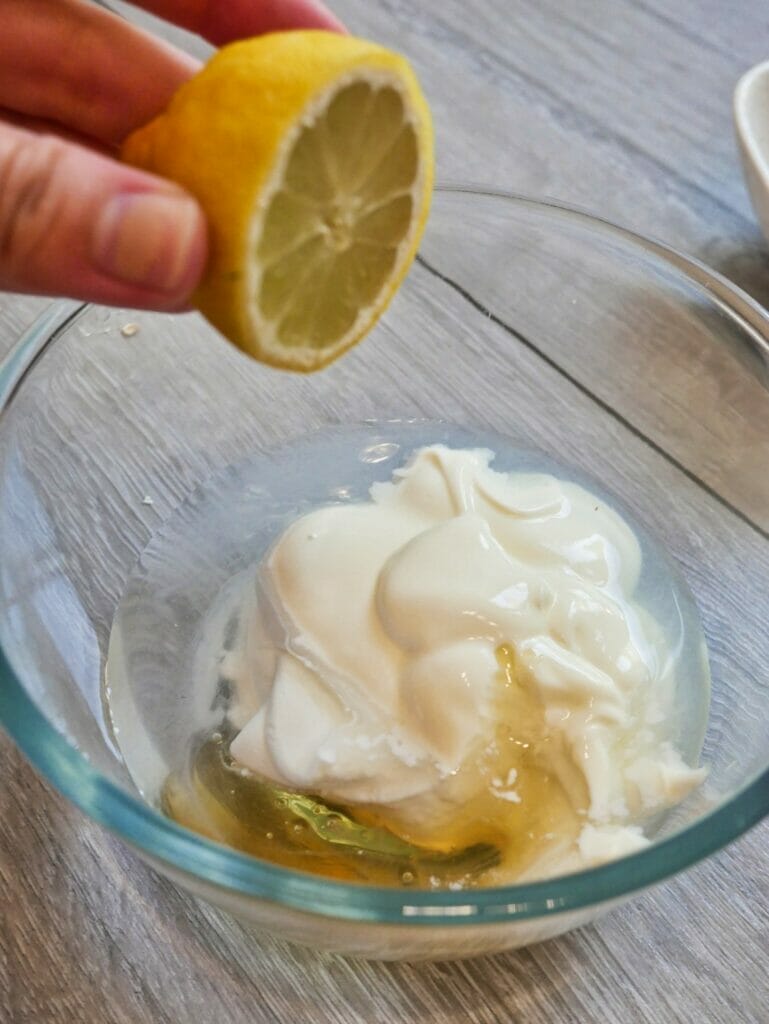 Add in the oats and chia seeds.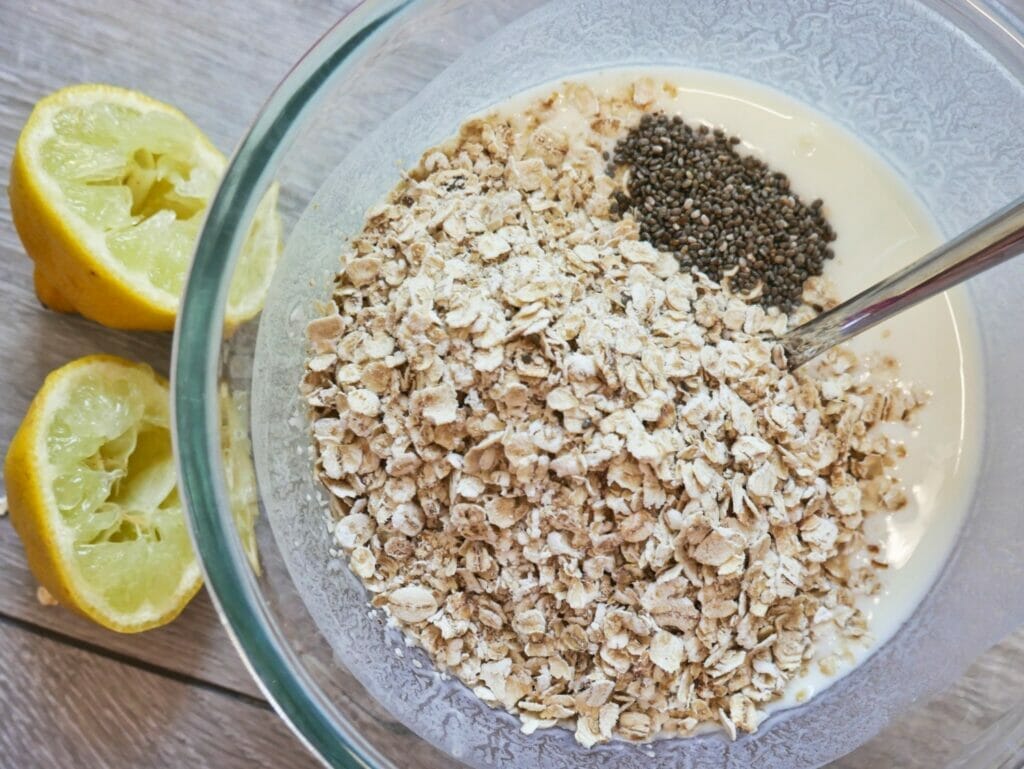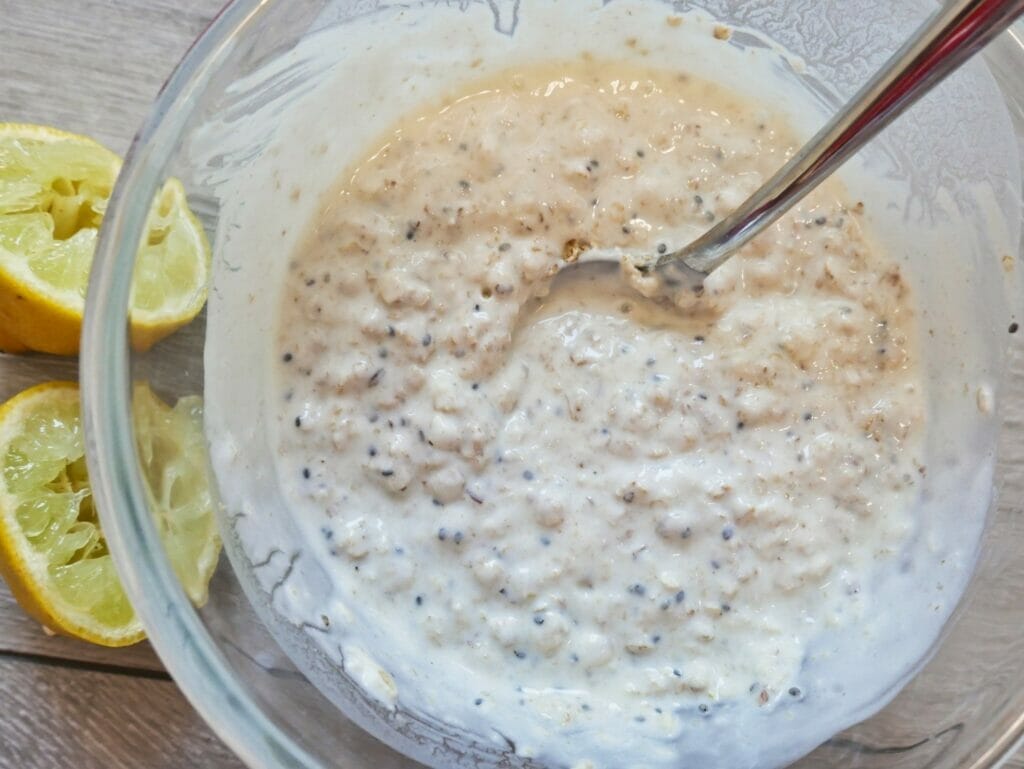 Refrigerate for 8+ hours, preferably overnight.
Enjoy!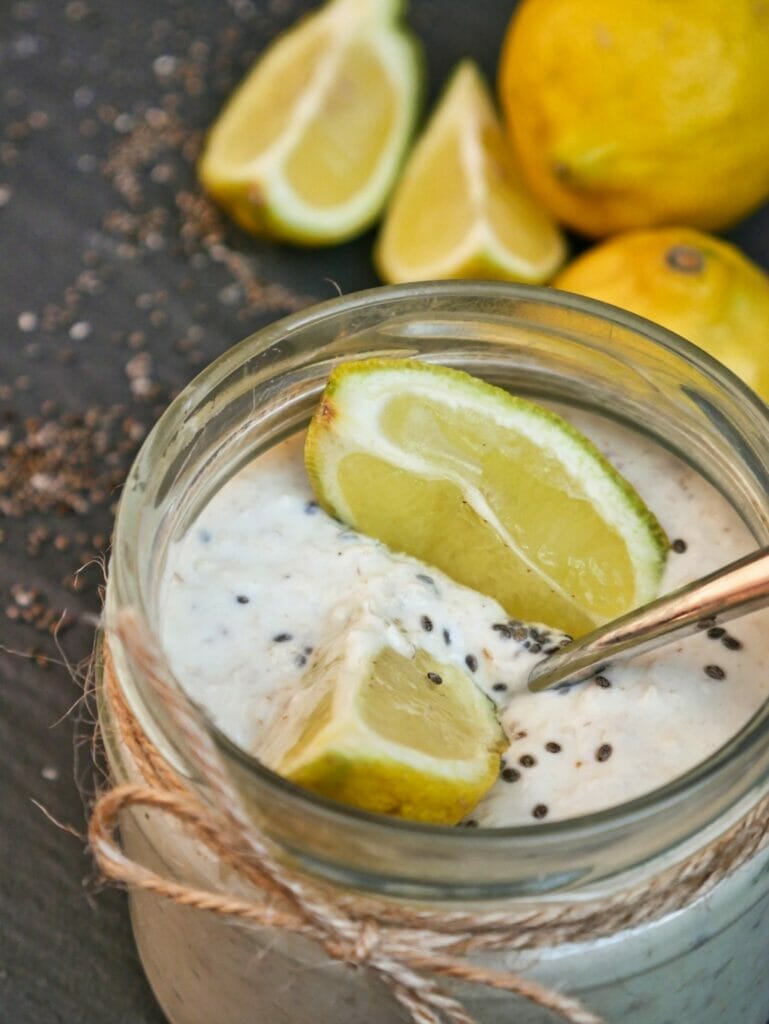 Storage Tips
Storing lemon overnight oats in a jar is super simple – it should be left in the fridge.
I've enjoyed overnight oats for up to 3 days after making, though they are best eaten the first day after making.
Make sure you have either a lid on the container they are in or saran wrap for food safety.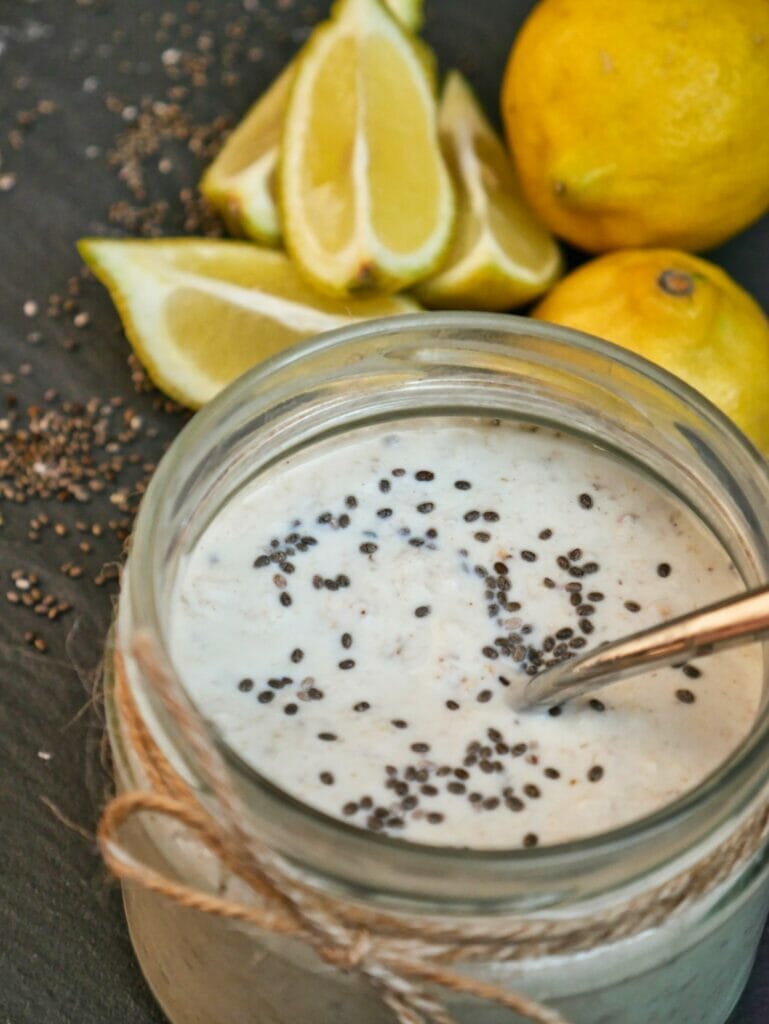 What to Serve with Lemon Overnight Oats
Overnight oats are prepared in a single serving in this recipe, though you can double or triple it if you're trying to feed the whole family.
The oats themselves are the main event for breakfast – they're super filling, so you shouldn't need to add more with them.
If you do want some extra substance, I like to pair them with a fruit like a grapefruit for some color and more refreshing taste, or go the opposite and have a warm pastry or toast with the cold overnight oats for the contrasting experiences.
You can also make other types of overnight oats, such as:
and so many more options – get creative!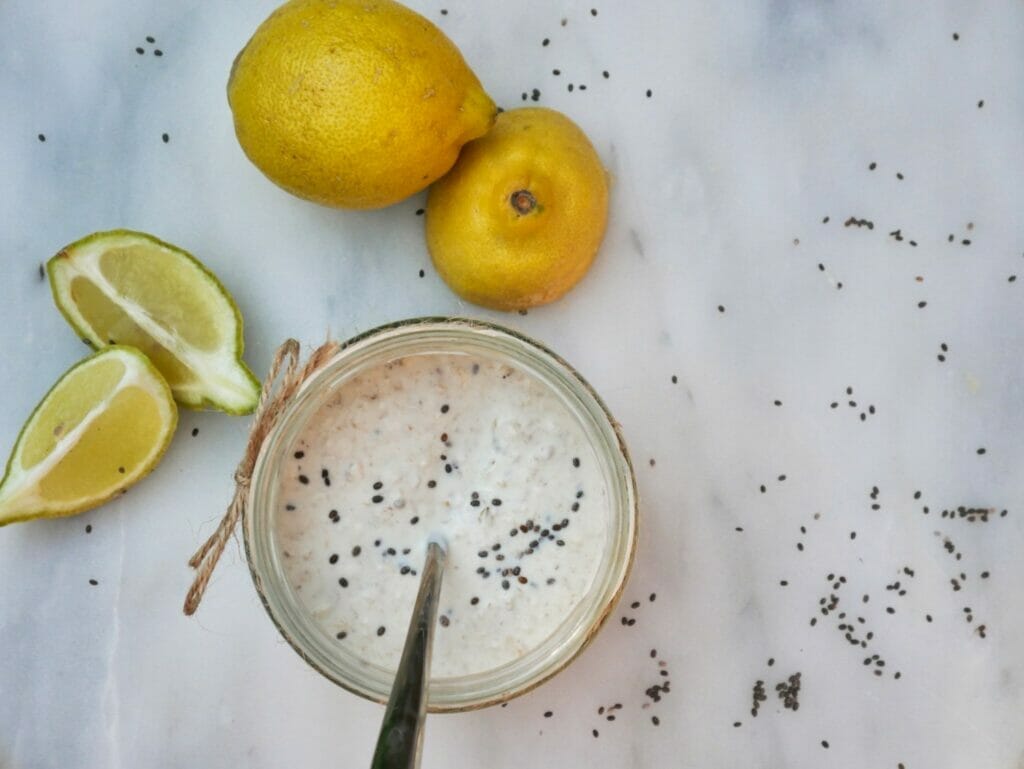 Yield: 1 serving
Lemon Overnight Oats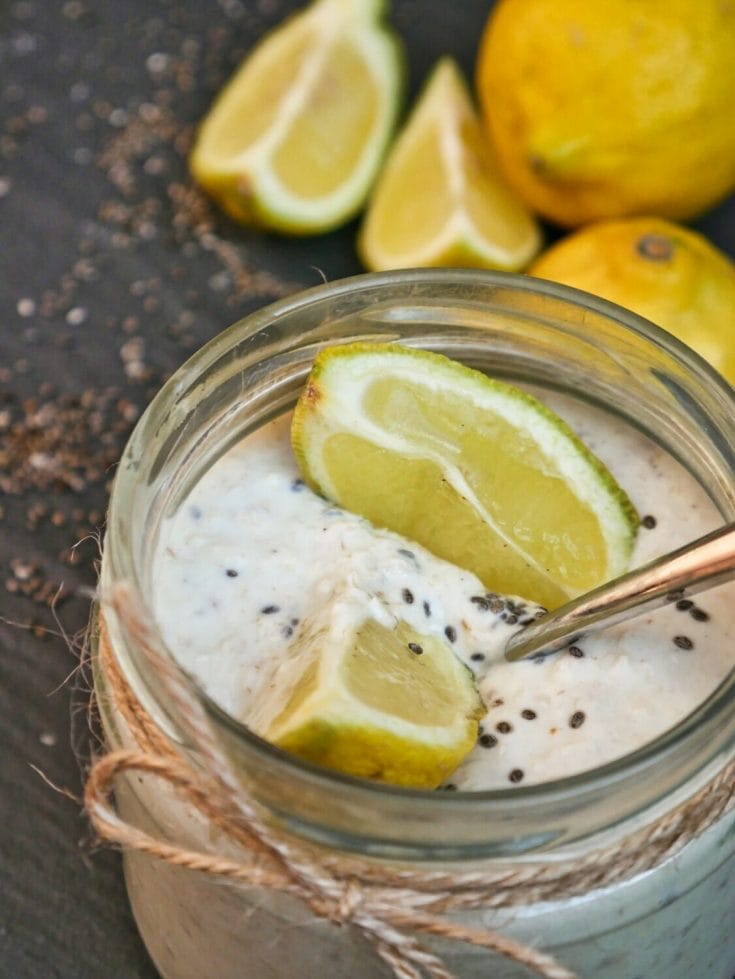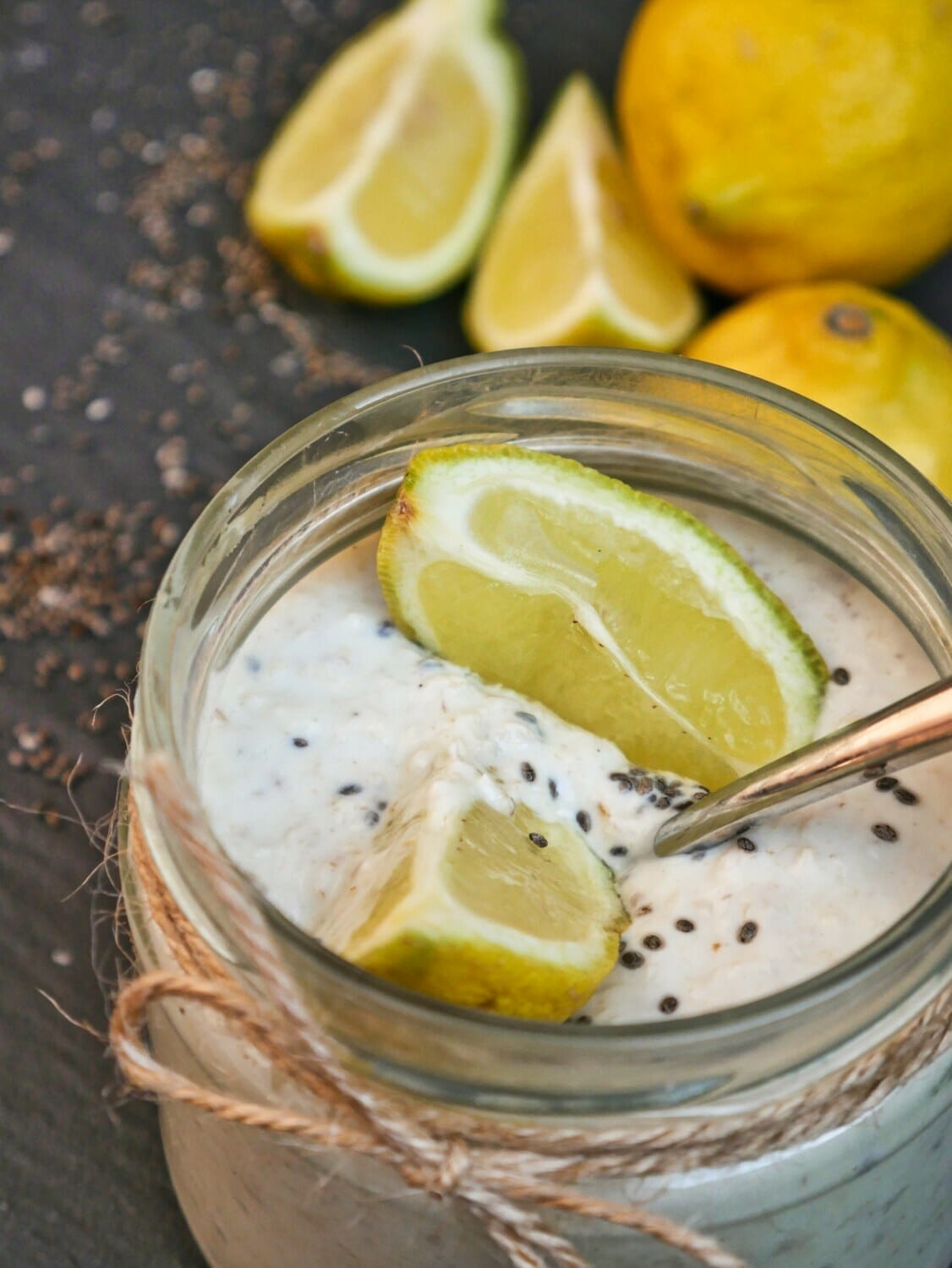 These lemon overnight oats are tangy, refreshing, and easy to make with just 5 minutes of prep and the rest done for you by the fridge!
Total Time
8 hours
5 minutes
Ingredients
Instructions
Mix the water, yogurt, and honey together in the container you're using for the oats.
Cut a lemon in half and squeeze the juice from both sides into the mixture and combine.
Add in the oats and chia seeds.
Refrigerate for 8+ hours, preferably overnight.
Enjoy!
Notes
1. If you're lactose intolerant, you can leave out the yogurt altogether or use a dairy free kind.
2. If you want an even creamier version, use milk instead of water.
3. These are best enjoyed after sitting in the fridge overnight for the best flavors and consistency, so make before you head to bed and they'll be perfectly done in the morning.
4. If you only have lemon juice, use 3 tablespoons from the bottle instead of the juice of 1 fresh lemon.
Recommended Products
As an Amazon Associate and member of other affiliate programs, I earn from qualifying purchases.
Nutrition Information:
Yield:
1
Serving Size:
1
Amount Per Serving:
Calories:

329
Total Fat:

5g
Saturated Fat:

1g
Trans Fat:

0g
Unsaturated Fat:

3g
Cholesterol:

6mg
Sodium:

49mg
Carbohydrates:

58g
Fiber:

8g
Sugar:

23g
Protein:

19g