As an Amazon Associate, I earn from qualifying purchases. In addition, I participate in several other affiliate programs that allow me to earn while I recommend products I love.
These cocoa overnight oats are a creamy, delicious, chocolately way to start your morning and take just 5 minutes to prepare! Whether you need a quick breakfast during the busy holiday season or a refreshing breakfast over the summer, these overnight oats with cocoa powder have you covered.
I've experimented with many different overnight oats recipes, but these are my favorite for when you want to feel like you're eating dessert when really you're eating a healthy breakfast full of protein and good things.
Adding the cocoa powder as a mix-in to the dry ingredients means it goes from normal overnight oats to cocoa flavored overnight oats with the snap of a finger, and you'll love how smooth and rich it tastes come morning.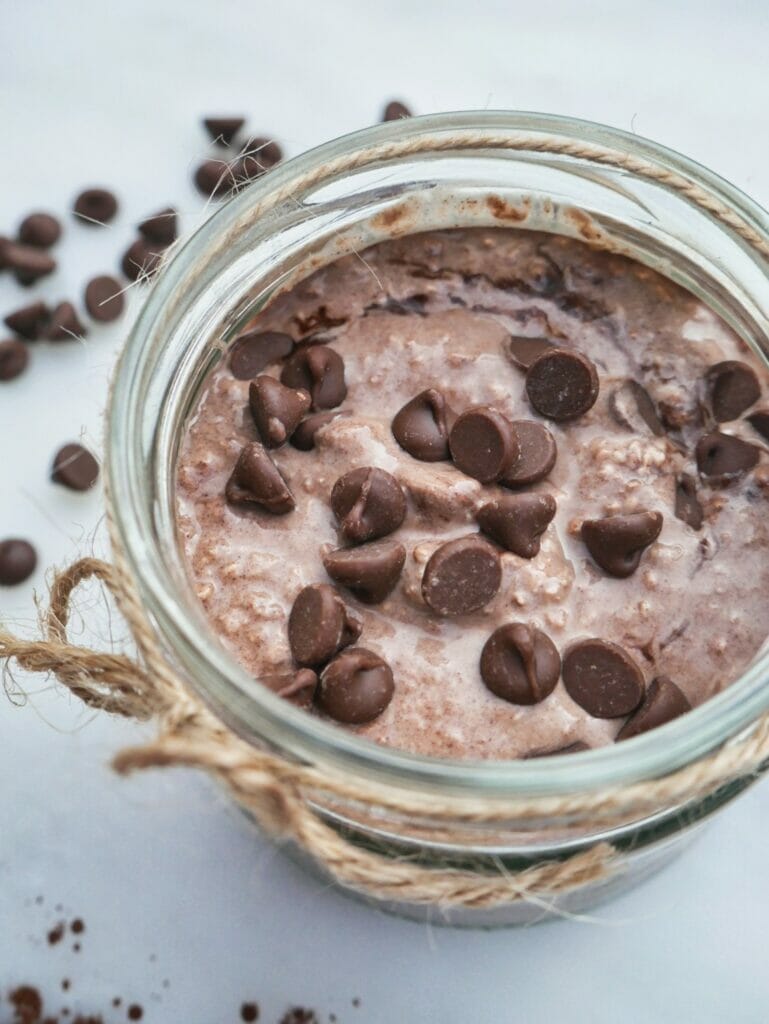 Our Favorite Quirky Kitchen Gadgets
Overnight Oats Explained
Overnight oats can be confusing to people who are used to, well, regular oatmeal, because what makes them overnight?
The idea behind overnight oats is that you're not heating up the oats.
You're mixing the dry oats with water or other liquids like milk or thin yogurts, and over time, the oats will soak up that moisture, effectively turning edible, and you won't have had to turn on the stove or the microwave!
The final result is a creamy and wonderfully tasty way to eat oats.
I'm not knocking regular oats, but there's just something so refreshing and fun about eating chilled oats out of a sloth mug or mason jars that my normal oats can't compete with.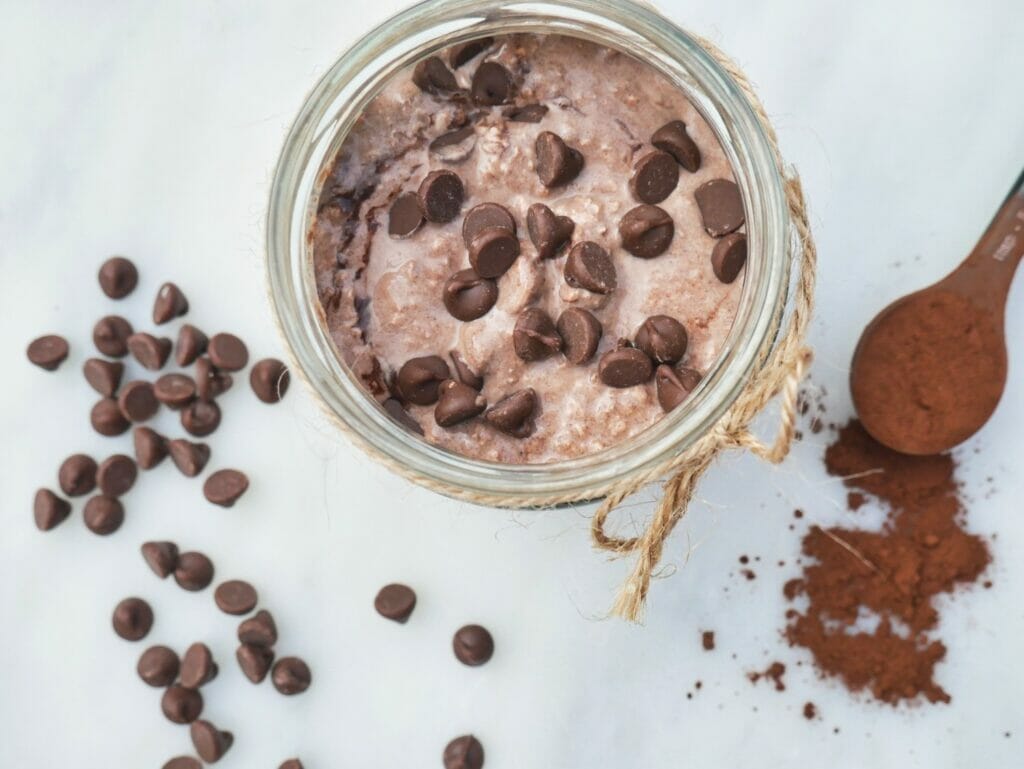 Ingredients
The ingredients for cocoa overnight oats aren't too complicated, and are also inexpensive!
water – this is going to keep our overnight oats with a more mild and less tangy flavor, which I prefer, as well as act as the agent that turns out dried oats edible
greek yogurt – I use full-fat Greek yogurt (love this brand), but you can use any kind you want. This gives it a creamy texture and also helps those oats go from dry flakes to delicious breakfast options
rolled oats – the star of the show! Either use rolled oats or steel cut out like these, preferably. Instant oats will have a gummier texture and not work as well.
vanilla extract – this gives us some sweetness and who can have chocolate without vanilla? Buy in bulk here.
salt – this gives us a richer flavor and cuts through some of that sweetness
chocolate chips – an option mix-in to add some fun (I use Ghiradelli)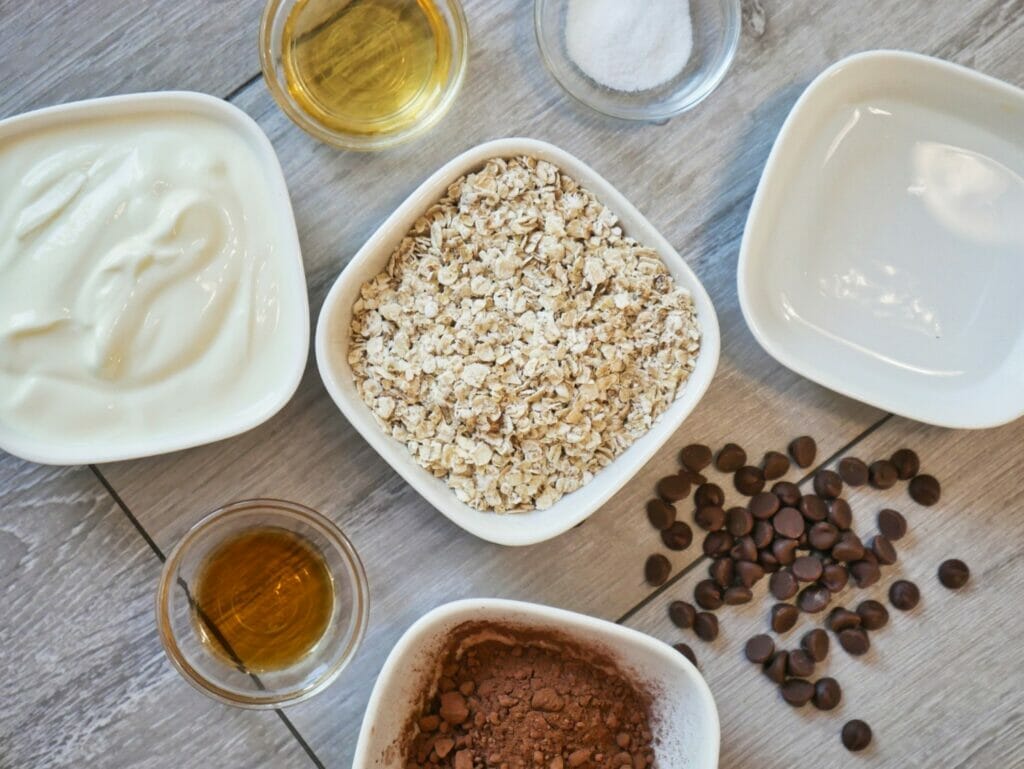 Does it Matter what Cocoa Powder I Use?
You can use whatever kind of cocoa powder you usually prefer, but the best results will be with sweetened cocoa powder, not unsweetened cocoa powder.
Unsweetened cocoa powder is often used in baking so you can control the amount of sugar in the recipe, but we're not baking here, we're refrigerating oats, so get that sweetness in there!
How to Make Cocoa Overnight Oats
Few steps make this a really simple way to get it pulled together in under 5 minutes and then all you have to do is…sleep!
Combine the water, yogurt, and vanilla together in a small bowl.
Add in the oats, salt, cocoa powder and chocolate chips (if any).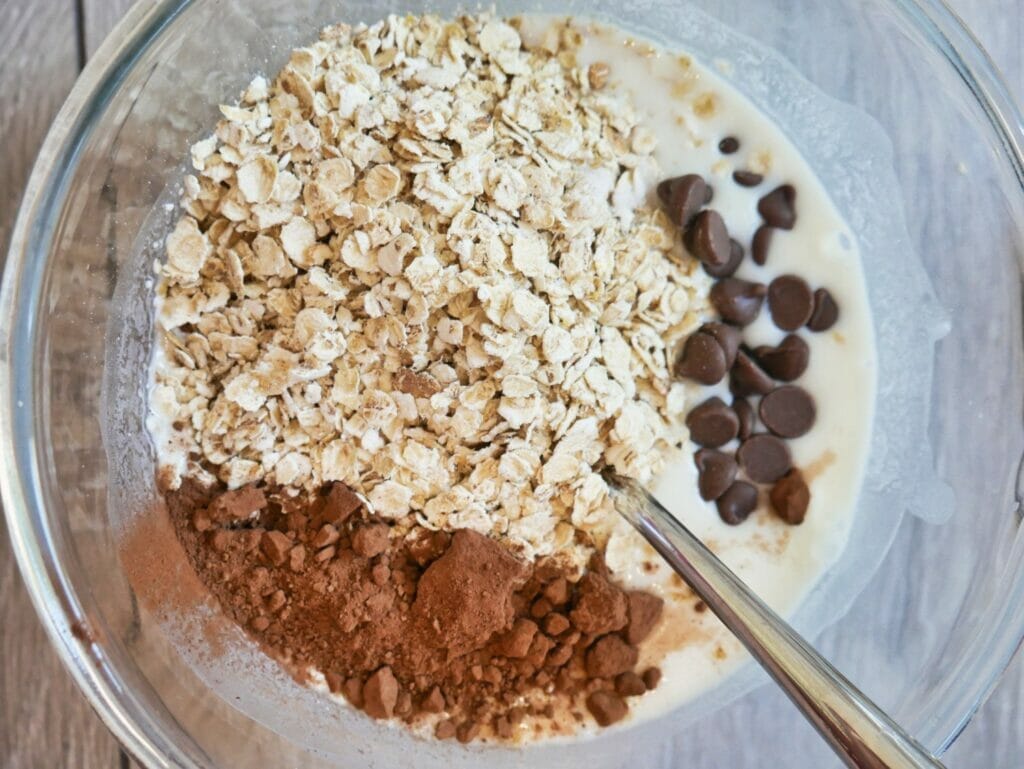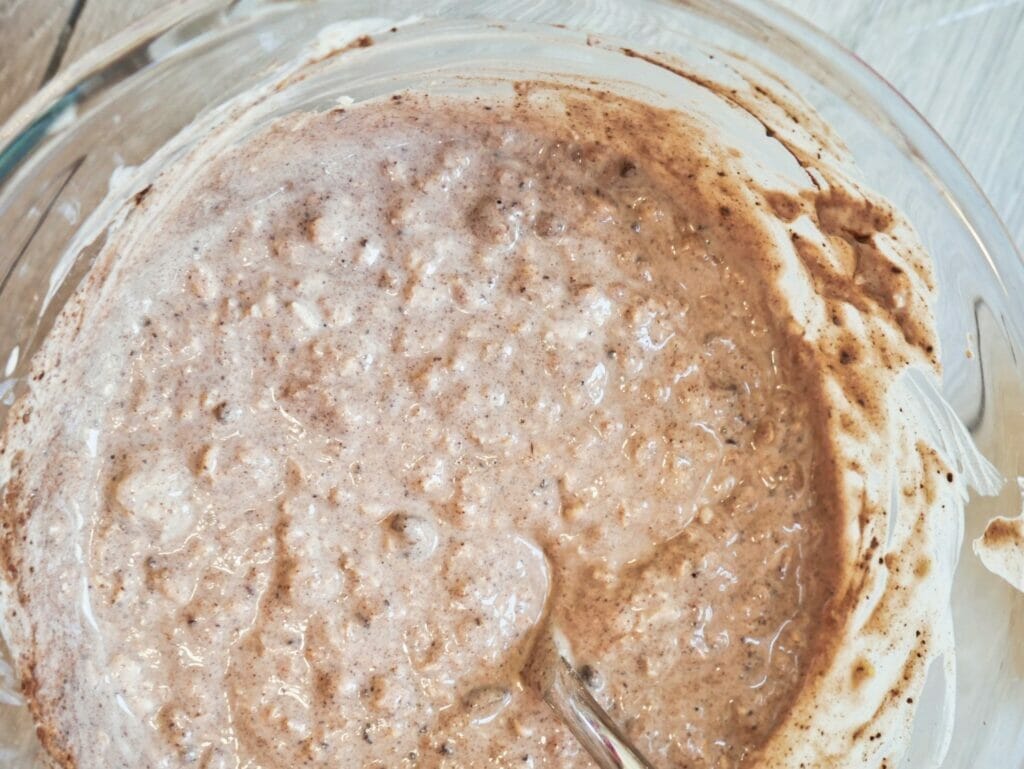 Leave in bowl or pour into mug or mason jar, covered with saran wrap.
Refrigerate for at least 8 hours, preferably overnight.
Enjoy!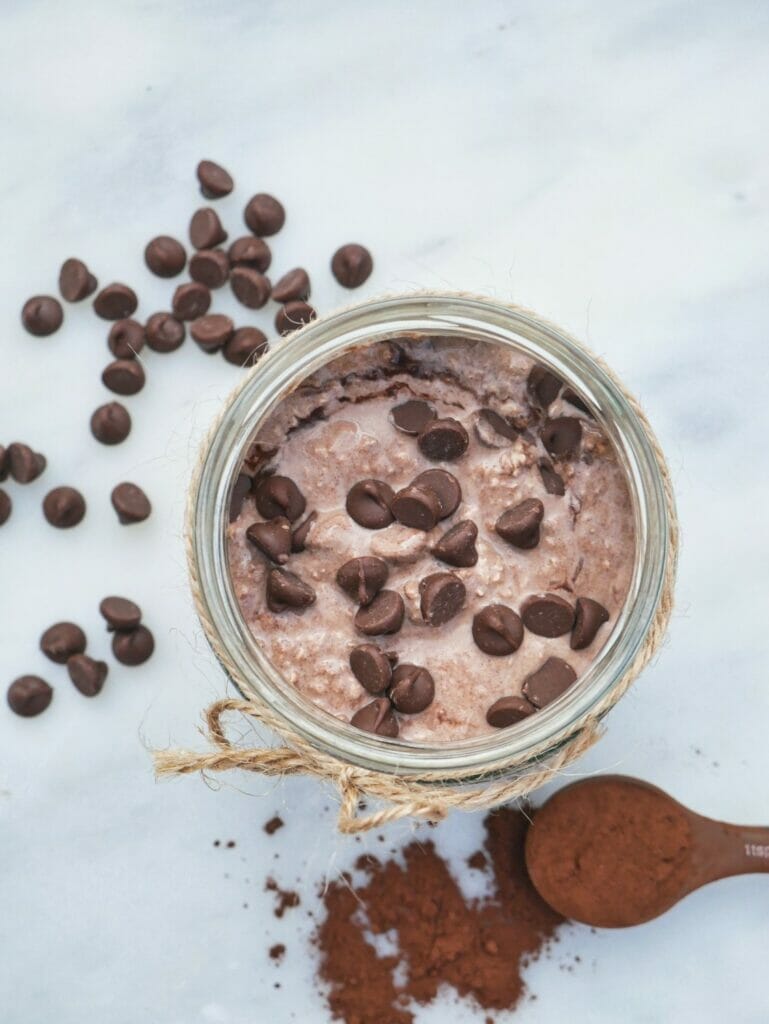 Overnight Oats Tips
Let's talk tips for overnight oats, especially if you haven't made them before.
1. The easiest way to eat the overnight oats is in a mug, which is why I sometimes prefer to simply use a sloth mug from the start to refrigerate my oats. It has a handle, you can easily put saran wrap over it, and it's a really convenient way to enjoy (way more convenient than fancy mason jars that we all use for our photos, let's be real).
2. My husband likes his regular oatmeal much thinner than I do, as I prefer mine so hard and dry that you can turn it upside down and it won't fall out. The differences in preferences are the same for overnight oats. Some like it creamier, some like it runnier, and that will often come down to your own tastebuds and not how well the recipe is developed. So test a few options before settling.
3. The fun of overnight oats is adding extra mix-ins right before you eat, so make sure to keep out some chocolate chips to add right before you indulge that haven't been chilled overnight. The ones that are chilled may actually end up as streaks of chocolate in your oats and not fully formed chips, so adding in fresh ones gives it a good texture.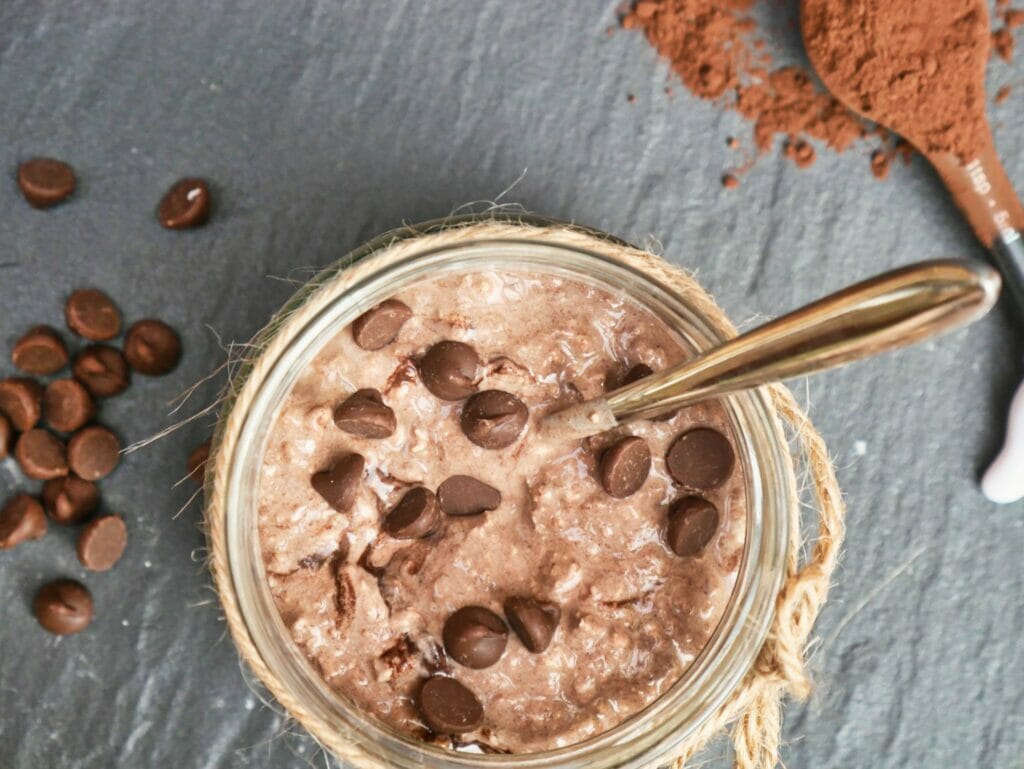 How to Store Cocoa Overnight Oats
You can store overnight oats in their container in the fridge for up to about 3 days after making.
Do not leave them at room temperature, as the greek yogurt needs to be refrigerated.
I haven't tried freezing cocoa overnight oats and am unsure why you would, so stay clear of that. You can make single portions and eat within the next 3 days, so no freezer necessary.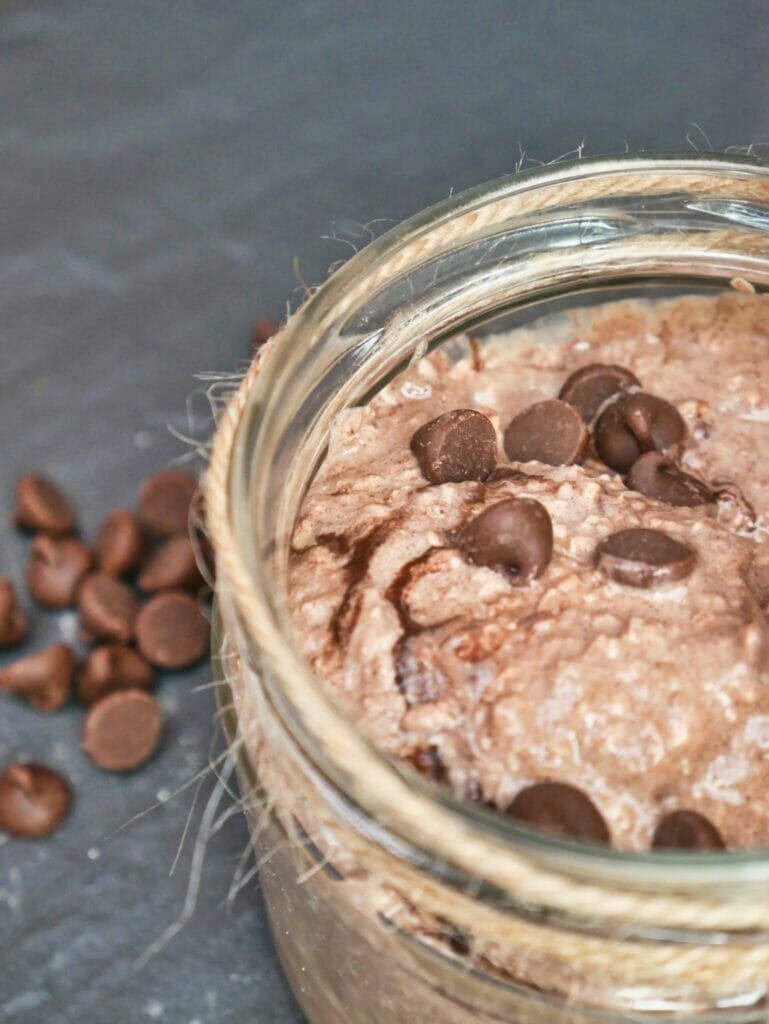 Substitutions in Cocoa Overnight Oats
The joy of overnight oats is that as long as you stick to around a 1:1 ratio of dry oats to the liquid ingredients (you can go overboard with the liquid and it will be fine, but go under and your oats will be too dry), you'll come up with an edible product.
You can't "mess up" overnight oats easily, so test out these substitutions.
If you want less of a creamy texture, decrease the amount of greek yogurt.
If you prefer a tangier taste, use milk instead of water.
If you're trying to avoid dairy altogether, use a dairy free milk, or cut the yogurt and double the amount of water in this recipe.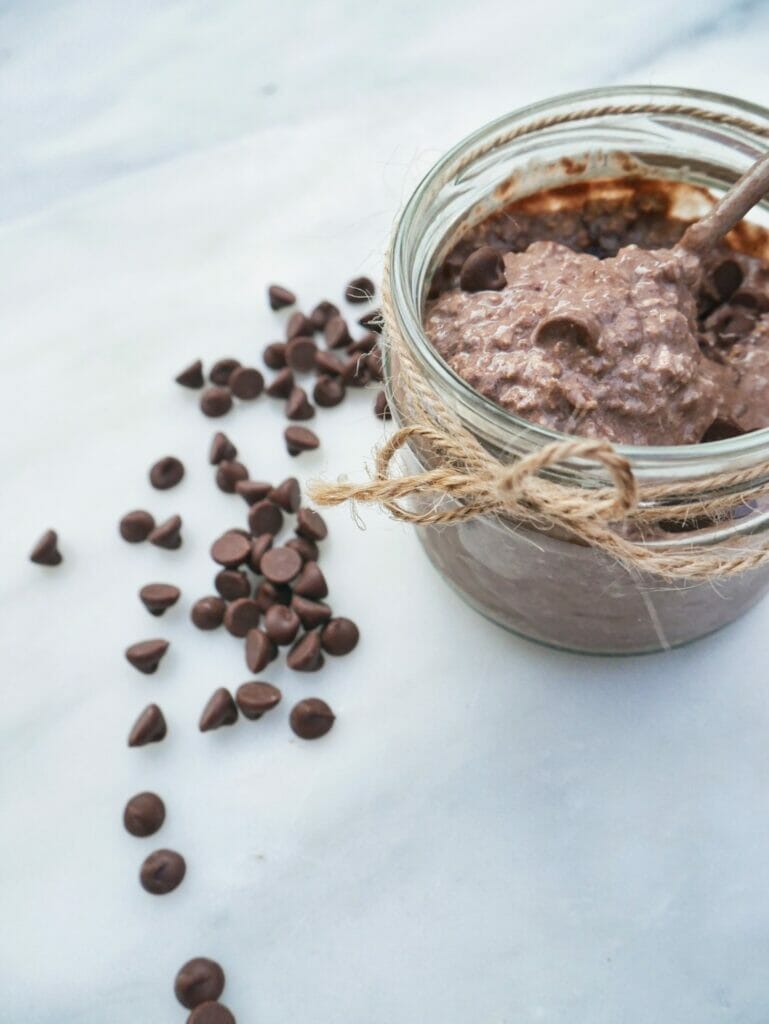 What to Serve with Cocoa Overnight Oats
These cocoa powder overnight oats are filling enough to be a breakfast by themselves, but you could also try and pair them with another flavor and enjoy a "half and half" option.
Some other ideas are:
You could also enjoy these oats with a chocolate pastry or something like a cinnamon roll for a nice warm roll paired with a cold, refreshing breakfast component to finish it off!
Yield: 1 serving
Cocoa Overnight Oats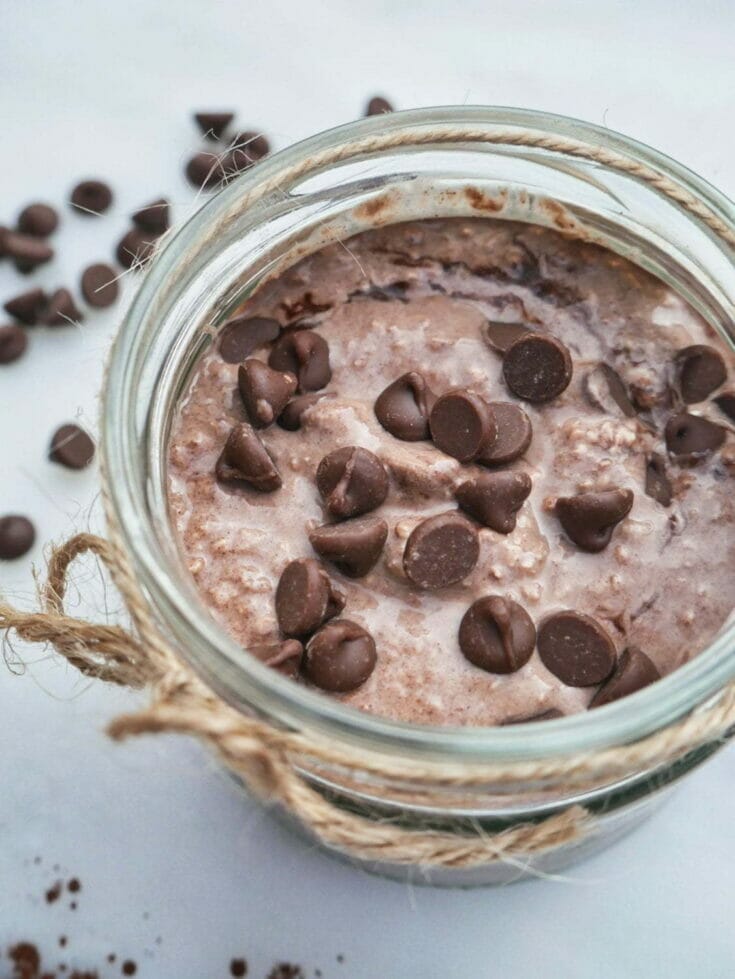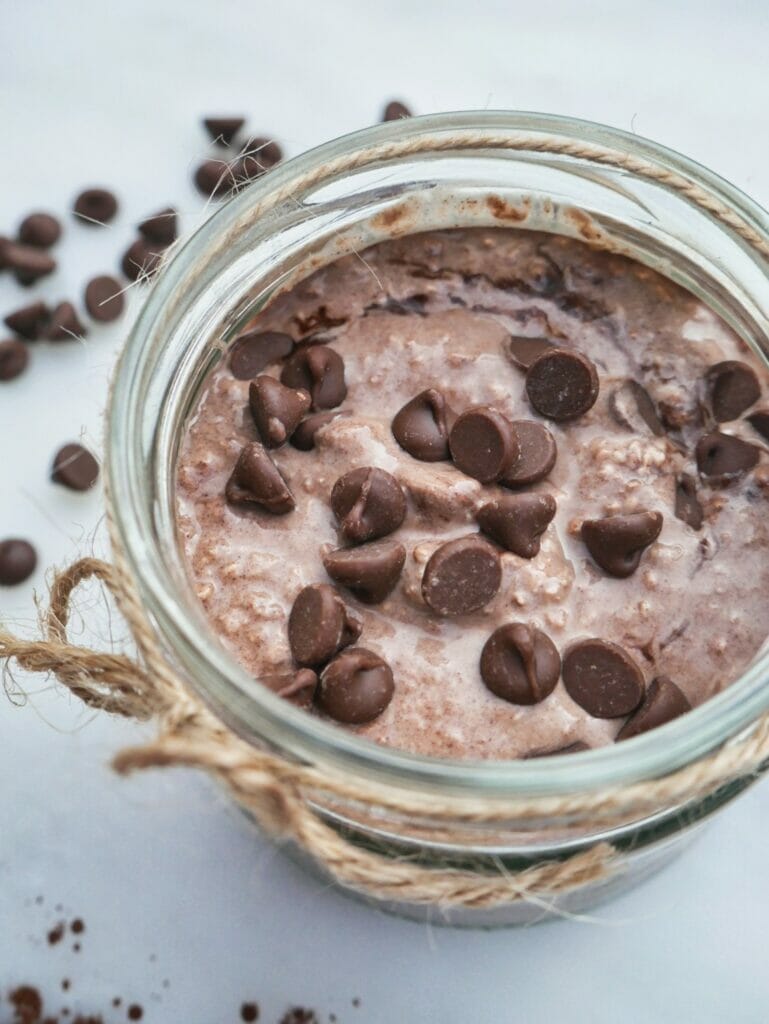 These cocoa overnight oats are creamy and delicious, made with greek yogurt and oatmeal so it's actually good for you while tasting like a chocolate treat!
Total Time
8 hours
5 minutes
Ingredients
Instructions
Combine the water, yogurt, and vanilla together in a small bowl.
Add in the oats, salt, cocoa powder and chocolate chips (if any).
Leave in bowl or pour into mug or mason jar, covered with saran wrap.
Refrigerate for at least 8 hours, preferably overnight.
Enjoy!
Notes
1. Save some extra chocolate chips to use as mix-ins when you go to eat the oats, as the others may dissolve into the mixture.
2. Try out different substitutions like using milk instead of water or using your favorite kind of yogurt instead of Greek yogurt - overnight oats are incredibly flexible.
3. Make up to 3 portions per person in advance, as they'll keep for about 3 days tops in the fridge.
Recommended Products
As an Amazon Associate and member of other affiliate programs, I earn from qualifying purchases.
Nutrition Information:
Yield:
1
Serving Size:
1
Amount Per Serving:
Calories:

288
Total Fat:

6g
Saturated Fat:

2g
Trans Fat:

0g
Unsaturated Fat:

3g
Cholesterol:

6mg
Sodium:

1104mg
Carbohydrates:

40g
Fiber:

6g
Sugar:

9g
Protein:

18g