As an Amazon Associate, I earn from qualifying purchases. In addition, I participate in several other affiliate programs that allow me to earn while I recommend products I love.
Low in sodium and high in potassium, bananas are one of the best breakfast options for busy people, but now we're kicking it up a notch with these banana overnight oats.
Overnight oats, meet bananas.
Or bananas, meet overnight oats.
Most of us are more familiar with the most famous yellow fruit than we are are overnight oats, but now we're combining the two in a delicious and easy recipe.
This is also a great way to use bananas that are a little past their best.
Combined with the greek yogurt and other flavorings, the banana becomes part of a larger recipe rather than the main star of the show, so it doesn't matter if they're not perfectly ripe.
Our Favorite Quirky Kitchen Gadgets
Overnight versus Regular Oats
Regular oatmeal and overnight oats differ because regular oatmeal is boring and overnight oats are awesome.
Okay, not exactly.
But overnight oats are: meant to be enjoyed cold, easy to make ahead of time so no cooking required in the morning, and easy to add lots of different flavors and textures.
Also, they look great on Instagram in these mason jars.
In these banana overnight oats, I'm using banana and these organic chia seeds as we're focusing on that banana flavor, but you can add as many or as few mix-ins as you want depending on your tastes.
I prefer overnight oats because they're creamier and more refreshing, but you can also enjoy overnight oats warm if that's really your thing.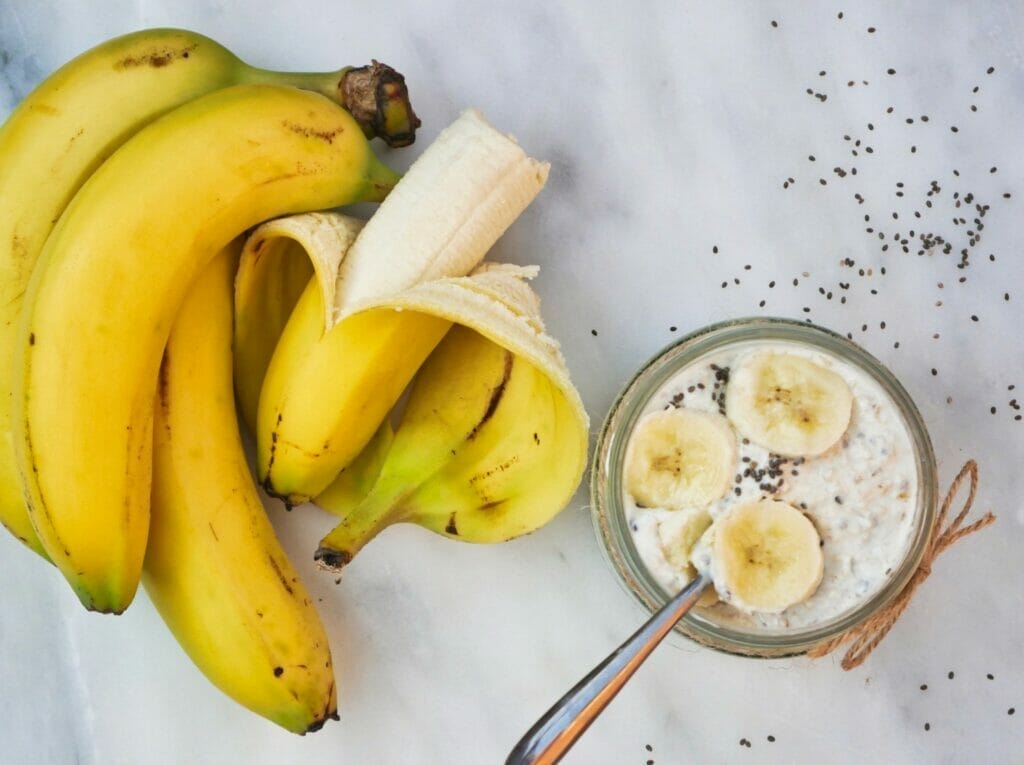 Ingredients for Banana Overnight Oats
To make these oats, we're going to need:
water – nothing fancy, just from the tap!
greek yogurt – you can go full fat or non-fat or somewhere in between. I used this greek yogurt, but the overall goal of the yogurt is to give us extra creaminess and help the oats absorb even more moisture.
honey – a bit of honey gives us a smooth texture and some nice sweetness (I prefer this organic brand)
rolled oats – you should use rolled oats or steel-cut oats (get them cheap here), not instant oats
bananas – fresh or frozen chunks of banana is fine, as the frozen ones will have time to thaw, but I prefer fresh chopped bananas from Dole like these just for the ultimate refreshing breakfast
salt – I always add a pinch of salt to cut some of the sweetness and pull out the flavors
chia seeds – good for you (these ones are organic), fun, and a nice way to keep the focus on the banana while adding something extra in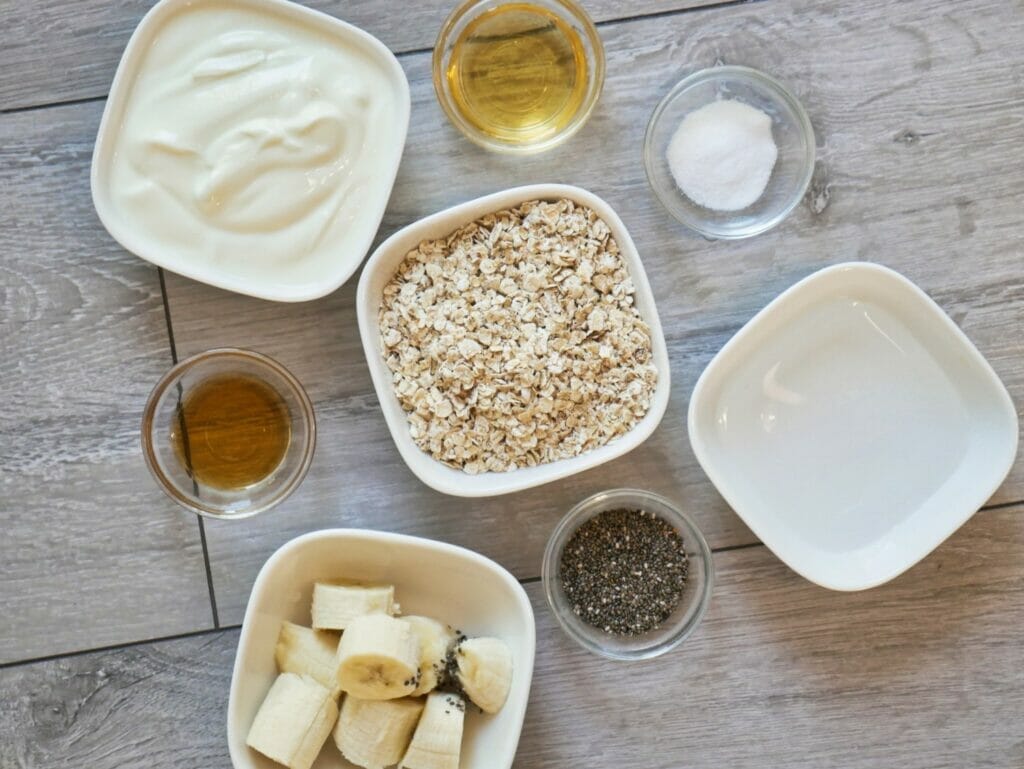 How to Make Banana Overnight Oats
Making banana overnight oats is really, really easy.
First, Combine the water, honey, and yogurt into a small bowl (clear or colorful like these) and mix together.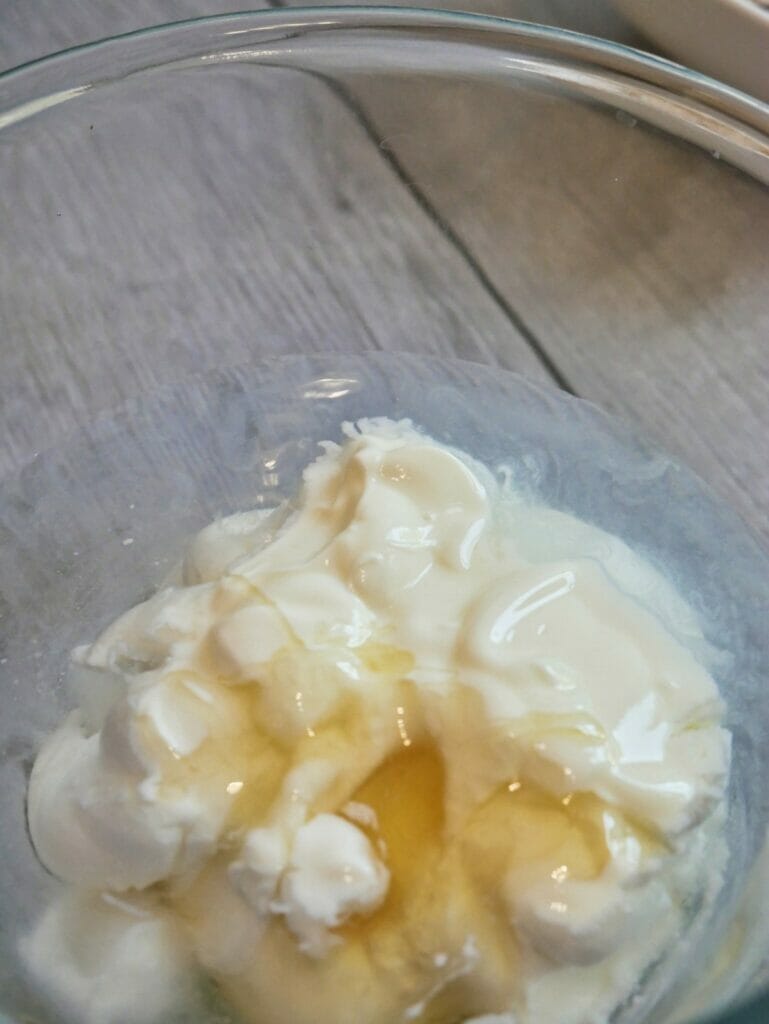 Add the rolled oats, bananas, chia seeds, and salt.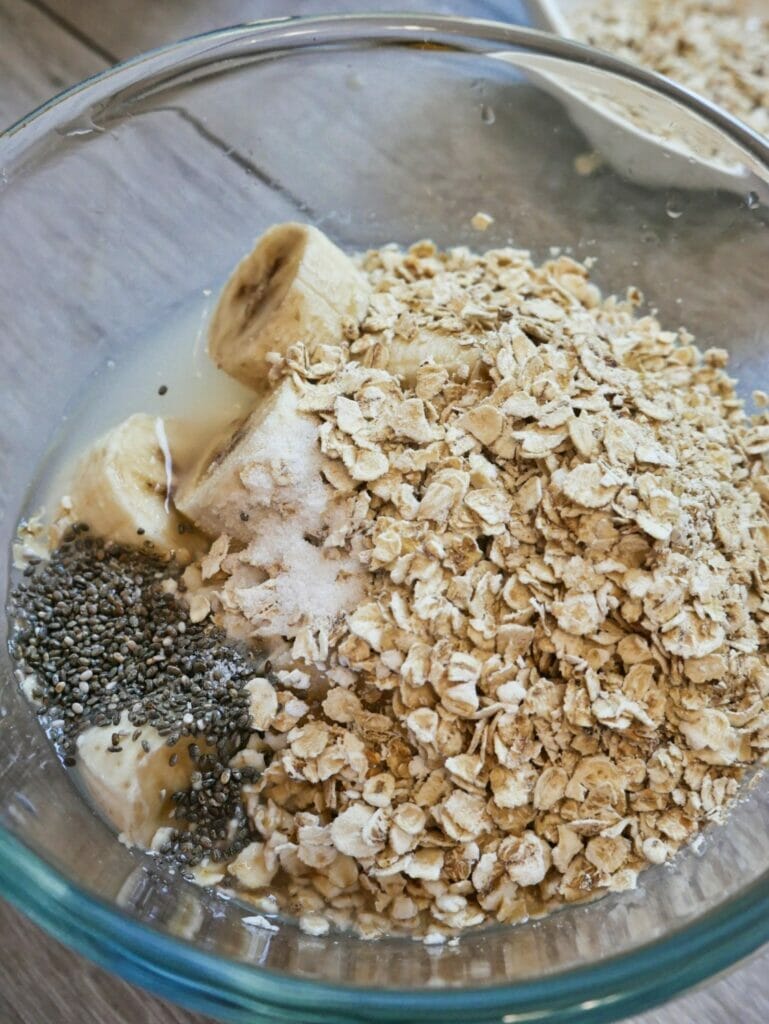 Pour into a mug or a mason jar, or even a small bowl.
Cover with saran wrap (buy in bulk here), if not already covered with a lid.
Store in the fridge for 8+ hours, preferably overnight.
When ready, add on some fresh cut bananas on top, give it a stir, and enjoy!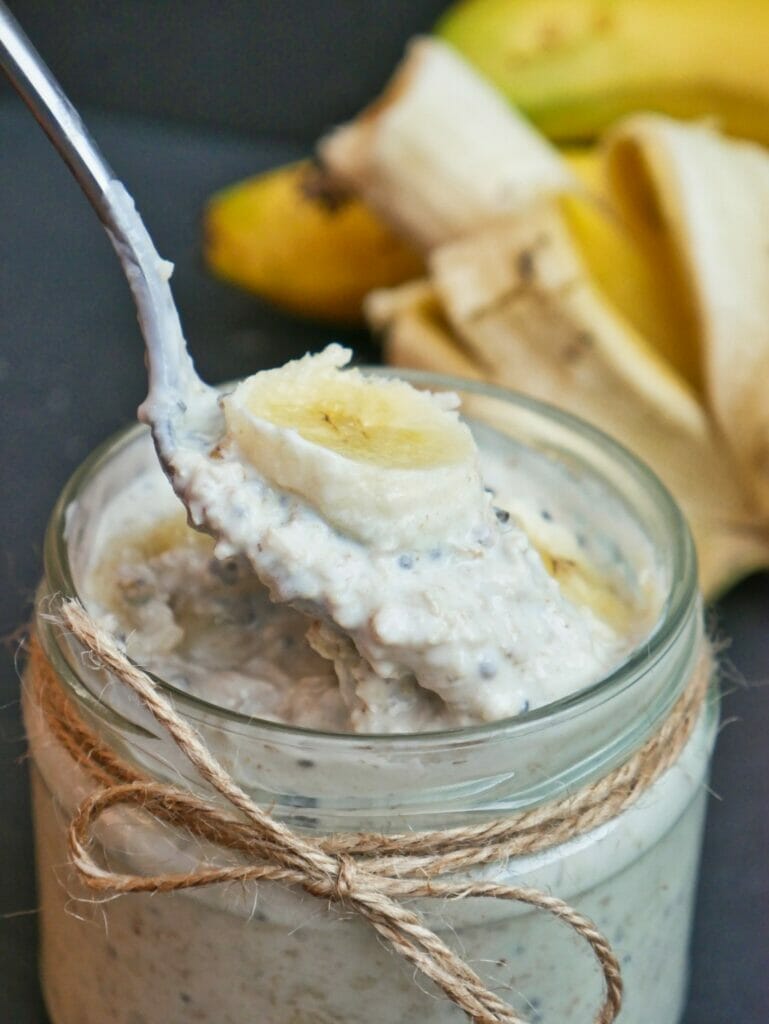 Variations of Banana Overnight Oats
There are so many different things you can do with banana overnight oats that it's really up to how you like to enjoy them, but here are some suggestions.
Firstly, you can leave out the yogurt altogether and add an extra 1/4 cup of water if you're trying to avoid dairy or want a runnier and less creamy recipe.
You could use milk instead of water which is going to give you a tangier taste and make it even creamier.
Add some healthy peanut butter like this or Ghiradelli chocolate chips for peanut butter banana oats, add other fruits like strawberries or blueberries, or try making a banana split overnight oat recipe using these animal and star sprinkles and whipped cream (oh man, that sounds good)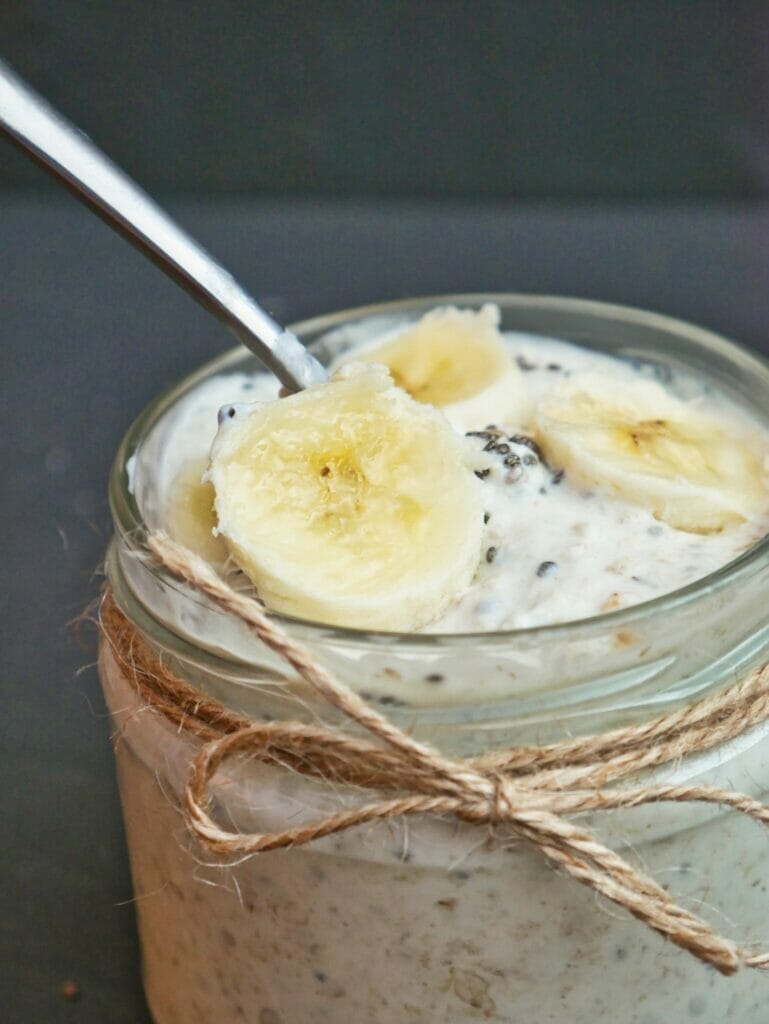 Top Tips
It's taken me a long time to fall in love with overnight oats, so here are some of the best tips I've learned along the way to make sure you enjoy as well.
1. You want at least a 1:1 ratio for the oats to any type of water or liquid, so if you have 1/2 cup of oats, you need at least 1/2 cup of liquids to go with it. That liquid can be milk or water or a yogurt that runs (not a yogurt that is so stiff you have to scoop it out).
2. You can totally eat overnight oats hot if you don't like the taste of cold oats (though that will mean warm yogurt if that's your thing).
3. Mugs are actually the most practical way to enjoy oats – that way you can carry them around with you on the go. Eat with a spoon out of a sloth mug like this one and you might not feel fancy, but you'll be much more protected from spills than a mason jar without a lid.
4. If you don't like one combination, try something else. I don't love the taste of milk and greek yogurt based overnight oats, which is why I use water for a more mild flavor, but these are easy enough to make that you should try a few different substitutions to see what works for you.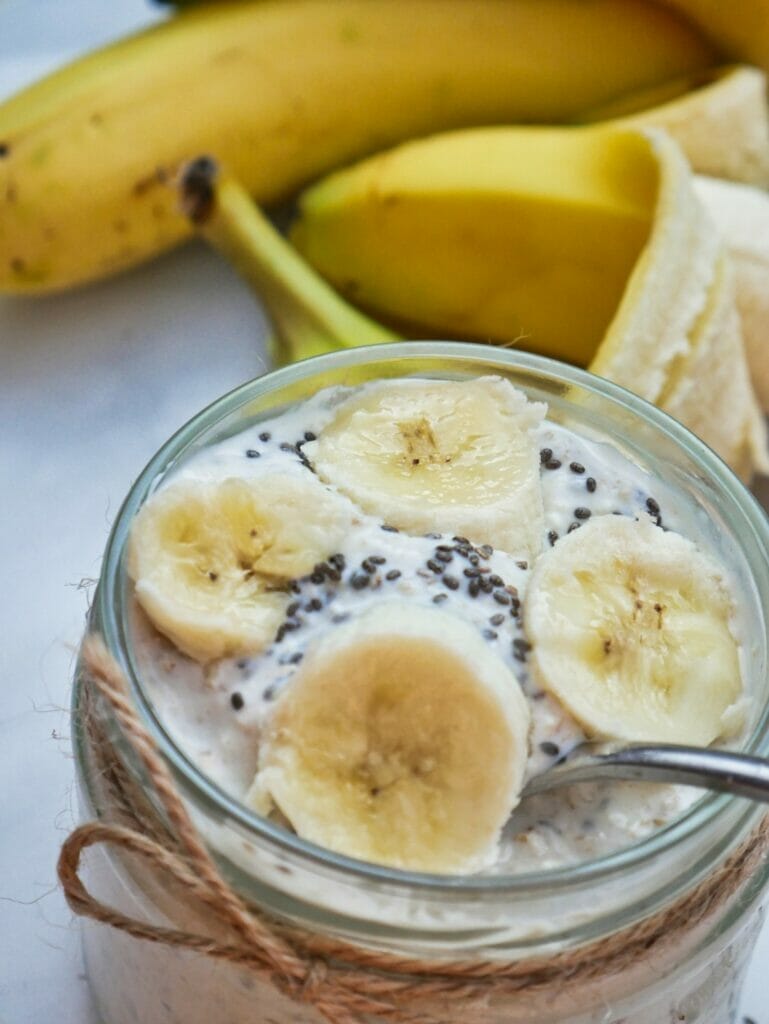 How to Store
Store these with saran wrap or a lid over their bowl or mason jar in the fridge for at least 8 hours, or up to 3 days.
I always make mine the night before for a few night's in a row, and then I don't have to worry about breakfast in the morning and can literally reach into the fridge and grab it on the go.
What to Serve with Overnight Banana Oats
If you're making banana overnight oats, consider some other overnight options such as:
If you're really hungry, enjoy overnight oats with another fruit like a mango or a grapefruit, or you can enjoy it as a starting dish to a meal like eggs and bacon.
However, the oats are quite filling and the purpose is to be a standalone breakfast, so don't feel like you need extras to go with it.
Yield: 1 serving
Banana Overnight Oats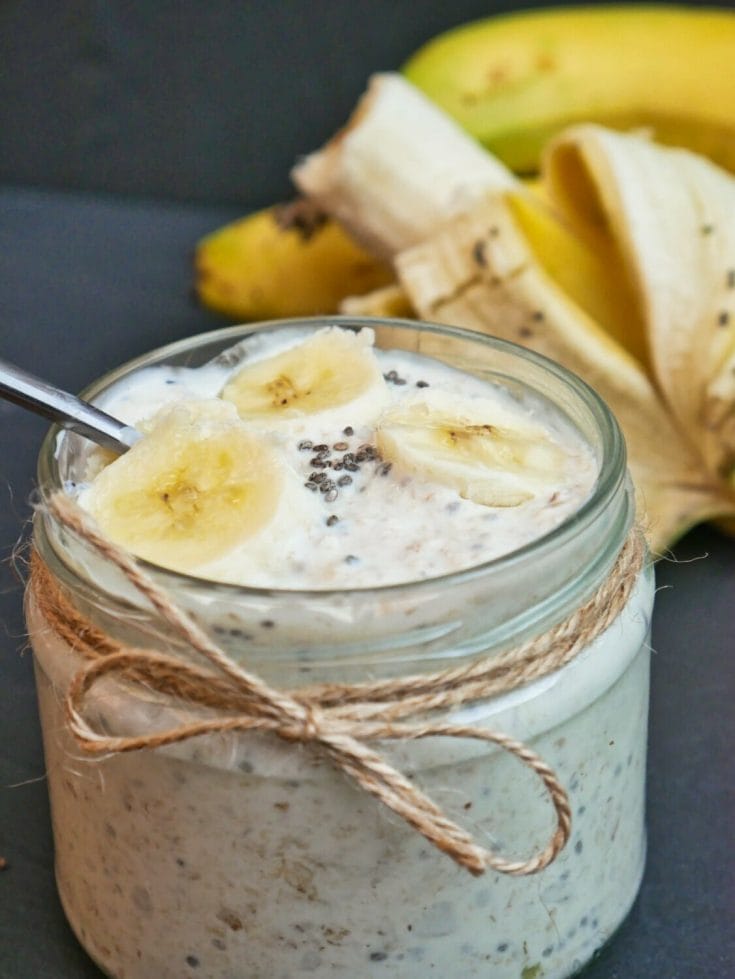 This recipe for banana overnight oats is seriously delicious, healthy, and filled with fun mix-ins like chia seeds for a Pinterest worthy breakfast.
Total Time
8 hours
5 minutes
Ingredients
1/4 cup water
1/2 teaspoon salt
1 banana, sliced
Instructions
Combine the water, honey, and yogurt into a small bowl and mix together.
Add the rolled oats, bananas, chia seeds, and salt.
Pour into a mug or a mason jar, or even a small bowl.
Cover with saran wrap, if not already covered with a lid.
Store in the fridge for 8+ hours, preferably overnight.
When ready, add on some fresh cut bananas on top, give it a stir, and enjoy!
Notes
1. If you prefer a runnier overnight oats recipe, replace the greek yogurt with milk or you can even replace it with water and it will be super runny.

2. Want more mix-ins? You can add whatever you want to this overnight oat recipe in addition to bananas, including strawberries, blueberries, or chocolate chips.

3. It does take time for these to come together in the fridge, so while you can enjoy them the same day if you make them in the morning and want them in the evening, they're almost always best overnight.

4. Frozen bananas chunks are fine to use, but they will make the overnight oats a bit more runny and won't hold their structure like fresh bananas.
Recommended Products
As an Amazon Associate and member of other affiliate programs, I earn from qualifying purchases.
Nutrition Information:
Yield:
1
Serving Size:
1
Amount Per Serving:
Calories:

409
Total Fat:

5g
Saturated Fat:

1g
Trans Fat:

0g
Unsaturated Fat:

3g
Cholesterol:

6mg
Sodium:

1106mg
Carbohydrates:

78g
Fiber:

9g
Sugar:

36g
Protein:

19g