As an Amazon Associate, I earn from qualifying purchases. In addition, I participate in several other affiliate programs that allow me to earn while I recommend products I love.
These birthday cake overnight oats are a fun and colorful way to start your day, even on the 364 days of the year when it's not your birthday!
People, we need to talk about birthday cake overnight oats.
Not only does it appeal to my desire to make things colorful and fun, but they're absolutely delicious, easy to make, and honestly it feels like you're being healthy even if maybe you've added a bit of brown sugar into your breakfast.
You've got to live a little, you know?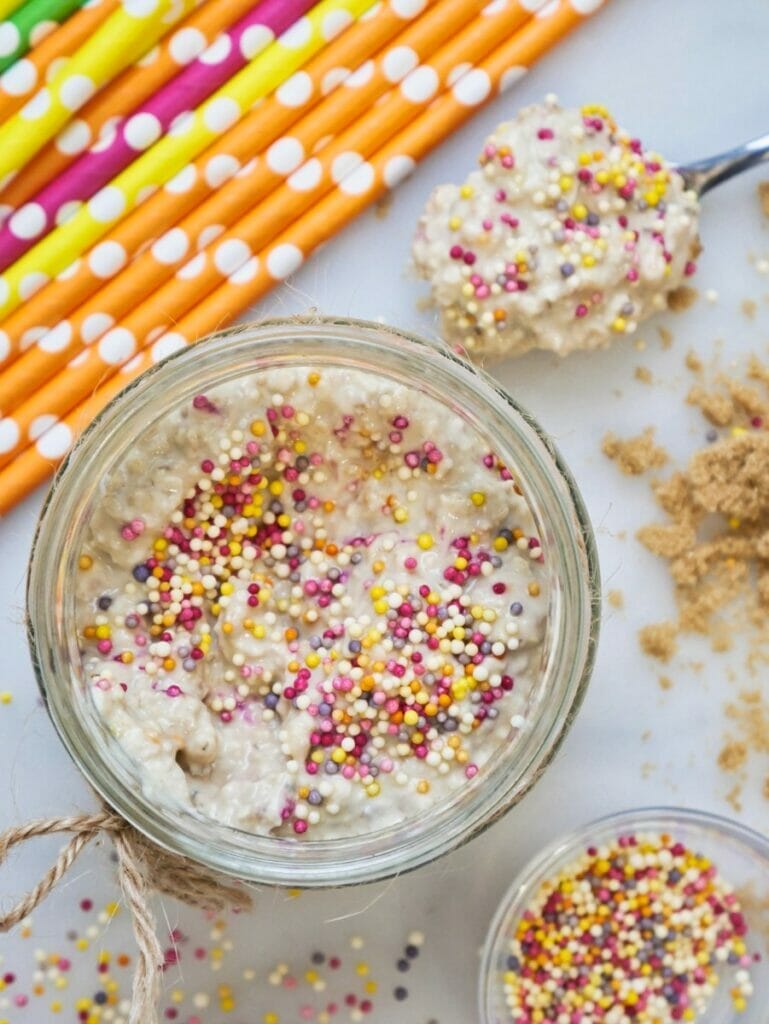 There are plenty of overnight oat recipe options, but this vanilla birthday cake version is a great way to introduce kids to overnight oats (hello, sprinkles, thank you for convincing the little ones to eat).
It's also just more fun than plain overnight oats.
And fun means a lot when it comes to food.
People say "food is fuel," and it is but also food is fun and you can't take that away from me.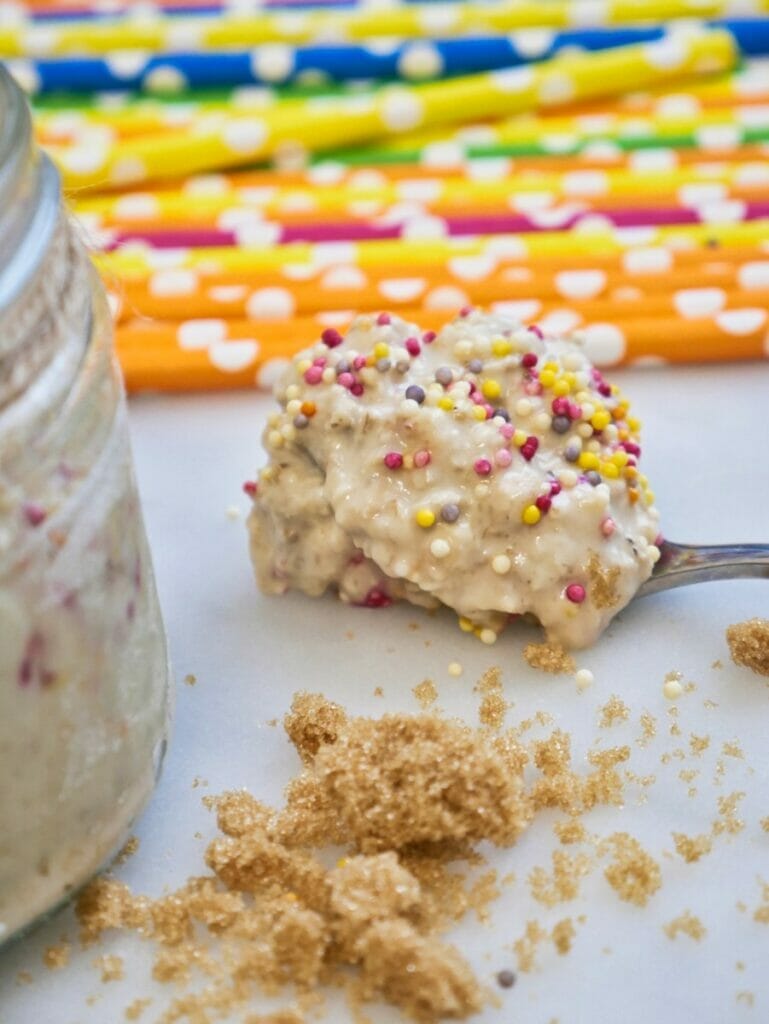 Our Favorite Quirky Kitchen Gadgets
What the Heck are Overnight Oats?
First, if you haven't heard of overnight oats and are like "what makes oats overnight?" let's start there.
The idea behind overnight oats has to do with the fact that you don't cook the oats.
Instead, you leave them in the mixture of yogurt and milk/water overnight, and the oats soak up the liquids, thus becoming edible, and wallah.
The downside is you do have to leave them in the fridge overnight or for quite a few hours to really come into their own and taste good, but the upside is that you can literally let them do their thing while you're sleeping and then your breakfast takes literally no effort.
Less effort than pouring a bowl of cereal, making toast, or opening a Pop-Tart wrapper, seriously.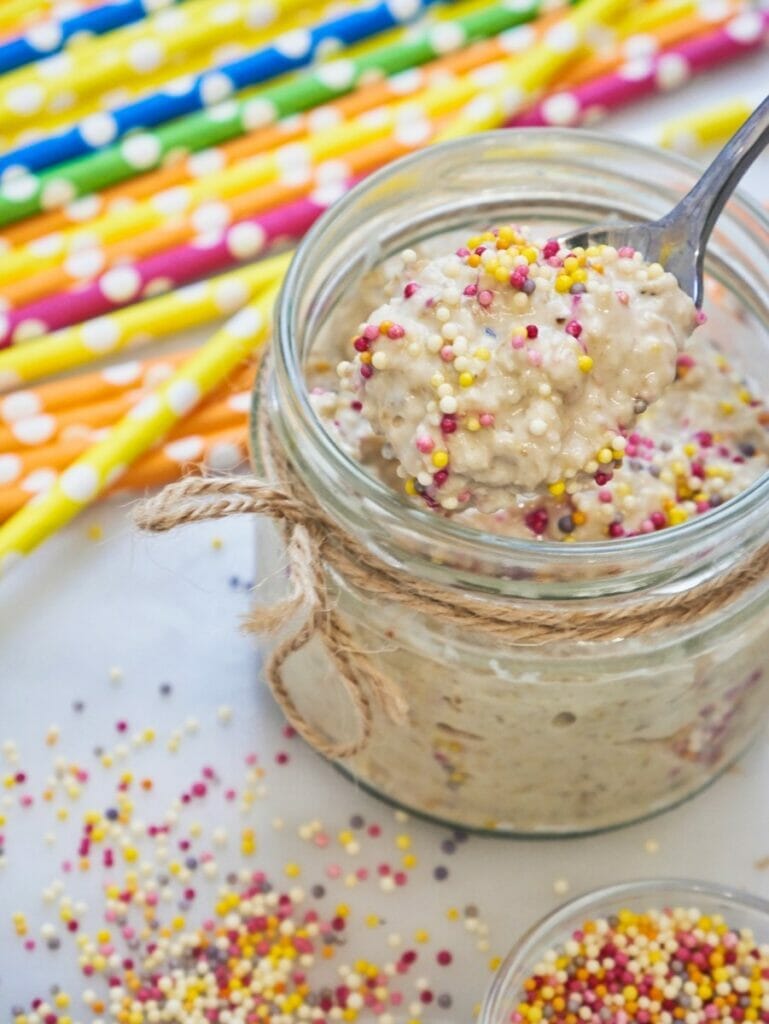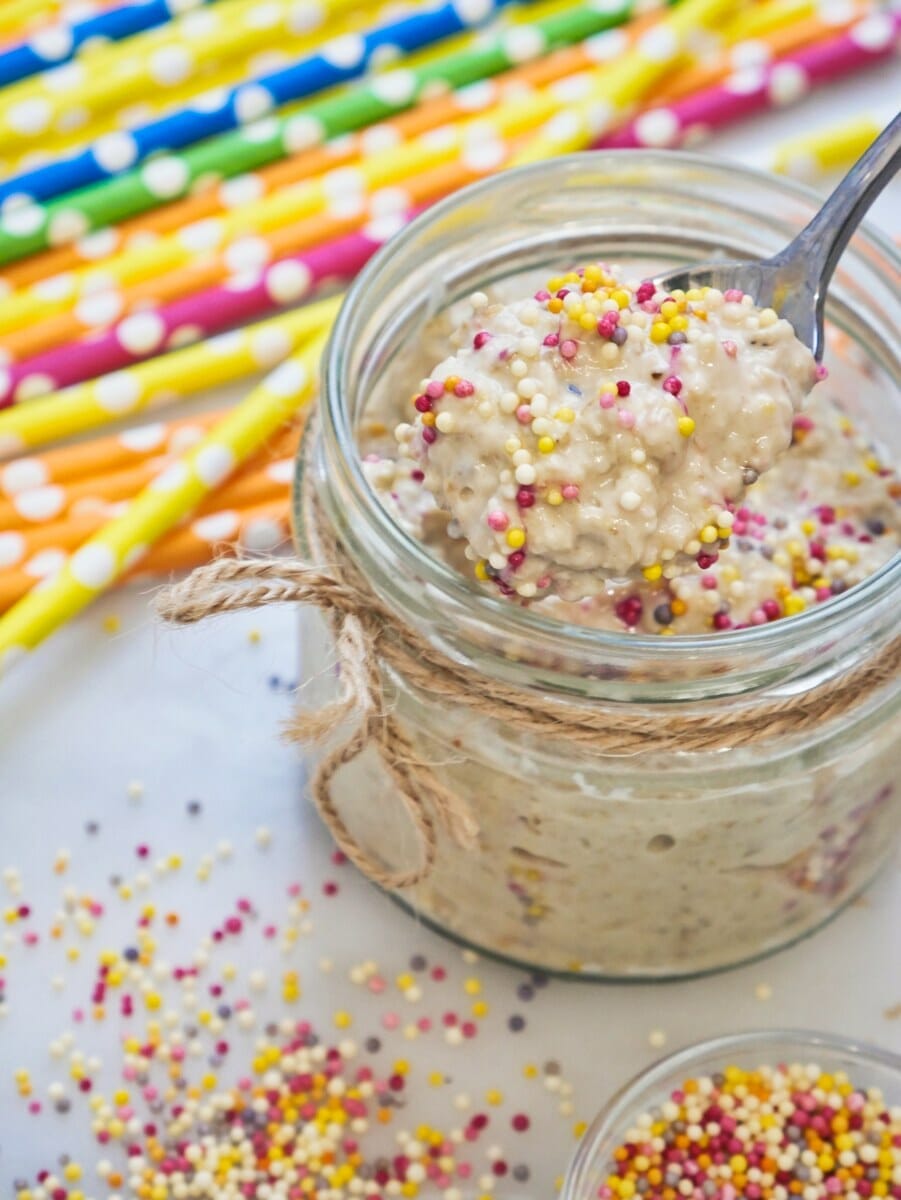 Ingredients for Birthday Cake Overnight Oats
For this recipe, you'll want the following ingredients on hand:
water – we'll talk more about water versus milk below, but I prefer water
greek yogurt – you can use full fat or low fat, whichever you prefer (I use this brand)
rolled oats or steel cut oats – these are our base, but make sure not to use instant oats as they won't work as well. I like this brand of steel cut oats.
vanilla extract – to help give us that vanilla cake taste! You can buy it cheaper in bulk here
sprinkles – I used rainbow sprinkles (these are great), but any kind is fine
brown sugar – to give us that sweetness and more of a cake flavor in our oats – I like this brand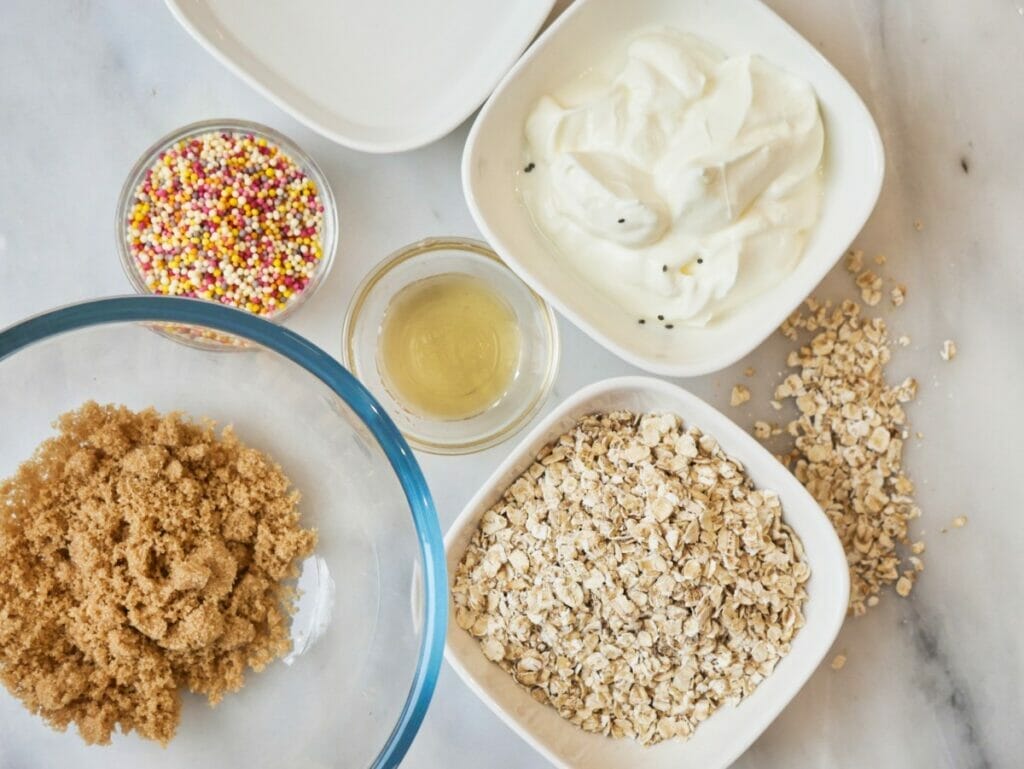 Substitutions for Overnight Oats
People often ask about substitutions for overnight oats, as they may be allergic to an ingredient or not want to use greek yogurt.
The great thing about overnight oats is that you can tweak them as long as you can stay within the at least 1:1 ratio of oats to liquids/yogurt.
So if you want to use milk instead of water, that will give it a tangier texture, and you can simply substitute the milk for water.
If you want to not use yogurt at all, you can substitute water or milk for the yogurt.
You get the idea.
The greek yogurt makes the overnight oats creamy, and I pair it with the water to avoid it tasting too tangy as the water simply acts as a more neutral ingredient to help us get the liquid into the oats.
How to Make Them
There is nothing difficult about making birthday cake overnight oats, which is why I'm a fan.
First, combine the water and greek yogurt in a bowl and mix.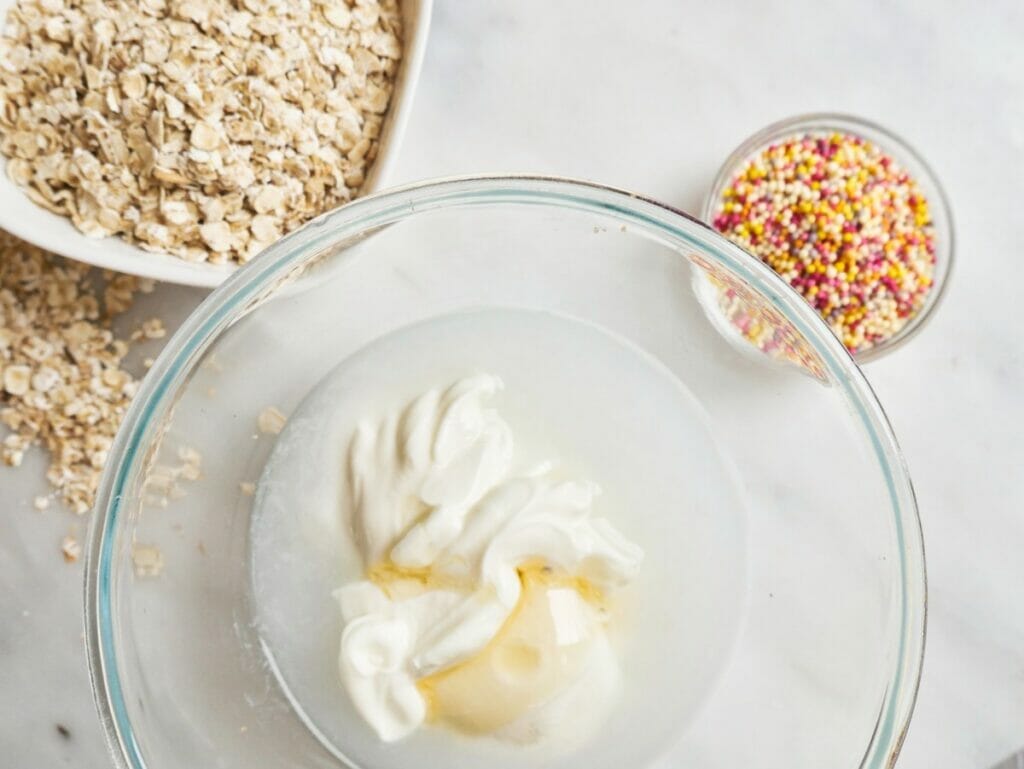 Then, add in the oats, brown sugar, and vanilla extract and mix.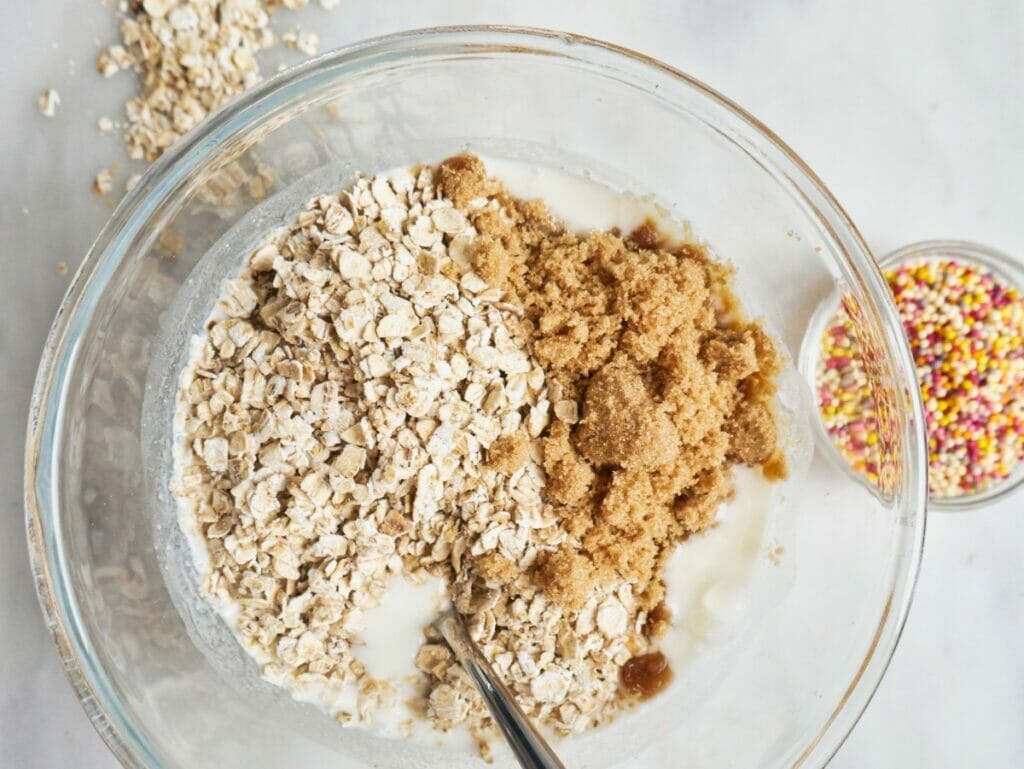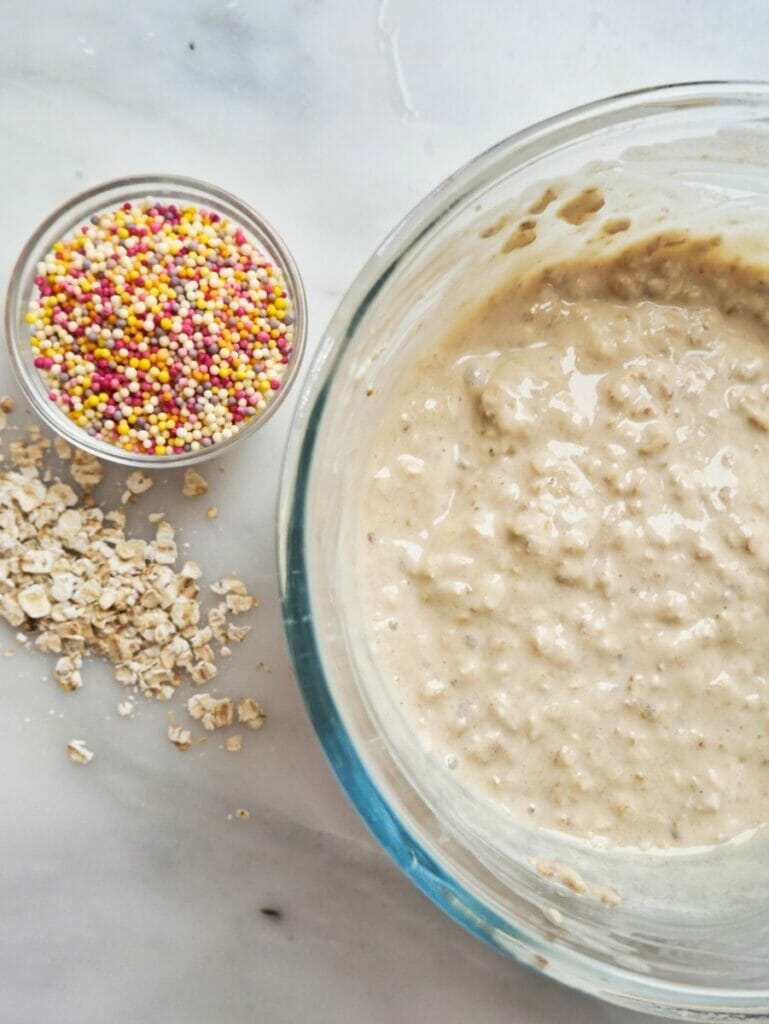 Store the oats in an airtight container in the fridge for 8+ hours, preferably overnight.
When you're ready to eat, mix in your sprinkles (I add them later on to avoid the colors turning my overnight oats a weird shade of brown as it marinates in the liquid mixture).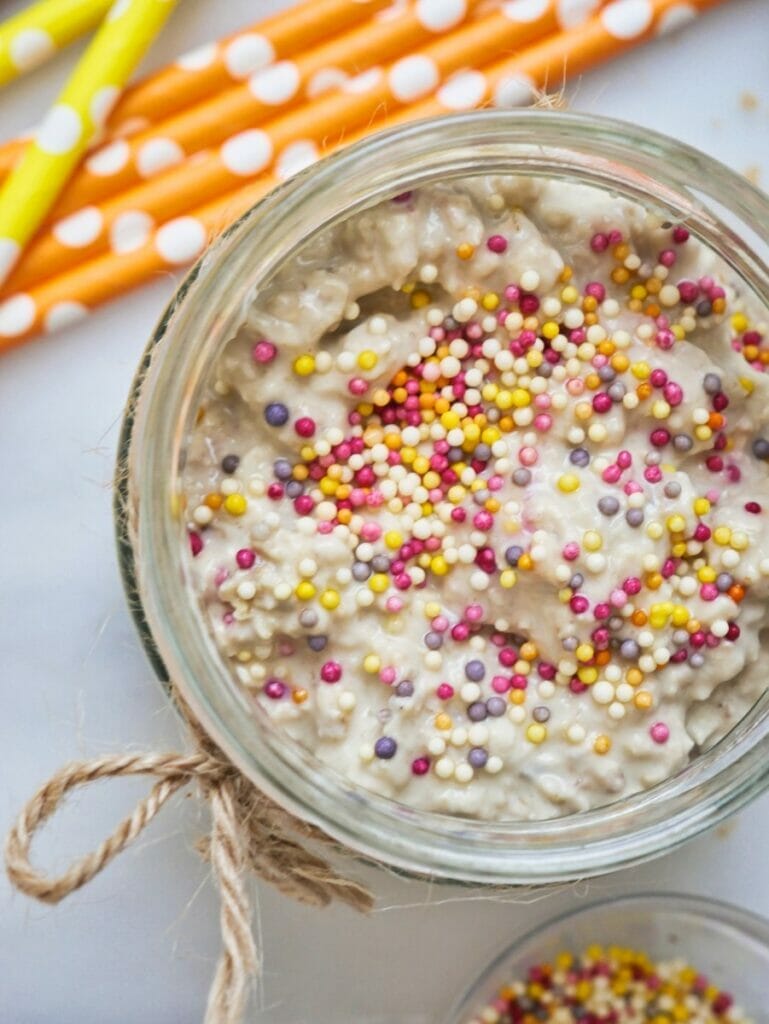 Enjoy!
How to Store Overnight Oats
Make sure you keep your overnight oats covered when in the fridge, in any kind of bowl, mug, or jar you want.
A lot of people use mason jars, but I prefer to just transfer the oats into a mug, put on a piece of plastic wrap, and then, boom – oats in a mug during my morning routine so I don't even have to worry about dirtying a bowl.
Can I Eat Overnight Oats Warm?
You technically can eat overnight oats warm, but I find that using an oats recipe designed to be cooked and eaten warm is much better than warming up overnight oats, which are usually eaten cold.
Other Delicious Overnight Oats Recipes
If you're now an overnight oats fiend or you just want to check out more options, I've got you covered!
Enjoy from this list of amazing recipes below.
Yield: 1 serving
Birthday Cake Overnight Oats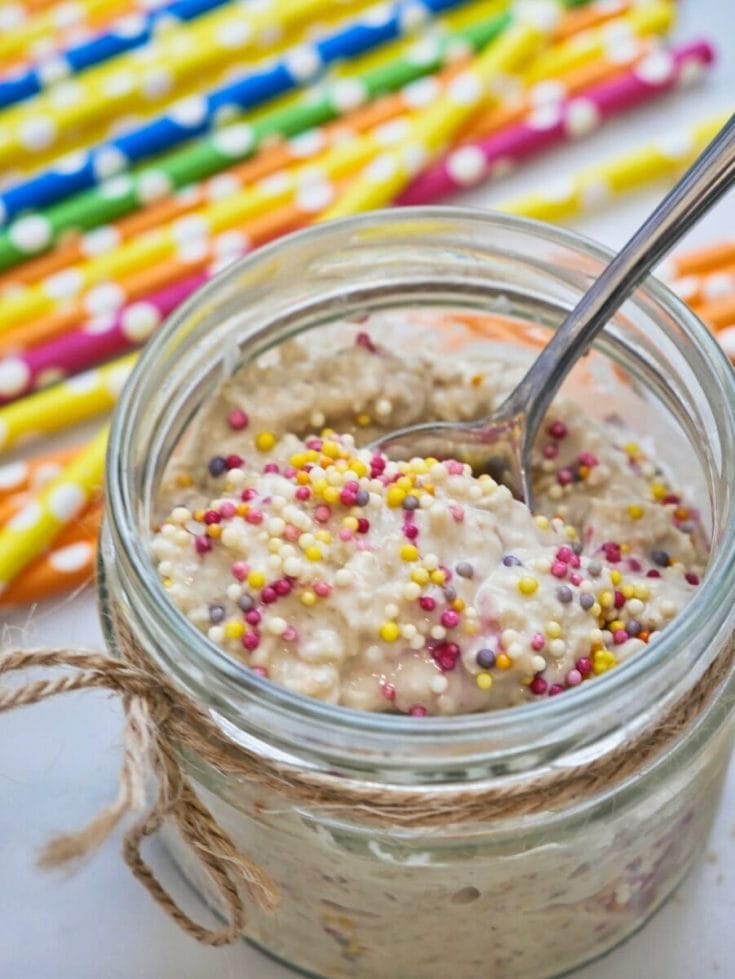 These birthday cake overnight oats are a huge hit with kids, as well as parents wanting a quick and fun breakfast.
Total Time
8 hours
5 minutes
Ingredients
Instructions
Combine the water and greek yogurt in a bowl and mix.
Add the vanilla extract, brown sugar, and oats and mix in the same bowl.
Store in the fridge in an airtight container for 8+ hours, preferably overnight.
Add in the sprinkles and mix.
Enjoy!
Notes
The taste will be the same if you add in the sprinkles before putting in the fridge, but the color might be a little strange as the color on the sprinkles runs together overnight.
Substitute milk for the greek yogurt if you want a tangier taste and thinner texture.
Recommended Products
As an Amazon Associate and member of other affiliate programs, I earn from qualifying purchases.
Nutrition Information:
Yield:
2
Serving Size:
1
Amount Per Serving:
Calories:

415
Total Fat:

7g
Saturated Fat:

1g
Trans Fat:

0g
Unsaturated Fat:

5g
Cholesterol:

3mg
Sodium:

30mg
Carbohydrates:

71g
Fiber:

8g
Sugar:

17g
Protein:

16g