As an Amazon Associate, I earn from qualifying purchases. In addition, I participate in several other affiliate programs that allow me to earn while I recommend products I love.
These cinnamon overnight oats are hearty, delicious, and comforting for a perfect breakfast treat any time of year.
When it comes to overnight oats, you can get super simple with plain overnight oats, or you can create a fun and festive extravaganza with something like birthday cake overnight oats, but most of the time I just want something in the middle.
Not too fancy, not too plain, just right.
In this cinnamon overnight oats recipe, that's exactly what you'll get.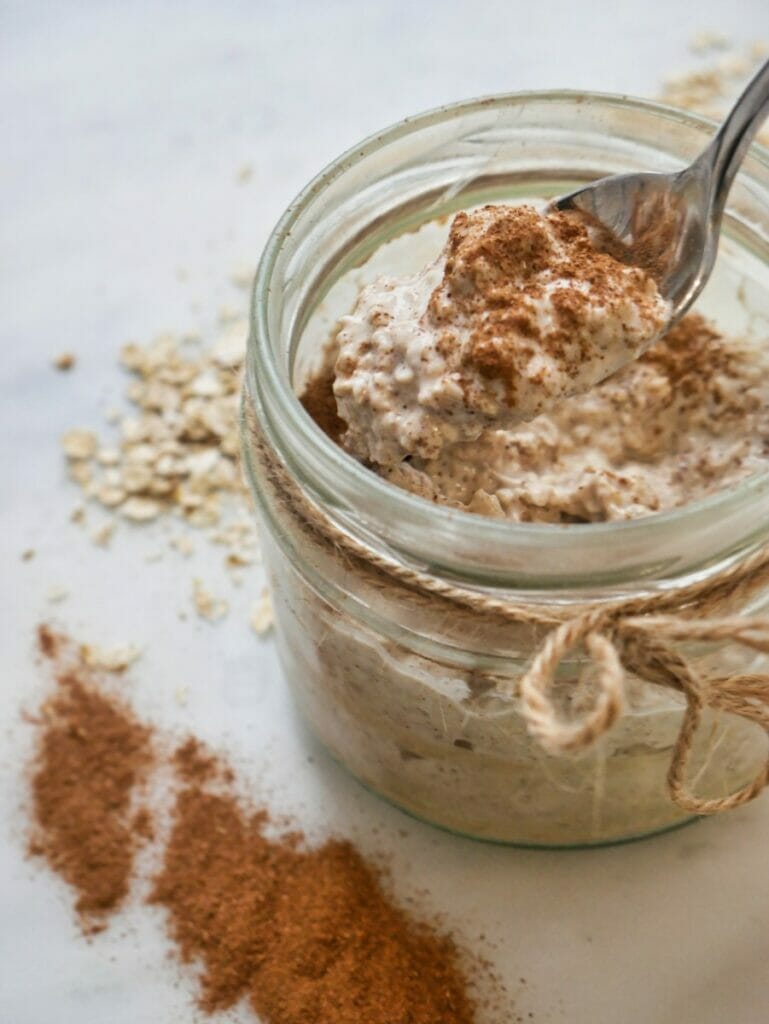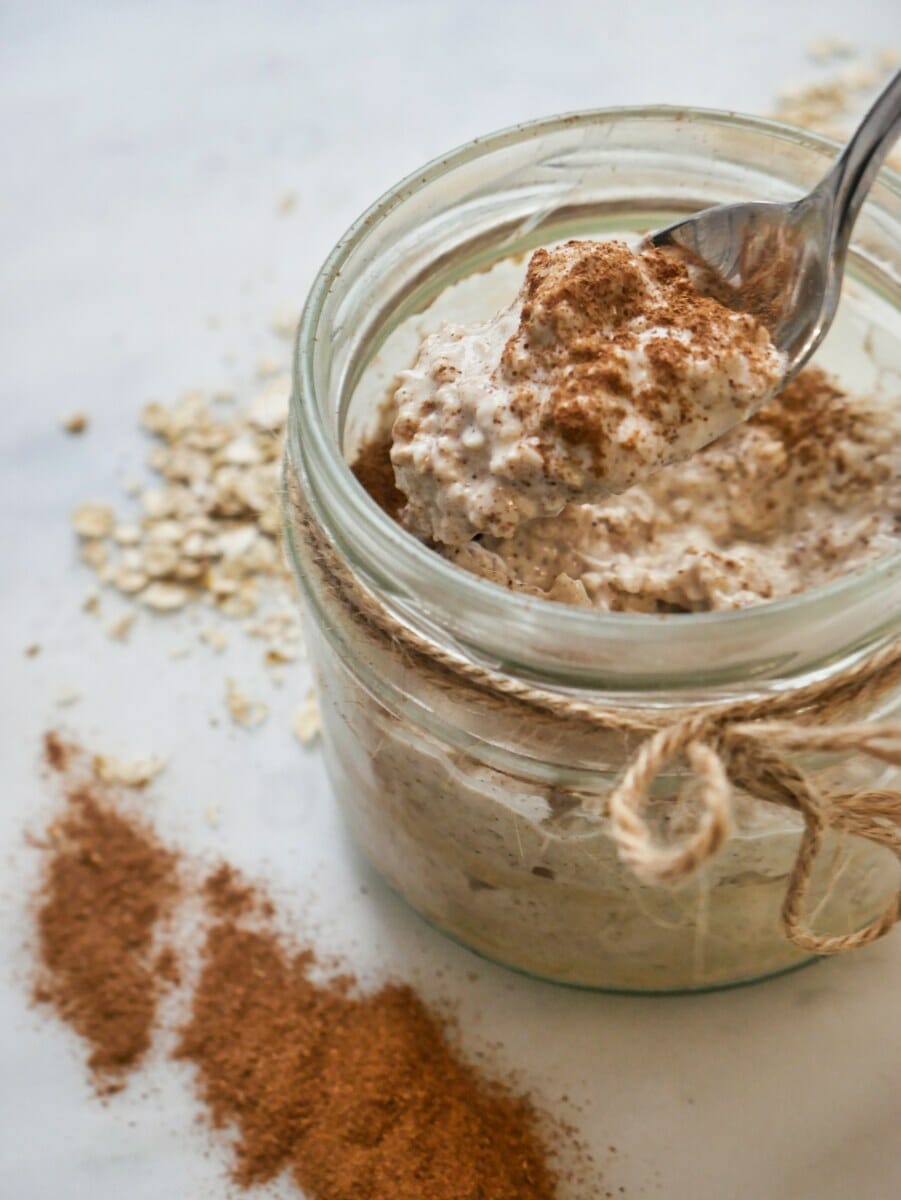 We're not adding anything crazy besides the essential ingredients and the cinnamon spice, but you're going to get a result that makes you feel like you're ready to take on your day and not bogged down by boring old oats.
GET A

FREE

NO-FUSS COOKBOOK & SECRET HACKS!
This is your downloadable, ad-free key to cooking success!
Our Favorite Quirky Kitchen Gadgets
What Are Overnight Oats?
Overnight oats are a more recent sensation, but they are the perfect solution to a busy morning so if you are someone who needs a "grab and go breakfast," they are for you!
Basically, they are an oat dish that is not cooked on the stove, but rather stored in the fridge overnight (or 8+ hours, but they're called overnight oats so let's say overnight) while the oats and liquid combine to make the oats edible and not dry.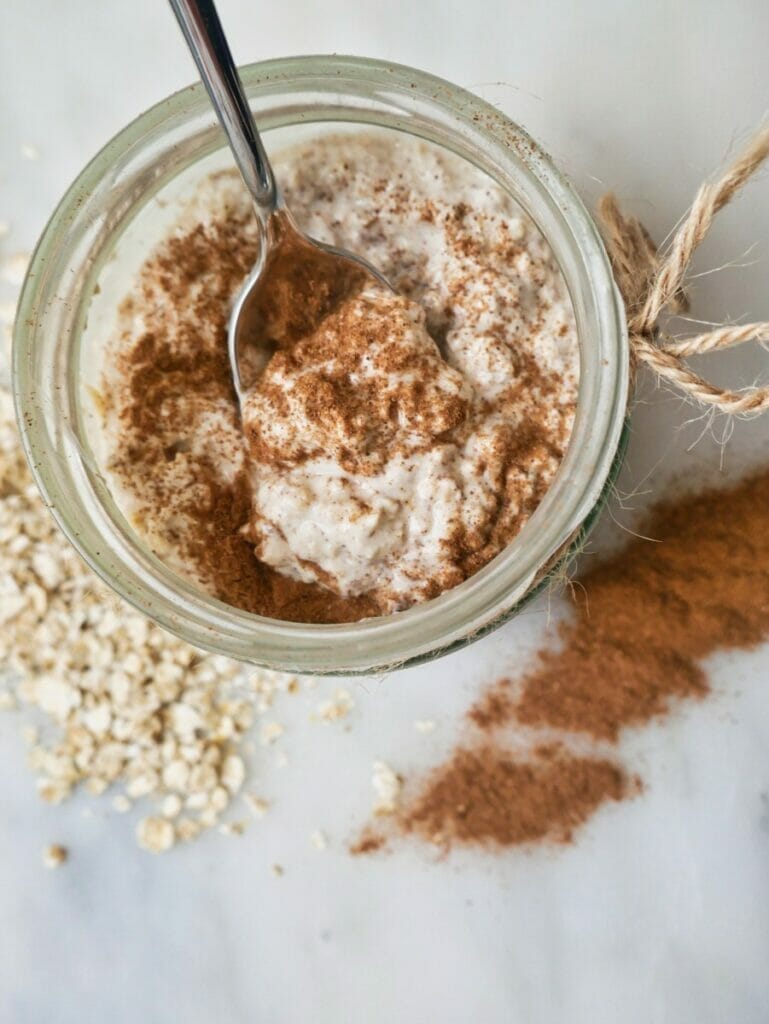 Do You Eat Overnight Oats Warm or Cold?
Overnight oats are really designed to be eaten cold, as the yogurt doesn't taste that great when heated up.
However, you can eat them warm if that's your thing, there's no law against it. Try it!
Ingredients for Cinnamon Overnight Oats
To make this recipe, you'll want to gather up:
greek yogurt – I use full-fat and this brand, but you can use your favorite kind
water – this is going to help the oats actually become edible as they soak up the liquid overnight
rolled or steel cut oats – the main attraction, I use this kind
cinnamon – to make these cinnamon oats, rather than plain. This is a great bulk buy option
honey – to act as a sweetener (I use this all-natural brand)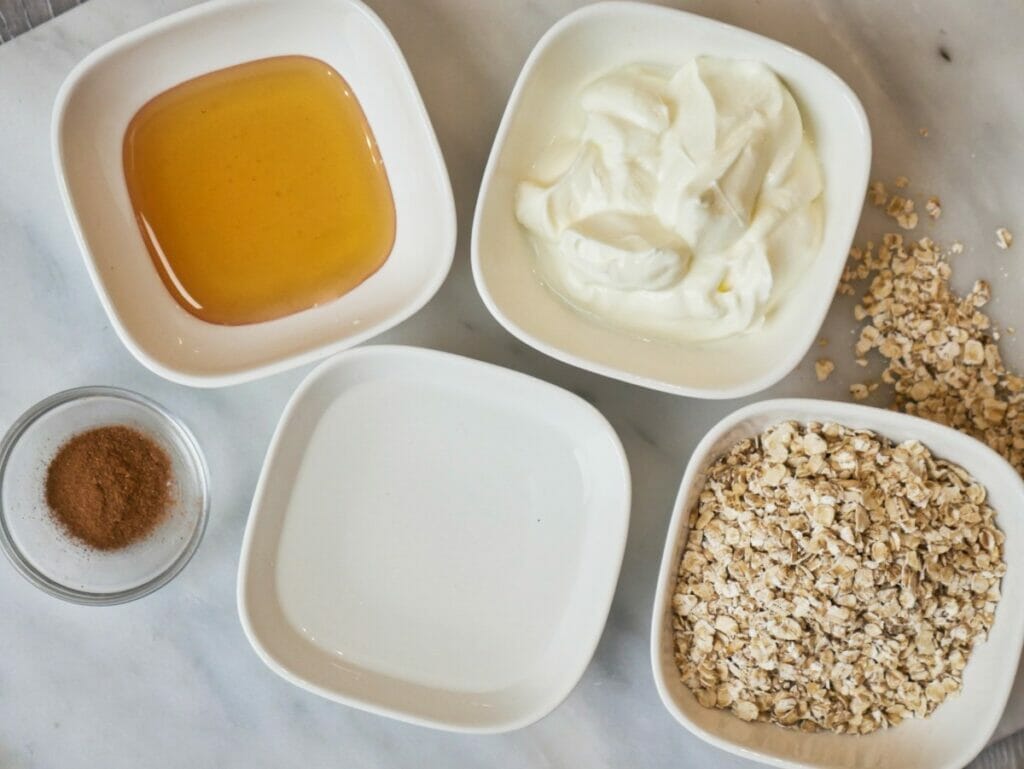 How to Make Cinnamon Overnight Oats
The whole process of actually making the oats is easy and takes about 5 minutes.
First, combine the greek yogurt and water in a bowl.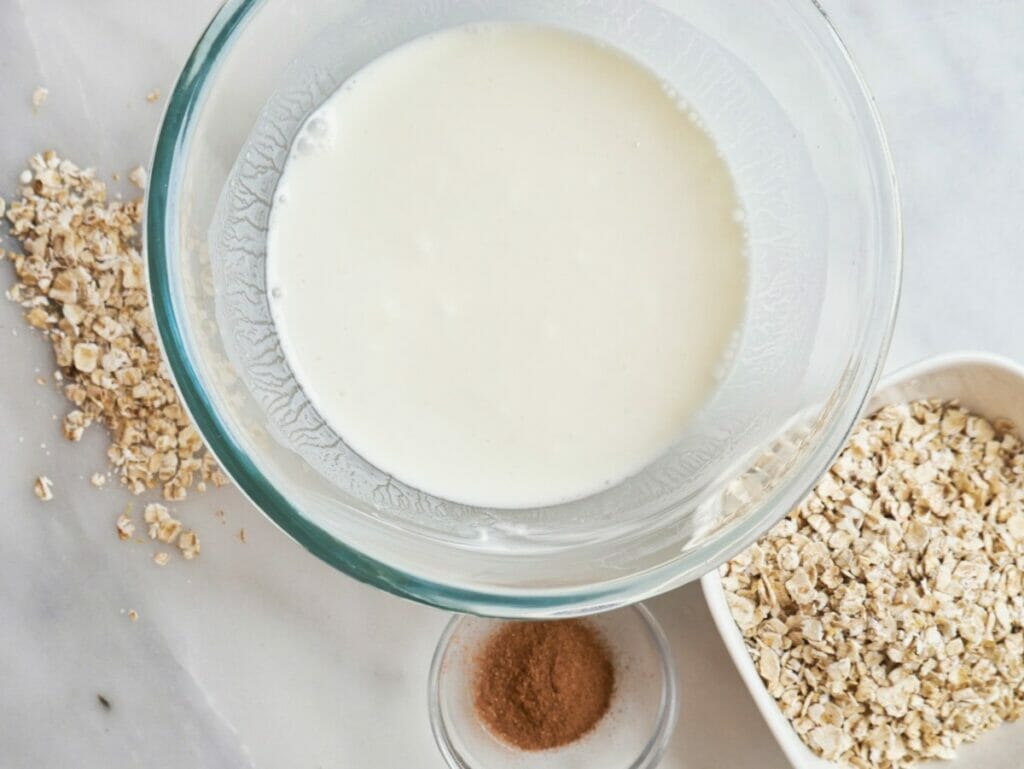 Then, add the honey, cinnamon, and oats to the same bowl and stir.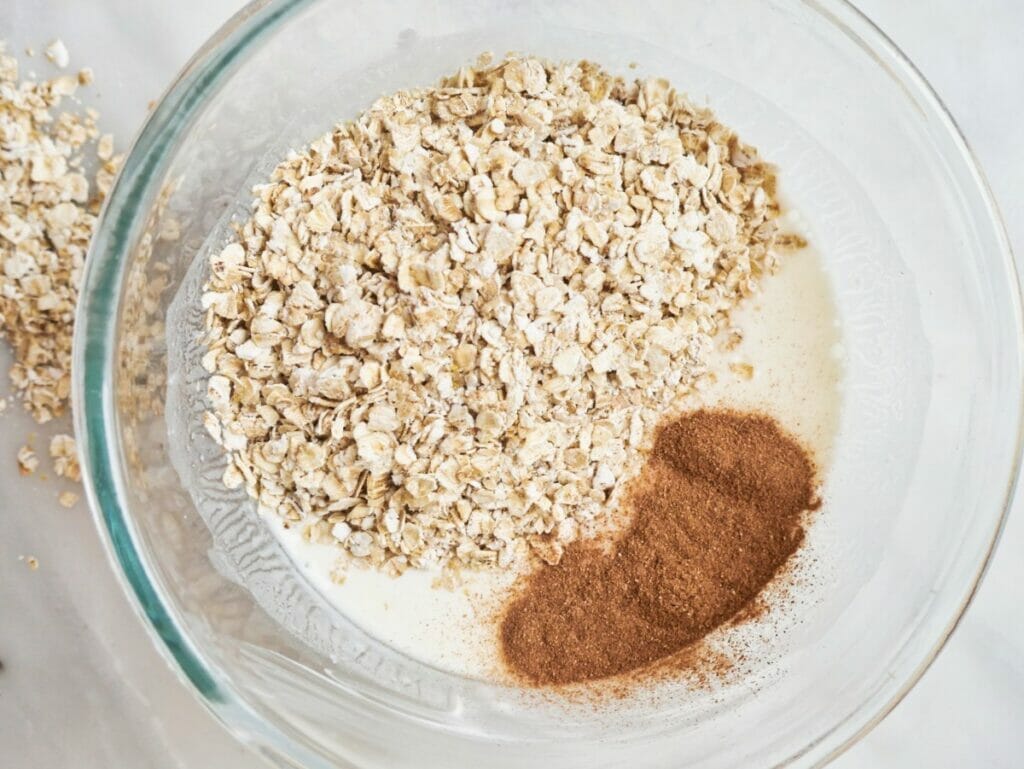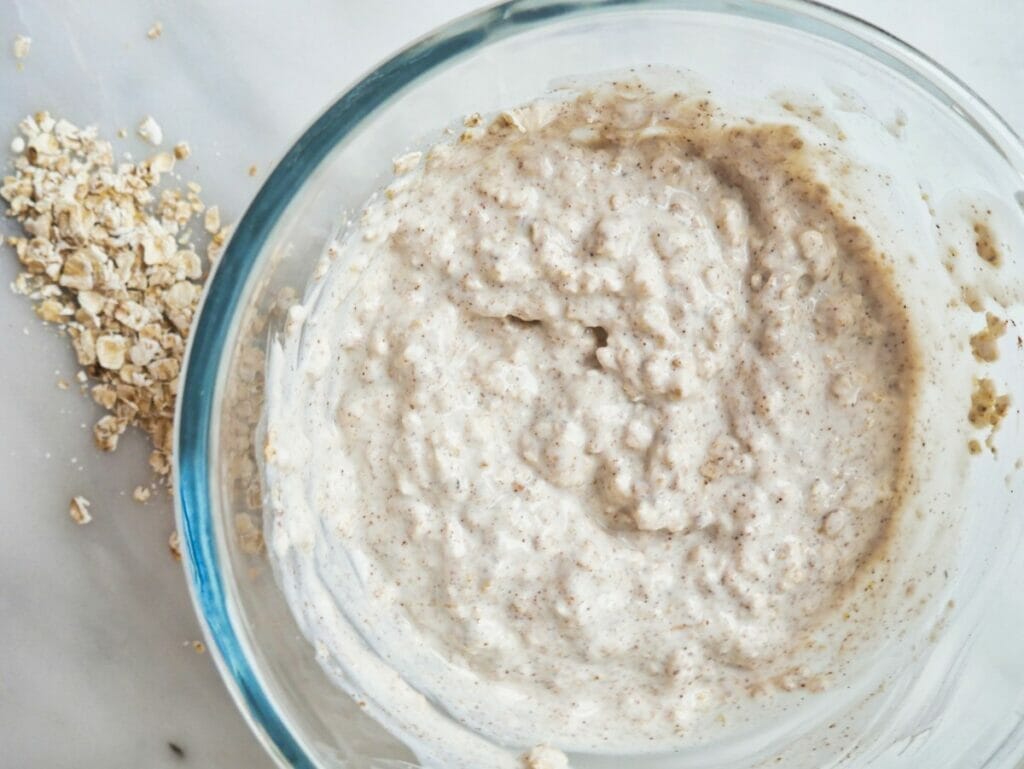 Put in the fridge for 8+ hours, preferably overnight.
Enjoy!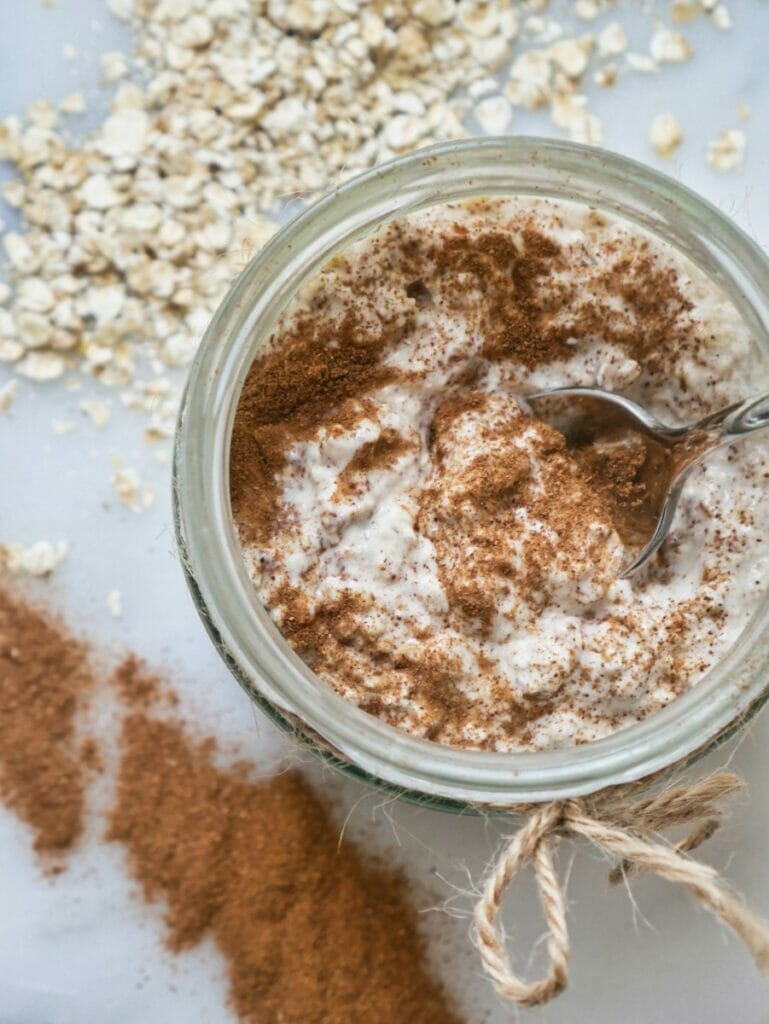 Storing Overnight Oats
There are different options when it comes to storing the overnight oats, including mason jars, colorful bowls with plastic wrap over it, and mugs with plastic wrap over it.
What I do is make the oats in the bowl, as I find it easier to mix that way, and then I pour it into a sloth mug with some plastic wrap.
In the morning, simply take off the plastic wrap, grab a spoon, and enjoy!
I make sure to eat my oats within 48 hours of initially putting them into the fridge, but they're better the day right after making them.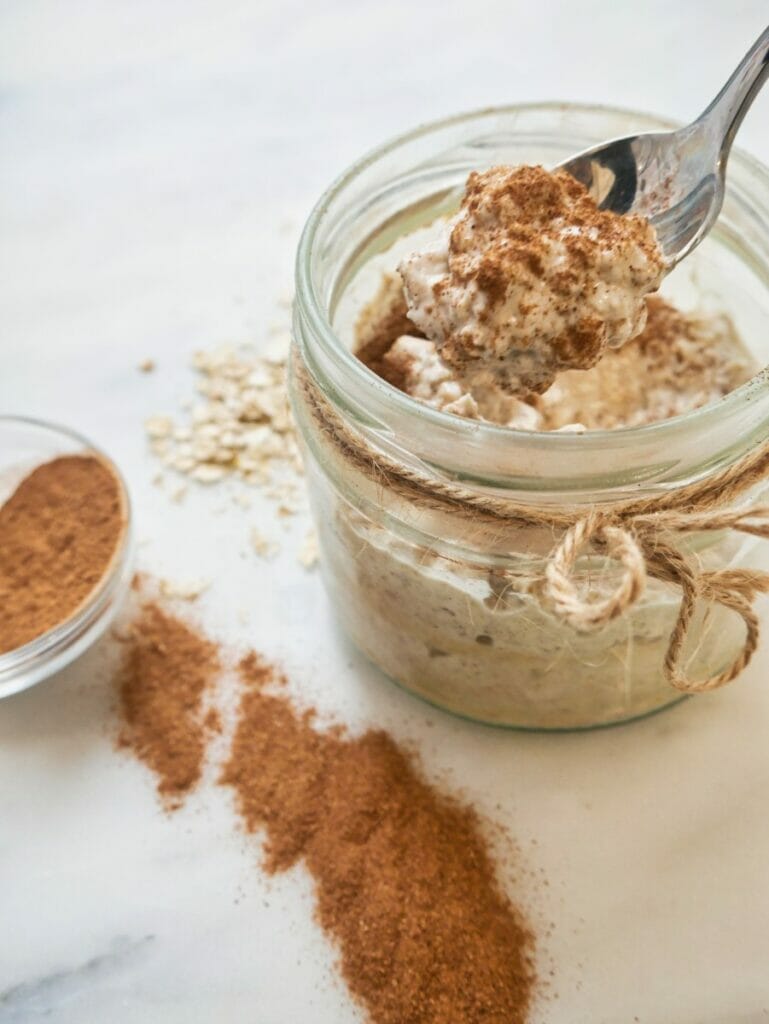 Can I Make Substitutions in these Overnight Oats?
Yes, you can make substitutions in these overnight oats.
To make them dairy-free, substitute water for the Greek Yogurt (on top of the water already in the recipe).
To make them thinner, substitute the Greek Yogurt with milk.
To make them even creamier, add more Greek Yogurt.
You can leave out the honey if you want, but know that it acts as a sweetener so you'll have a bit more of a savory overnight oats.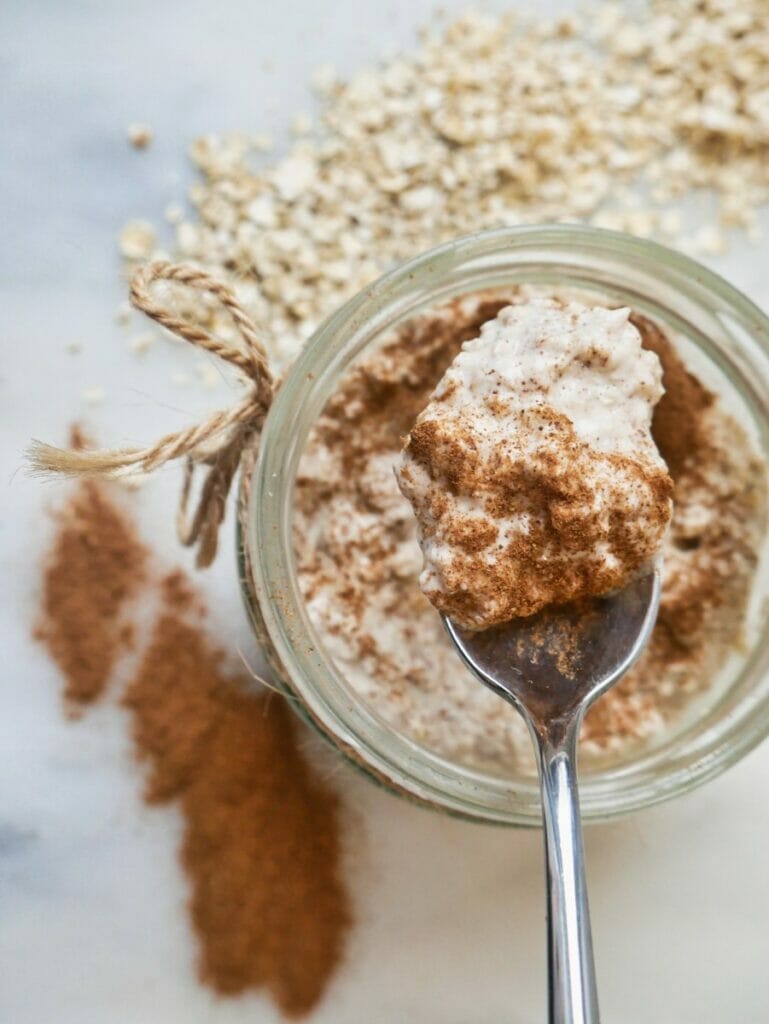 More Overnight Oats Recipes
If you want to check out more overnight oats, I've got plenty of awesome recipes just for you!
Yield: 1 serving
Best Ever Cinnamon Overnight Oats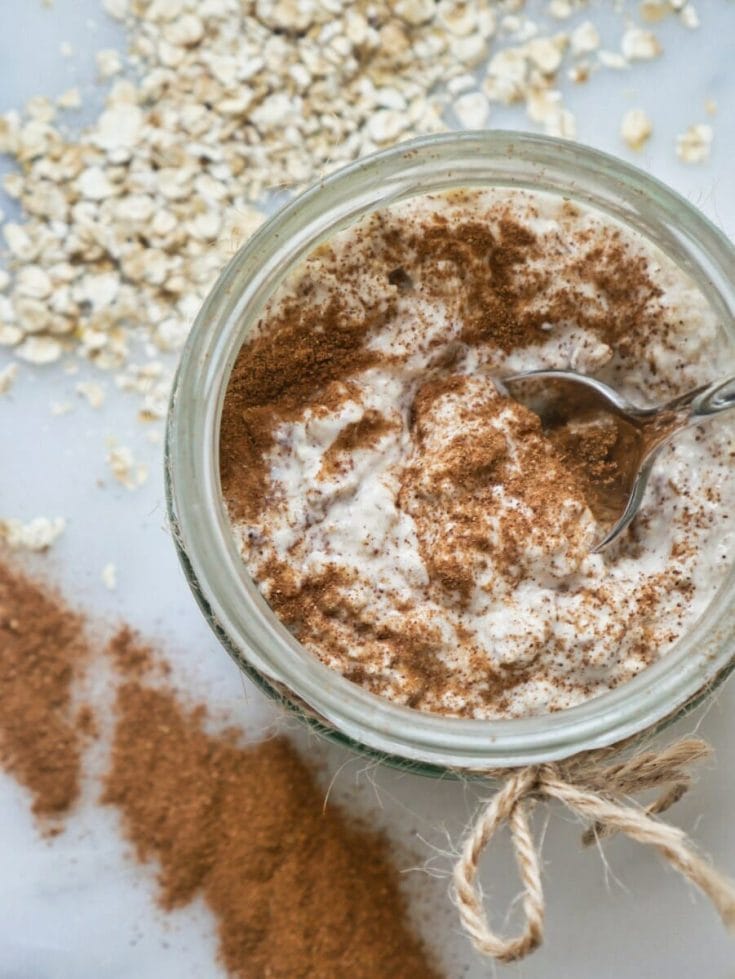 These cinnamon overnight oats are delicious and the perfect amount of spice for a comforting overnight oat breakfast.
Total Time
8 hours
5 minutes
Ingredients
Instructions
Combine the greek yogurt and water in a bowl.
Add honey, cinnamon, and oats to the same bowl and stir.
Cover and put in the fridge for 8 hours, at least, preferably overnight.
Enjoy!
Notes
For thinner oats, substitute the greek yogurt with milk.
For dairy-free oats, you can substitute the oats with water, but know you will get a thinner and less creamy texture.
If you haven't put in enough cinnamon for your taste, you can always add more once you take them out of the fridge.
Store in a mug for easy access and a more mobile way of eating them if you're needing to eat them in the car or while wandering around the house getting ready.
Recommended Products
As an Amazon Associate and member of other affiliate programs, I earn from qualifying purchases.
Nutrition Information:
Yield:
1
Serving Size:
1
Amount Per Serving:
Calories:

594
Total Fat:

8g
Saturated Fat:

1g
Trans Fat:

0g
Unsaturated Fat:

5g
Cholesterol:

6mg
Sodium:

52mg
Carbohydrates:

105g
Fiber:

14g
Sugar:

22g
Protein:

28g