As an Amazon Associate, I earn from qualifying purchases. In addition, I participate in several other affiliate programs that allow me to earn while I recommend products I love.
These chocolate chip overnight oats are the perfect treat for a filling breakfast on the fly.

Overnight oats seem to be all the rage these days, but that's because they're delicious and healthy and filling and who wouldn't want a grab-and-go breakfast that doesn't taste like a stale Pop-tart?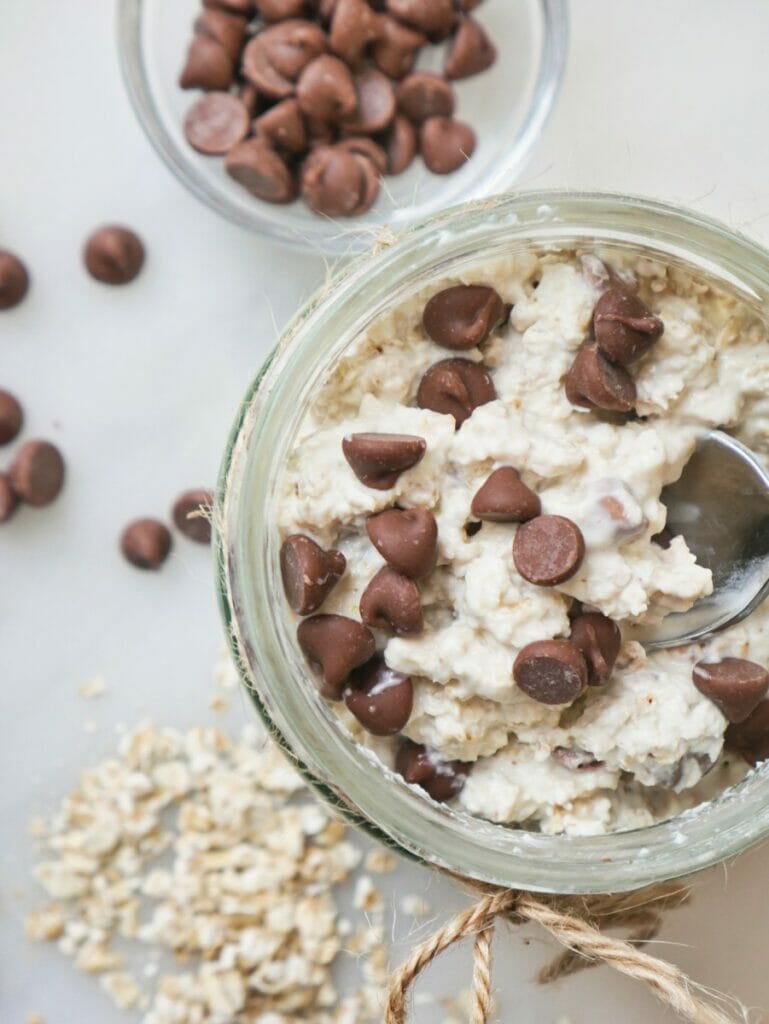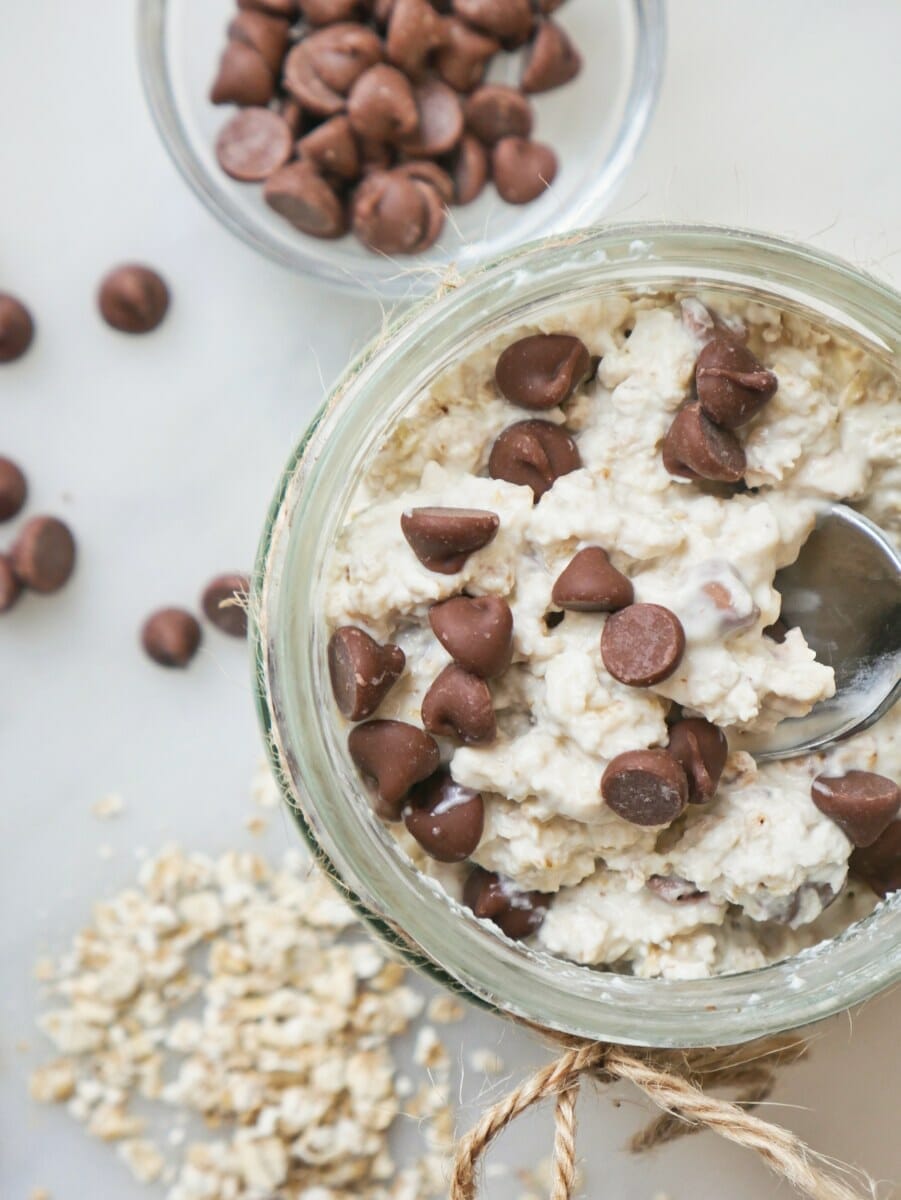 These chocolate chip overnight oats are incredibly simple to make with no bizarre ingredients, and you can tweak them to fit your tastes or make them exactly as I have, as I can confirm this is my favorite recipe for chocolate chip overnight oats which I use all of the time.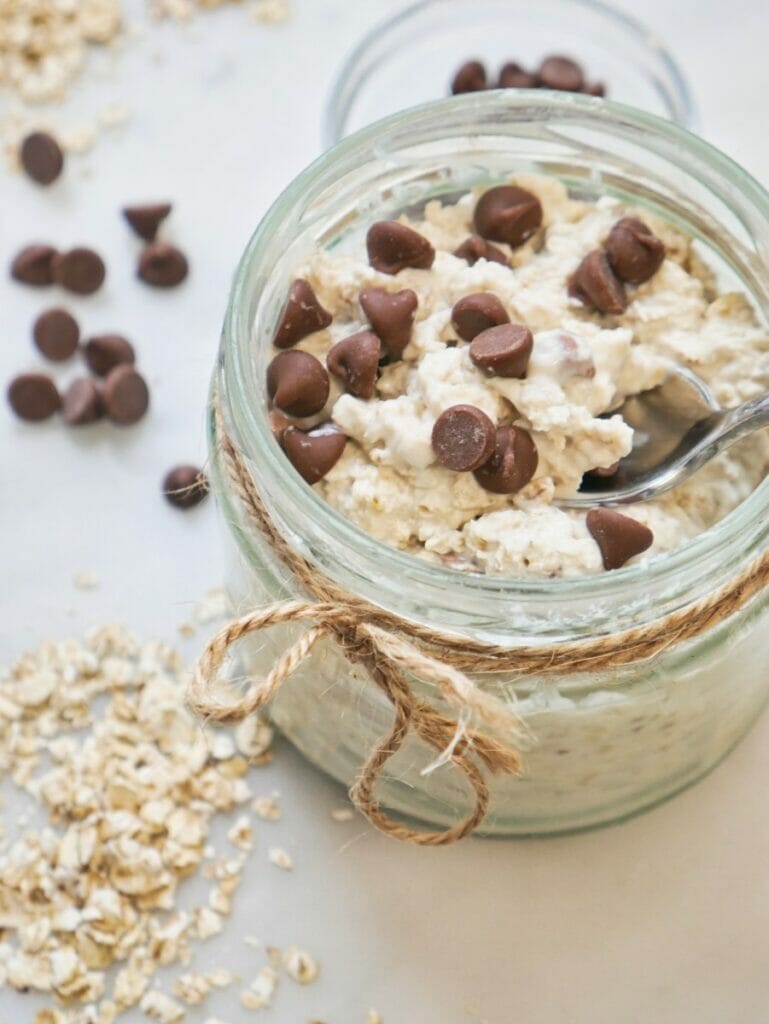 Our Favorite Quirky Kitchen Gadgets
What Are Overnight Oats?
The premise behind overnight oats is that you let the oats soak in water, milk, yogurt or a combination overnight, instead of cooking them, and in the morning (or 8 hours later, if you want them for dinner), you can a creamy, delicious oat based snack or meal.
You can eat overnight oats warm if you really feel like it, but they're meant to be enjoyed cold and that's how I find they taste the best.
If you're going to make regular oats on the stove, then just stick to that method instead of going through all the fuss of letting your overnight oats rest and then heating them up anyway.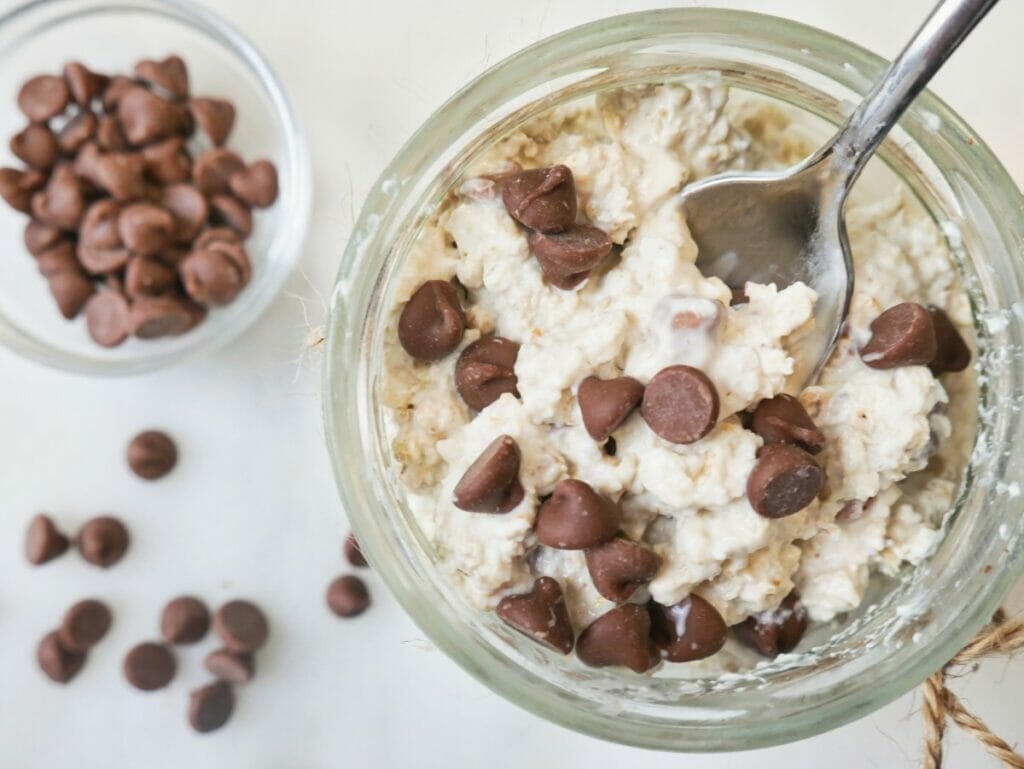 Ingredients
You only need the following ingredients for this recipe:
greek yogurt – I use full fat (this brand), but you could also use your own favorite brand of greek or regular yogurt
water – I don't like the taste of milk in my overnight oats, so I combine water with the greek yogurt for a creamy treat that's not too tangy
chocolate chips – semisweet are preferable, but you can use any kind you have (I LOVE the Ghiradelli ones)
vanilla extract – to sweeten the oats, I like to use vanilla extract, but this is optional. You can bulk buy vanilla extract for cheaper here.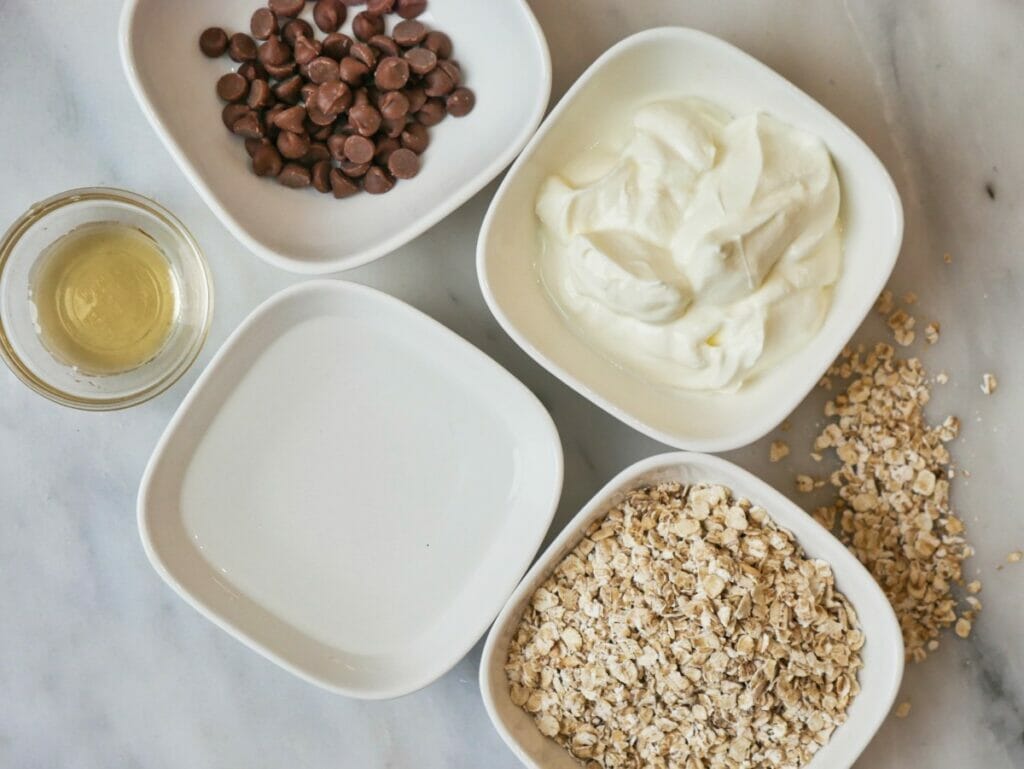 How to Make Chocolate Chip Overnight Oats
The method to making chocolate chip oats is so simple, you'll wonder why you hadn't tried it before.
Simply combine the water and greek yogurt in a bowl.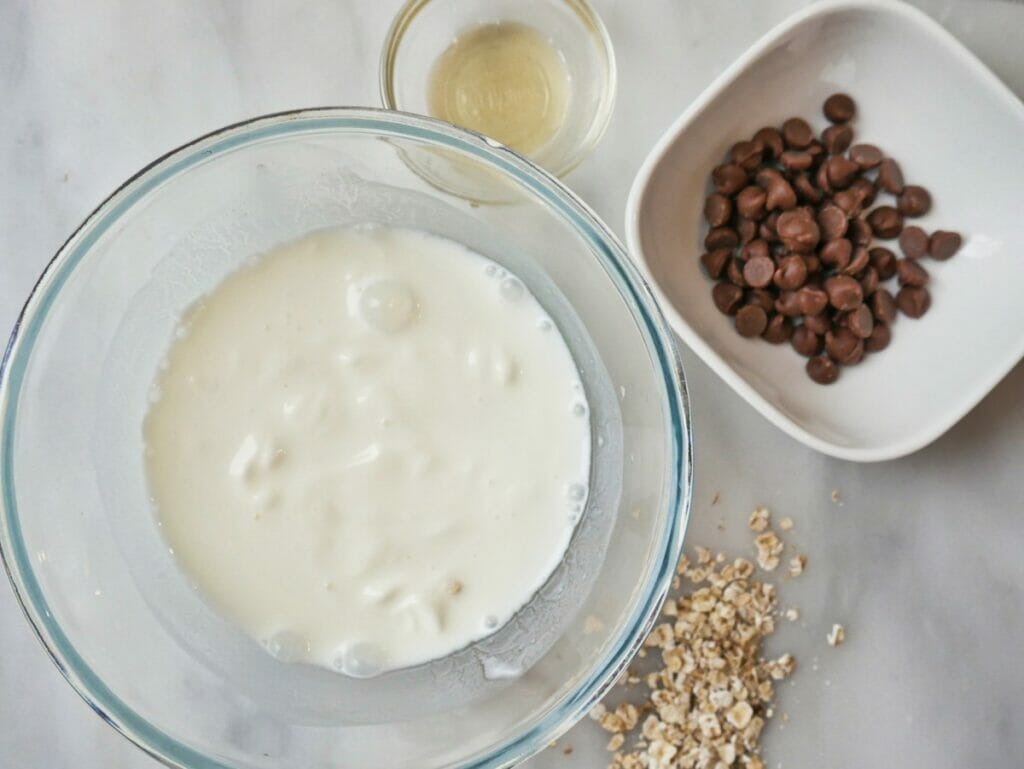 Then add in the vanilla extract, oats, and chocolate chips.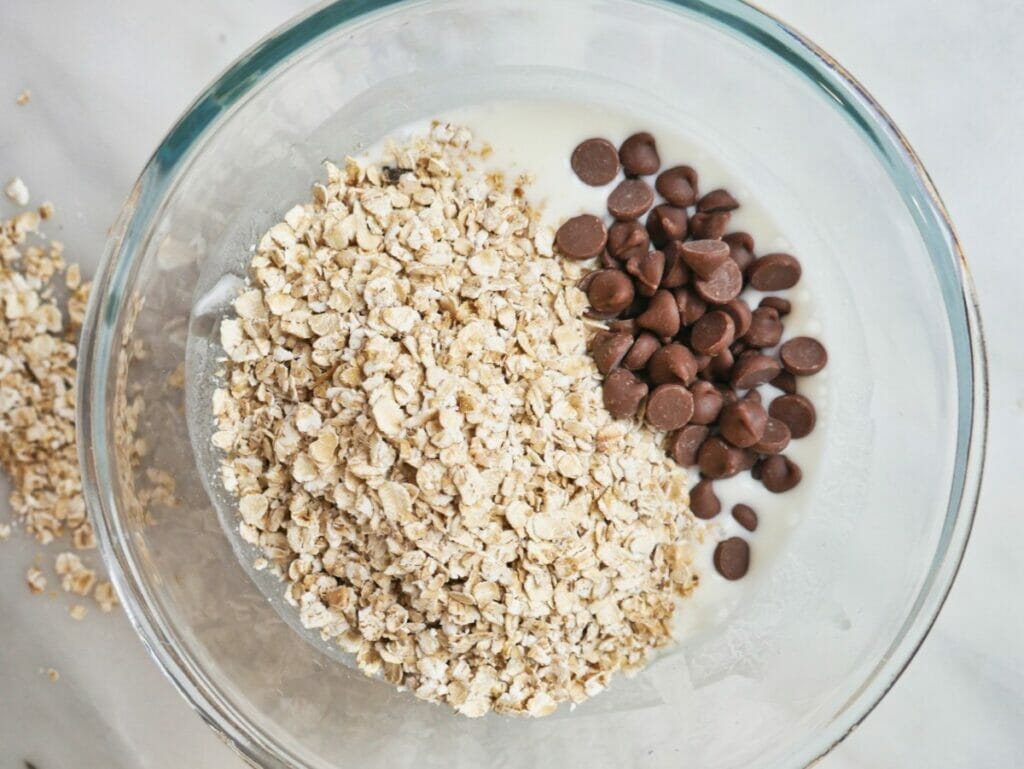 Mix it all together and put in an airtight container in the fridge (or put plastic wrap over the bowl you mixed in).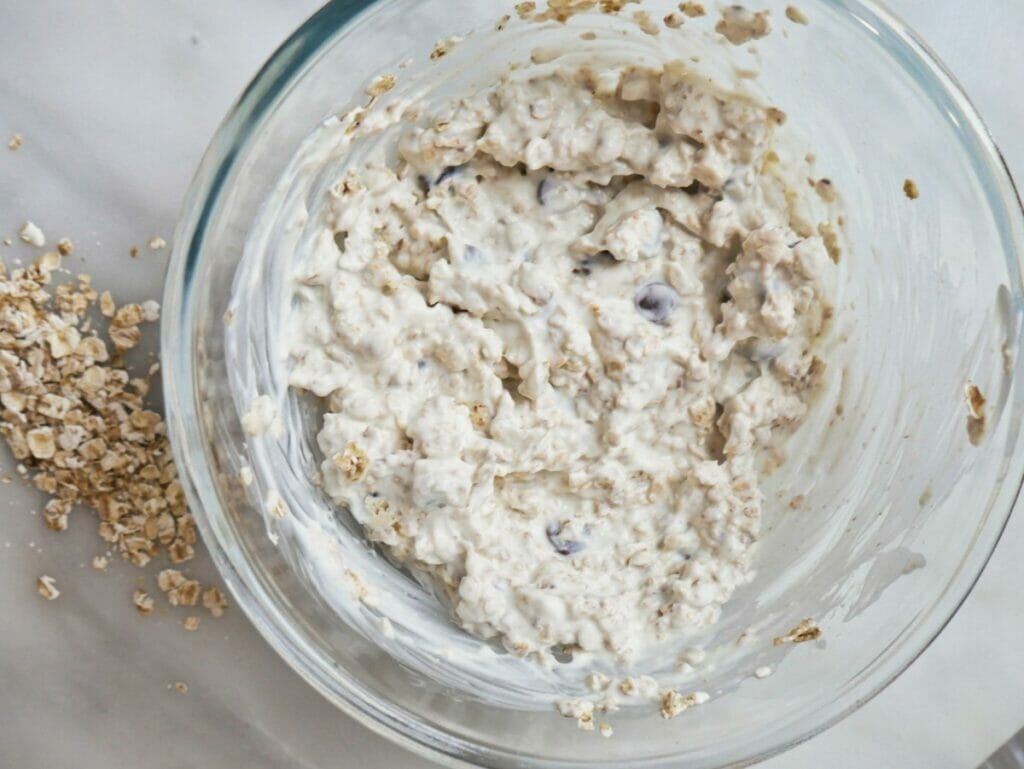 Wait 8 hours (preferably overnight), and then enjoy!
Overnight Oats Storage Tips
People like to eat their overnight oats out of different things, including bowls, these classic mason jars, and mugs.
I like to actually transfer my overnight oats into a sloth mug, as then in the morning it's easy to carry it around with me as I eat out of the mug.
Maybe not the classiest thing ever, but this is "no fuss" kitchen, not "pretending to be fancy when we're not" kitchen.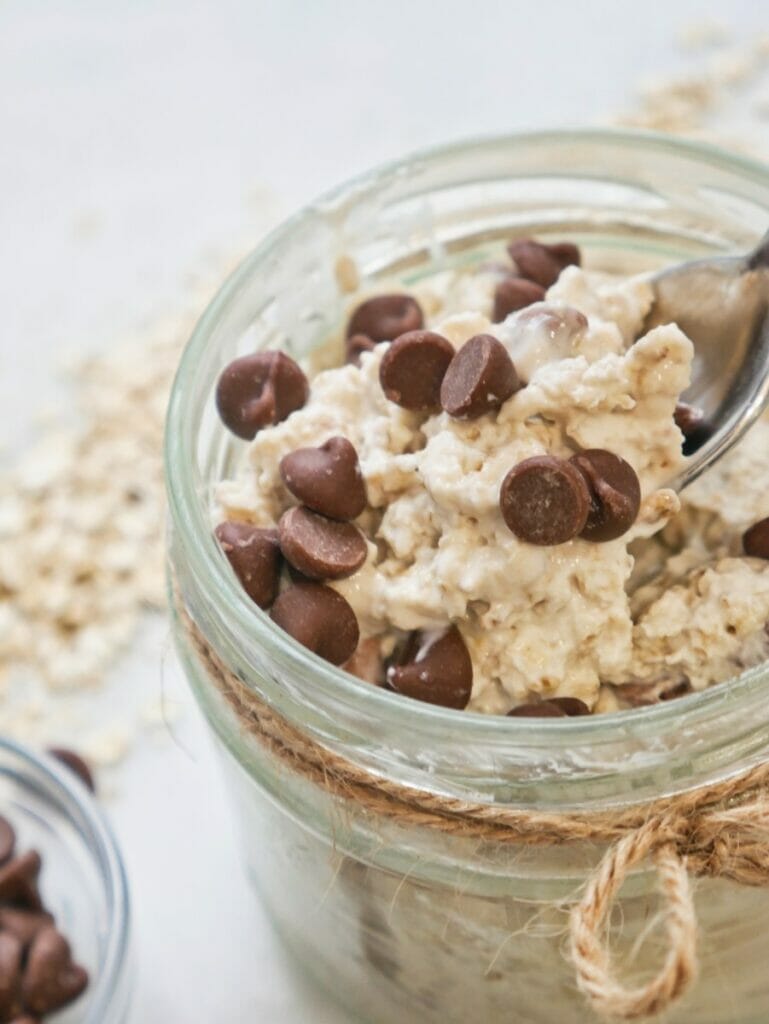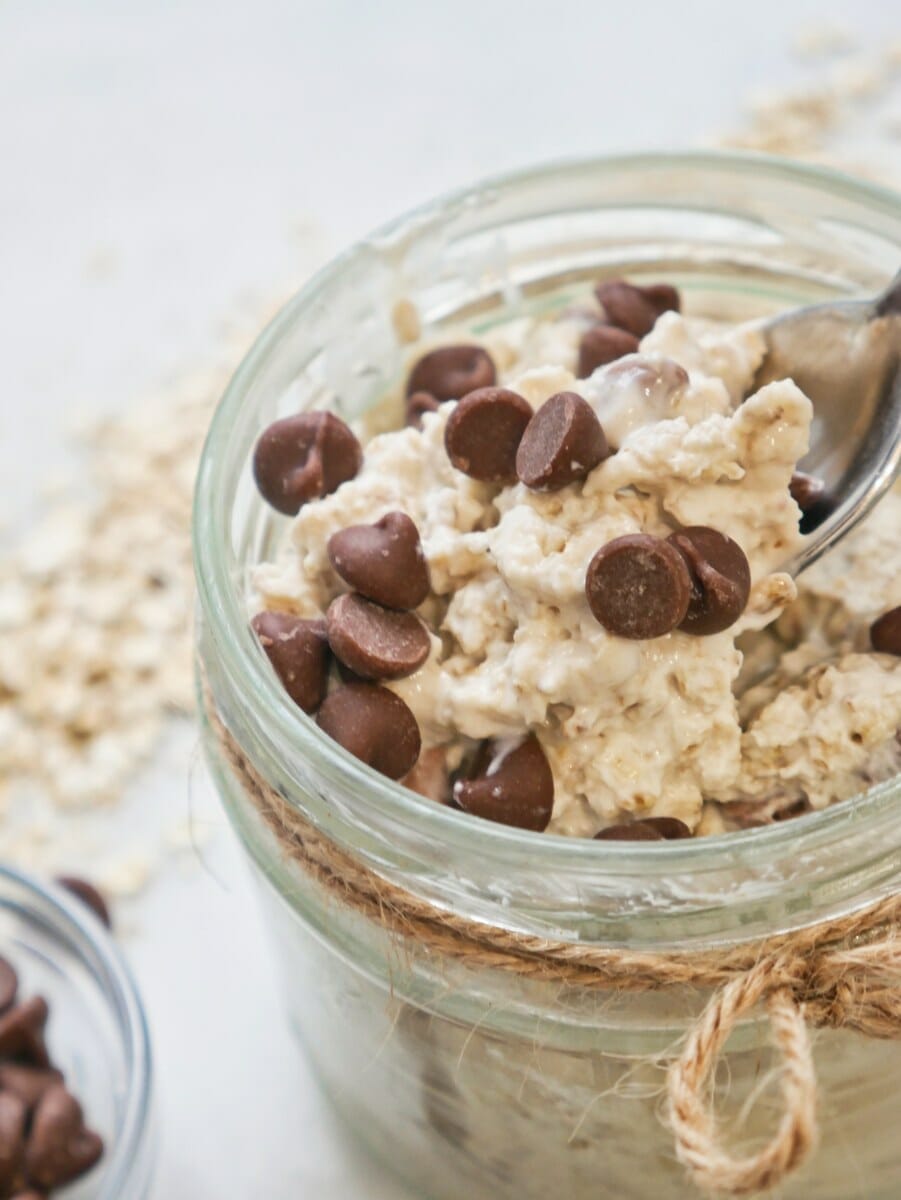 How Long Do Overnight Oats Last?
I prefer to eat overnight oats the day after I make them, but you could use them up to 48 hours after first putting them in the fridge.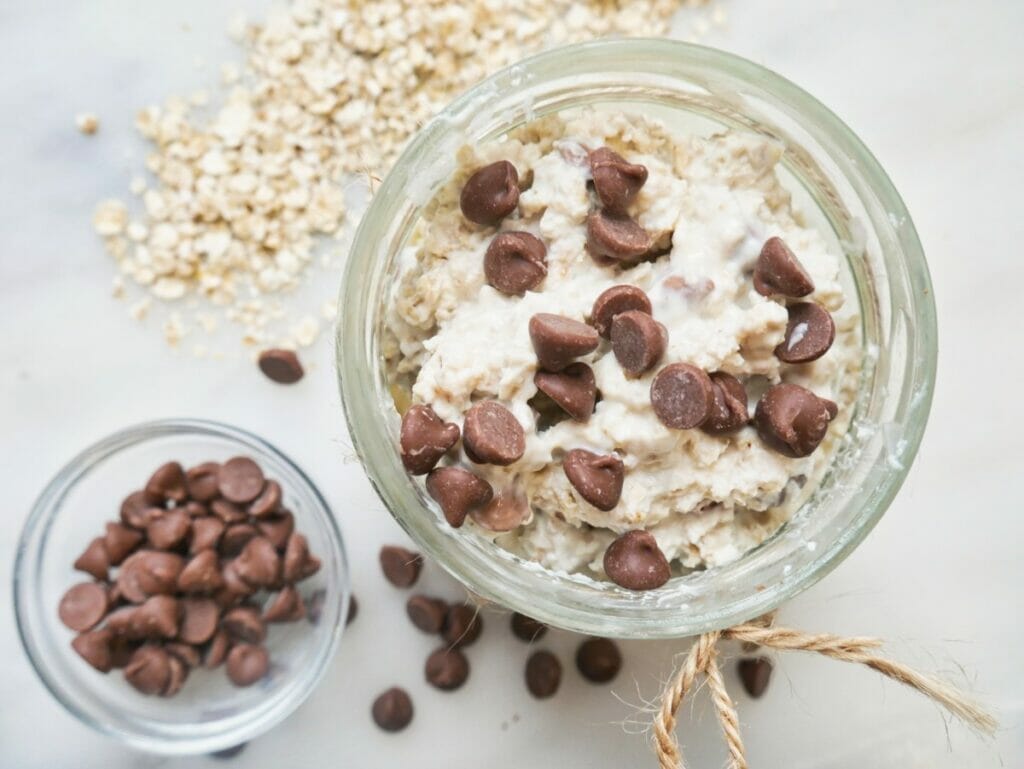 Substitutions in Chocolate Chip Overnight Oats
If you're not loving the idea of some of the ingredients in this recipe, here are some substitution ideas.
Swap out the greek yogurt for your own favorite yogurt, or you can use milk instead if you want a thinner texture.
Remember that you should always try to go for a 1:1 ratio of the oats to the liquids, so if you do 1 cup of oats, you need to at least make sure you're using 1 cup of milk, or at least 1/2 cup milk + 1/2 cup yogurt or similar.
You can leave out the vanilla extract if you want.
Other sweeteners include honey and brown sugar.
Other Ideas for Overnight Oats Recipes
If you really like overnight oats or want to learn more about my other delicious overnight oats recipe, check out the list below!
Yield: 1 serving
Best Ever Chocolate Chip Overnight Oats (with Greek Yogurt)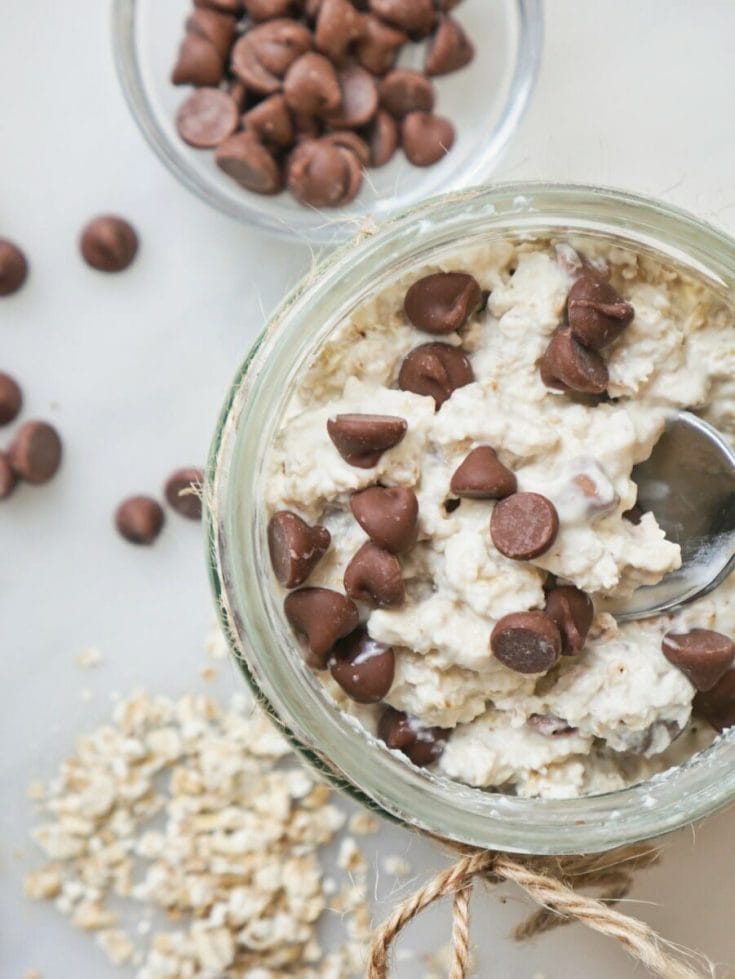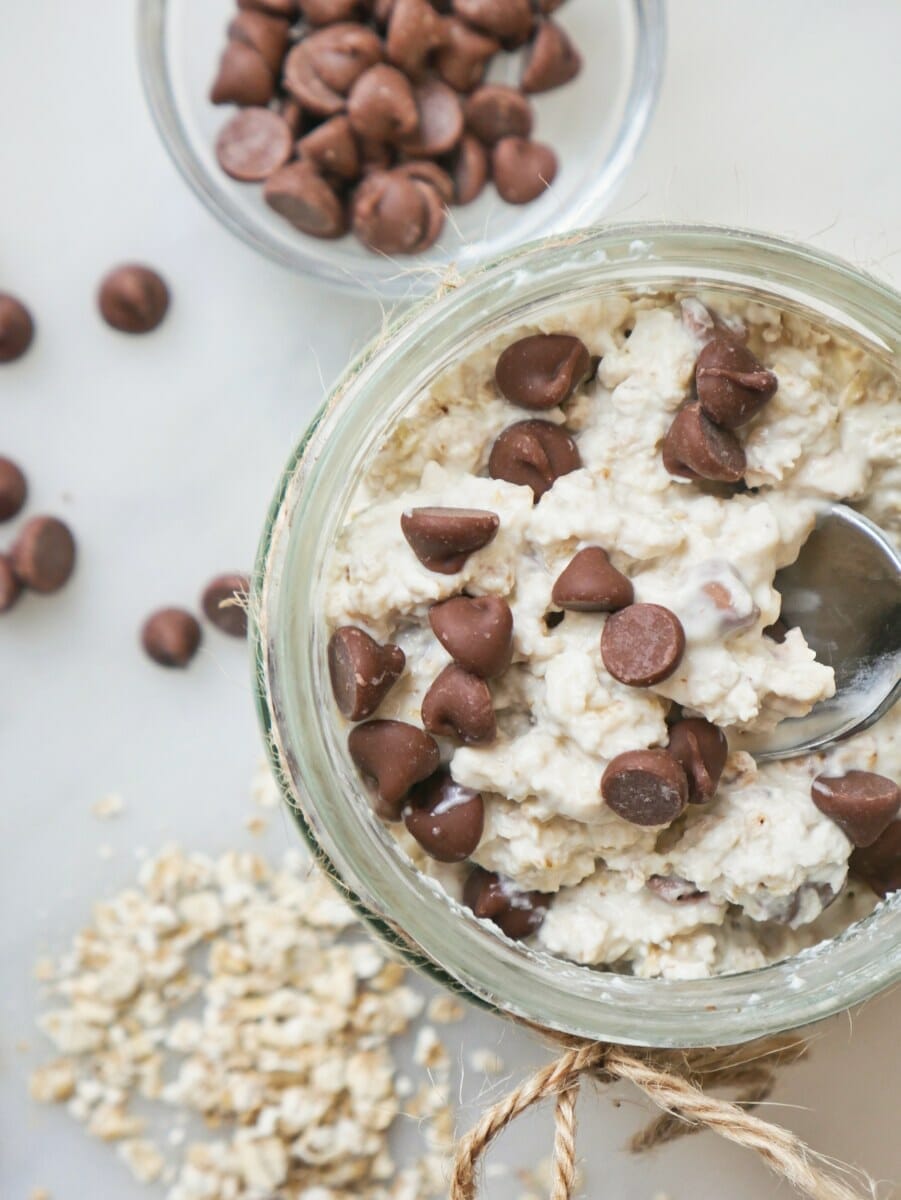 These creamy chocolate chip overnight oats with greek yogurt are a great way to have a healthy breakfast on-the-go.
Total Time
8 hours
10 minutes
Ingredients
Instructions
Combine the water and greek yogurt in a bowl and mix.
Add in the vanilla extract, chocolate chips, and oats to the wet mixture and combine.
Store in an airtight container in the fridge for 8+ hours, preferably overnight.
Enjoy!
Notes
Put the overnight oats into a mug for easier storage and eating as you go.
You can substitute the greek yogurt for your favorite kind of yogurt in equal amounts.
For a thinner texture, use milk instead of greek yogurt.
You can add in the chocolate chips before you refrigerate or afterwards. It's easier to combine all at once, but looks prettier if you combine them after you've let the oats chill.
Recommended Products
As an Amazon Associate and member of other affiliate programs, I earn from qualifying purchases.