As an Amazon Associate, I earn from qualifying purchases. In addition, I participate in several other affiliate programs that allow me to earn while I recommend products I love.
These honey overnight oats are creamy, delicious, and just sweet enough to make for a comforting breakfast recipe.
Overnight oats are such a fantastic way to have a quick grab-and-go breakfast, and this honey overnight oats recipe is the perfect option when you want easy, simple, but delicious.
The ingredients aren't too complicated, and you can make them pretty plain or add some chia seeds if you want to kick it up a notch.
Either way, it's a really easy breakfast that you can teach the kids to make for themselves, or you can make everyone in the family their own portion to eat on their way out the door.
GET A

FREE

NO-FUSS COOKBOOK & SECRET HACKS!
This is your downloadable, ad-free key to cooking success!
Our Favorite Quirky Kitchen Gadgets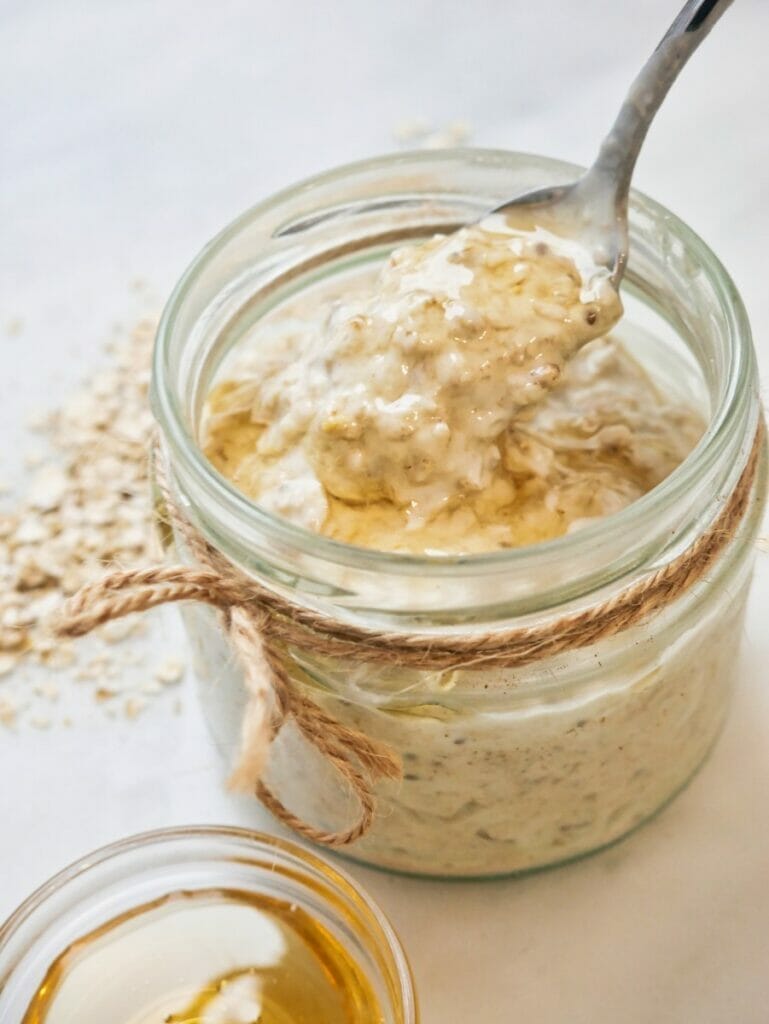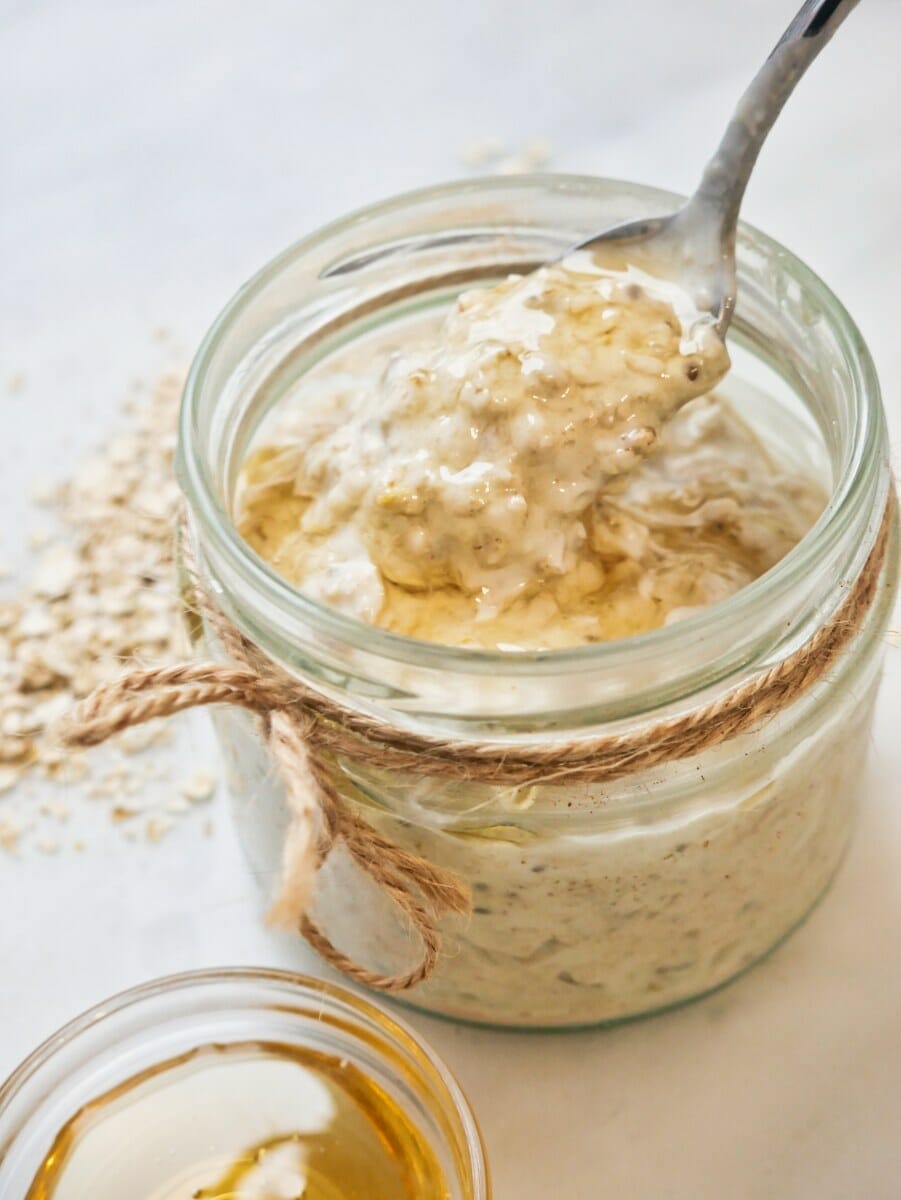 Overnight Oats: Explained
Some people get confused by overnight oats, as they've only ever heard of, well, regular oatmeal which is heated up in the microwave or on the stove.
No heating is involved in overnight oats, just a night spent in the fridge.
You still add liquid (and in this case, yogurt), but the oats soak up the liquids overnight to get to the point where they are edible and delicious rather than this happening quickly.
You're left with a creamy and really refreshing breakfast, which you can also add fruit or other mix-ins too, and overnight oats are a great option for in the summer when you don't feel like warm oatmeal.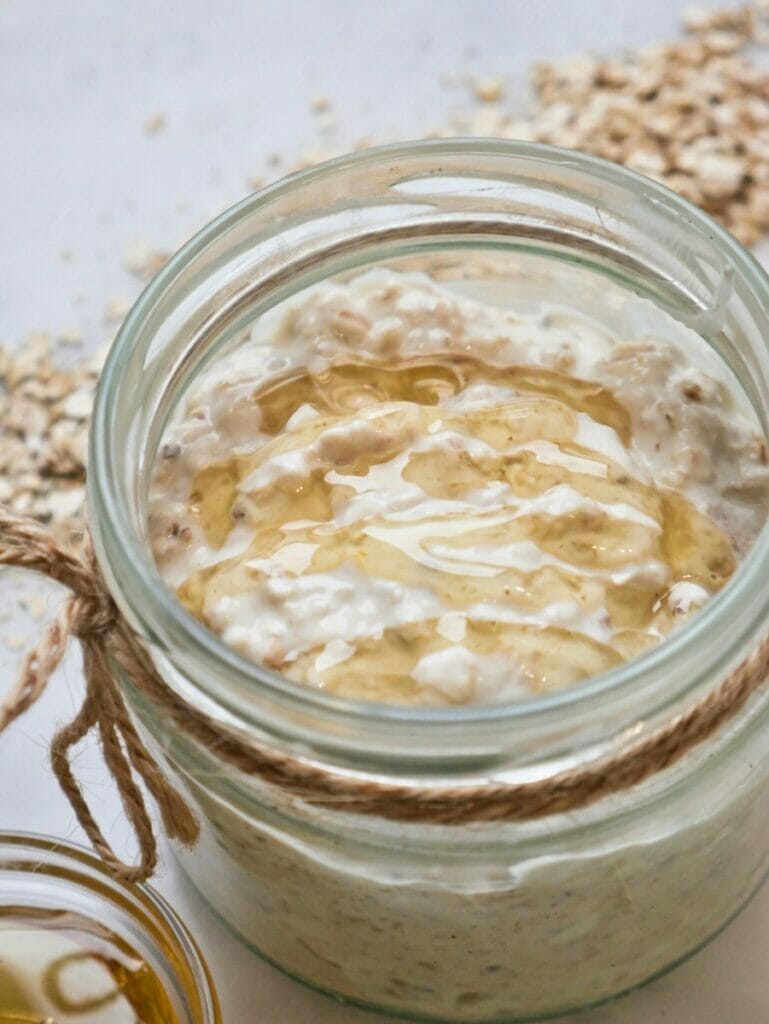 Honey Overnight Oats Ingredients
For this particular recipe, you'll want the following ingredients:
rolled oats or steel-cut oats – these are the main attraction! I prefer this brand.
honey – whichever kind you prefer, though we use runny honey and this all-natural brand
greek yogurt – I use full-fat, but you can use your favorite brand or type (this brand is my favorite)
water – to help the oats become edible and provide liquid to the mixture
chia seeds – these are a fun way to add a bit more texture and nutrients (these are my favorite)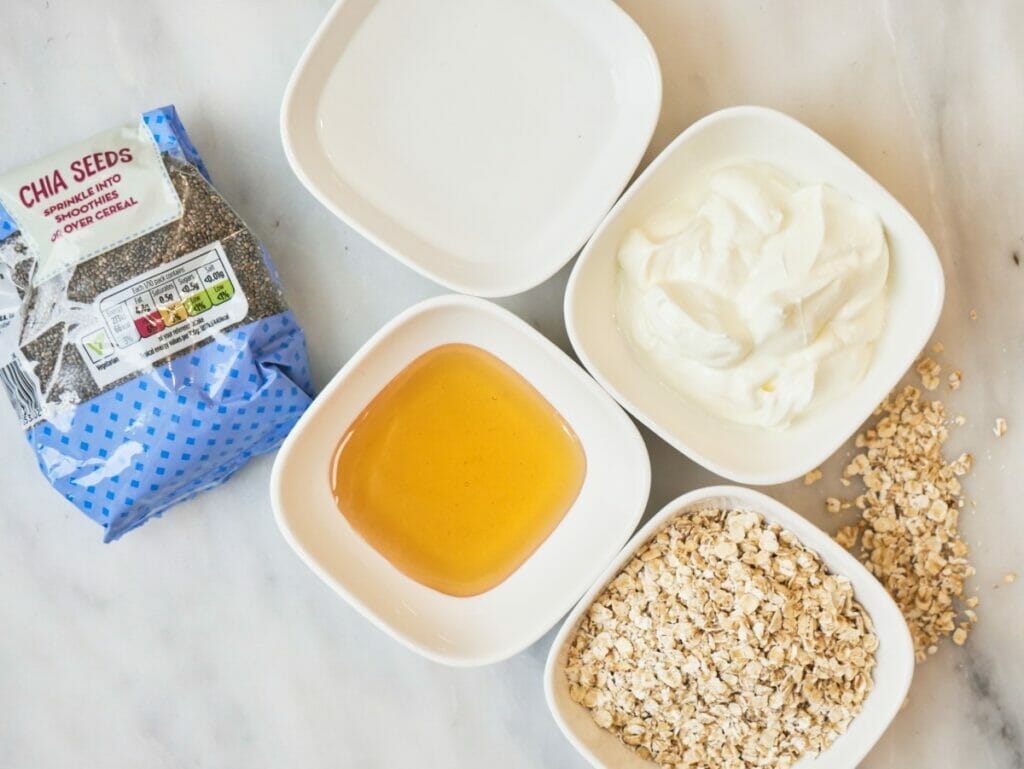 How to Make Honey Overnight Oats
The actual process of putting together the oat mixture is easy and takes just about 5 minutes.
The real time comes in letting them sit in the fridge, but do it overnight and you won't even notice.
First, combine the greek yogurt and water in a bowl and mix.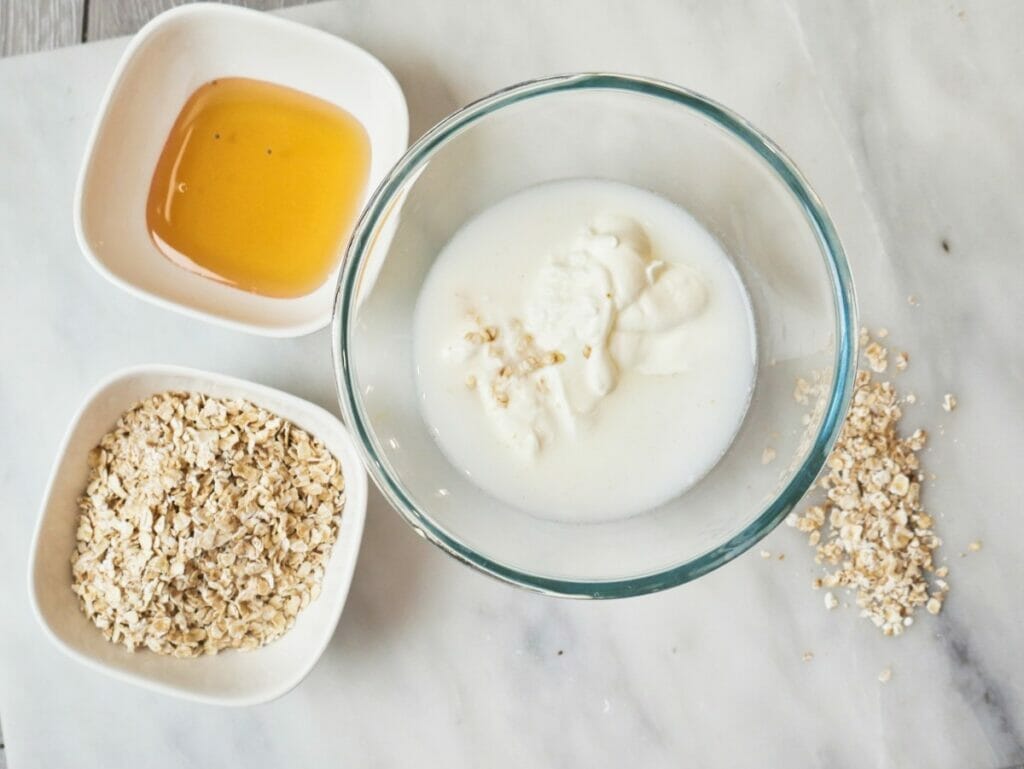 Add the oats, honey, and chia seeds to the mixture and stir.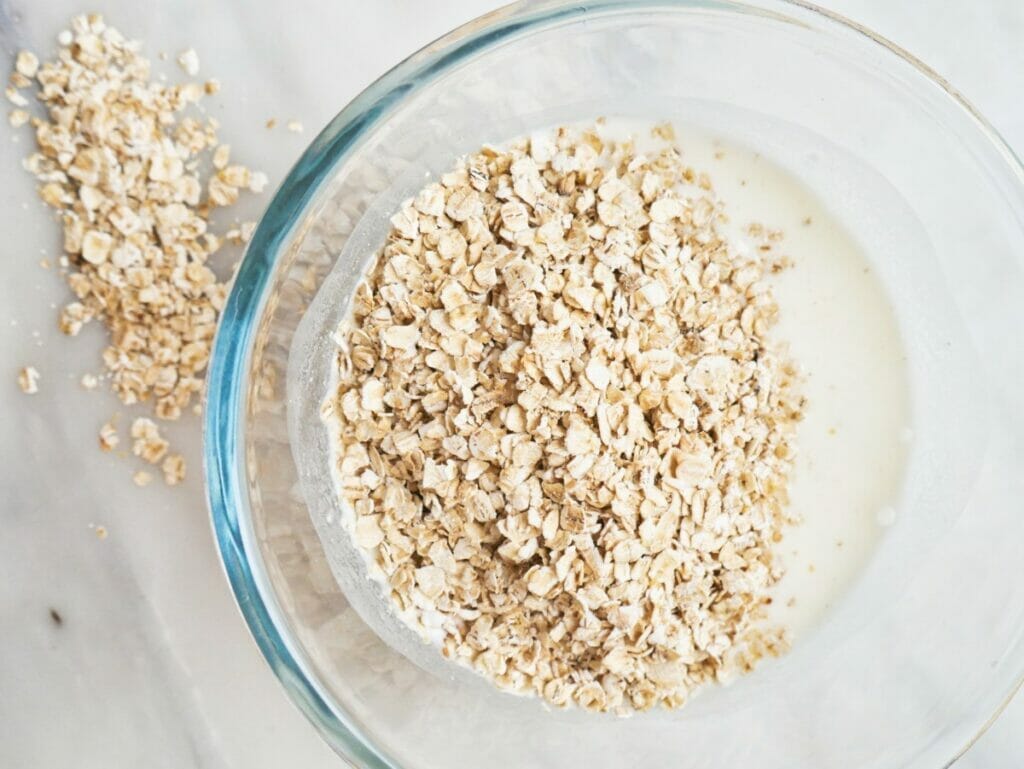 Put plastic wrap over the bowl or put in an airtight storage container like these awesome glass ones and put it in the fridge for 8+ hours, preferably overnight.
Enjoy! Drizzle more honey on and mix it in if you want!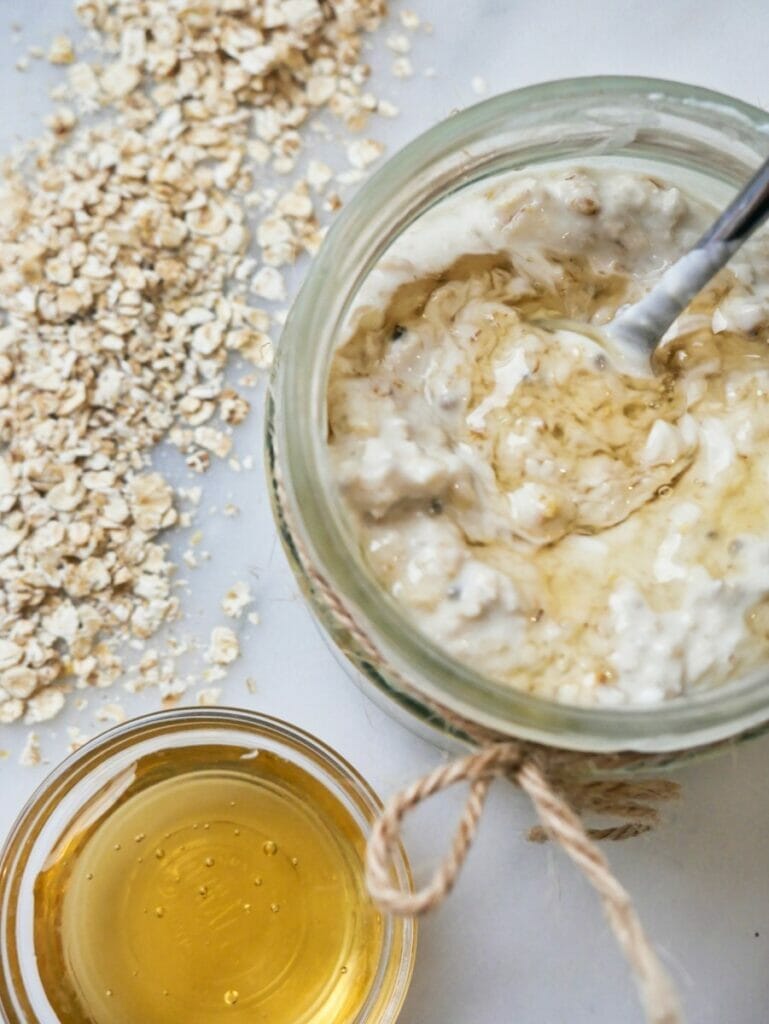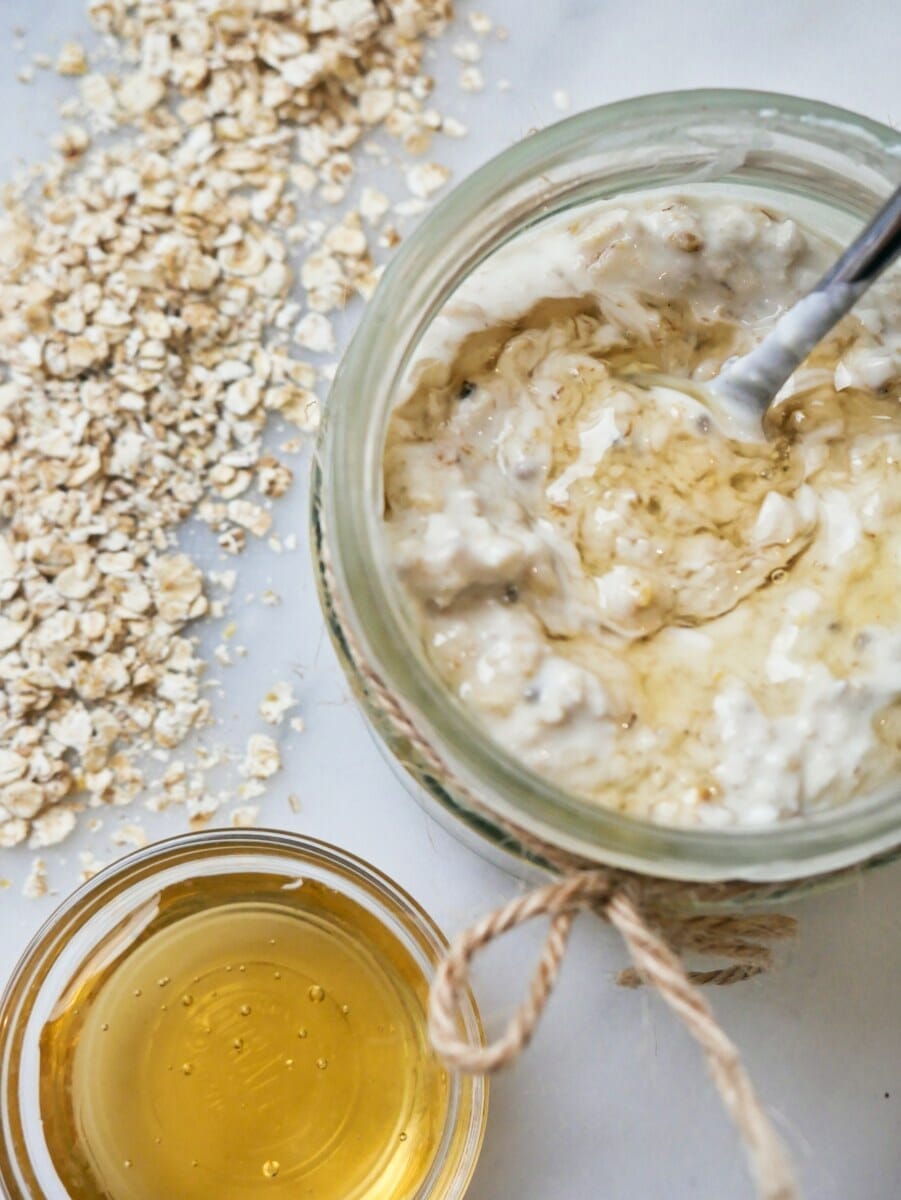 How to Store Overnight Oats
I'll let you in on a secret, and that's that I take pictures of my overnight oats in mason jars like these to look good, but really I just store and eat them out of a mug (like this sloth mug).
Put a piece of plastic wrap over the mug, stick it in the fridge, and then in the morning you can just pull it out, grab a spoon, and eat out of the mug while you're walking around the house looking for a shirt without a stain on it.
You can also store it in a mason jar if you really want to be fancy, or a bowl works just fine.
I eat my overnight oats within 48 hours of first refrigeration, otherwise they can go off.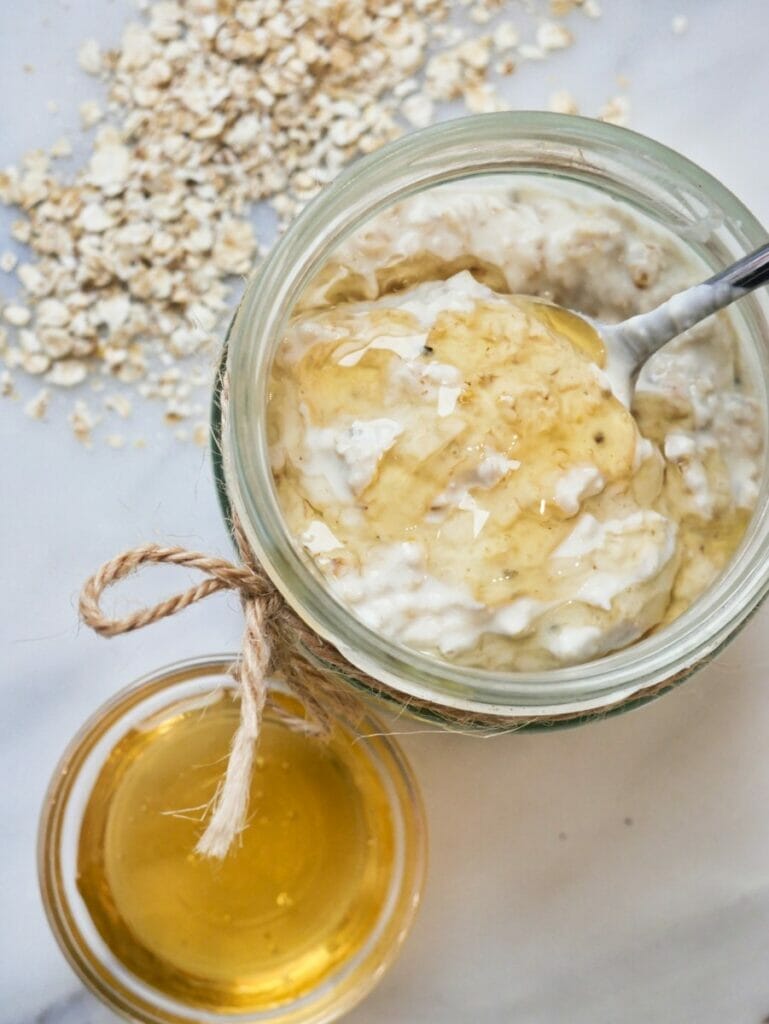 Can You Eat Overnight Oats Warm?
Sure, you can eat overnight oats warm, but it's not on my "must recommend" list.
I find that they taste much better cold, and if you'd prefer to have warm oats, then use a warm/regular oatmeal recipe rather than making overnight oats and heating them up.
Can I Make Substitutions?
Yes, here are a few suggestions:
Make it dairy-free by swapping out the Greek yogurt for more water.
Replace the water with milk if you want a tangier taste.
Replace the Greek yogurt with milk if you prefer a thinner texture that's less creamy.
Just remember that you should aim to keep at least a 1:1 ratio of oats to liquid/yogurt.
In my recipe, I have 1/2 cup oats to 3/4 cup liquid/yogurt, which gives us that extra creaminess, but if we tried to do 1/2 cup oats to 1/4 cup liquid, you would find that you might not have enough liquid to soak into the oats to make them edible.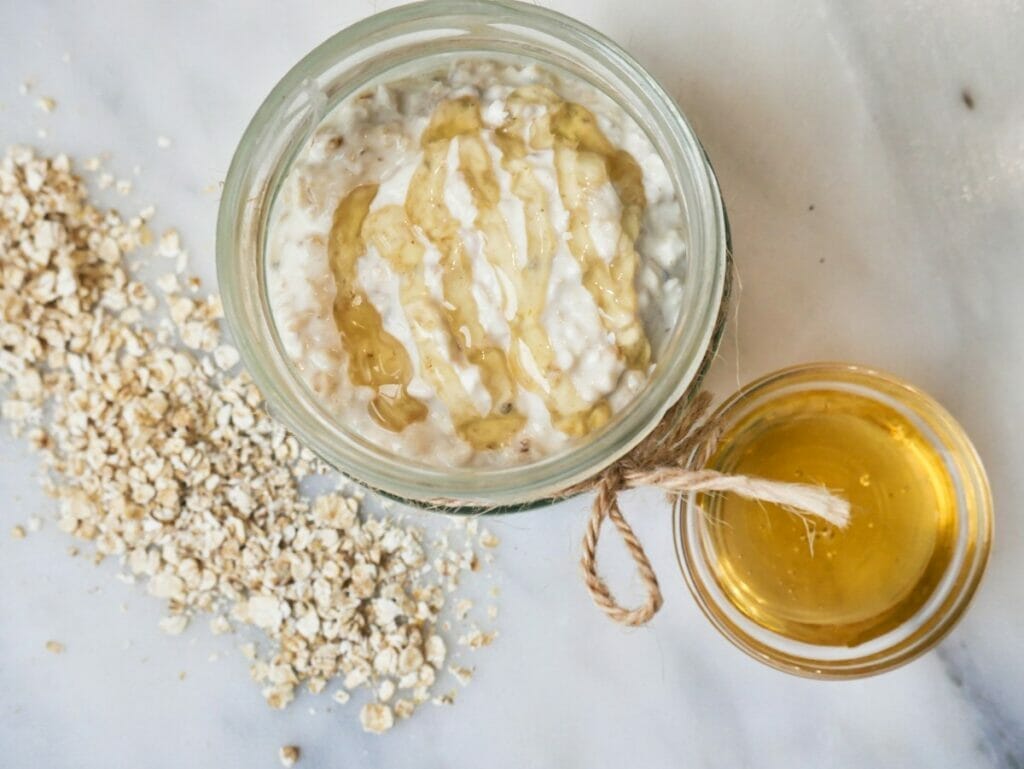 Yield: 1 serving
Best Ever Honey Overnight Oats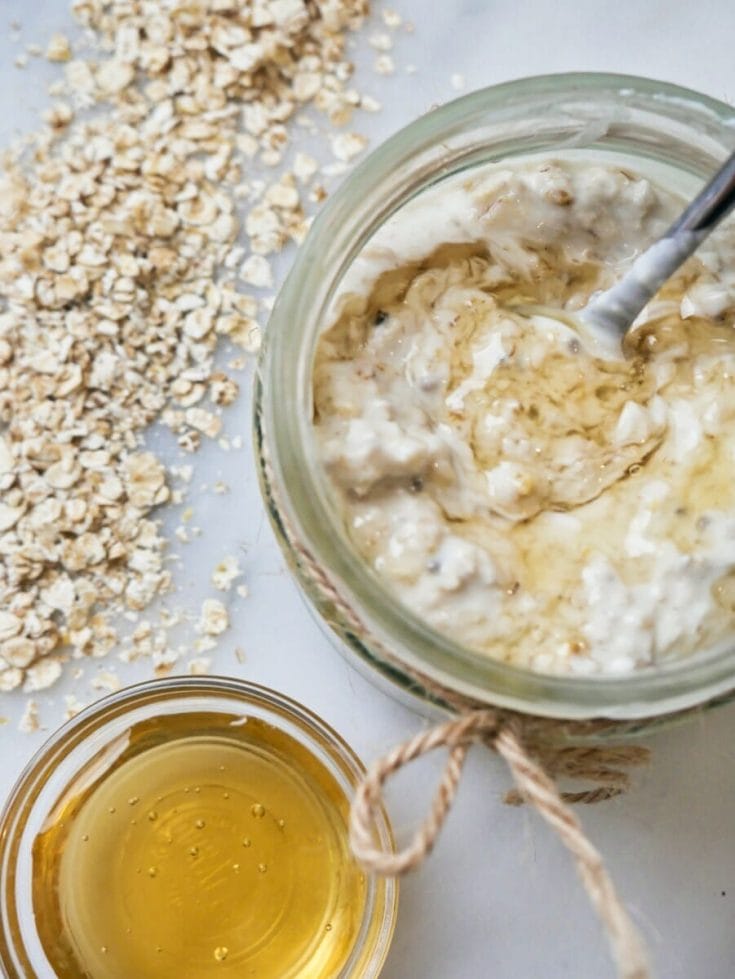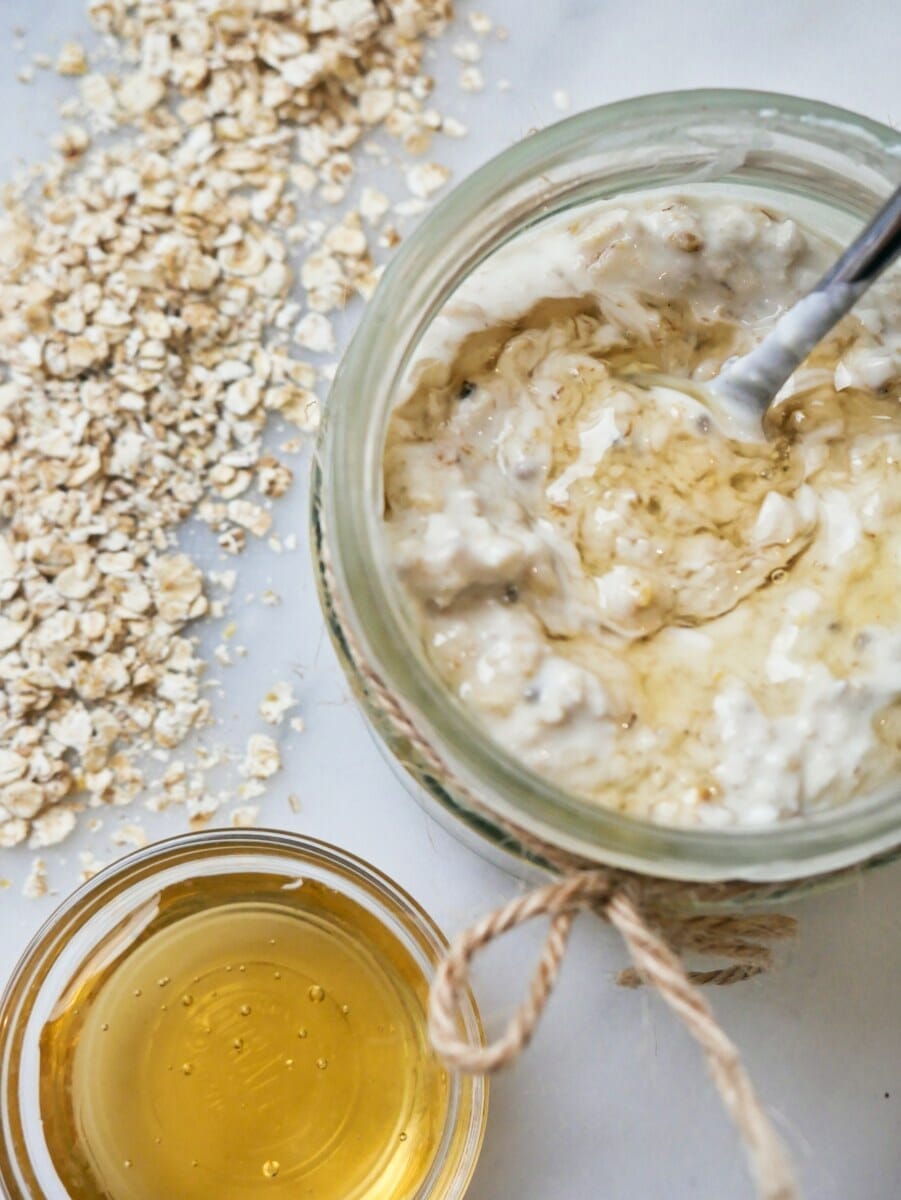 These honey overnight oats are comforting and sweet, filled with nutrients and easy to take with you on the go.
Total Time
8 hours
5 minutes
Ingredients
Instructions
Add the greek yogurt and water to a bowl and mix.
Add the oats, honey, and chia seeds and combine.
Put the bowl in the fridge with saran wrap over it (or store in an airtight container).
Leave for 8+ hours, preferably overnight.
Enjoy!
Notes
To make it dairy free, add more water in place of the Greek yogurt.
To make it thinner and less creamy, use milk instead of the Greek yogurt.
Add in mix-ins like fruit if you want some extra texture.
Store in a mug if you want an easy way to eat in the morning as you're running around the house getting ready.
Recommended Products
As an Amazon Associate and member of other affiliate programs, I earn from qualifying purchases.
Do You Have Other Overnight Oats Recipes?
Yes! I've got plenty more overnight oats recipes if you want to try something else!