As an Amazon Associate, I earn from qualifying purchases. In addition, I participate in several other affiliate programs that allow me to earn while I recommend products I love.
These blueberry overnight oats are insanely creamy, perfect for people who want a healthy breakfast on not much time, and filled with delicious blueberry flavor with no added sugars!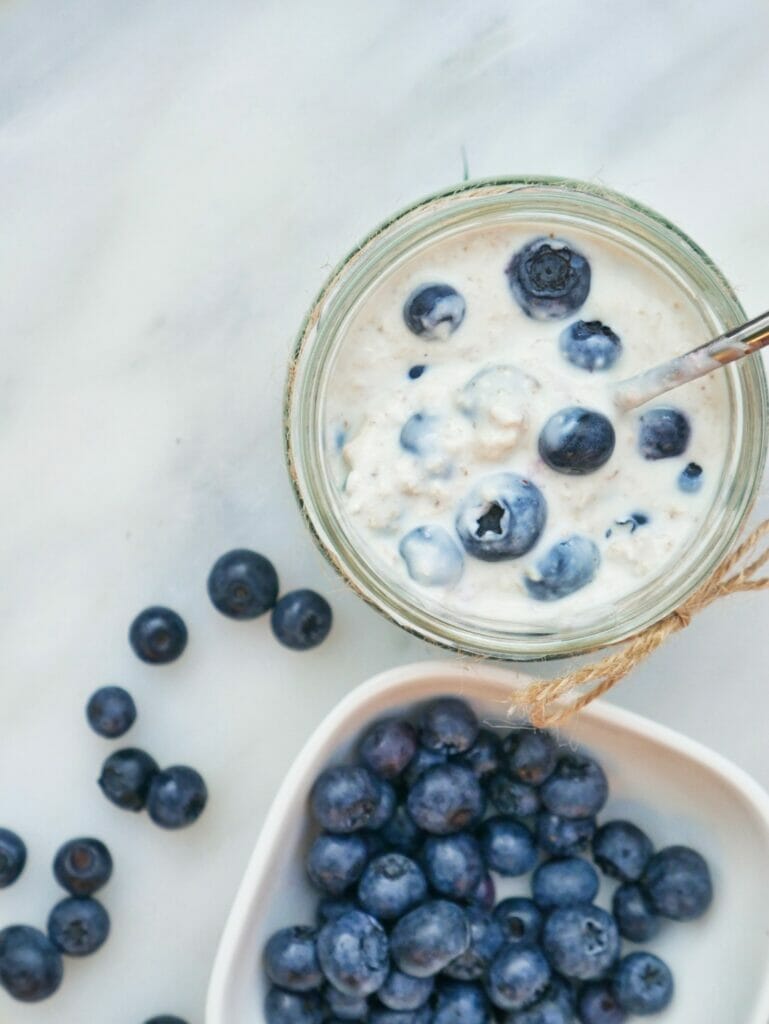 There's something about overnight oats that had me skeptical at first, but I'm a huge convert after developing this blueberry overnight oats recipe.
Not only is it creamy (in all the right ways), but the use of water instead of milk gives it a more mild taste that I find easier to enjoy and add my own flavors too.
I'll talk about the options when it comes to the ingredients down below, so you can customize it to fit your lifestyle and diet, but just know that these are super easy and incredibly adaptable based on your own tastes.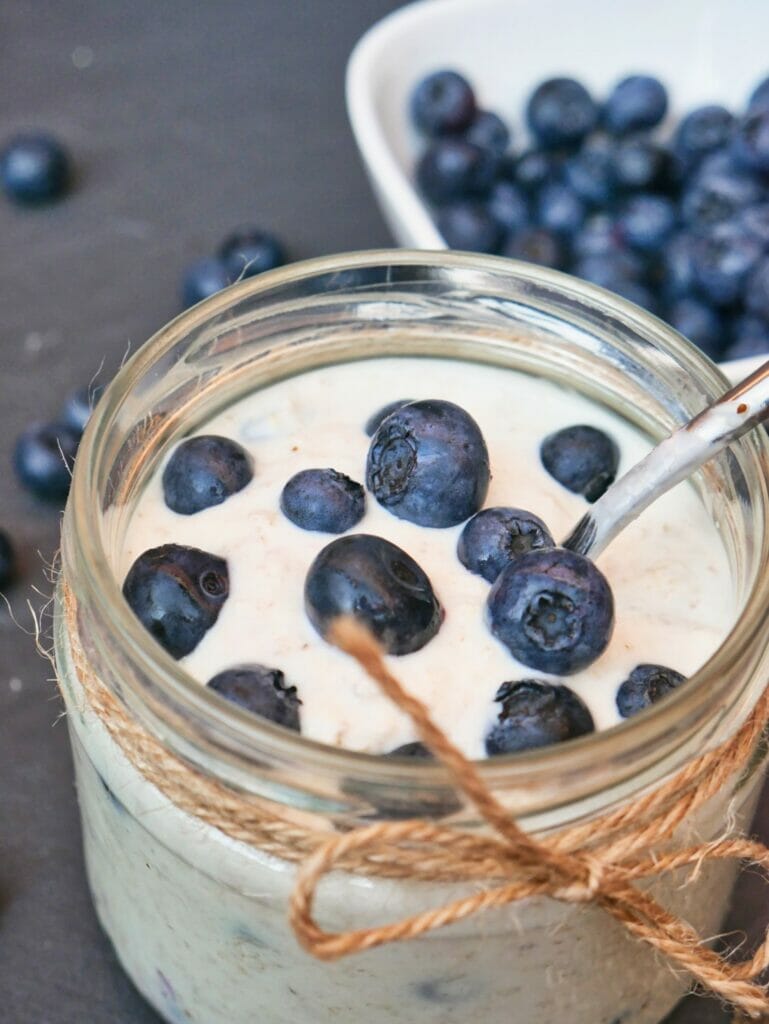 Our Favorite Quirky Kitchen Gadgets
Why Overnight Oats?
The first question we need to answer is…why the heck do we need overnight oats when we could just make oats in the morning?
And the answer is: you don't.
Well, I would highly recommend that you do, but if you would prefer to just throw some oats and water together and microwave it in the morning, that's totally up to you.
Overnight oats, however, are usually meant to be eaten cold, making it an excellent treat in the warmer months.
The method of not cooking the oats, but leaving them to soak overnight in something like these mason jars also means that there is no heat source involved at all, and I find that the final result of overnight oats is much more palatable to me than some plain rolled oats heated up.
They're also fun, make you feel like you're super Pinterest-y even if you're not, and good for you.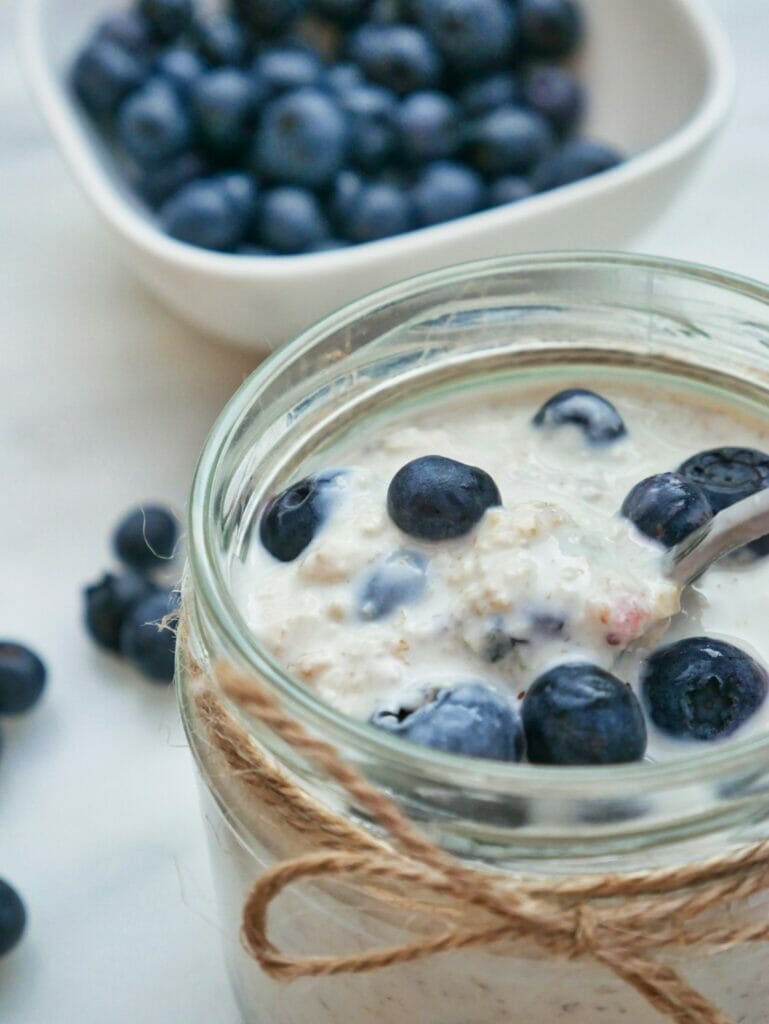 Ingredients for Blueberry Overnight Oats
To make these oats, we're going to need:
water – just from the tap, this is what is going to soak into the oats and help them turn from dry oats to tasty ones. You can also use milk for this component, but I prefer water as it interacts better with the greek yogurt, in my opinion.
greek yogurt – to add creaminess and help those oats not taste dry (I use this brand)
honey – acts as a sweetener and gives it a nice, smooth texture (I love this all-natural honey)
vanilla extract – just a little to act as a sweetener (I recommend this brand)
rolled oats – the main event! I like using rolled oats like these or steel cut oats. Instant oats won't turn out with the same texture and will be a bit more gummy.
blueberries – fresh or frozen blueberries (I like these) for the mix-ins, and fresh for the ones you can add on top when you're ready to eat
salt – to cut the sweetness slightly and give us more depth of flavor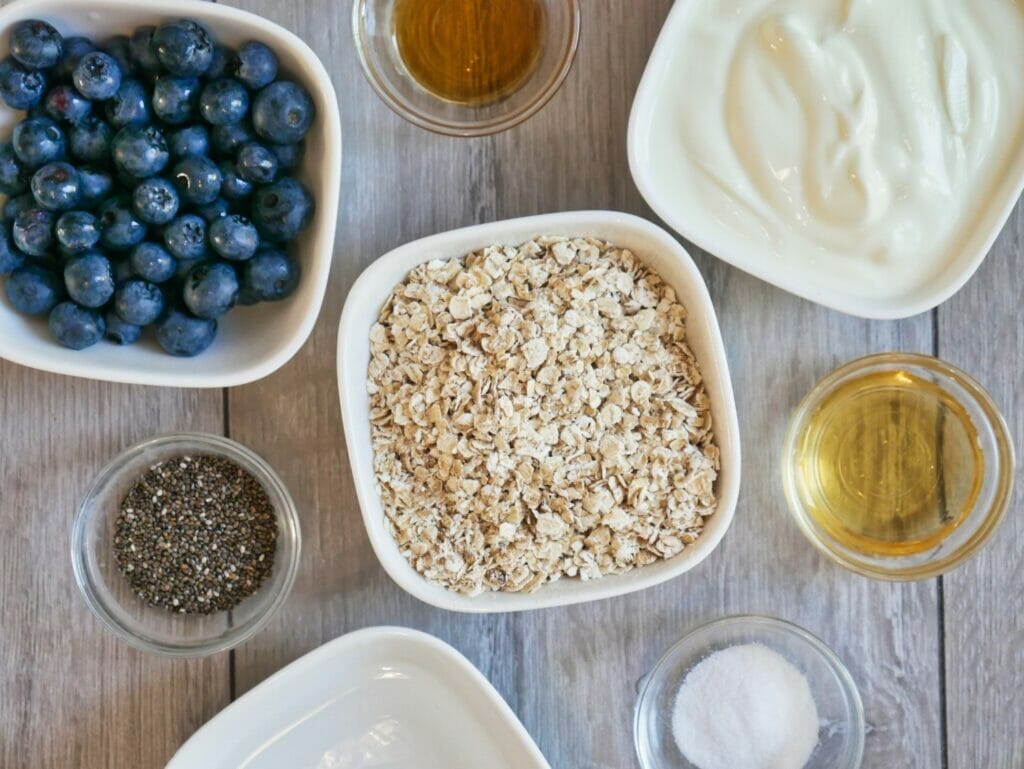 How to Make Blueberry Overnight Oats
Making blueberry oats is super simple, no crazy kitchen equipment needed (thank goodness) besides some awesome bowls like these.
Combine the water, yogurt, honey, and vanilla extract into a small bowl (clear or colorful ones).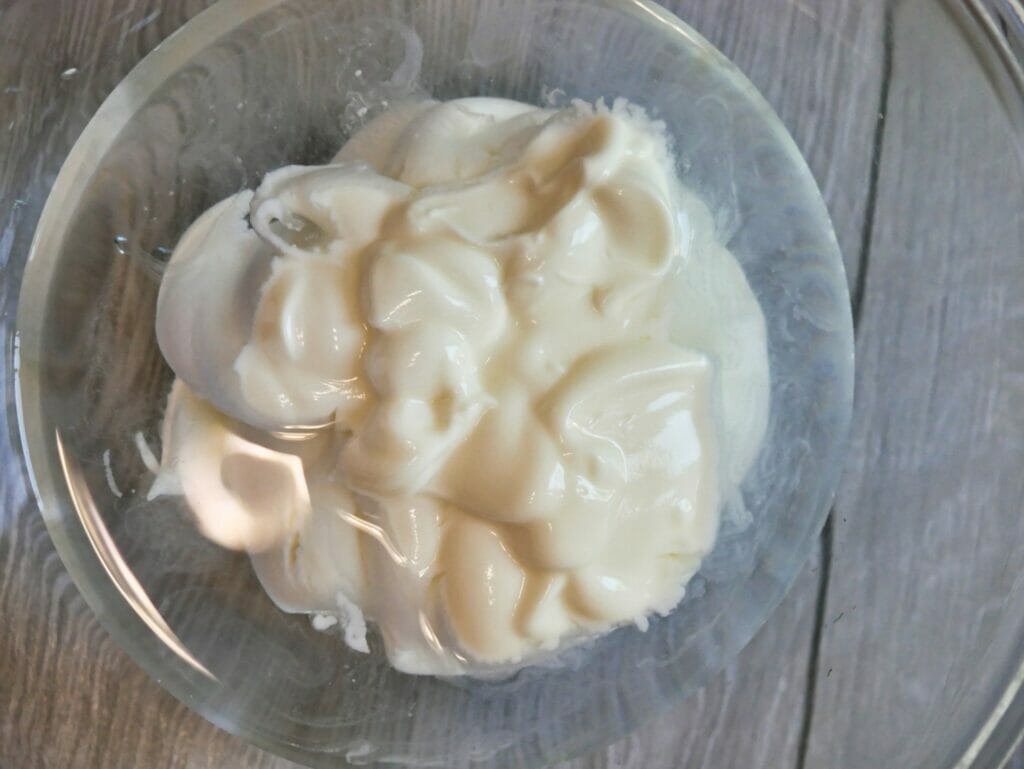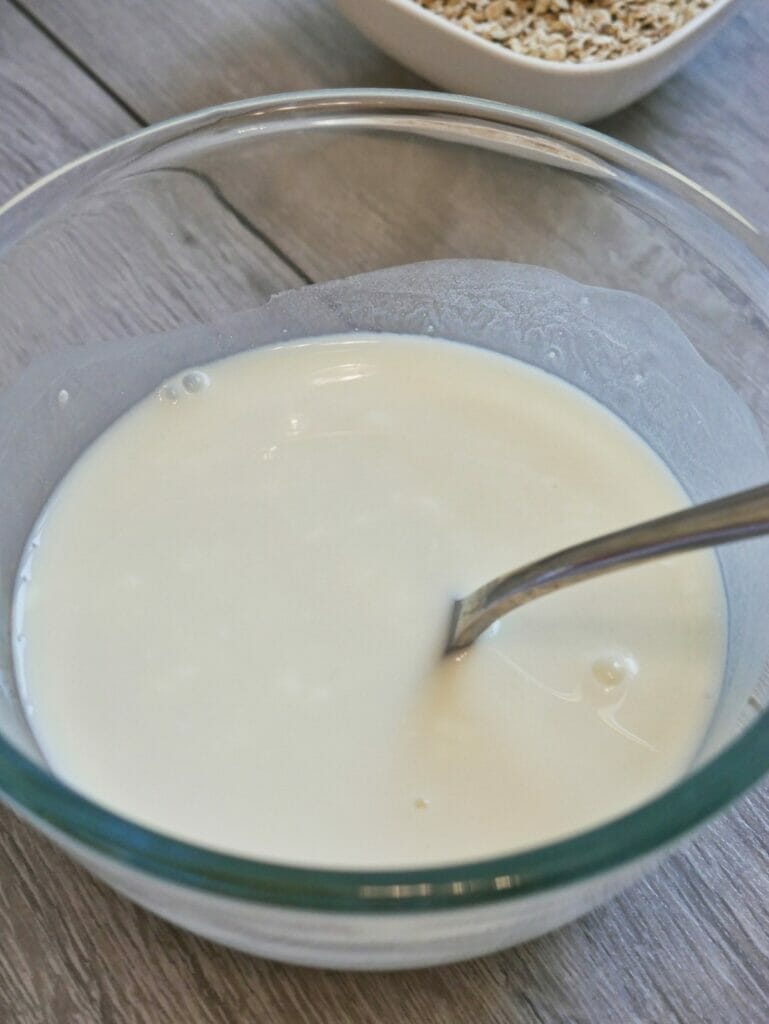 Add the rolled oats, blueberries, and salt.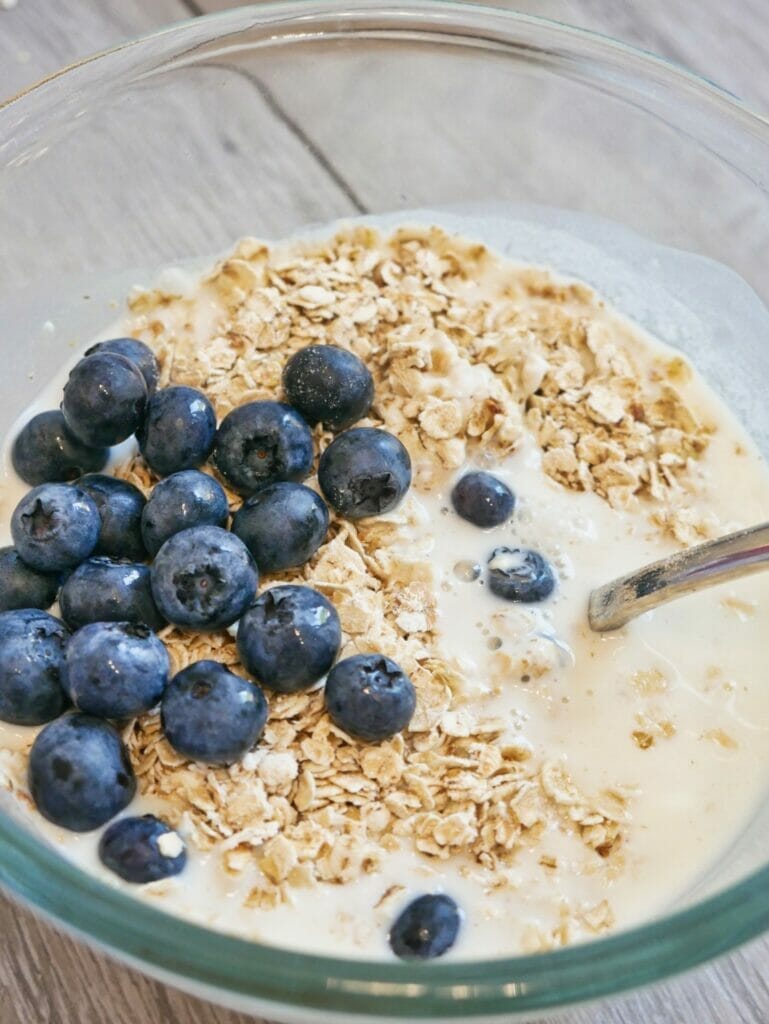 Mix together thoroughly.
Pour into a mug (try this sloth mug) or a mason jar (get them in bulk here), or even a small bowl.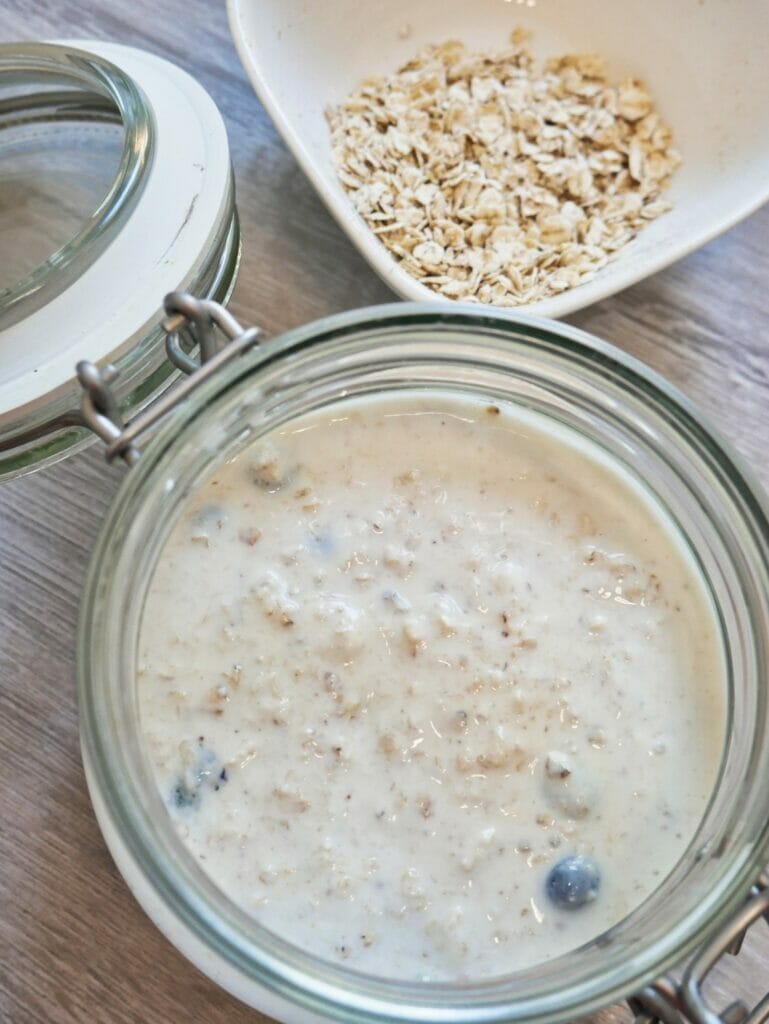 Cover with saran wrap (bulk buy it here), if not already covered with a lid.
Store in the fridge for 8+ hours, preferably overnight.
When ready, add on some fresh blueberries on top, give it a stir, and enjoy!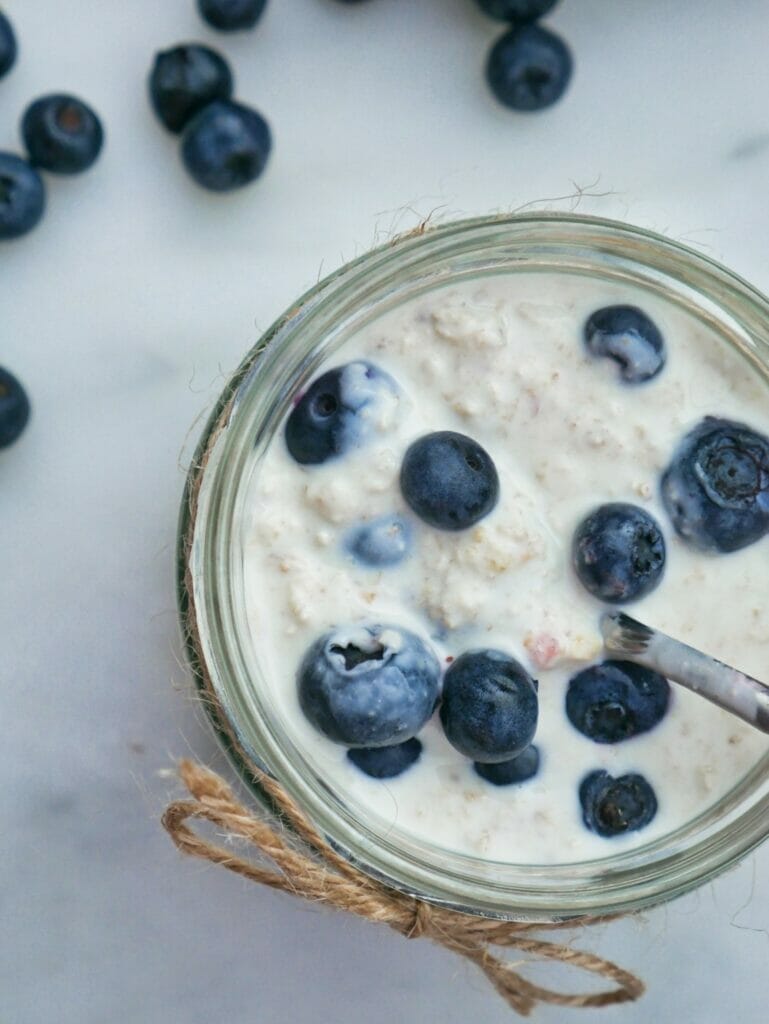 Substitutions
There are so many ways to make overnight blueberry oats that you can get substitution crazy depending on your diet.
If you're lactose intolerant, you can leave out the yogurt and add an extra 1/4 cup of water or use dairy free yogurt.
If you want a tangier flavor, use milk instead of water.
If you want extra fun, mix-in more fruits like strawberries, bananas, or raspberries.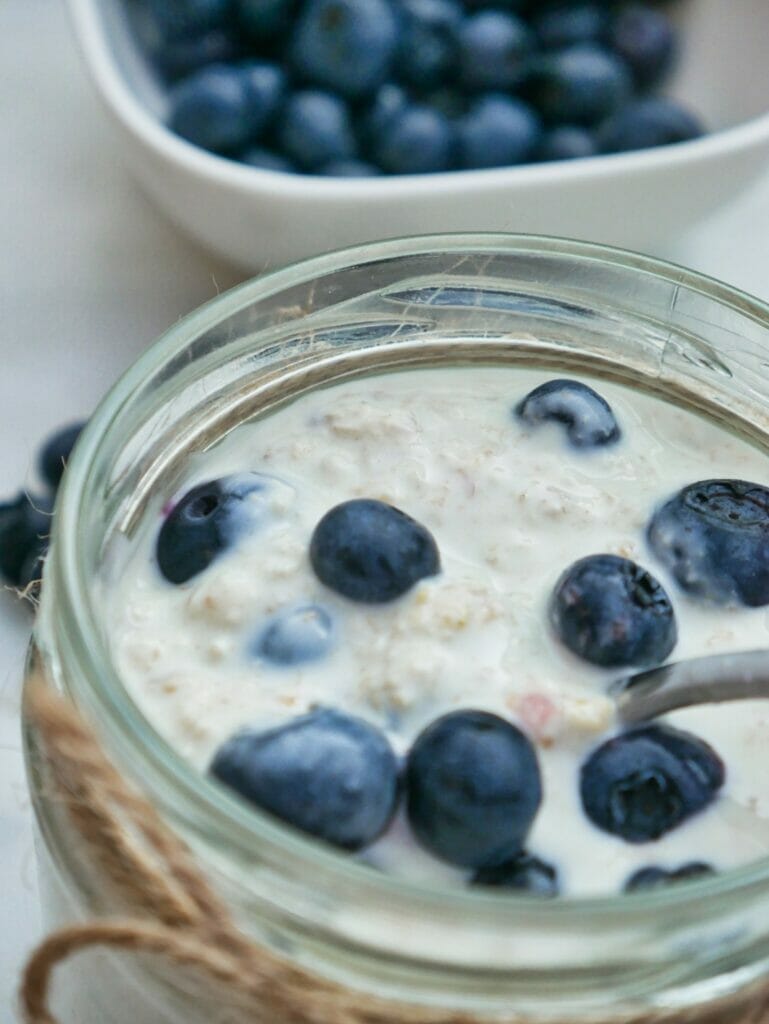 Tips
Here are some of my top tips for overnight oats, brought to you by someone who wasn't entirely convinced until she tried them herself – seriously, they're good!
1. You want at least a 1:1 ratio for the oats to any type of water or liquid, so if you have 1/2 cup of oats, you need at least 1/2 cup of liquids to go with it. This recipe does 1/2 cup of oats to 3/4 cup of liquids (while the yogurt isn't technically a liquid, it acts like one in the recipe for the purposes of our dry oats needing to turn to edible oats).
2. You can make a couple of batches ahead of time for a few days worth of breakfasts, instead of making each one the night before.
3. Mason jars like these are by far the cutest ways to store the oats, but can be impractical to eat from. Use a coffee or tea mug like this and you can eat these with a spoon while chasing the kids around the house much more easily.
4. Just like everyone has their own consistency of oatmeal they prefer, we all like different things when it comes to our overnight oats. Test out a few different combinations until you find the one that suits your tastebuds the best.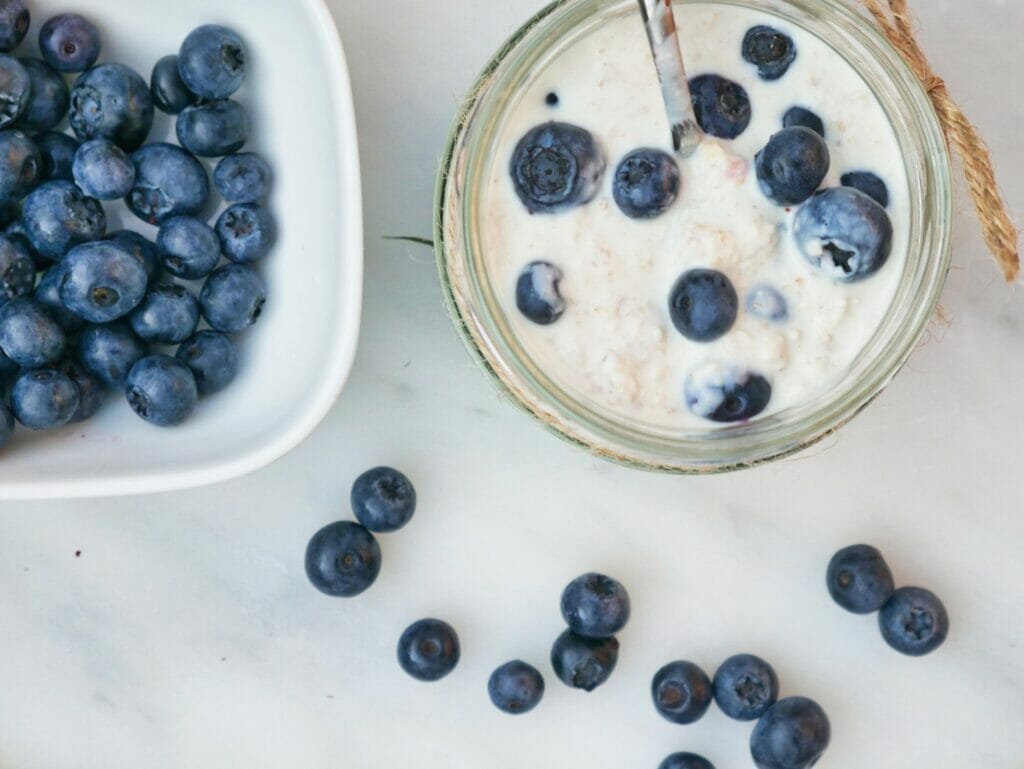 Storage
Overnight oats should be stored in the fridge, and I've enjoyed them up to 3 days after making as long as they have been covered in saran wrap or with a lid.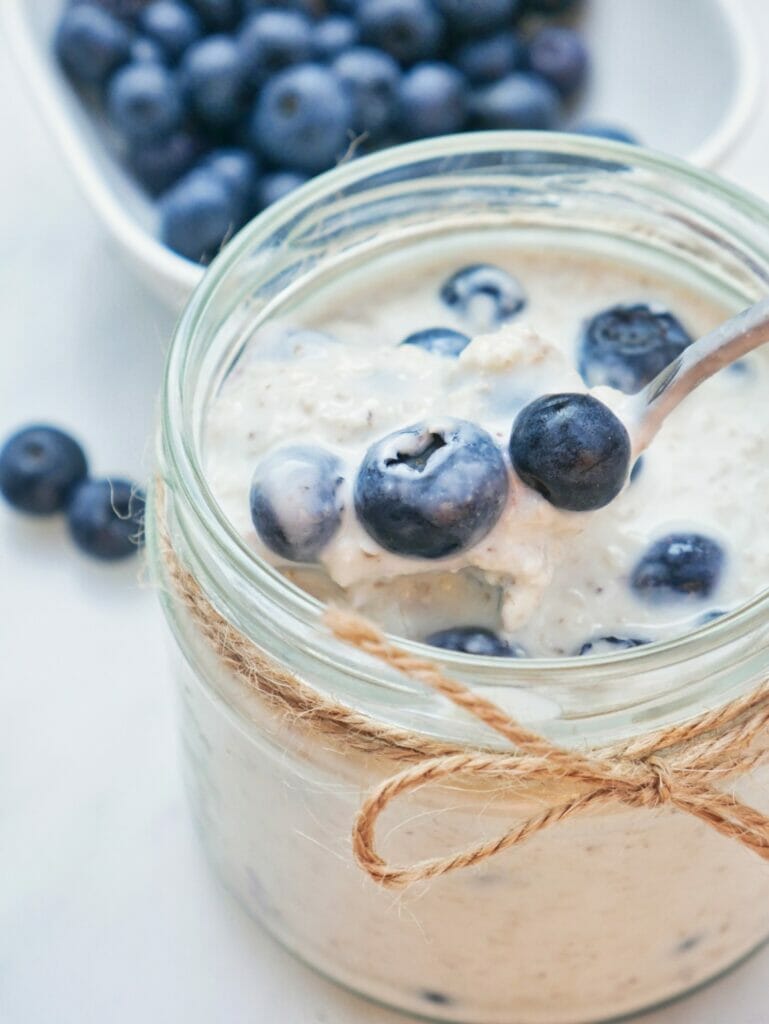 What to Eat with Overnight Blueberry Oats
If you're making blueberry overnight oats, consider some other overnight options such as:
You can also eat these with something heartier, like a stack of pancakes or some eggs, but I find a serving of overnight oats and a cup of coffee or orange juice is a very filling way to start the day.
Yield: 1 serving
Blueberry Overnight Oats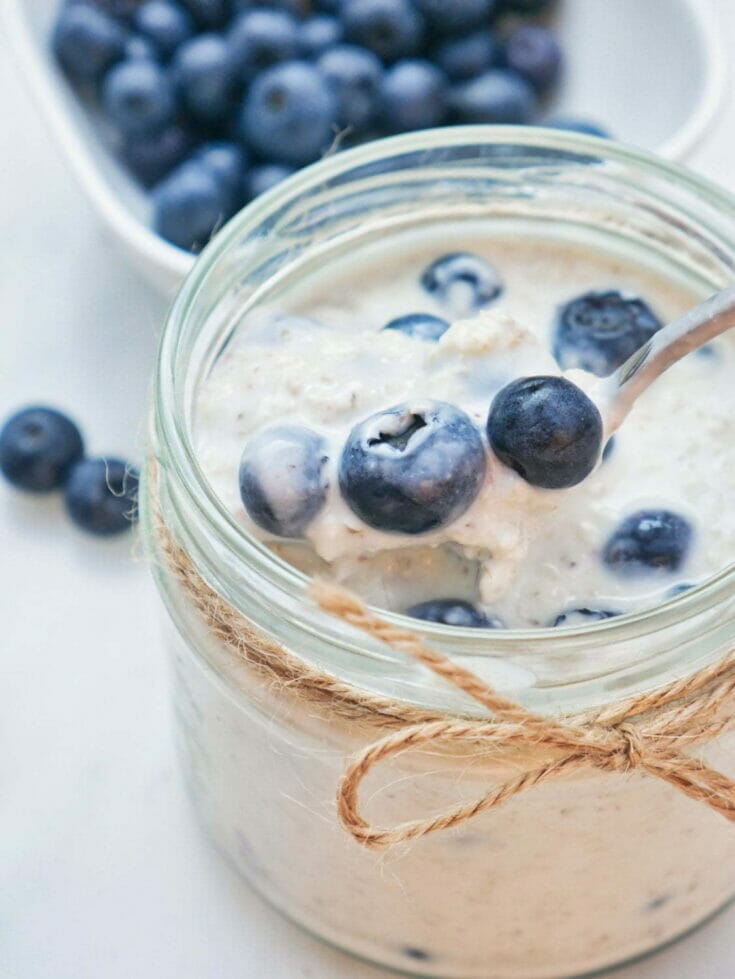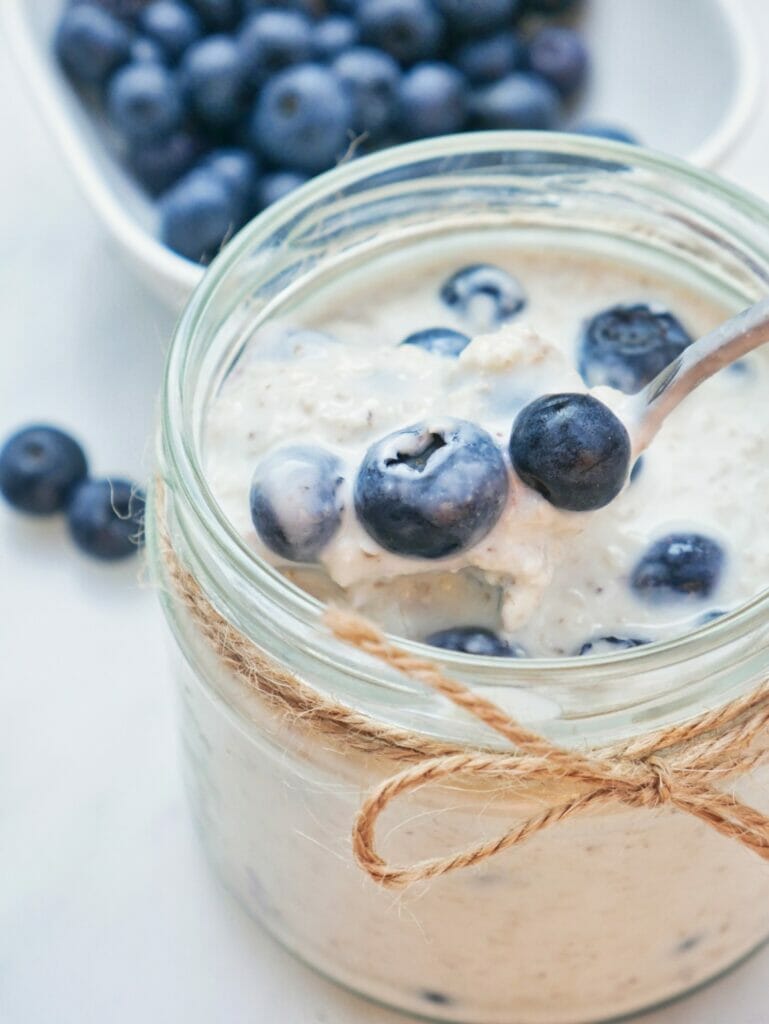 These blueberry overnight oats are perfect for a healthy breakfast on the go with no kitchen equipment or heat required!
Total Time
8 hours
5 minutes
Ingredients
Instructions
Combine the water, yogurt (I use this brand), honey, and vanilla extract into a small bowl.
Add the rolled oats, blueberries, and salt.
Mix together thoroughly
Pour into a mug or a mason jar, or even a small bowl
Cover with saran wrap, if not already covered with a lid
Store in the fridge for 8+ hours, preferably overnight
When ready, add on some fresh blueberries on top, give it a stir, and enjoy!
Notes
1. If you want to make substitutions, you can use milk instead of the water or dairy free yogurt instead of the yogurt. Always make sure you keep a 1:1 ratio of the oats to the liquid-type ingredients though.
2. You don't need to make single servings at a time. Make a few servings for up to 3 days in advance.
3. Rolled oats or steel cut oats are the best options. If you have to use instant oats, know that the texture will be different and likely gummier.
Recommended Products
As an Amazon Associate and member of other affiliate programs, I earn from qualifying purchases.
Nutrition Information:
Yield:
1
Serving Size:
1
Amount Per Serving:
Calories:

317
Total Fat:

3g
Saturated Fat:

1g
Trans Fat:

0g
Unsaturated Fat:

2g
Cholesterol:

6mg
Sodium:

1105mg
Carbohydrates:

54g
Fiber:

5g
Sugar:

25g
Protein:

17g