As an Amazon Associate, I earn from qualifying purchases. In addition, I participate in several other affiliate programs that allow me to earn while I recommend products I love.
If you've been looking forward to making waffles for breakfast but suddenly realized you only have pancake mix at home, you're probably wondering; can you use pancake mix to make waffles?
And what's the difference between pancake mix and waffle mix anyway?
Thankfully, there is a solution to your problem!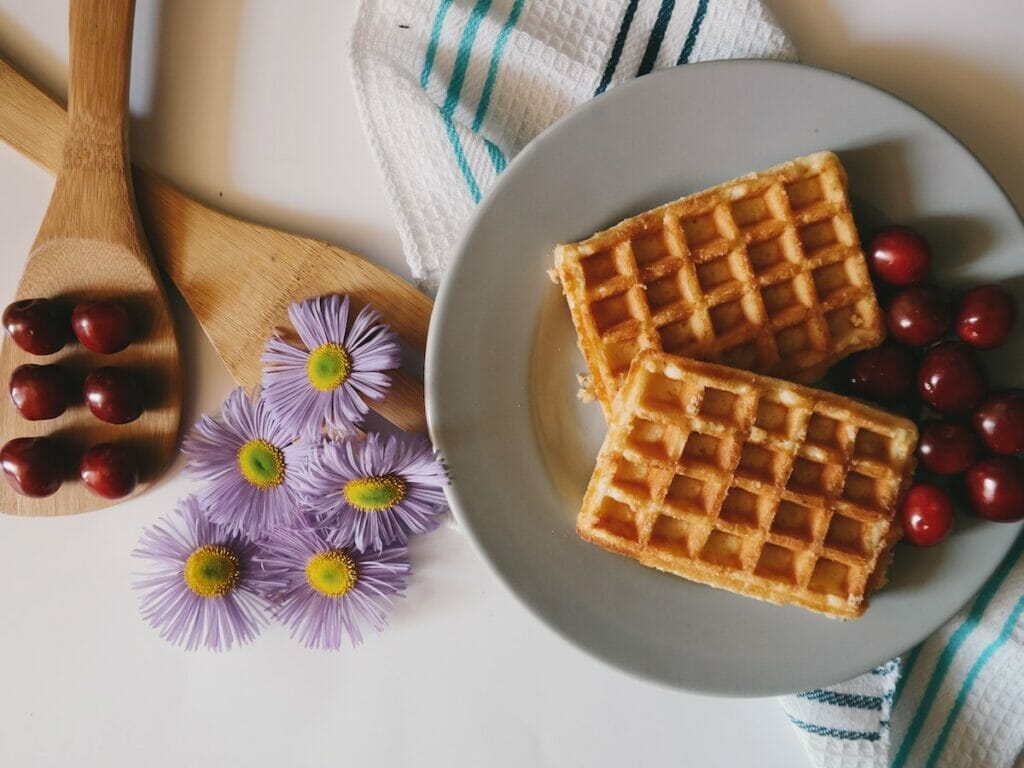 So if you're asking, can you make waffles with pancake mix, then you're in luck.
Unfortunately, the two mixtures aren't identical, so you will need to change the recipe slightly, but it's relatively easy to change!
And if you're faced with the reverse problem, when you only have waffle mix and want to make pancakes, head over to this guide!
So read on to find the top tips on transforming your pancake mix into delicious waffles.
Our Favorite Quirky Kitchen Gadgets
Can you use pancake mix to make waffles?
Can I make waffles with pancake mix?
You'll be pleased to know the answer is yes!
Although waffles and pancake batter aren't the same, there are enough similarities that you can adapt them and make either into your favorite treat.
This is because they have some of the same primary ingredients, such as flour, eggs, and sugar.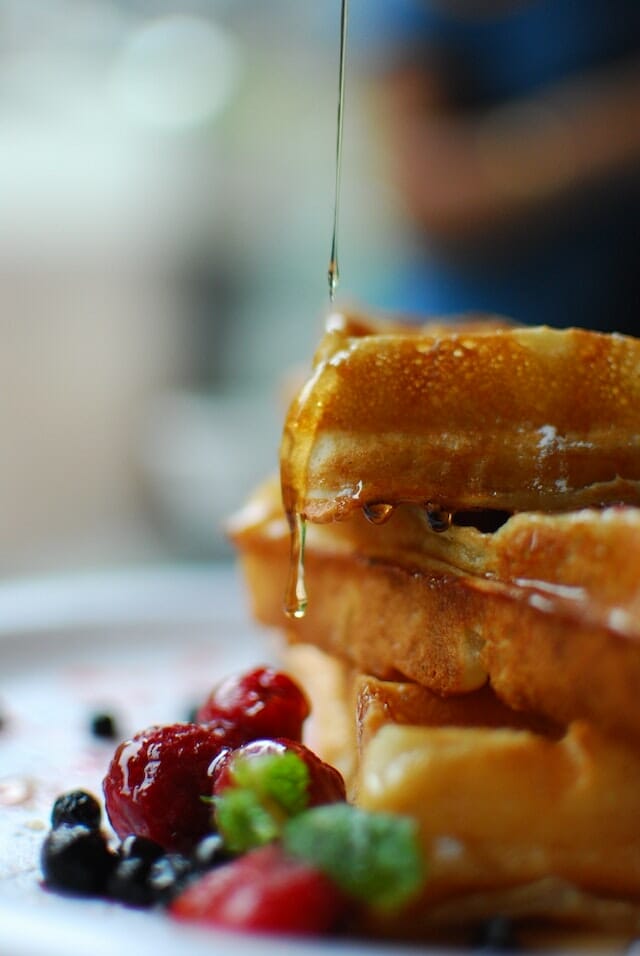 The problem with using them interchangeably is that the exact amounts of these ingredients are very different!
So you'll need to adapt them before making waffles out of pancake mix.
What's the difference between pancakes and waffles?
Is waffle mix the same as pancake mix?
With both mixtures looking very similar, you may wonder if the waffle and pancake mixes are identical.
However, there are a few differences between pancakes and waffles that you may already know from tasting them!
For example, the best pancakes are soft and fluffy.
However, waffles are sweet and soft on the inside but crispy on the outside.
Waffles are usually a darker color, too, due to the fact they contain more sugar.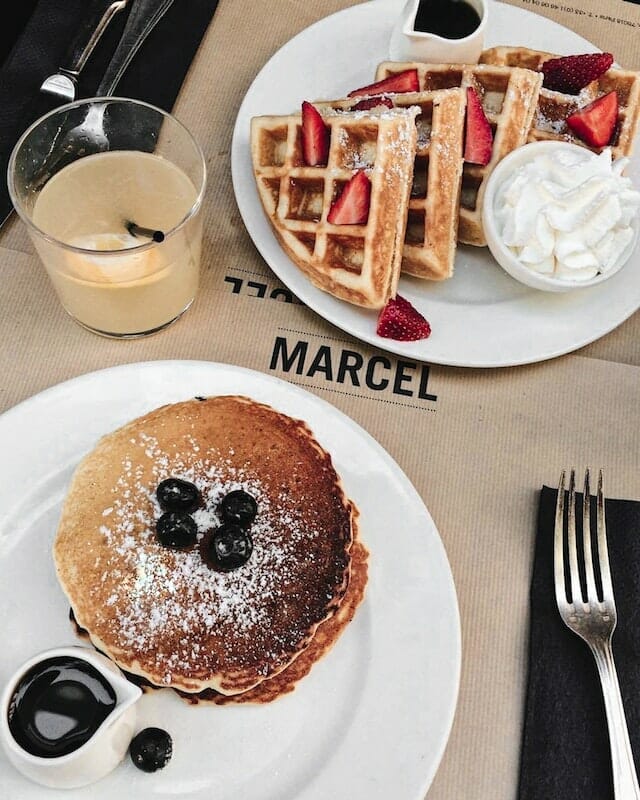 When heating the mix, the sugar is caramelized to create crispness outside the waffles.
It's the additional fat in waffles that makes them extra crispy too!
You should expect your premade pancake mix to contain more sugar and fat than a waffle mix.
So, of course, you'll have to fix this, as you don't want your waffles to become too floppy or soft!
Pancake batter is also runnier than waffle batter, which could cause problems if you put it in your waffle iron without changing it.
Imagine the mess a runny batter would make if it spilled out of a waffle iron!
But no need to be dissatisfied with your breakfast; you need to know how to change the mixture, so it's thicker – and will make the crispy waffles we all know and love.
Tips for making waffles with pancake mix
Follow the steps below for making waffles with pancake mix!
The main thing to consider is what additional ingredients you need to add to the pancake mix to transform it into the perfect waffle batter.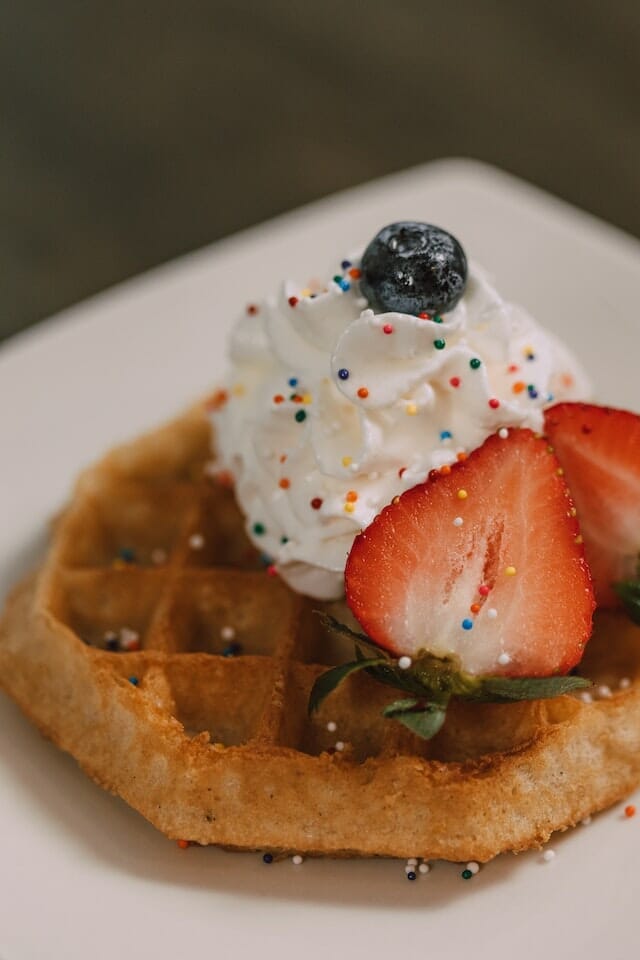 Since waffles have more sugar and fat than pancakes, the secret is to add more of each to your recipe.
Firstly, check the back of your pancake mix to see if they give a recipe for using it to make waffles. If they don't, then follow the instructions below.
Add more sugar:
To create delicious brown sugary waffles out of the pancake mix, you need to convert the pancake batter into the waffle batter.
The first step is to add more sugar to the batter!
Waffle batter has approximately 2.5 times the amount of sugar in it than a pancake mix recipe.
This step is easy to fix; multiply whatever sugar content is in the pancake recipe by 2.5.
For example, 1 tbsp of sugar in a pancake recipe becomes 2 tbsp of sugar in a waffle recipe.
Or 2 tbsp of sugar in the pancake recipe becomes five tbs of sugar in a waffle recipe.
Add fat:
Check the suggested pancake recipe on your box, and see how much fat they advise you use – for example, two tbsp oil or one tbsp of butter.
To make waffles instead, double the amount of fat they suggest.
So, if the pancake recipe recommends two tbs oil or one tbsp of butter, you will want to use four tbs oil or two tbsp of butter instead.
If the pancake mix recipe doesn't instruct adding any additional fat, still add two tbsp of vegetable oil if making it into the waffle batter.
How do you make pancakes with waffle mix?
Make the waffle batter with the pancake mix.
– Add the suggested ingredients
– Use double the amount of fat suggested in the pancake mix recipe.
– Add an extra spoonful of sugar.
Grease your waffle iron and heat it using the manufacturer's instructions
Stir ingredients until blended, and there are no bubbles left in the recipe
Pour batter onto the waffle iron
Cook until the waffles are ready! Use the instructions from your waffle iron to know when they're ready – for example, when a ready light switches on or when the steaming stops.