As an Amazon Associate, I earn from qualifying purchases. In addition, I participate in several other affiliate programs that allow me to earn while I recommend products I love.
If you are looking for a smoothie that can satisfy dessert cravings, you have come to the right place on the internet!
I love dessert smoothies, because you can get away with having dessert-like food, whilst somehow not feeling quite as guilty!
And you'll be glad to know that this chocolate berry smoothie will help you with your cravings, because it really does taste like dessert!
We all know that chocolate and berries go really well together, so let's find out how we can make them amazing in smoothie form… in a way that tastes like dessert!
On to the blueberry and blackberry chocolate dessert smoothie…!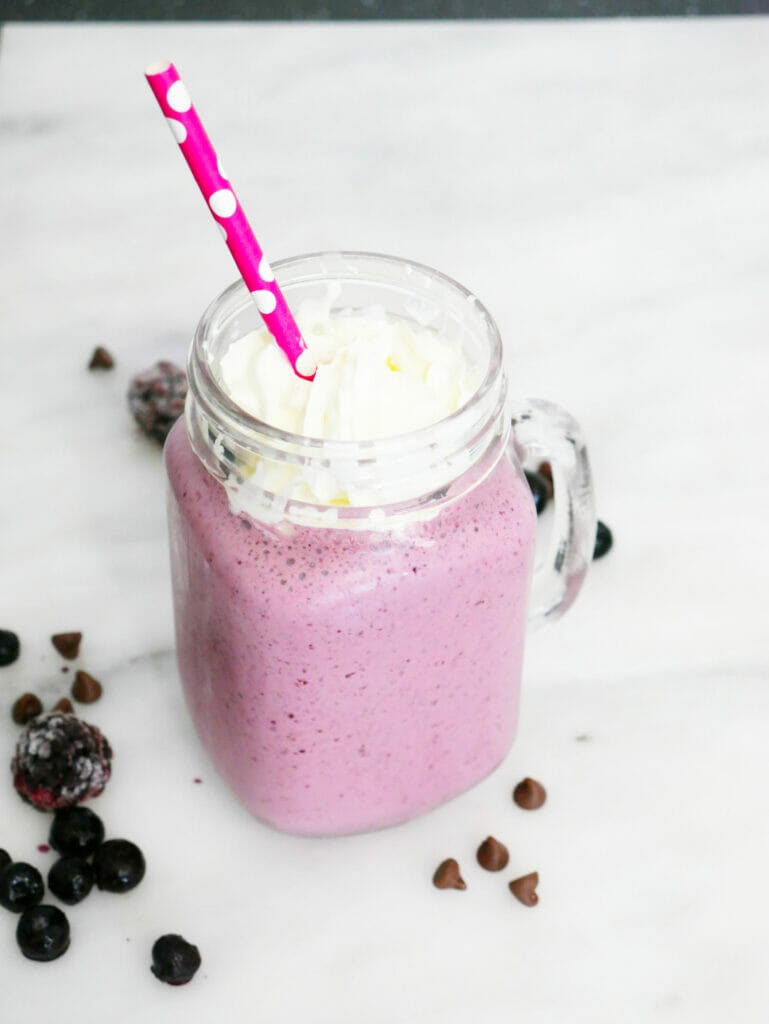 Why this chocolate berry smoothie that tastes like dessert is awesome!
It's a berry chocolate smoothie that tastes amazing!
This is honestly one of my favorite smoothies to make, for the very simple reason that it tastes AMAZING!
I mean, who doesn't want a chocolate and berry dessert smoothie?!
Chocolate and berries are amazing together in desserts, so why not have them in a smoothie?!
It's a chocolate blueberry smoothie!
Have you ever had chocolate and blueberries together?
It's great!
The subtle taste of blueberries goes really well with chocolate.
On top of this, blueberries are an incredibly popular ingredient in smoothies.
And it makes sense!
They really add a great flavor to smoothies. And we all know chocolate does too!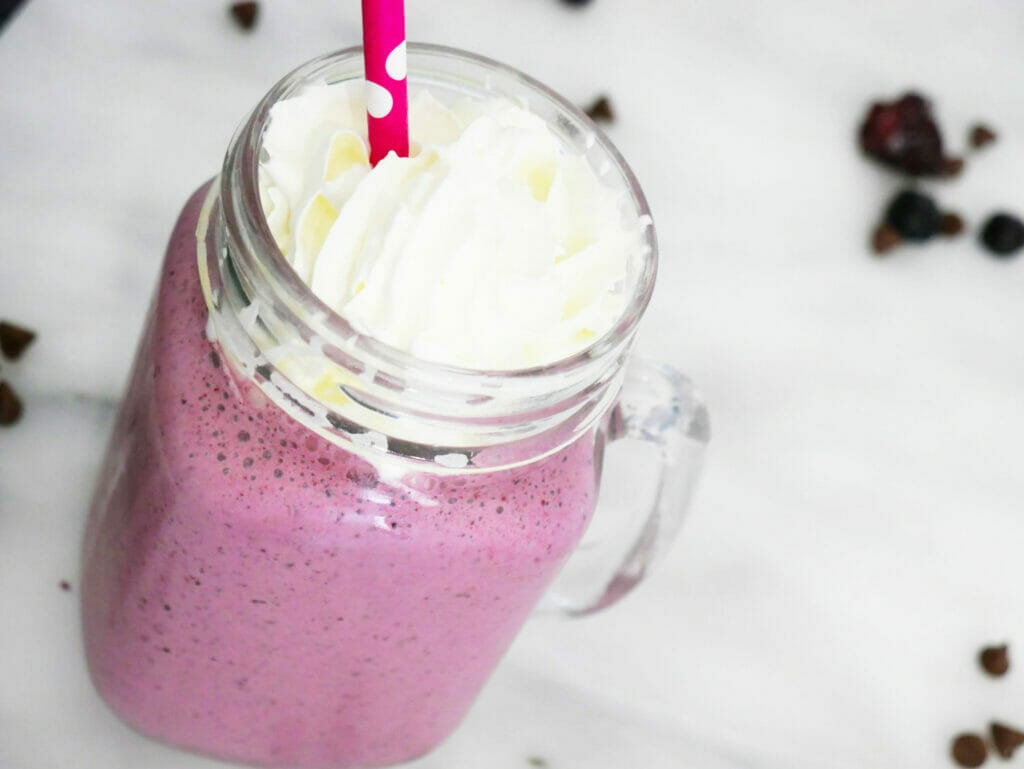 It's a dessert smoothie!
There tends to be a thought that smoothies have to be completely fruity – like they have to be fruit smoothies and nothing else.
And that's just not the case at all!
You see, this blackberry blueberry smoothie is really like dessert in smoothie form – it is a dessert smoothie.
Sure, its a chocolate fruit smoothie, but when you combine the blueberries and blackberries with the chocolate, cream, and cream cheese, it suddenly becomes an amazing dessert smoothie!
So, if you think smoothies always have to be fruit-only, I'm here to encourage you to try a dessert smoothie like this!
If you want to try other dessert smoothies, head over here!
I particularly like this Philadelphia smoothies with berries!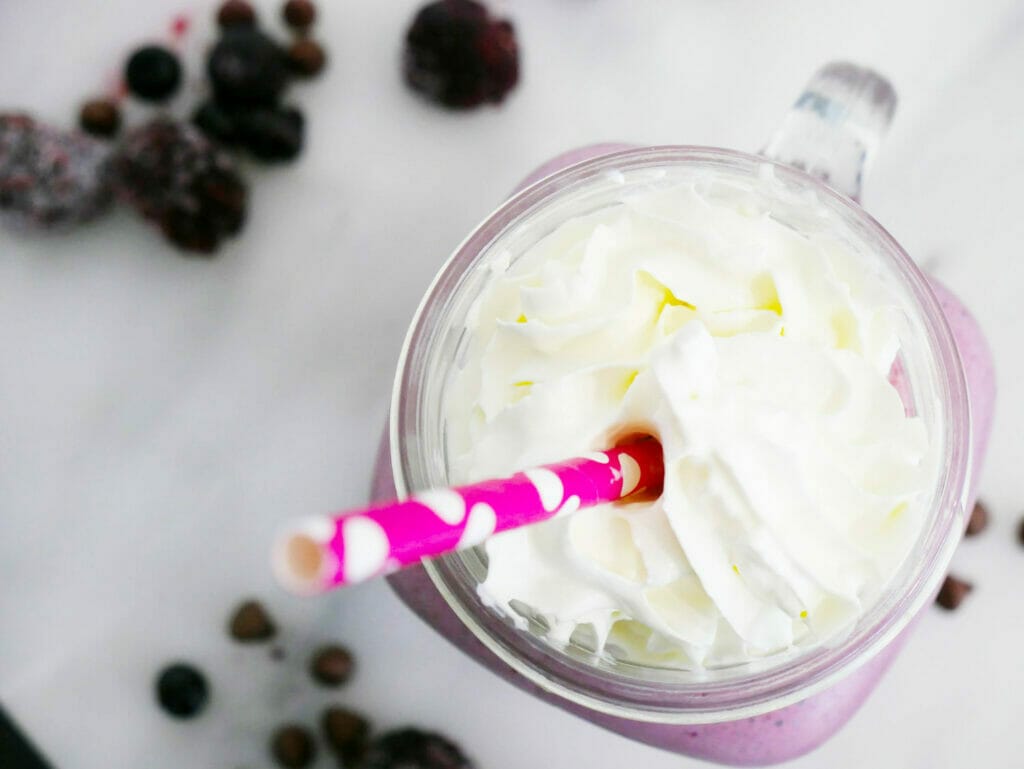 Philadelphia smoothies and cream cheese smoothies are amazing!
You may be wondering why I am asking you to put cream cheese into a smoothie.
I get it. It sounds weird.
But if you think about it, it kind of makes sense! – Philadelphia is often used in different desserts, and this is a dessert smoothie.
So using cream cheese in this blueberry smoothie suddenly seems like it might make sense, right?
And, let me tell you, it really DOES make sense!
This Philadelphia smoothies is awesome with the berries and chocolate.
The blackberries and blueberries really mix well with the cream cheese to comes together and create an amazing flavor.
And when you combine the berries and chocolate with the cream cheese, it just goes to another level!
So trust me when I say this is one blueberry blackberry smoothie that tastes amazing, despite seeming like it has an odd ingredient!
You should DEFINITELY try some more Philadelphia smoothies!
I really recommend this AMAZING Philadelphia smoothie with berries and this protein berry cream cheese smoothie!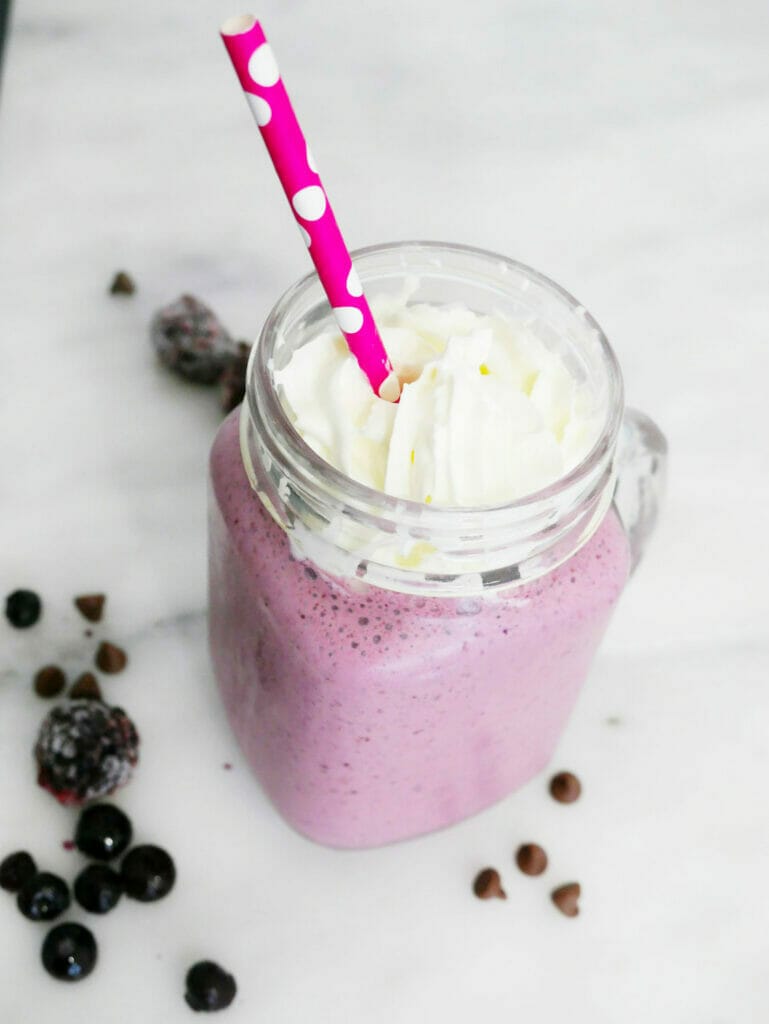 This blackberry blueberry smoothie provides some great nutrients!
You may look at the list of ingredients in this chocolate berry smoothie, see that it is a dessert smoothie, and think you will get no healthy benefits from it.
But, as it is also a blackberry blueberry smoothie, you can get lots of health benefits from the blackberries and the blueberries contained in it.
It's a blackberry smoothie recipe! – Health benefits of blackberries
Being a blackberry smoothie, you will get some great nutritional benefits from the blackberries.
Blackberries could protect against heart disease, may help to stop the growth and spread of cancer, could improve cognitive function, and are anti-bacterial, anti-viral, and anti-inflammatory.
Blackberry smoothies are really great, and I really recommend you check out this almond butter and berry protein shake!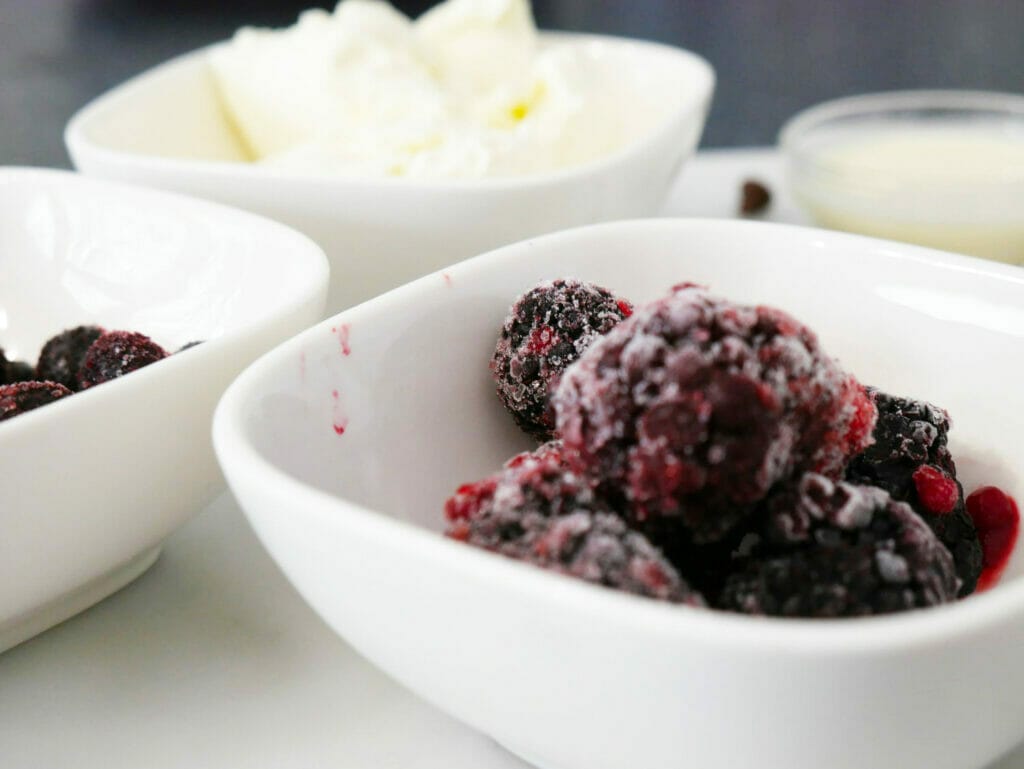 It's a blueberry smoothie! – Health benefits of blueberries
Blueberry smoothies can also give you some great nutritional benefits from the blueberries.
The phytochemicals in blueberries could protect against a number of diseases, could support the cardiovascular system through their anthocyanidins, and may help with eye health.
I love a good blueberry smoothie, and if you want another healthy blueberry smoothie, you should check out this healthy kale and blueberry smoothie!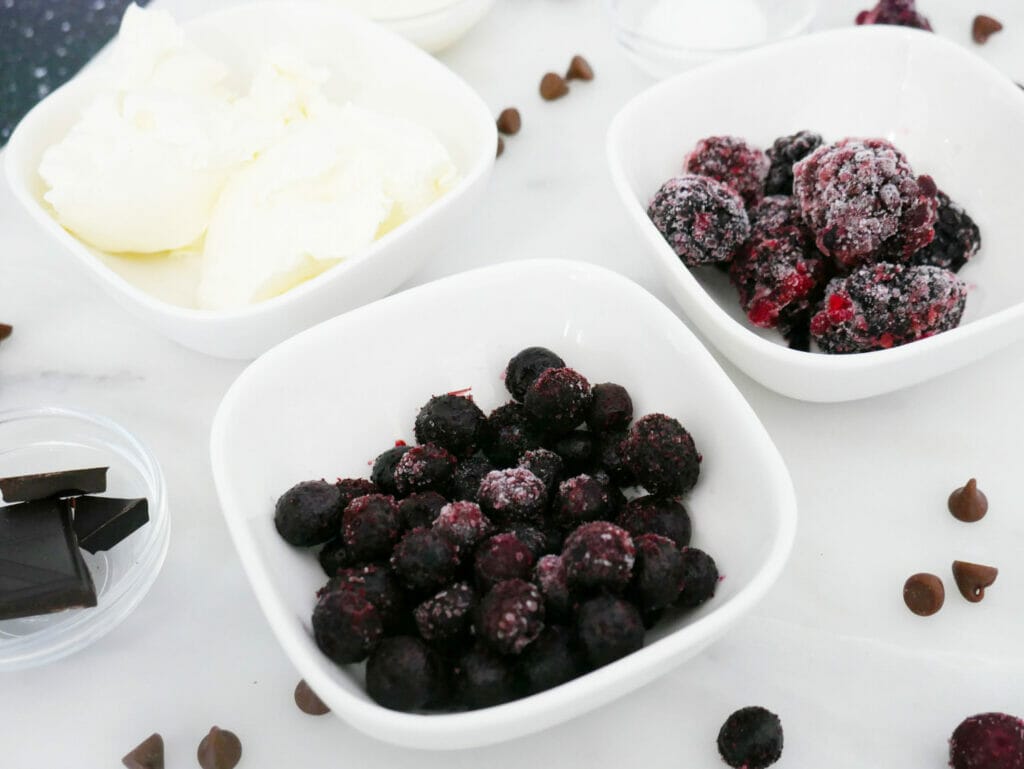 It's a low carb berry smoothie!
Another benefit of this dessert smoothie is that it is a low carb smoothie!
Although not quite a keto smoothie, low carb blueberry smoothies are still great because they are low in carbohydrates, which can help with the regulation of sugar and insulin levels in your blood.
If you are on a low-carb diet, this low carb blackberry smoothie can certainly help you to reach your daily nutrient targets.
If you want to try some more low carb smoothies, why not try this chocolate almond butter protein smoothie or this chocolate raspberry smoothie!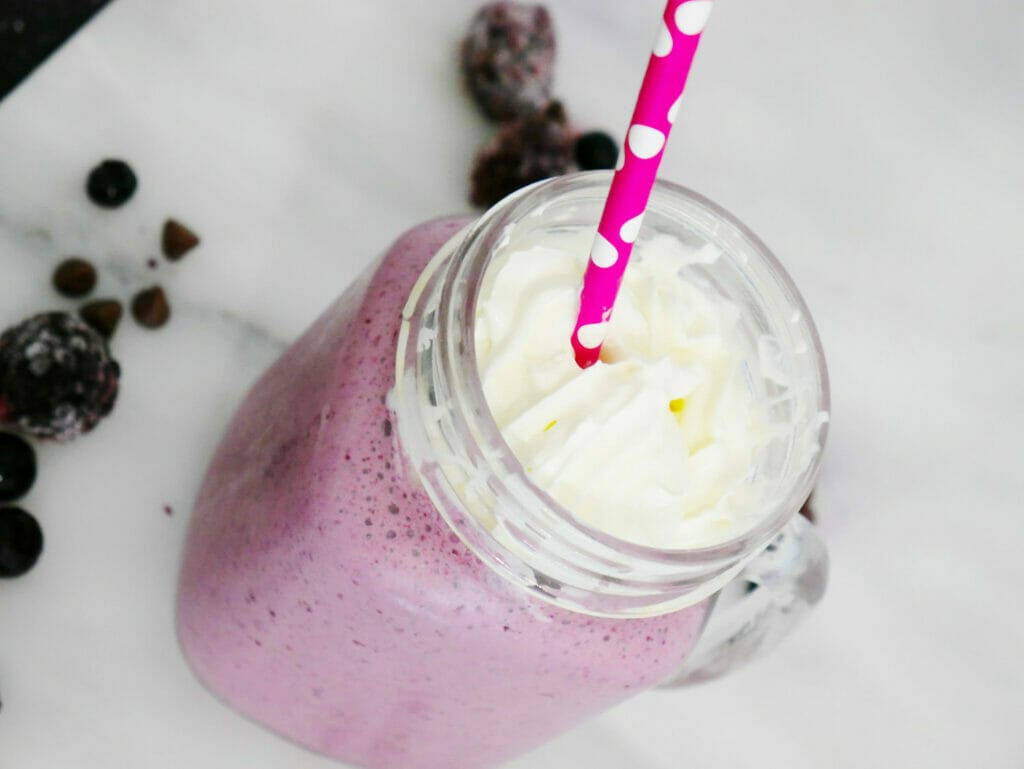 Chocolate berry smoothie that tastes like dessert recipe
This chocolate berry dessert smoothie is actually really easy to make.
It benefits from the fact you can use frozen fruit if you prefer, which means it is easier to keep the ingredients on hand. Cream cheese also usually lasts quite a long time, so you can easily make another cream cheese smoothie!
Ingredients
Philadelphia / Cream cheese.
Blueberries – You can use frozen or fresh blueberries for this blueberry smoothie.
Blackberries – You can use frozen or fresh blackberries for this blackberry smoothie.
Heavy / Double Cream – If you don't have heavy / double cream, you could increase the amount of Philadelphia you put in tot he smoothie, and slightly increase the amount of water. That will give you a similar effect to the cream.
Dark Chocolate – If you are restricting the amount of carbs and sugar you consume, then you need to use a very dark chocolate. I like to use Lindt 90% dark chocolate, as it is very low carb, which helps when making Keto smoothies.
Stevia, or other natural sweetener such as Erythritol.
Steps
First things first, prepare the ingredients for your blueberry blackberry smoothie.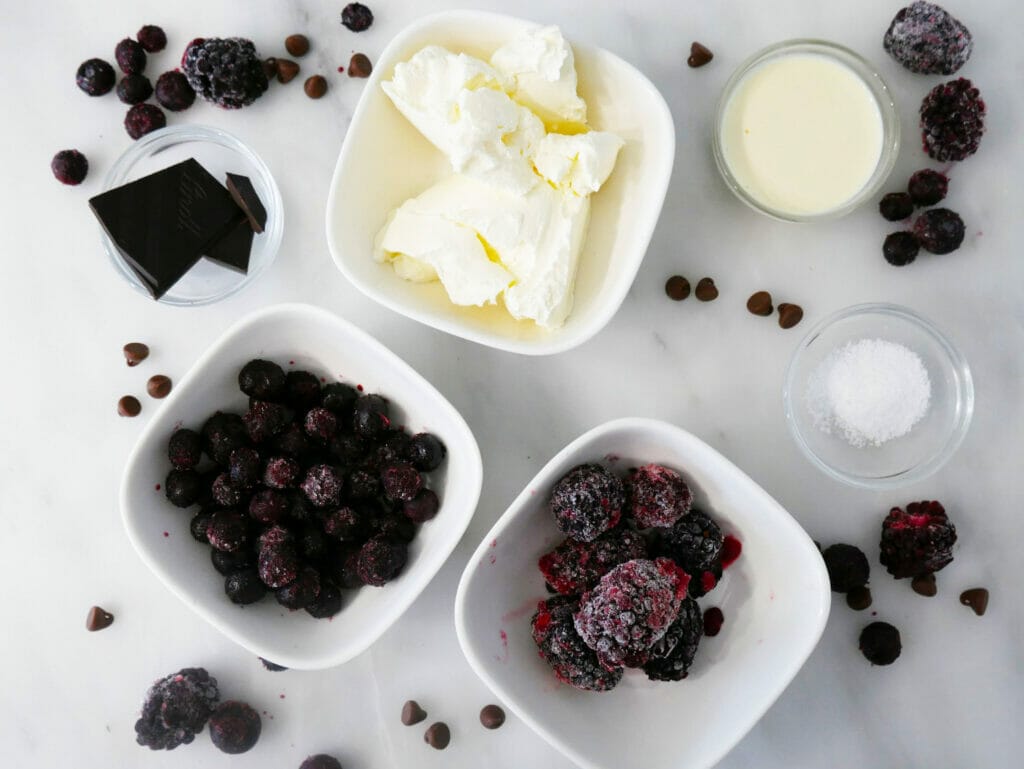 If you are using frozen blackberries, be sure to blend them first so that they mix well in to the final berry chocolate smoothie.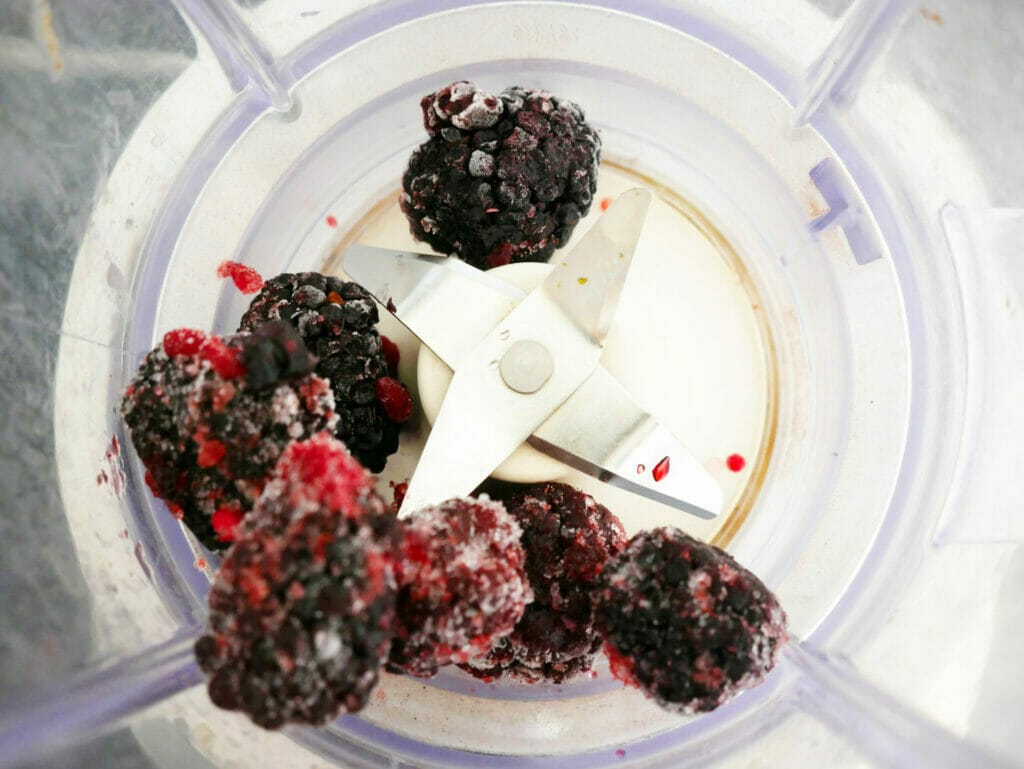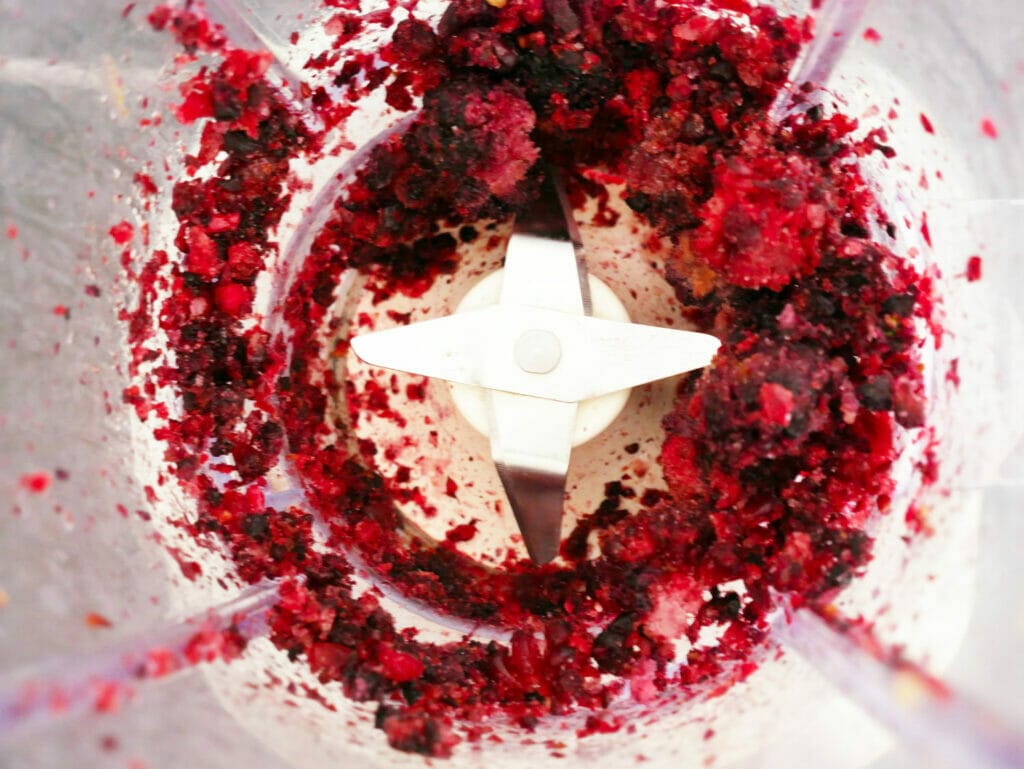 Add the chocolate and blend. I recommend blending this now as much as you can, because otherwise your blender may struggle to blend it into the final blackberry smoothie.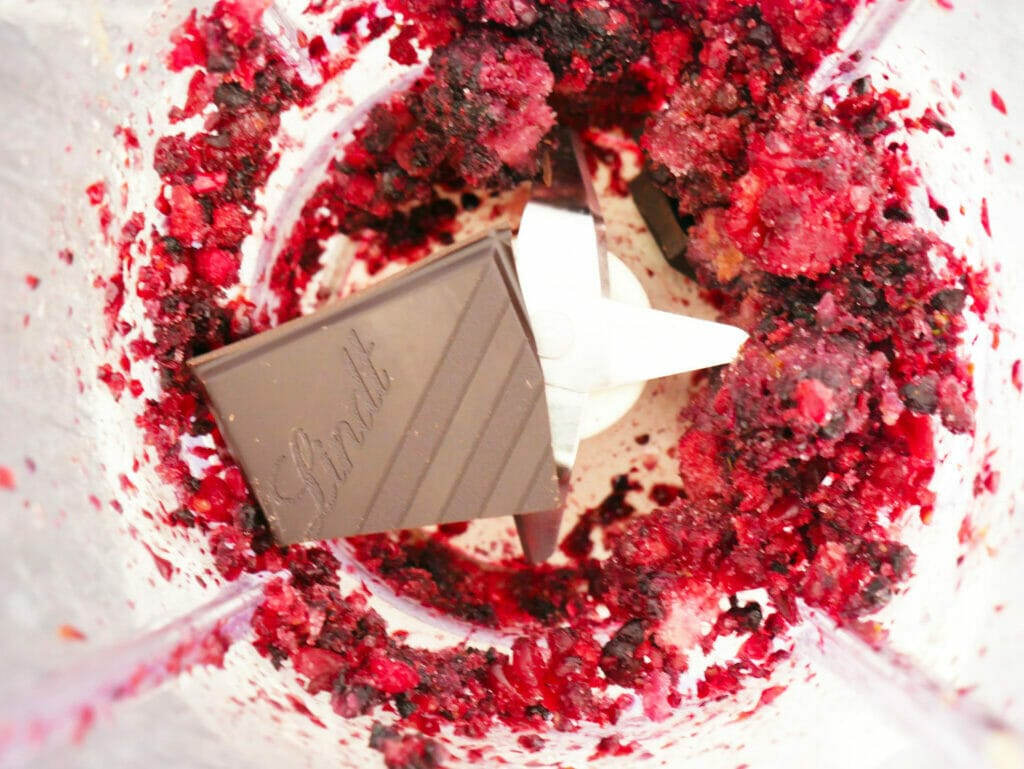 Add the blueberries.
Unlike with the blackberries, I do not recommend blending them before starting with the other ingredients, because they will mix fine in to the final chocolate blueberry smoothie.
Add the Philadelphia cream cheese.
Add the heavy / double cream.
Add the Stevia or Erythritol.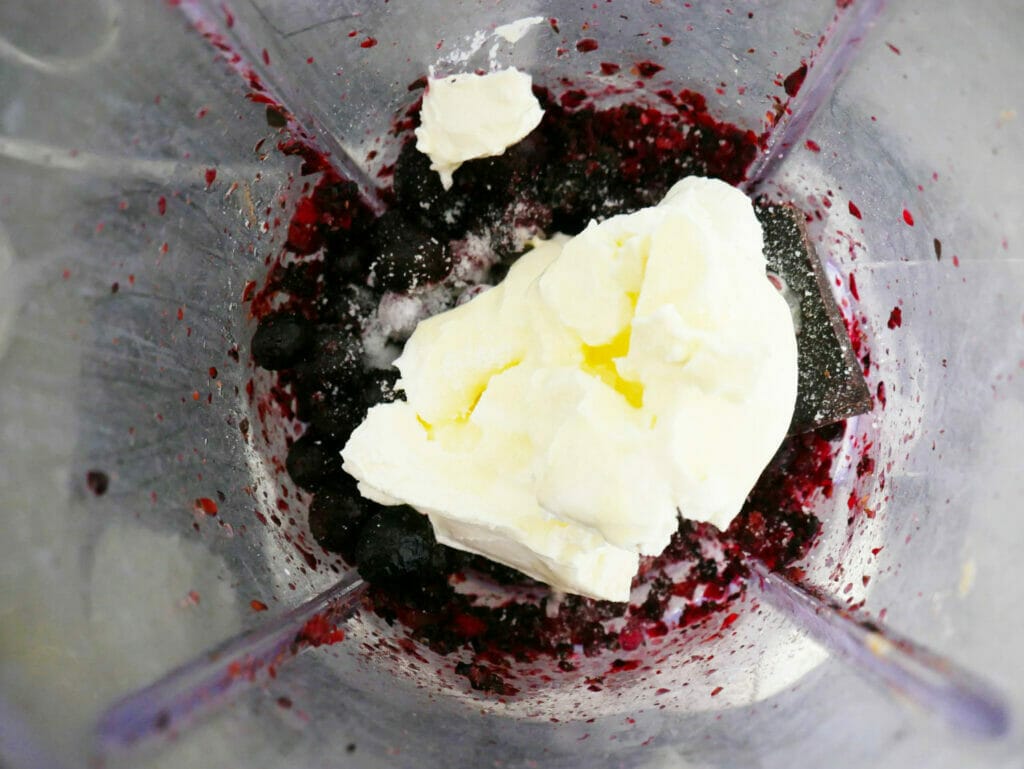 Add the water.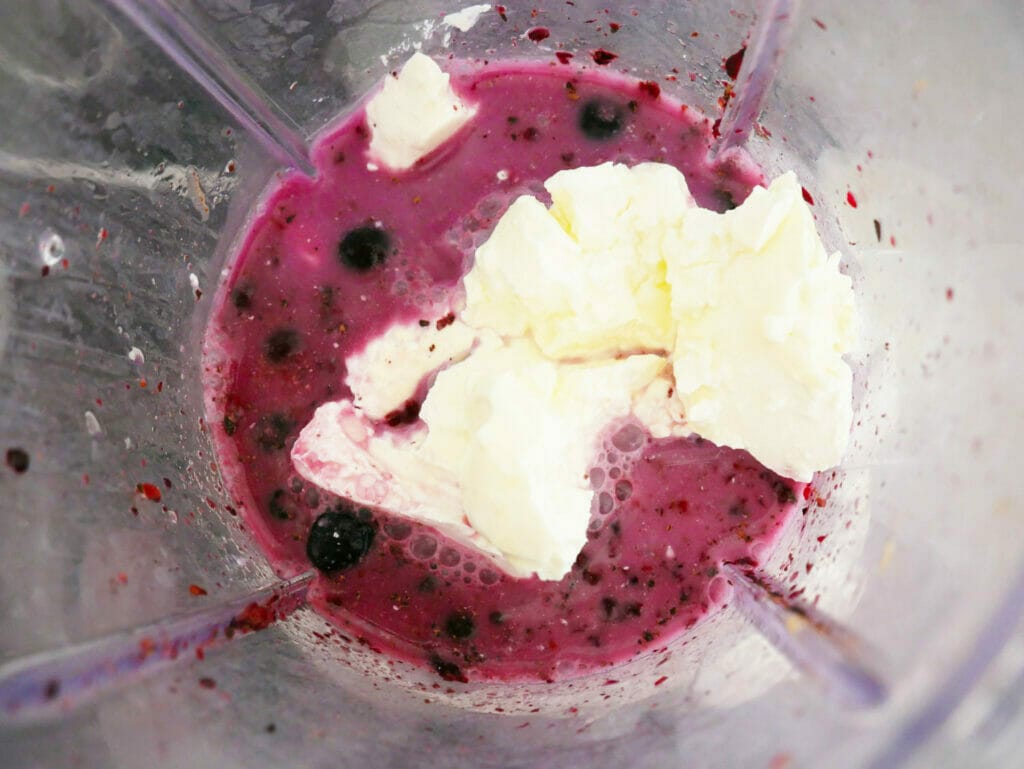 Blend.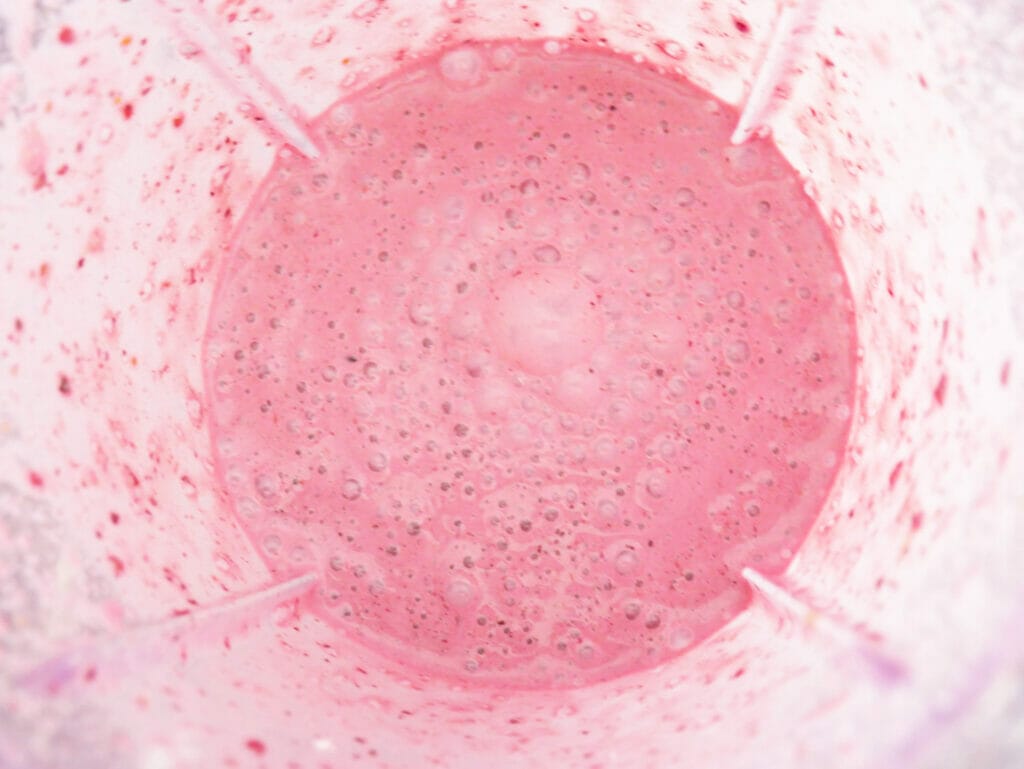 You now have an amazing chocolate berry dessert smoothie! Enjoy!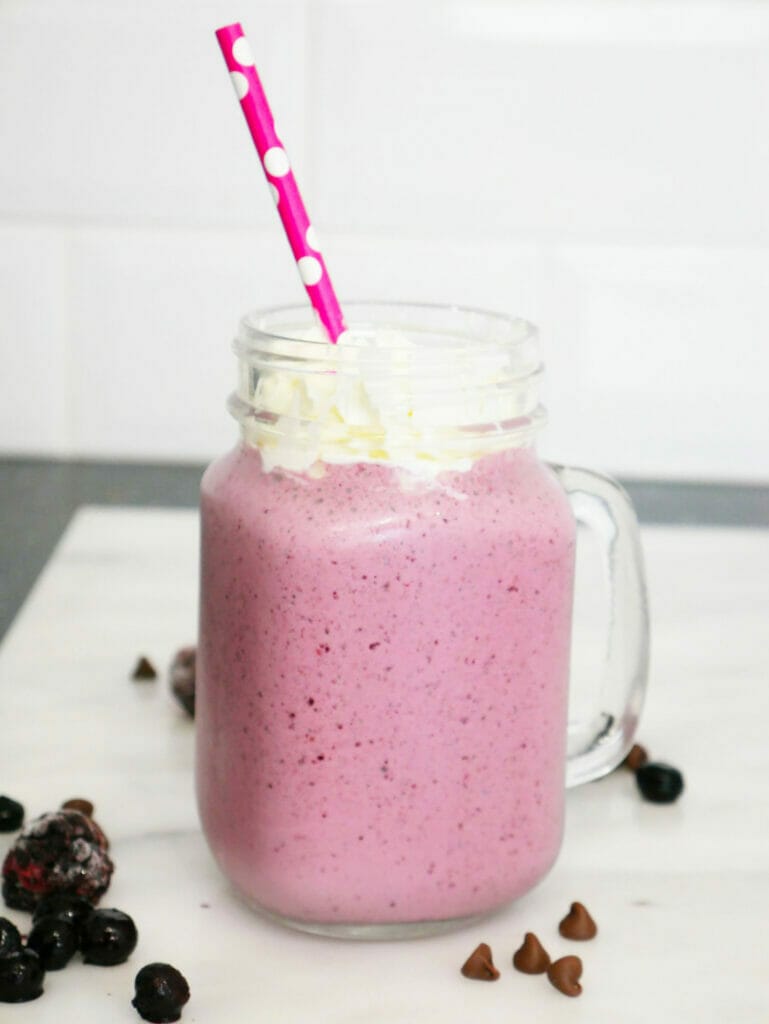 Yield: 1
Chocolate berry smoothie that tastes like dessert! (+ Tips!)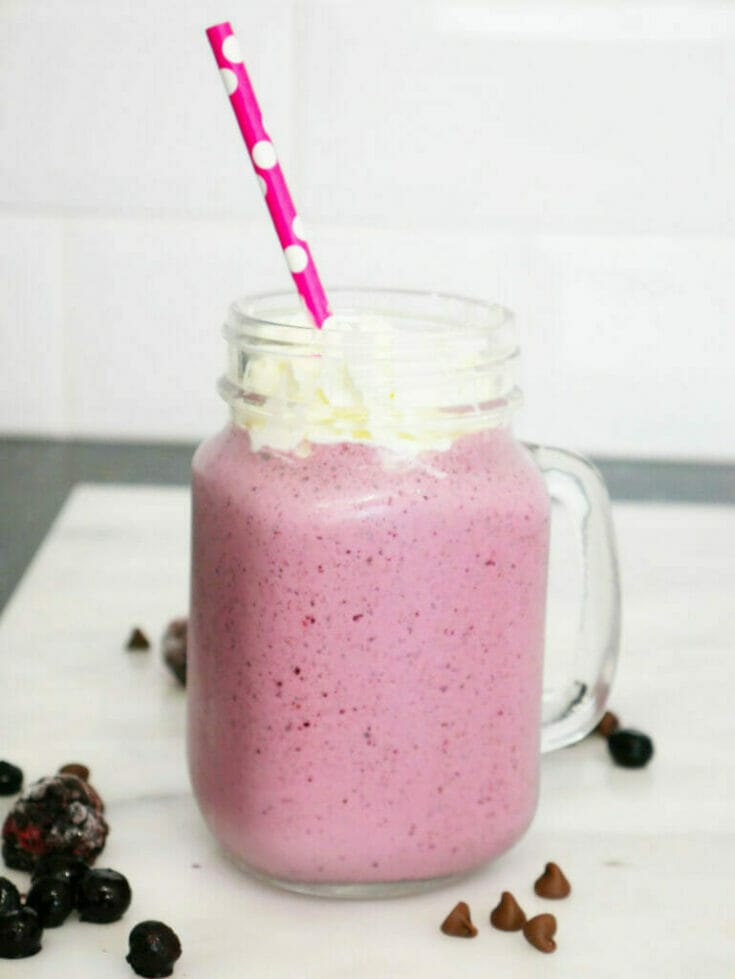 "This chocolate berry smoothie ROCKS! With the most amazing berry and chocolate flavour, you might think you are drinking dessert!"
Ingredients
Blueberries (frozen or fresh) - 50g / 1.76oz / 1/3 cup
Blackberries (frozen or fresh) - 50g / 1.76oz / 1/3 cup
Cream cheese (soft cheese/Philadelphia) - 100g / 3.53oz / 2/5 cup
Double cream (heavy cream) - 15ml / 1tbsp
Dark chocolate (90% preferable) - 10g / 0.35oz / 1 square
Stevia (or other sweetener) - 0.5tsp
Water - 150ml / 5.28fl oz
Instructions
Blend the chocolate first, so that it mixes well.
If you are using frozen blackberries, blend them next.
Add the remaining ingredients.
Blend.
Enjoy!
Notes
Always blend the chocolate first, otherwise it will likely not blend well in to the final chocolate berry smoothie, and you will be left with clumps of chocolate.
If you are using frozen blackberries, you should blend them next so that they blend well in to the final chocolate berry smoothie. Otherwise, they may not break up enough.