As an Amazon Associate, I earn from qualifying purchases. In addition, I participate in several other affiliate programs that allow me to earn while I recommend products I love.
These delicious cinnamon roll overnight oats are a healthier way to enjoy this delicious baked good. Bursting with flavor and a nice boost of protein, enjoy this on-the go!
While we've covered cinnamon overnight oats before (a huge hit!), I wondered what it might be like to try and take it up a notch to create cinnamon roll overnight oats.
The key would be using the same cinnamon base, but swirling around some icing for extra fun.
The end result was an incredibly fun breakfast recipe that would save a ton of calories compared to the equivalent amount in actual cinnamon rolls, and an easy-to-eat option that required so little time.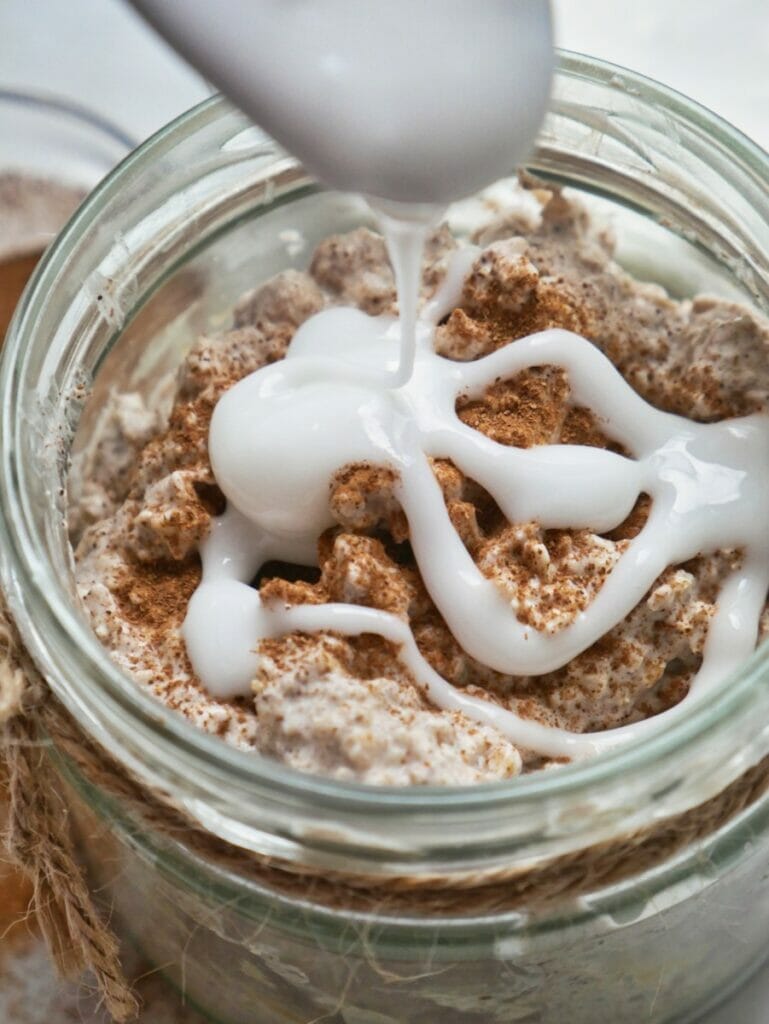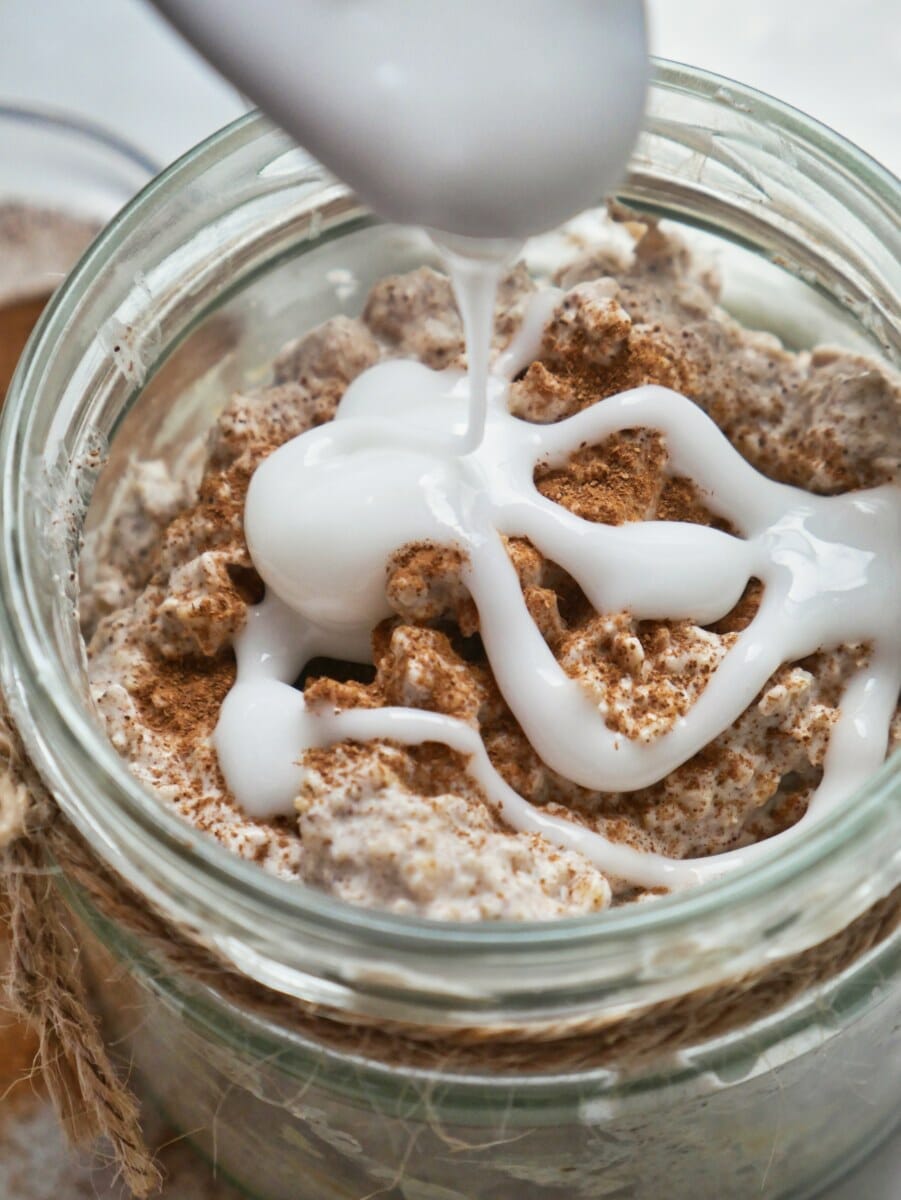 Cinnamon rolls are great, but not exactly fast to make!
Enjoy this overnight oats that taste like cinnamon rolls recipe for a hearty and different kind of breakfast or snack!
Our Favorite Quirky Kitchen Gadgets
What Are Overnight Oats?
Overnight oats are a more recent Pinteresty sensation, as they look great in a mason jar (what doesn't?) but they're a great solution for a busy morning and if you're looking to get out the door, fast, then these are for you.
They're like oatmeal, but instead of having a heat source and being cooked on a stove or microwave, they are stored in the fridge overnight (well, it takes about 8+ hours, which is why they're called overnight oats because many people leave them overnight).
They come out creamy, with the oats and liquid combining to make the oats edible and no longer dry.
It's like cooking, but for people who hate to cook!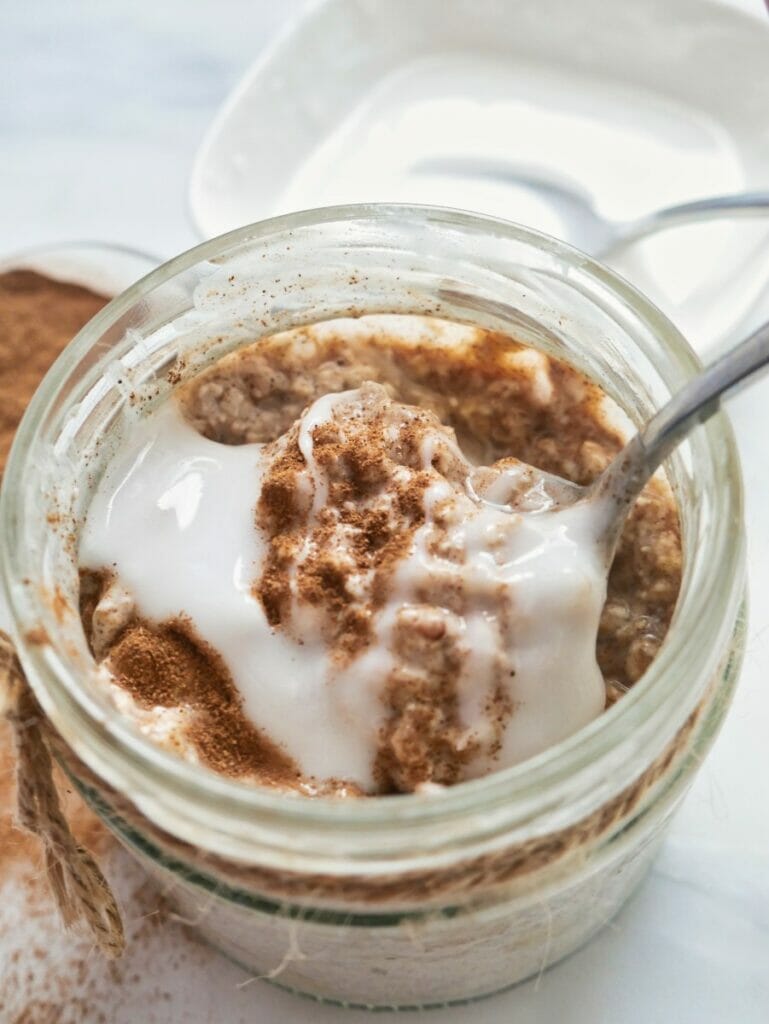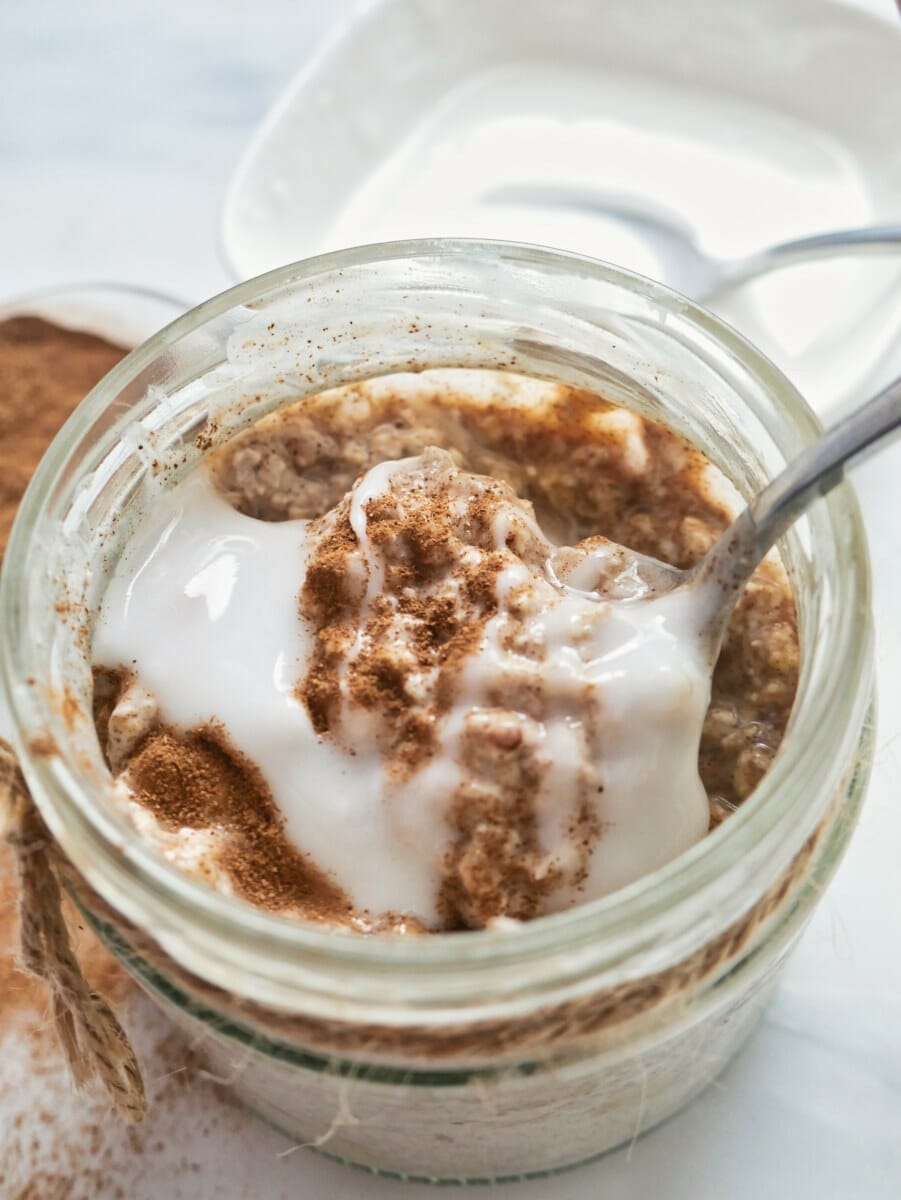 Do You Eat Overnight Oats Warm or Cold?
These overnight oats really are designed to be eaten cold. The whole point is to take them out of the fridge and dig in straight away.
However, you can eat them warm if that's your thing, there's no law against it. Try it!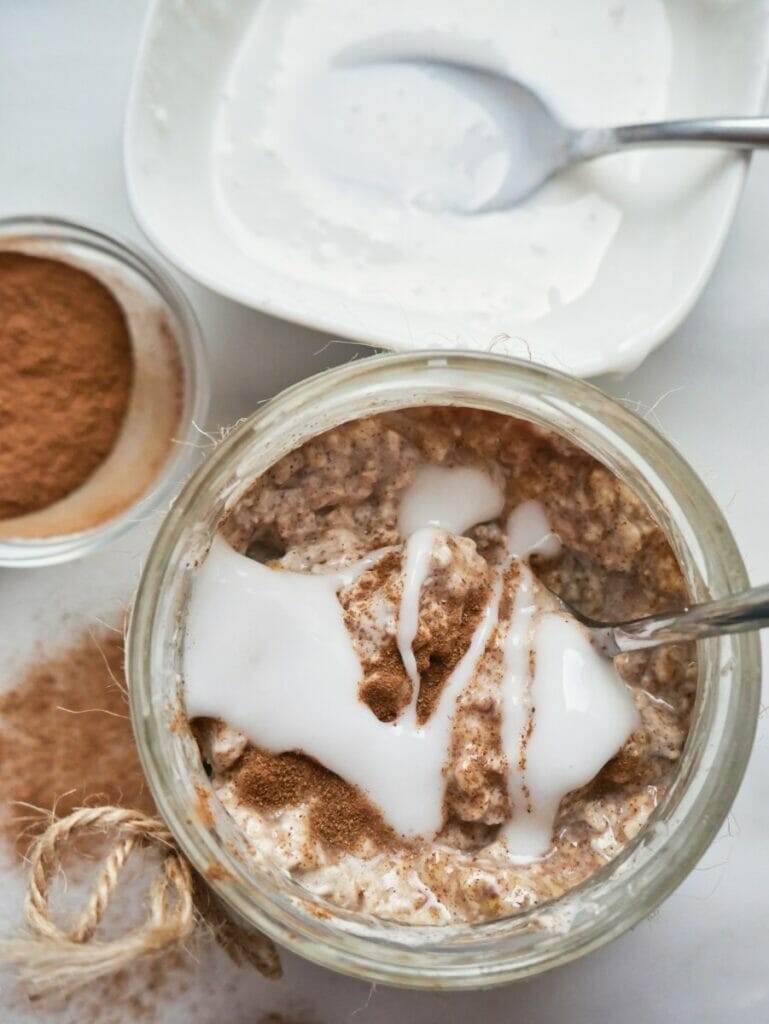 Ingredients for Cinnamon Roll Overnight Oats
To make this recipe, you'll want to gather up:
greek yogurt – I use full-fat and this brand, but you can use your favorite kind
water – this is going to help the oats actually become edible as they soak up the liquid overnight
rolled or steel cut oats – the main attraction, I use this kind
cinnamon – to make these cinnamon oats, rather than plain. This is a great bulk buy option
honey – to act as a sweetener (I use this all-natural brand)
powdered sugar – this is all we're using to create our icing glaze (or you can use a prebought icing)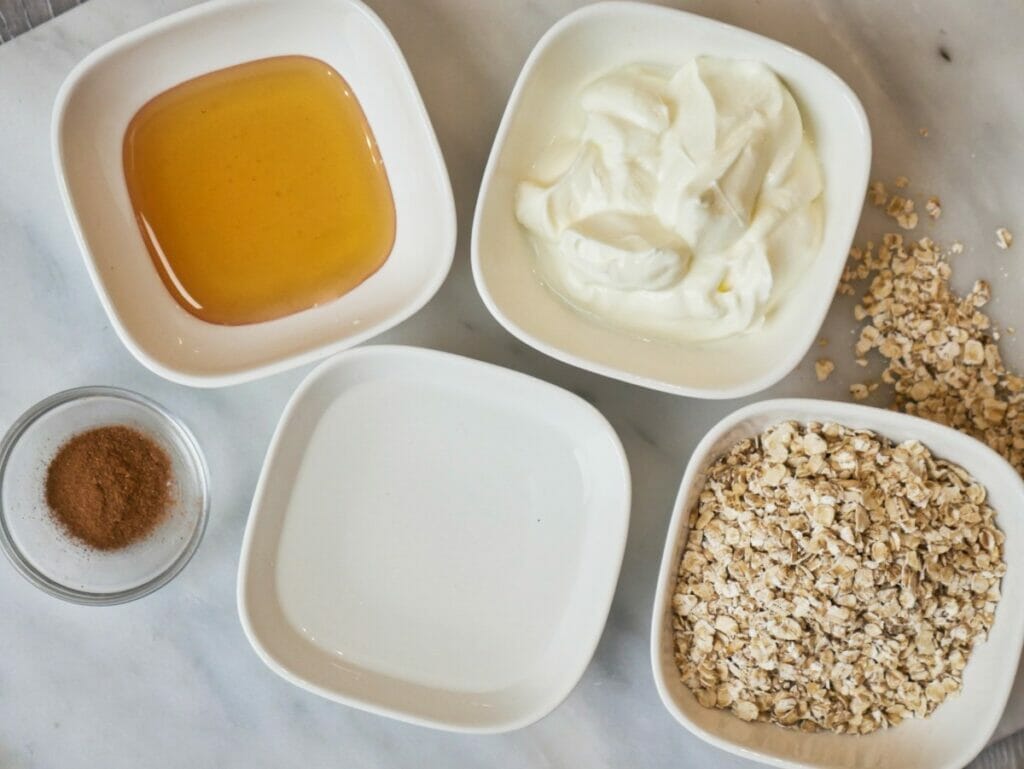 How to Make Cinnamon Roll Overnight Oats
The whole process of actually making the oats is easy and takes about 5 minutes.
First, combine the greek yogurt and water in a bowl.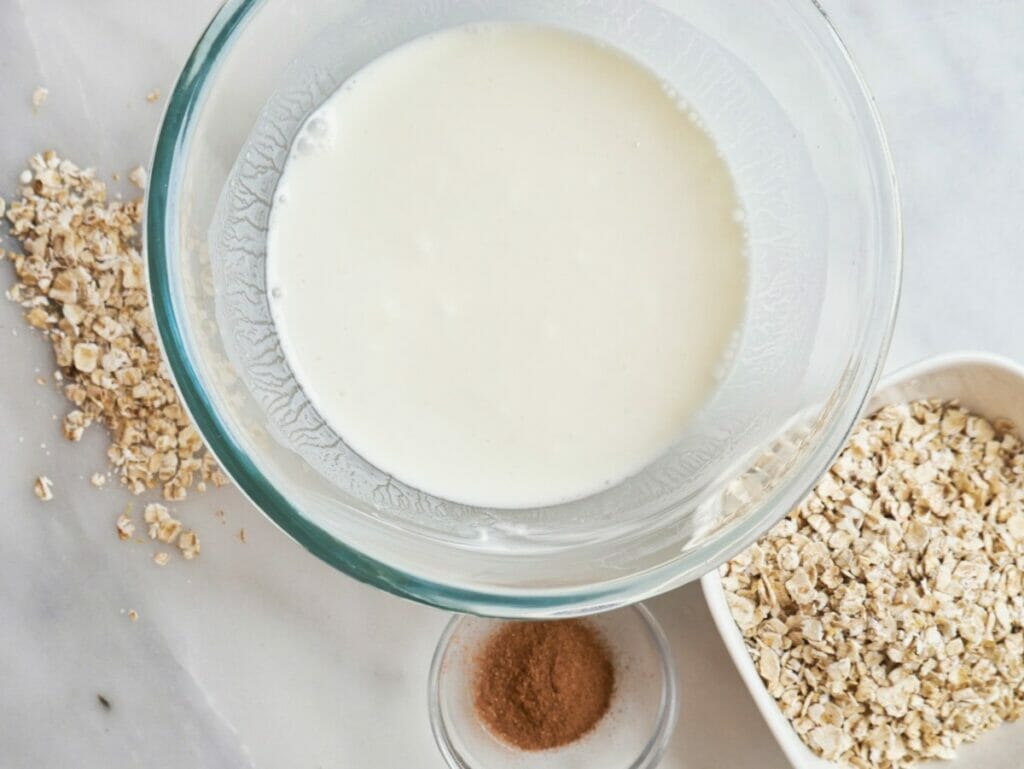 Then, add the honey, cinnamon, and oats to the same bowl and stir.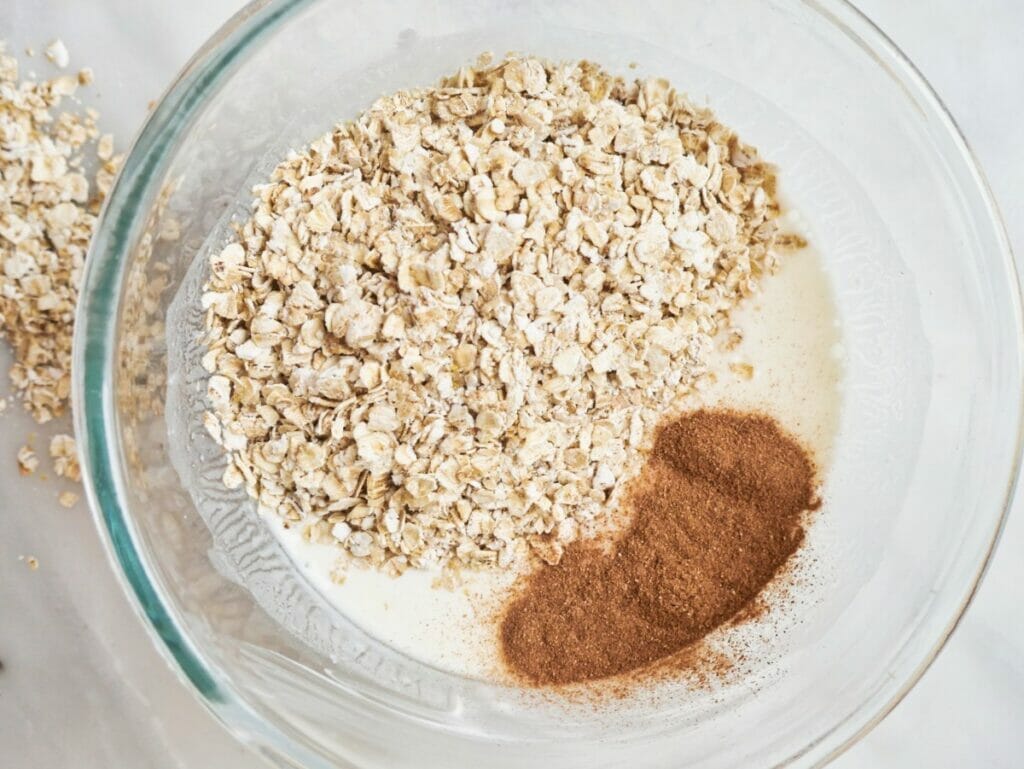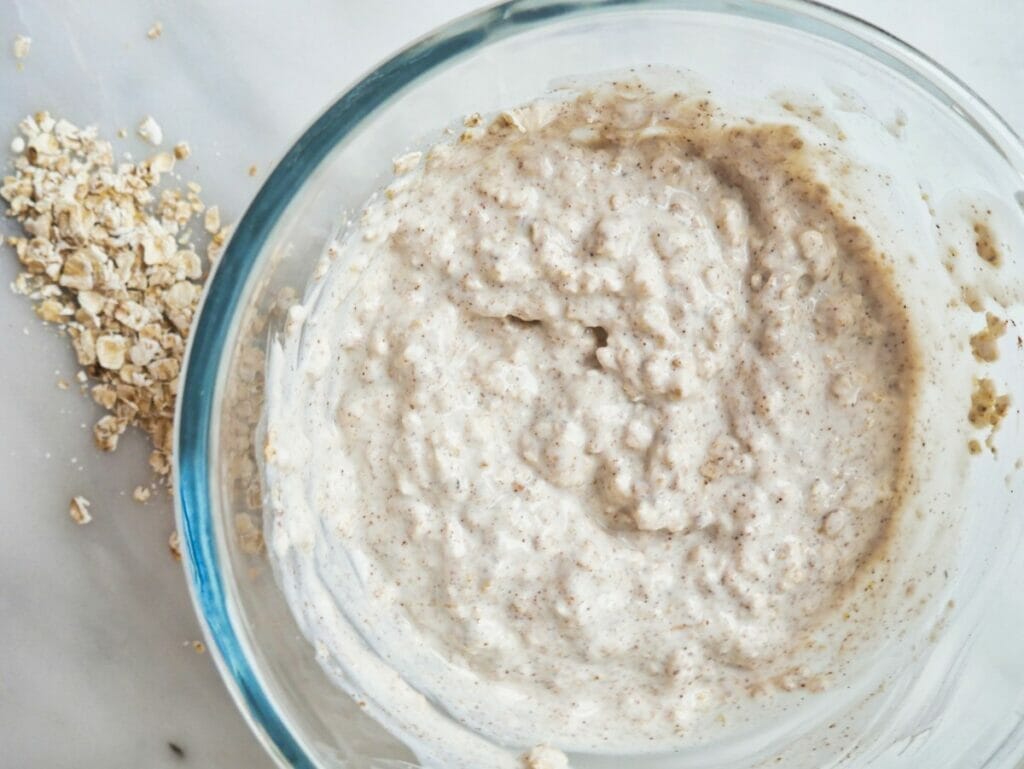 Put in the fridge for 8+ hours, preferably overnight.
In the morning, when you're ready to eat, combine a tablespoon of powdered sugar with a tablespoon of water to create an icing glaze.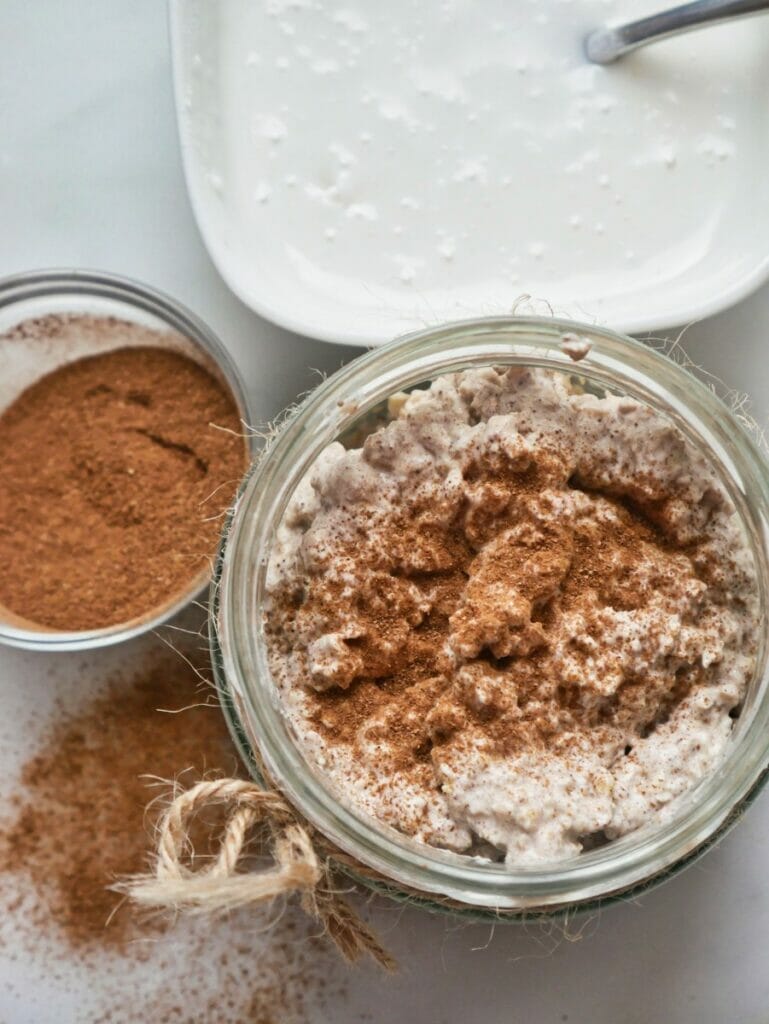 Drizzle the icing over the overnight oats and…
Enjoy!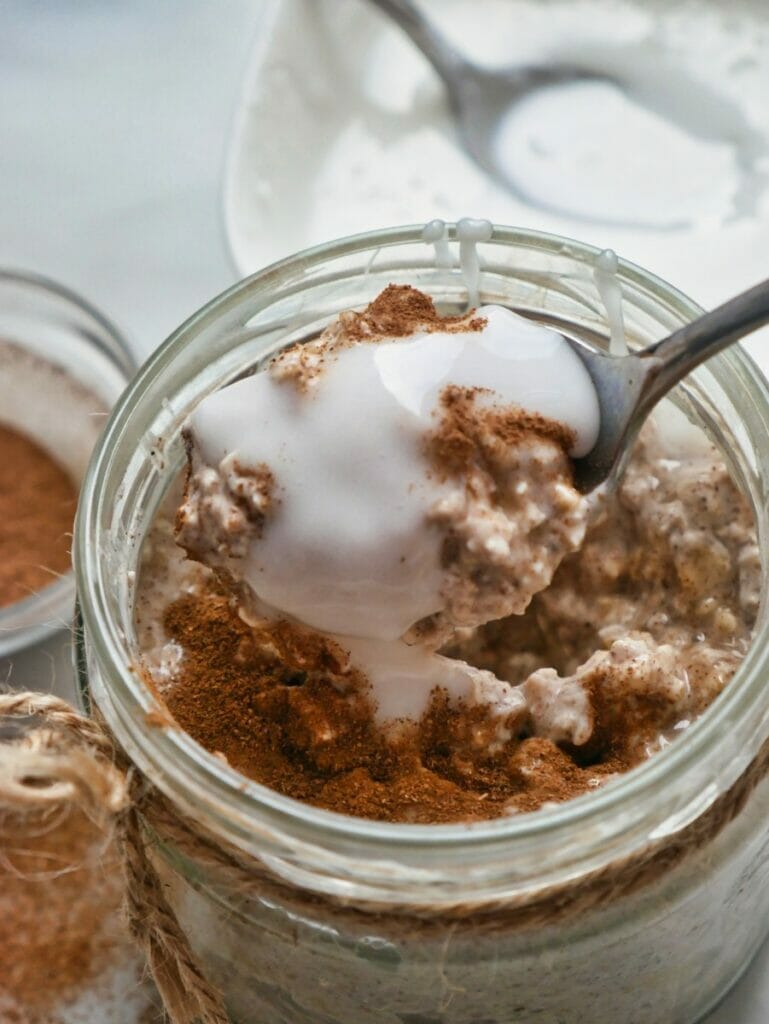 Storing Overnight Oats
There are different options when it comes to storing the overnight oats, including mason jars, colorful bowls with plastic wrap over it, and mugs with plastic wrap over it.
What I do is make the oats in the bowl, as I find it easier to mix that way, and then I pour it into a sloth mug with some plastic wrap.
In the morning, simply take off the plastic wrap, grab a spoon, and enjoy!
I make sure to eat my oats within 48 hours of initially putting them into the fridge, but they're better the day right after making them.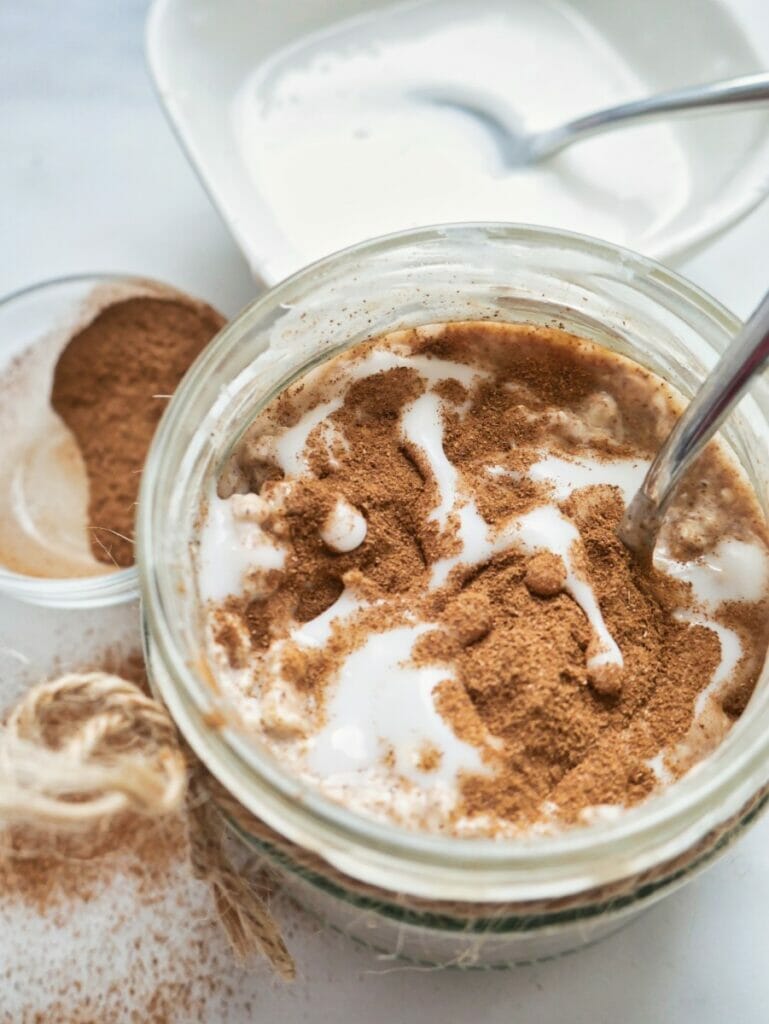 Can I Make Substitutions in these Overnight Oats?
Yes, you can make substitutions in these overnight oats.
To make them dairy-free, substitute water for the Greek Yogurt (on top of the water already in the recipe).
To make them thinner, substitute the Greek Yogurt with milk.
To make them even creamier, add more Greek Yogurt.
You can leave out the honey if you want, but know that it acts as a sweetener so you'll have a bit more of a savory overnight oats.
More Overnight Oats Recipes
If you want to check out more overnight oats, I've got plenty of awesome recipes just for you!
Yield: 1
Cinnamon Roll Overnight Oats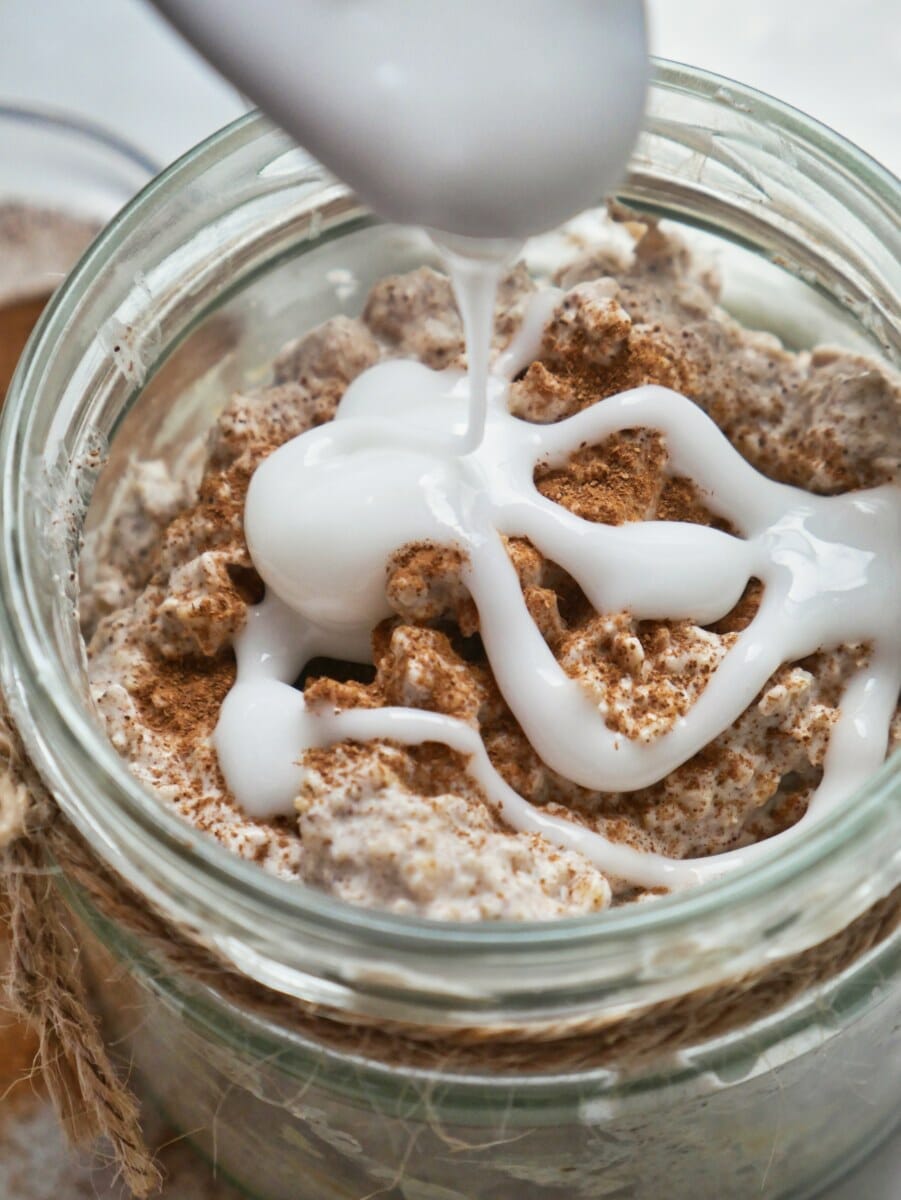 These creamy cinnamon roll overnight oats are a great way to have dessert for breakfast and skip all the calories!
Total Time
8 hours
5 minutes
Ingredients
1/2 cup rolled oats or steel-cut outs
1/4 cup water
1/2 cup greek yogurt
1 tablespoon cinnamon
1 tablespoon powdered sugar (for icing)
1 tablespoon water (for icing)
Instructions
Combine the greek yogurt and water in a bowl and mix.
Add the oats and cinnamon (and honey if wanted, 1 tablespoon) and mix.
Refrigerate for 8+ hours
Make the icing by combining one tablespoon powdered sugar and one tablespoon water (get to desired thickness by adding varying amounts of each until you reach a pourable consistency).
Drizzle the icing on top of oats.
Enjoy!
Recommended Products
As an Amazon Associate and member of other affiliate programs, I earn from qualifying purchases.