As an Amazon Associate, I earn from qualifying purchases. In addition, I participate in several other affiliate programs that allow me to earn while I recommend products I love.
Decadent parmesan. Al dente noodles dripping with butter. Endless twirls of your fork.
This homemade fettucine Alfredo recipe is a slam dunk for anyone looking for an easy, rich, creamy pasta dish that feels a little extravagant without too much mess.
As we'll get into below, this is the Americanized version of fettucine Alfredo, which has deep flavor and a creaminess that makes it center stage on the menu in a lot of US restaurants.
It's great for picky eaters, young and old, as the combo of cream, butter, garlic, and Parmesan is pretty much delicious to most taste buds and the texture is smooth and consistent throughout.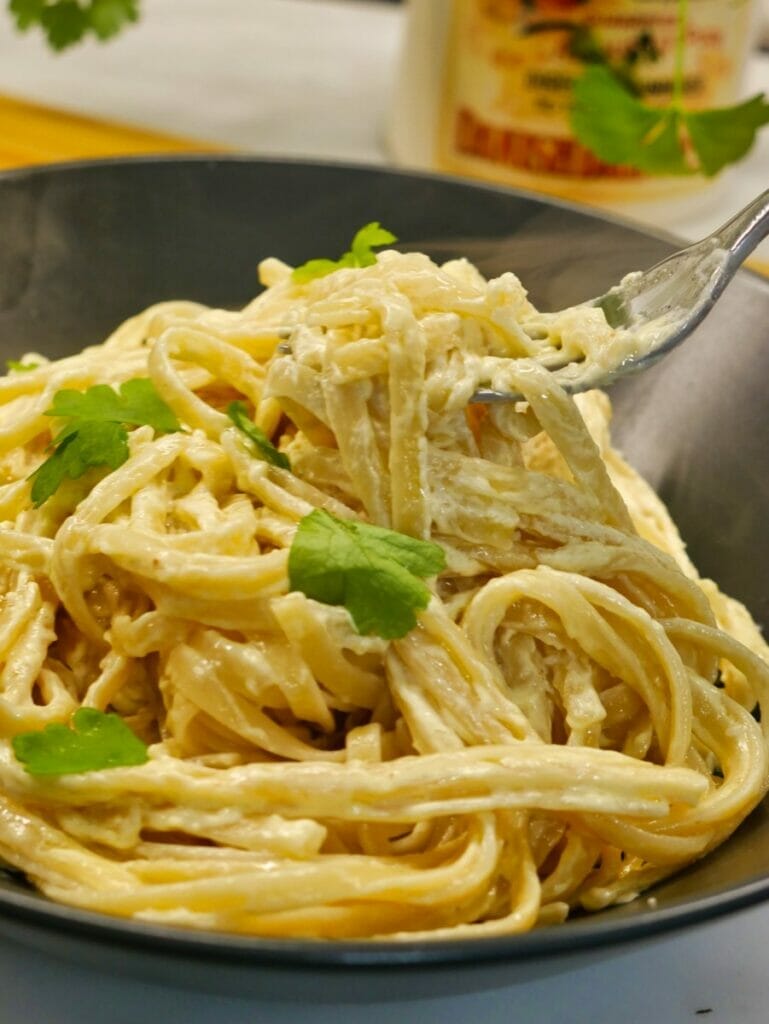 This is one of the best fettucine Alfredo recipes for making for larger groups, as you can simply make double the amount of sauce and double the amount of pasta and easily feed two families.
It also stores and freezes well, so leftovers aren't a problem and nothing will go to waste.
Our Favorite Quirky Kitchen Gadgets
What is Fettucine Alfredo?
Traditional fettucine Alfredo (notice that capital A?) came from Italy, where a man named Alfredo di Lelio invented it.
As it was in its original iteration, fettucine Alfredo simply included fettucine, parmesan, and butter.
You'll notice that this recipe also includes garlic and cream.
This is the Americanized version of fettucine Alfredo.
The story goes that two Hollywood actors went to Italy and ate in Alfredo's restaurant.
They enjoyed themselves so much that they came back to the US and began serving their friends the dish.
Over the years, the recipe shifted and today's US version of fettucine Alfredo is richer and much different than how Alfredo had originally intended it.
In the US, we expect to see fettucine Alfredo on the menu at many Italian restaurants.
In Italy, the original version of this dish, called fettucine al burro, is more something you would make at home and not what you would serve at a restaurant.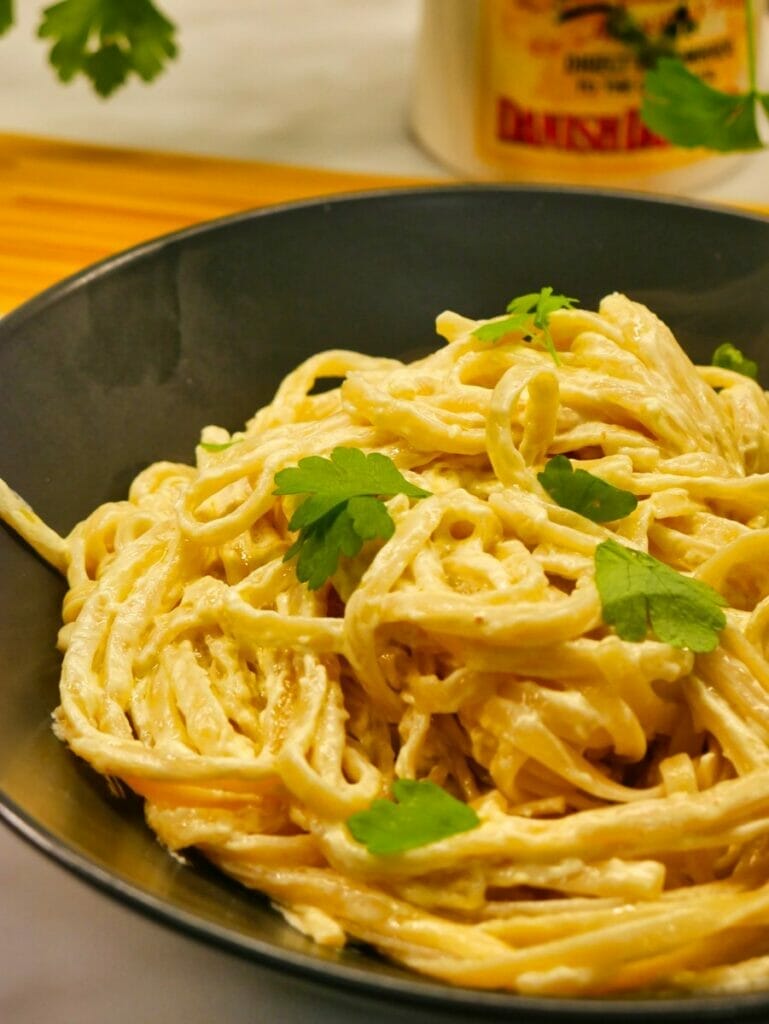 Ingredients
To make a delicious homemade fettucine Alfredo (the American version) that your friends and family will want seconds (and thirds of), you'll need the following ingredients:
salt – to salt the water and give taste to our pasta
fettuccine – the hero of this meal (fettucine are the flat, long pasta noodles)
salted butter – to give richness and flavor to our sauce
garlic cloves – to give flavor to our sauce
heavy cream – to add creaminess to our sauce
Parmesan cheese, grated – to add a wonderful sharp flavor to our sauce and add creaminess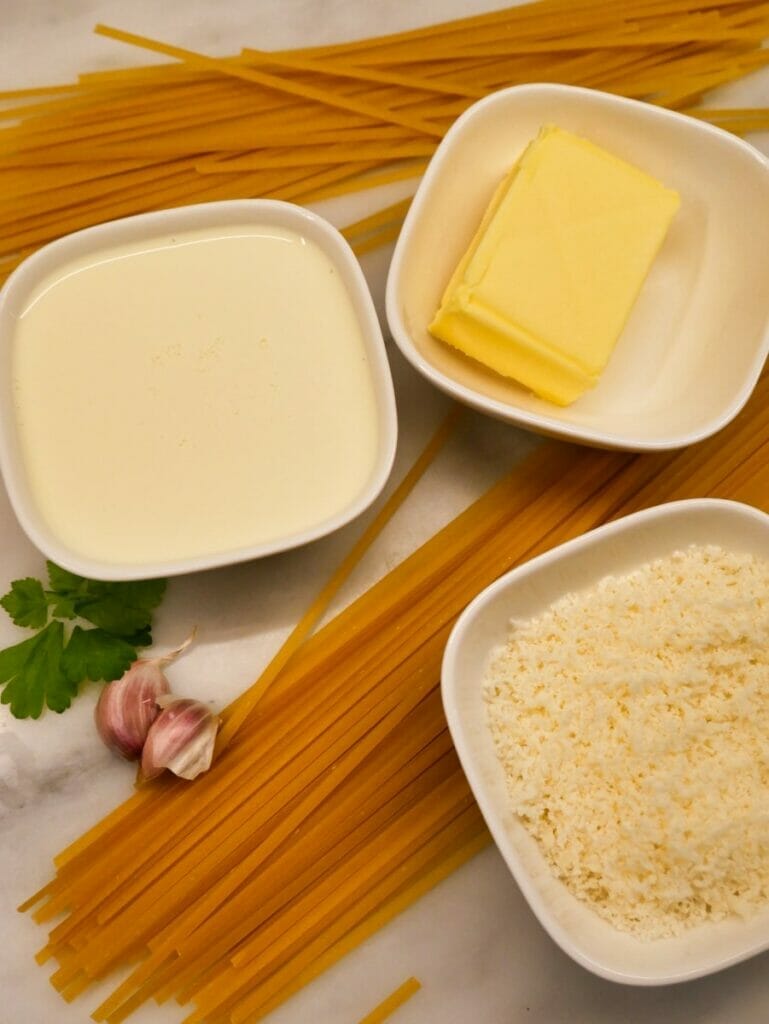 Why You'll Love It
Wonderfully easy to prepare with only two pots/pans – one to boil the pasta, and one to make the sauce
Impresses taste buds of all kinds, so it's a great option for a dinner party, birthday party, or just a Friday night when the family can't agree on what to eat
Rich, creamy, and incredibly indulgent and filling
How to Make Fettucine Alfredo
First things first, you'll want to bring a medium pot of water to a boil (make sure to salt it first – this really does help flavor your pasta).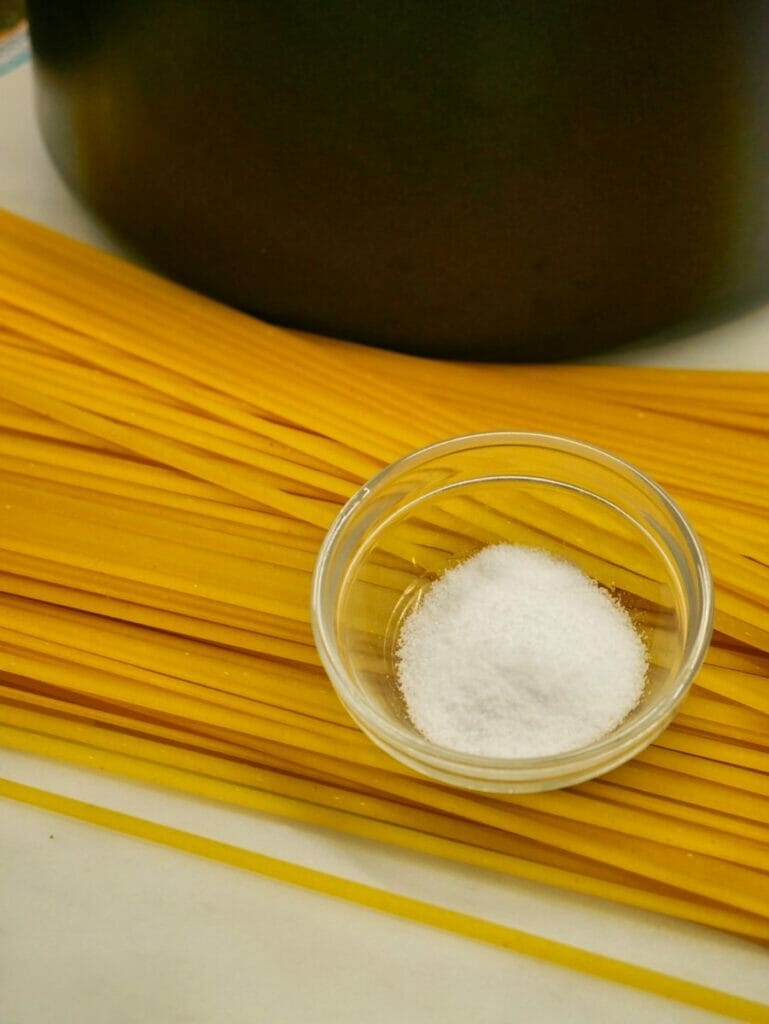 Boil the fettucine noodles according to the directions on the package (typically 8 to 10 minutes). Because we'll be adding sauce, you can go al dente for these and too mushy.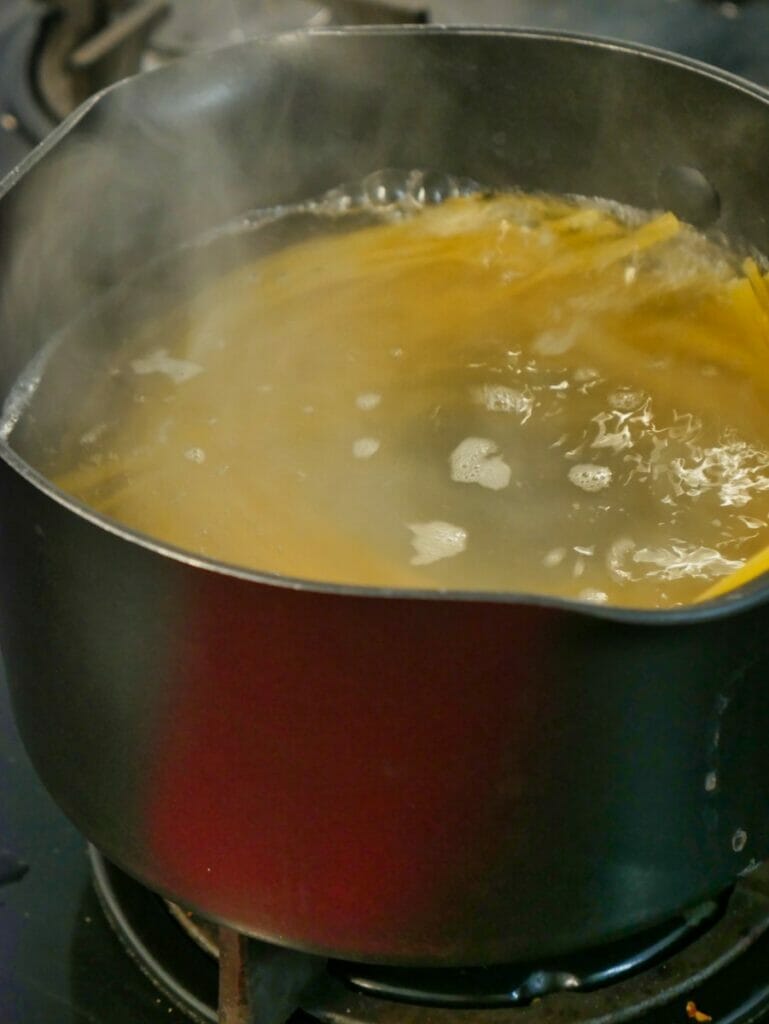 Drain the pasta.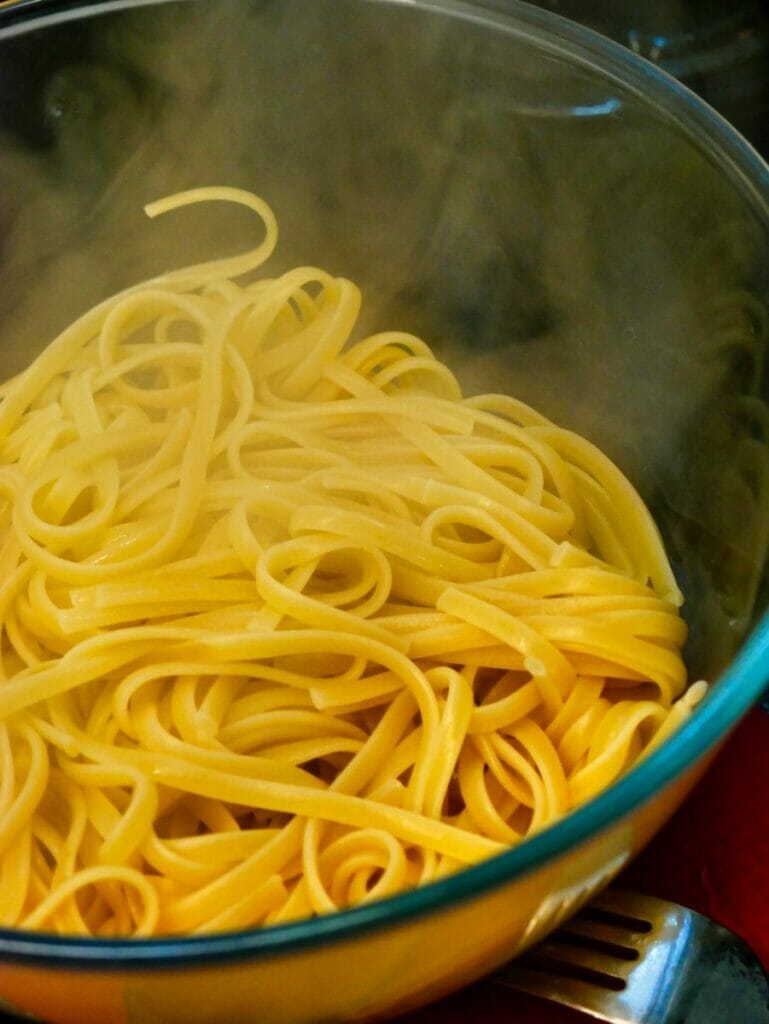 Add the butter to a large skillet (we want it large enough to hold the pasta + the sauce). Melt over low heat.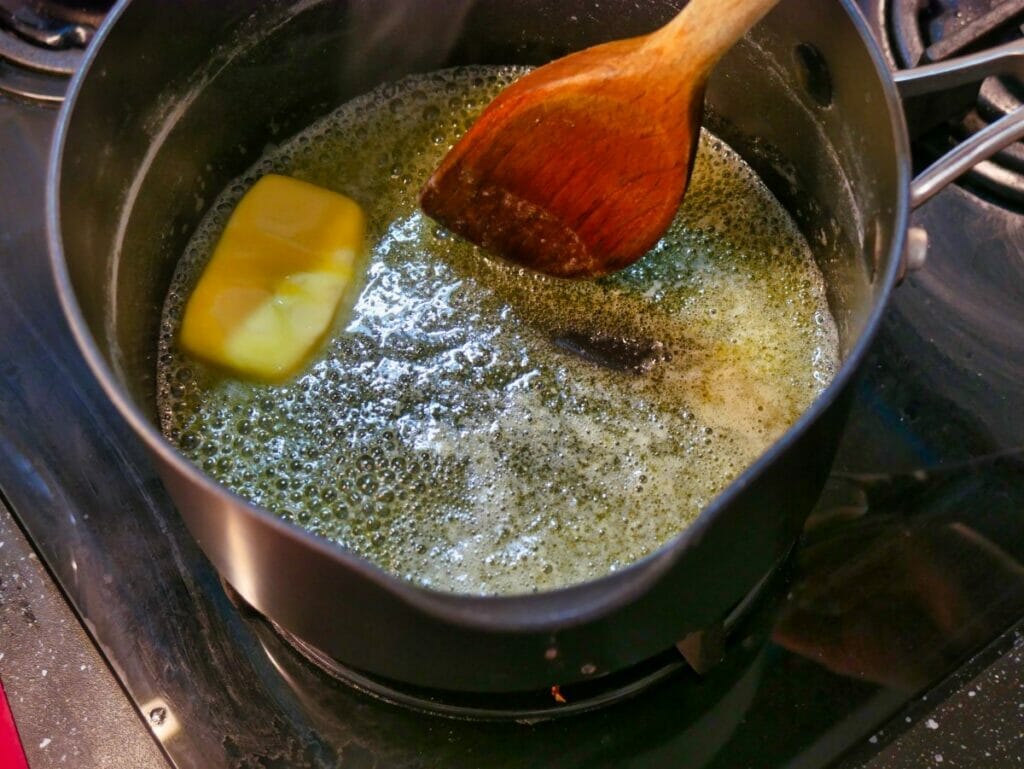 Once melted, add the garlic and saute for about 2 minutes.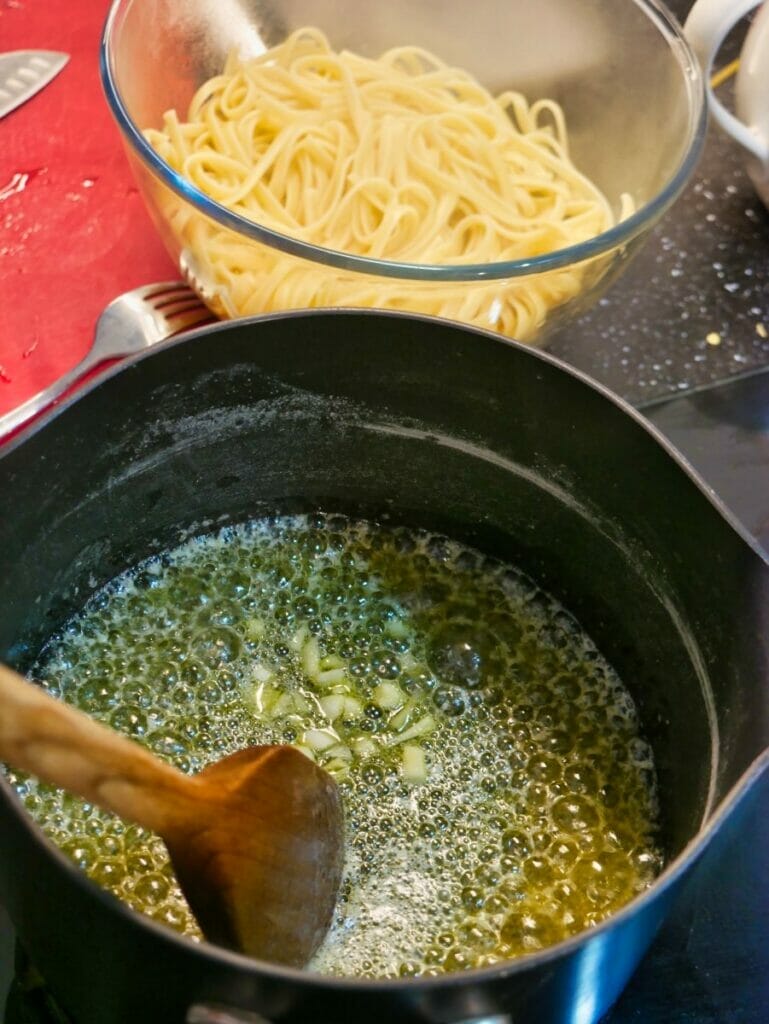 Add in the cream and stir often until it's thickened, which takes about 6 minutes.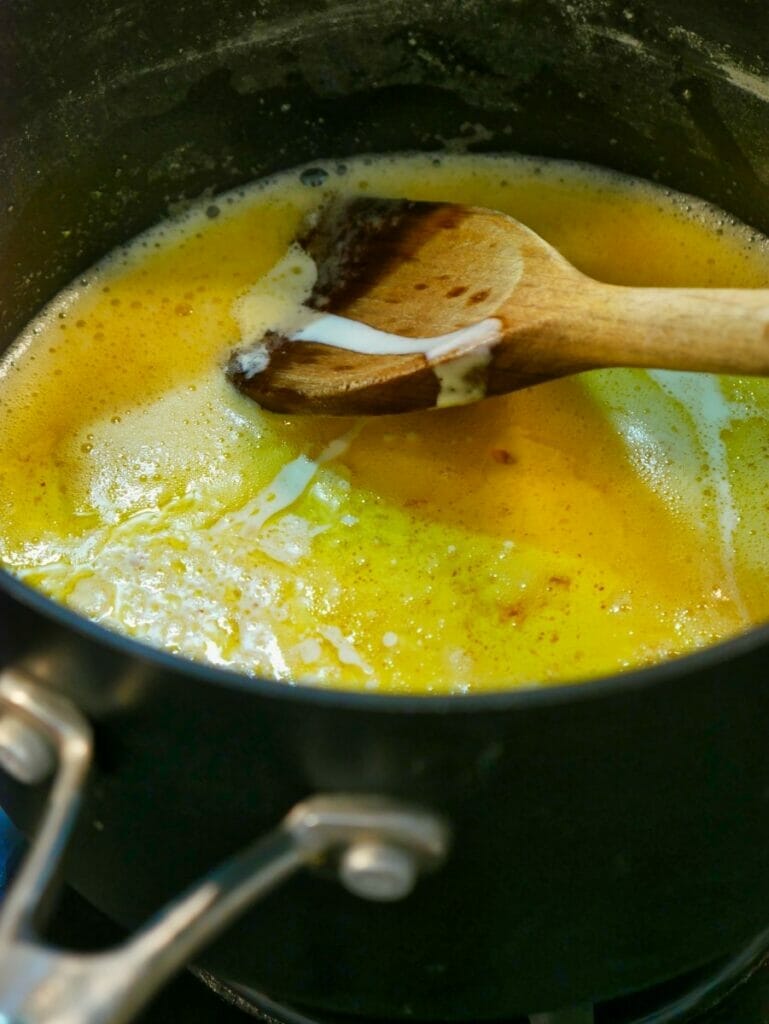 Add the Parmesan and stir until melted and combined.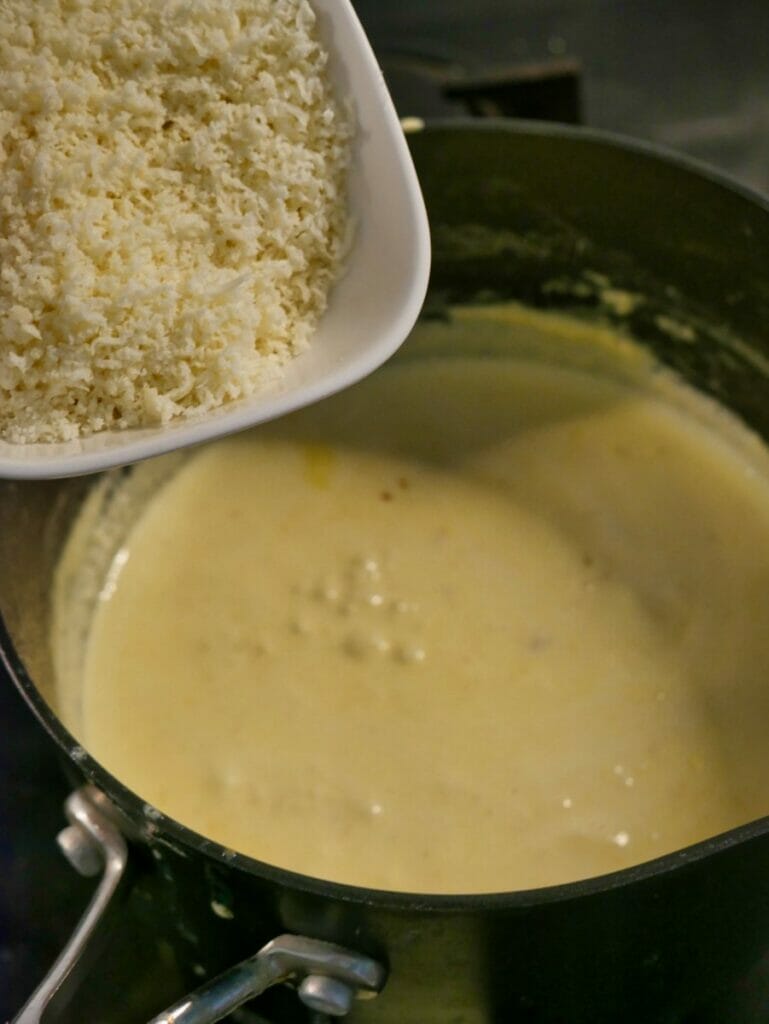 Add the pasta to the skillet and use rubber tongs (to not scratch the pan) to toss it all together and make sure all of the strands are coated.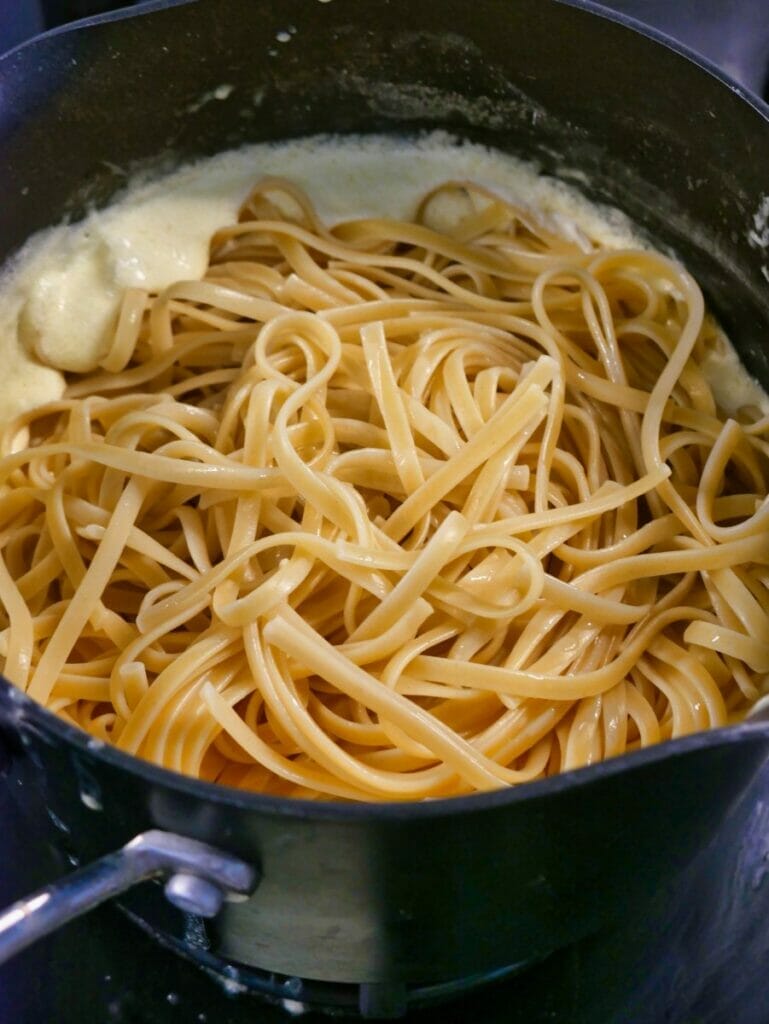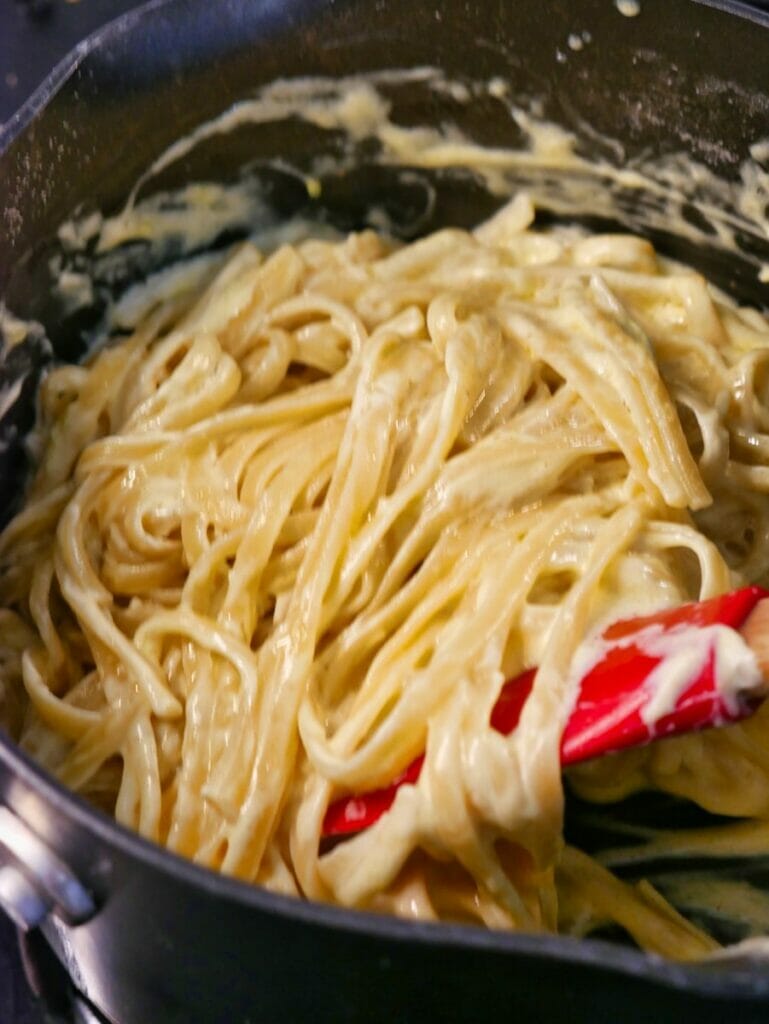 Serve and enjoy!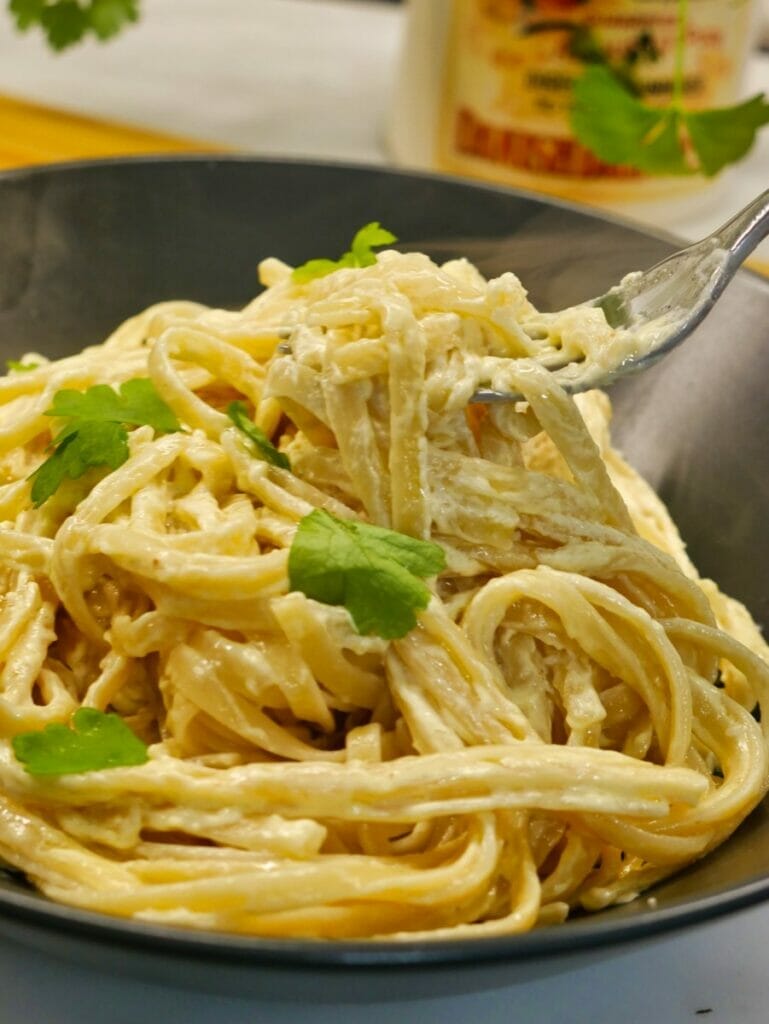 Tips for Cooking
Luckily, this fettucine alfredo recipe lives up to the "no fuss" name. There's not too much that can go wrong, melting some cheese and some cream together.
When you're cooking the garlic, don't overdo it and add in the cream as soon as the garlic is lightly brown. Burnt garlic does not taste great!
Substitution Options
This fettucine alfredo is already vegetarian, but vegans can substitute vegan butter for the butter, as well as a vegan Parmesan and vegan cream for the rest of the ingredients.
Because fettucine Alfredo is such a specific dish with a specific taste (and not that many ingredients), most of the ingredients should remain as is.
If you don't have fettucine noodles but do want the taste of fettucine Alfredo, you could easily use another type of pasta like spaghetti, angel hair, or even bowties, but then of course it won't be "fettucine Alfredo," but just an Alfredo sauce with whatever type of pasta you use.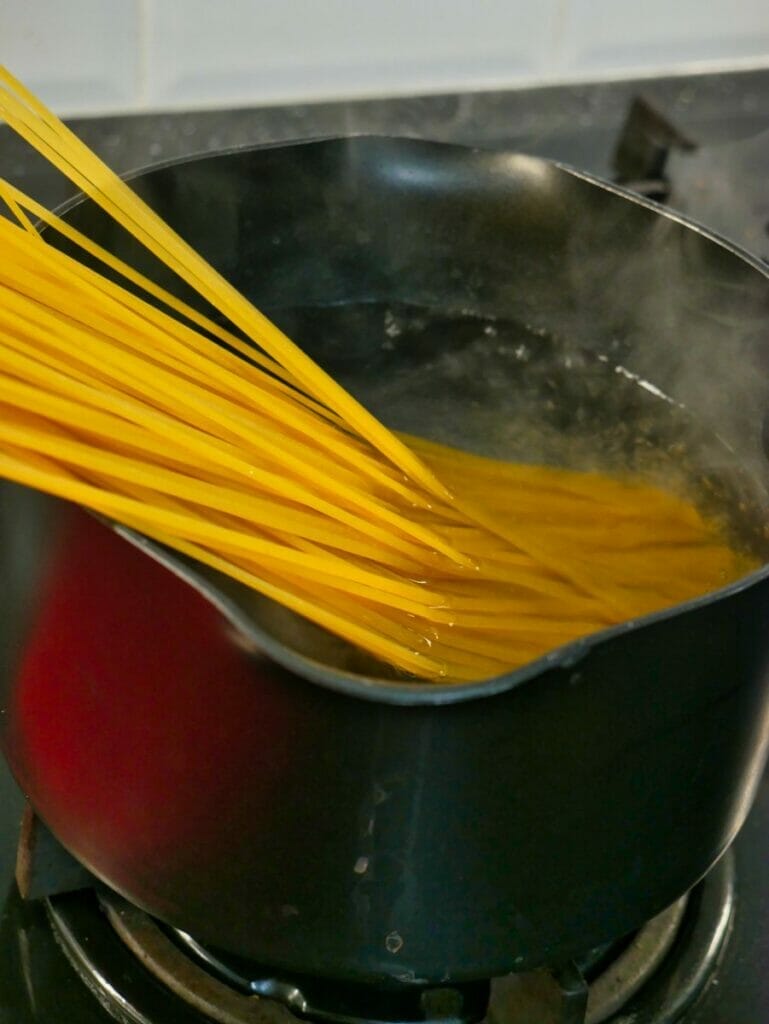 Storage Tips
Fettucine Alfredo can be stored in the fridge in an airtight container for 4 days or less.
Make sure to store in an airtight container like these, as if you leave the lid off, the noodles could start to go hard.
You'll want it to cool a little before putting it into the fridge, as putting steaming hot food in the fridge can be a food safety hazard (and bad for your fridge), but once dinner is over, just put the leftovers in and enjoy for the next couple of days.
You can also freeze fettucine alfredo!
A lot of people don't think about doing this because, well, most of it is gone before you can even turn around, but you can actually freeze it in freezer safe containers for 4-5 months.
I love these glass freezer containers!
This is particularly helpful if you're meal prepping.
What to Serve with Fettucine Alfredo
There's nothing that goes better with Fettucine alfredo than a nice slice of garlic bread and a salad.
The garlic bread is great for sopping up extra sauce, while the salad gives you a light and fresh option to pair with heavy, cream and butter based dishes.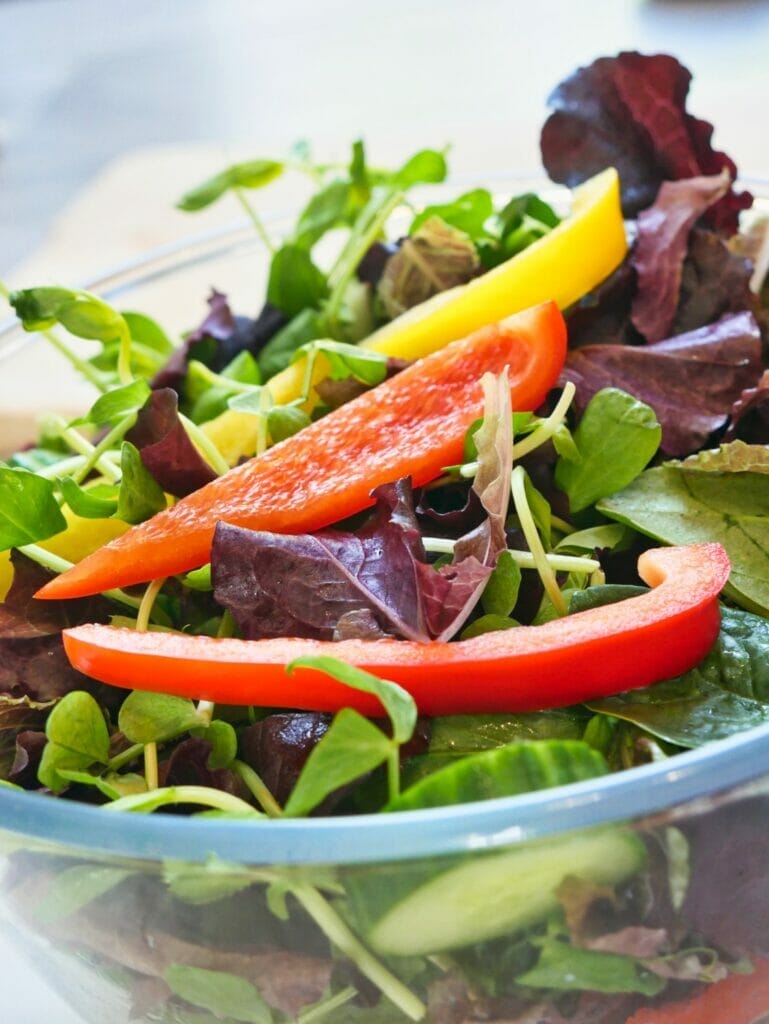 Because it is rich on its own, you don't have to serve it with anything and it can be a stand alone meal with a bit of garnish and presentation.
Yield: 3-4 servings
Best Homemade Fettucine Alfredo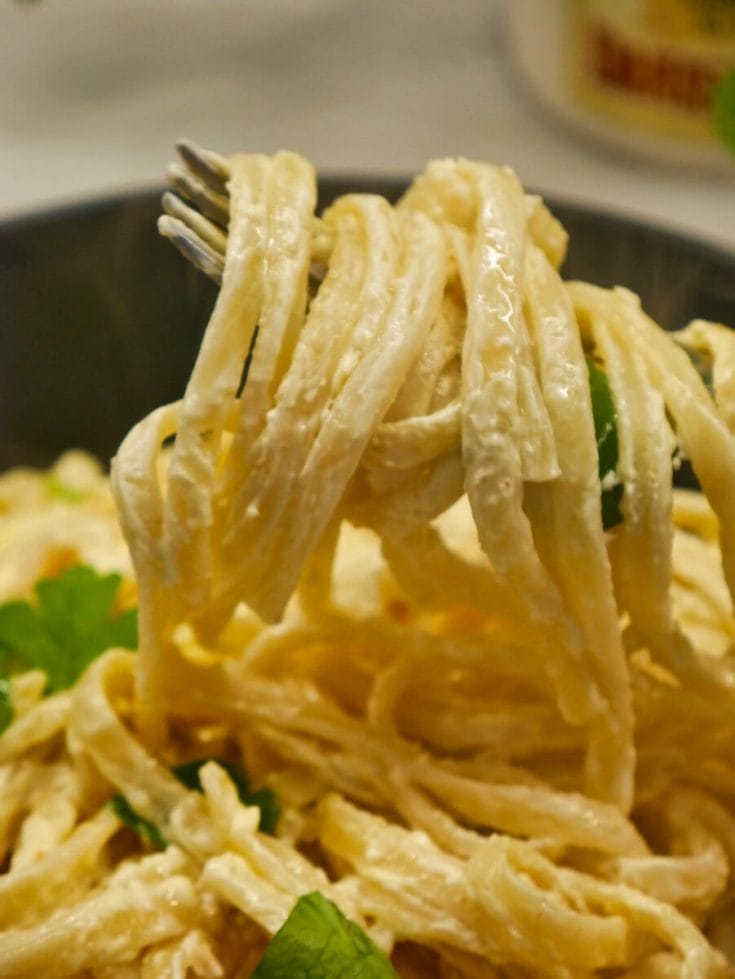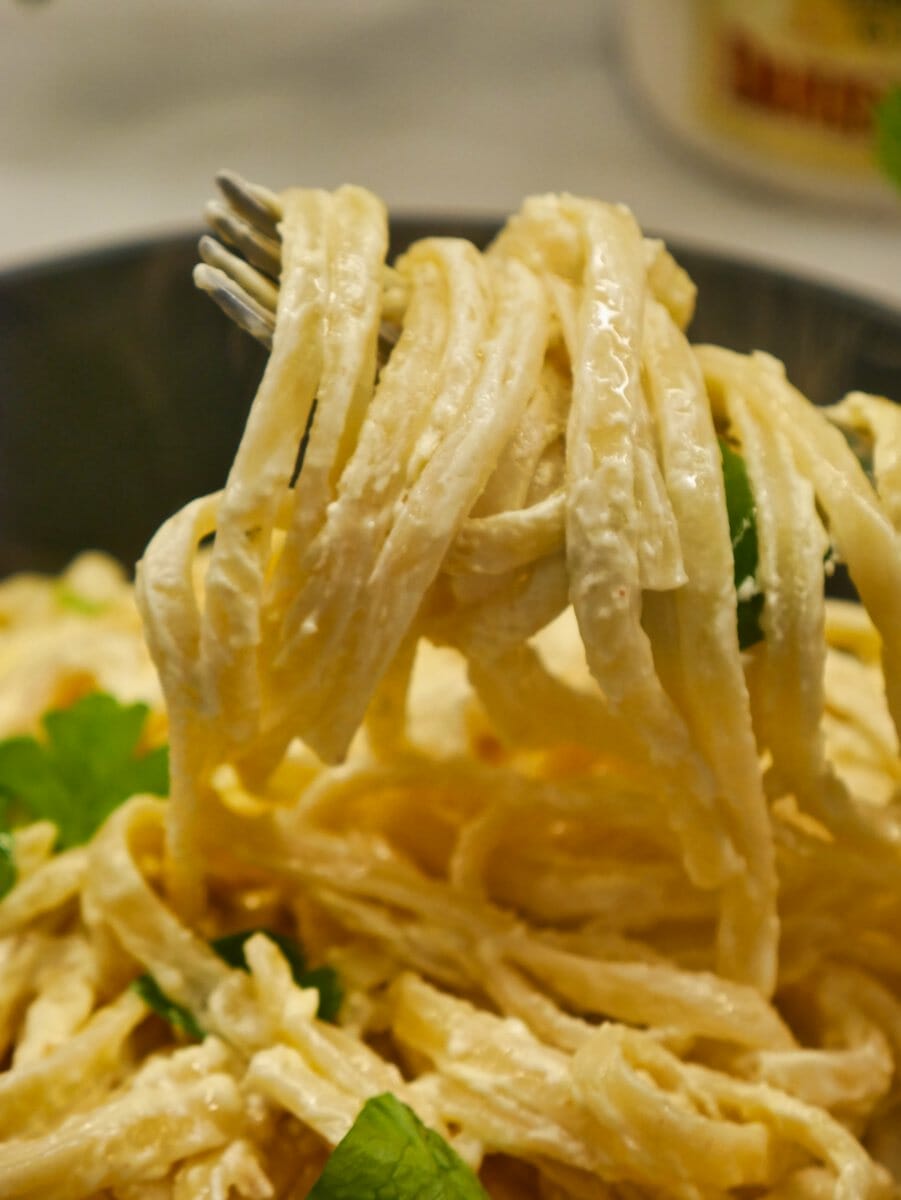 This creamy homemade fettucine Alfredo is absolutely delicious and easy to whip up in no time.
Ingredients
Salt (for pasta water)
1/2 pound fettucine (225 grams)
4 tablespoons salted butter (55 grams)
2 garlic cloves
1 cup heavy cream (240 grams)
3/4 cup grated Parmesan cheese
Instructions
1. Salt a pot of water to boil the fettucine in and bring the water to a boil.
2. Boil the fettucine until al dente, or having just a little bit of a snap to it (usually 8-10 minutes, but check on your package).
3. Drain the fettucine and set aside.
4. In a large skillet, melt the butter over a low heat.
5. Add garlic and cook for about 2 minutes, until softened and slightly browned.
6. Stir in heavy cream and cook until bubbling (about 6 minutes). It should be thickened at this point.
7. Add in the Parmesan and cook on the low heat until just melted.
8. Add the drained fettucine to the skillet, coat the noodles in the pasta sauce.
9. Serve!
Notes
1. If you don't have fettucine noodles, you can substitute with spaghetti or another pasta.
2. Optional add-ins would be broccoli, shrimp, or chicken to make a chicken Alfredo.
Recommended Products
As an Amazon Associate and member of other affiliate programs, I earn from qualifying purchases.
Nutrition Information:
Yield:
4
Serving Size:
1
Amount Per Serving:
Calories:

385
Total Fat:

38g
Saturated Fat:

24g
Trans Fat:

1g
Unsaturated Fat:

11g
Cholesterol:

114mg
Sodium:

591mg
Carbohydrates:

5g
Fiber:

0g
Sugar:

2g
Protein:

7g